This post may contain affiliate links. Read the full disclosure here.
This homemade au jus recipe will turn a regular roast of beef into a special occasion dinner without much effort.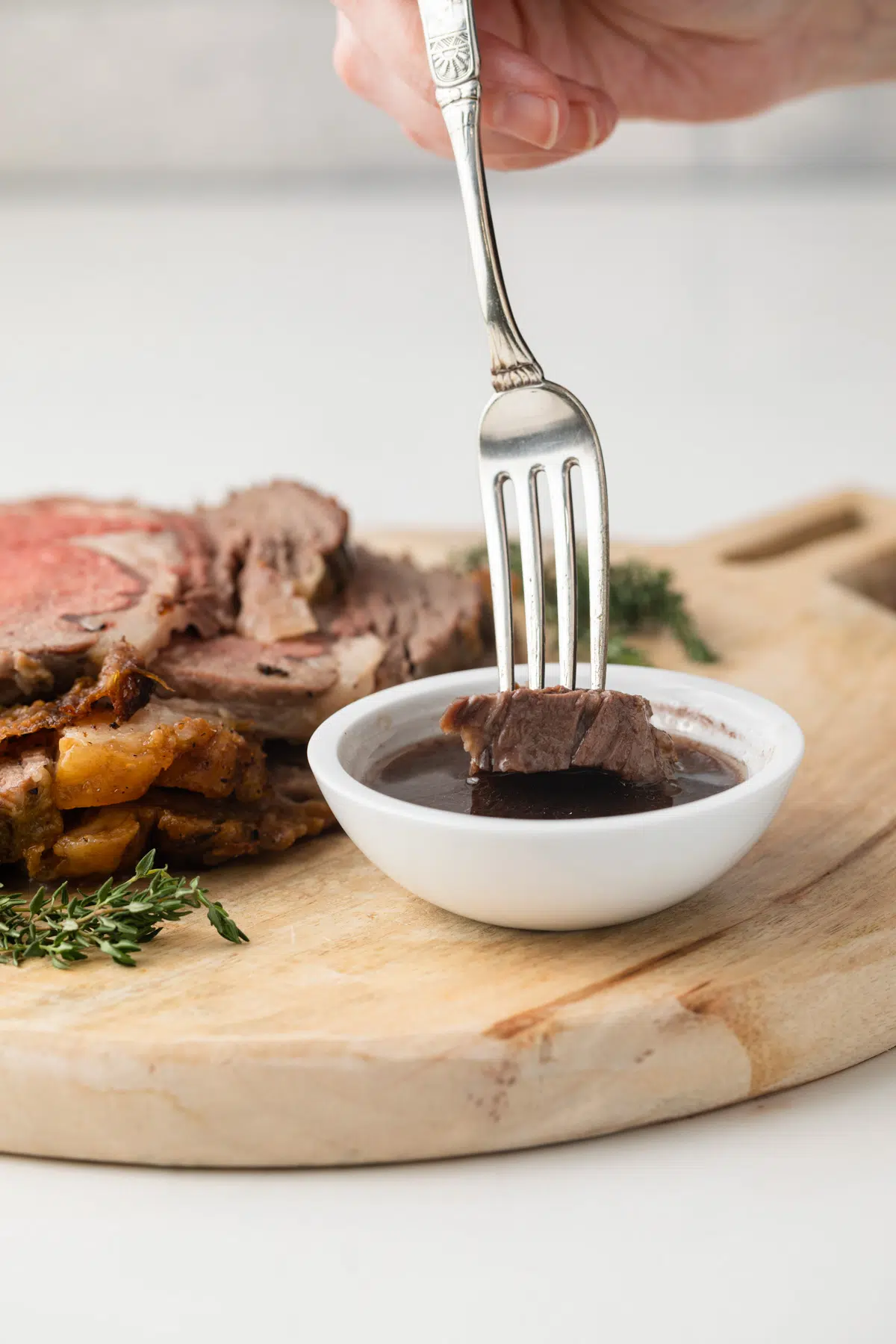 Prime rib roast is one of our favorite go-to comfort food meals, even more so than pot roast. We love a tender roast of beef. While we often serve it with a horseradish cream sauce, we usually also make this au jus sauce to serve alongside it as it is so easy and so good.
It is the perfect accompaniment to the prime rib when you serve it hot, and also delicious to dip sandwiches made from the leftover beef. French dip sandwiches, anyone?
We've tried various methods of cooking prime rib over the years, but the way we've settled on, that always gives consistent results, is this one from SimplyRecipes.
This homemade au jus recipe is made from the drippings from the prime rib and adds delicious flavor to the beef. It's simply pan drippings, Worcestershire sauce, and red wine. You don't have to use any sort of crazy expensive wine – anything you have on hand will be fine – but our general rule is don't cook with anything you wouldn't drink. So that "cooking wine" sold in the grocery store? Please, no.
Once you try this simple sauce, head over to give our red wine sauce a try. It's very similar but made with shallots for more flavor.
What is au jus?
Au Jus is a way of serving meat with a broth or sauce made from the juices that are given off from the meat as it cooks.
What does au jus mean?
Au in French means "with" and "jus" means "juice." So Au Jus means, quite simply, "with juice."
Is au jus just a gravy?
While au jus is served like a gravy, and is delicious a top of meat or potatoes, it is lighter than gravy as it isn't thickened with flour or cornstarch.
Ingredients
This au jus recipe is much simpler than a gravy – no slurry, no roux, no cornstarch – just three ingredients is all you need to make restaurant-quality au jus at home.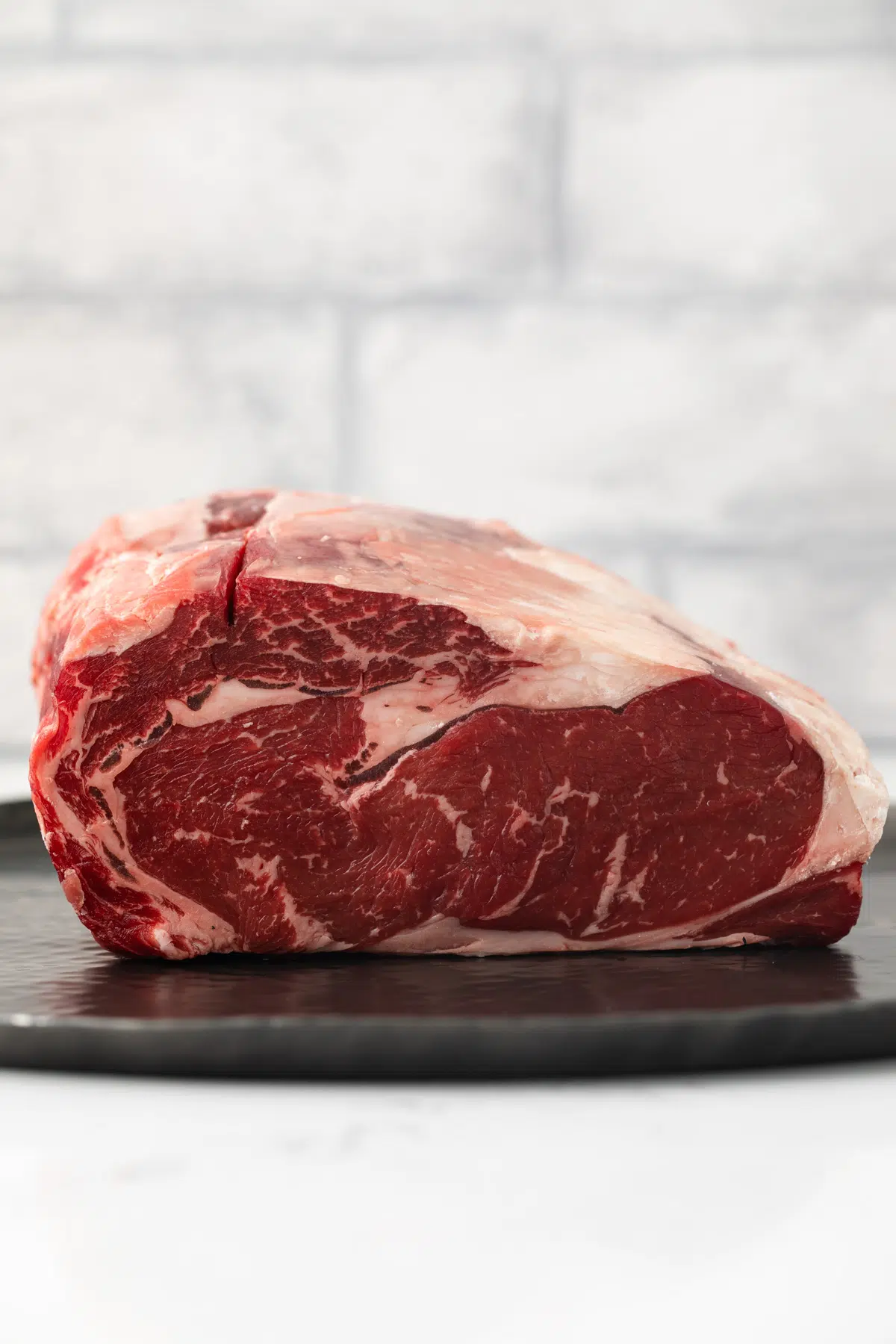 Pan drippings – from a rib roast recipe
Worcestershire sauce – adds a little flavor and a bit of tanginess to the au jus
Red Wine – this adds depth of flavor and a bit of body to the au jus.
How to Make Au Jus for Prime Rib
To make the Au Jus for Prime Rib sauce, use whatever prime rib recipe you prefer. Once cooked, remove the roast from the roasting pan. Gather the pan drippings, scraping up the browned bits from the bottom – they contain so much flavor. You need about a cup. If you have less than a cup, you can add beef broth until you have one cup total.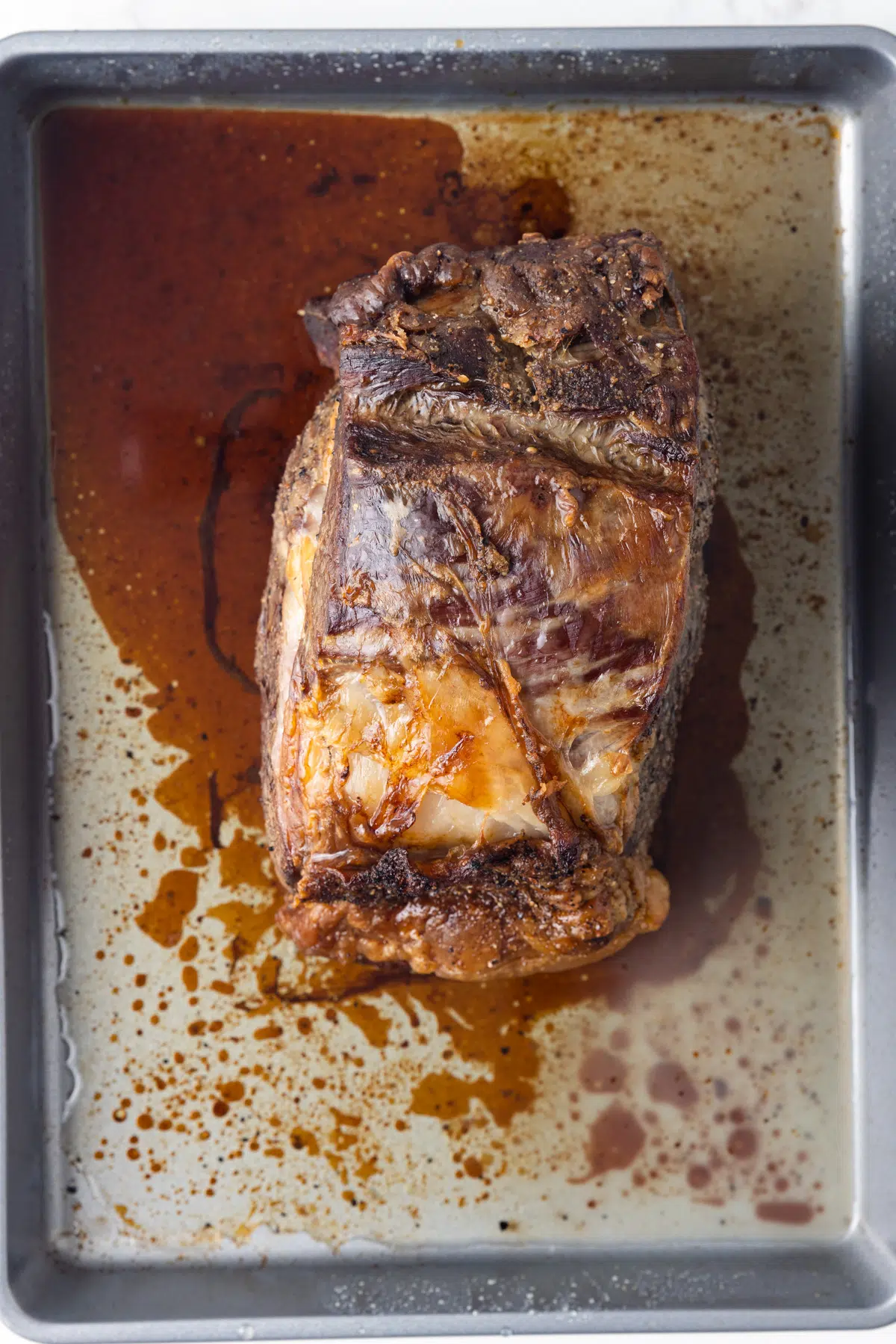 Add the meat drippings from the bottom of the pan to a small saucepan and heat it over low heat.
Whisk in the Worcestershire Sauce and red wine. Bring to a simmer and cook for 5 minutes.
Serve hot with prime rib.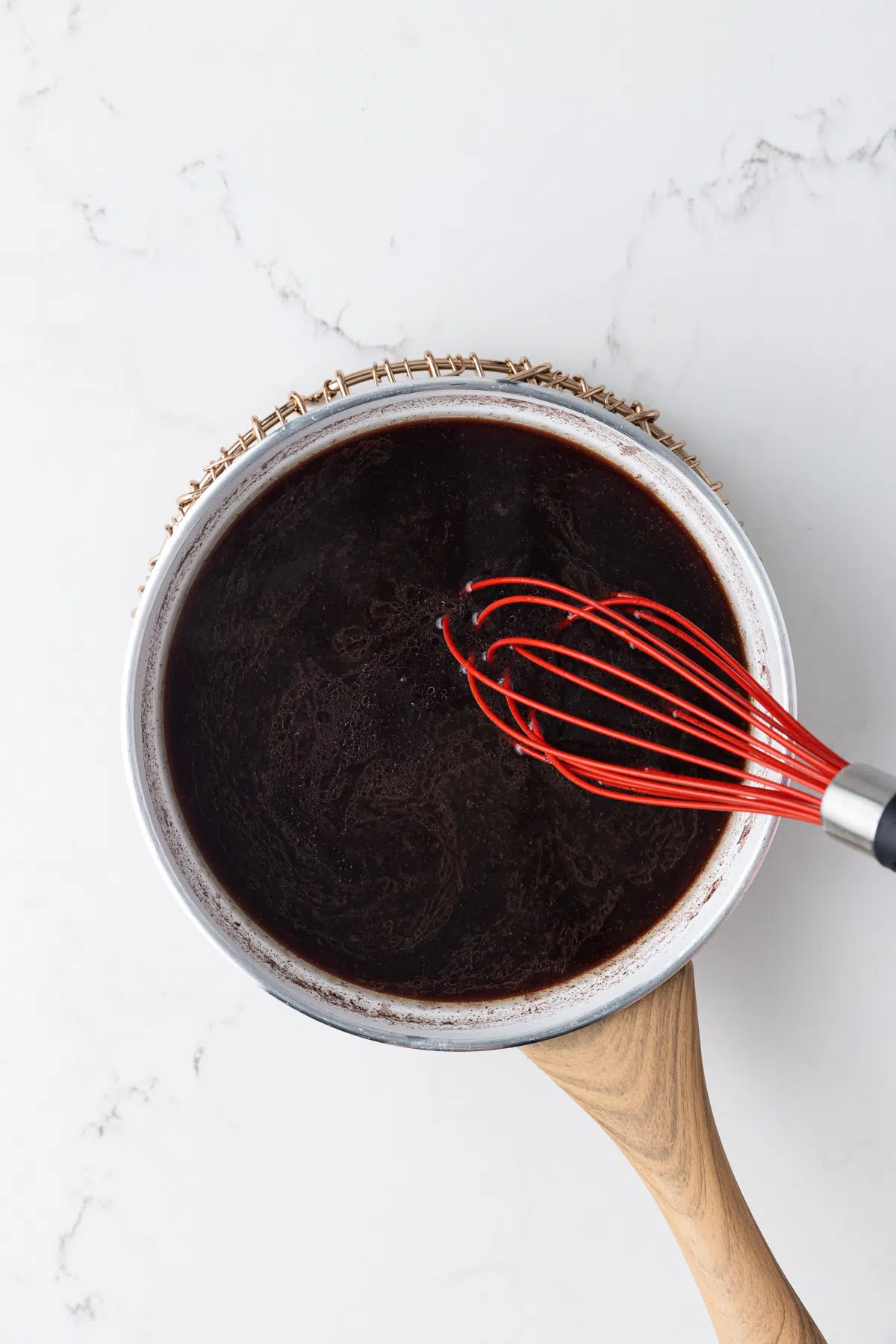 Equipment
You don't need special equipment for this recipe – really just a whisk and a small saucepan. However, a roasting pan for the Prime Rib recipe will be needed.
Storage
Serve hot with Prime Rib. Keep for 2-3 days in the refrigerator in an airtight container. Warm in a saucepan before using.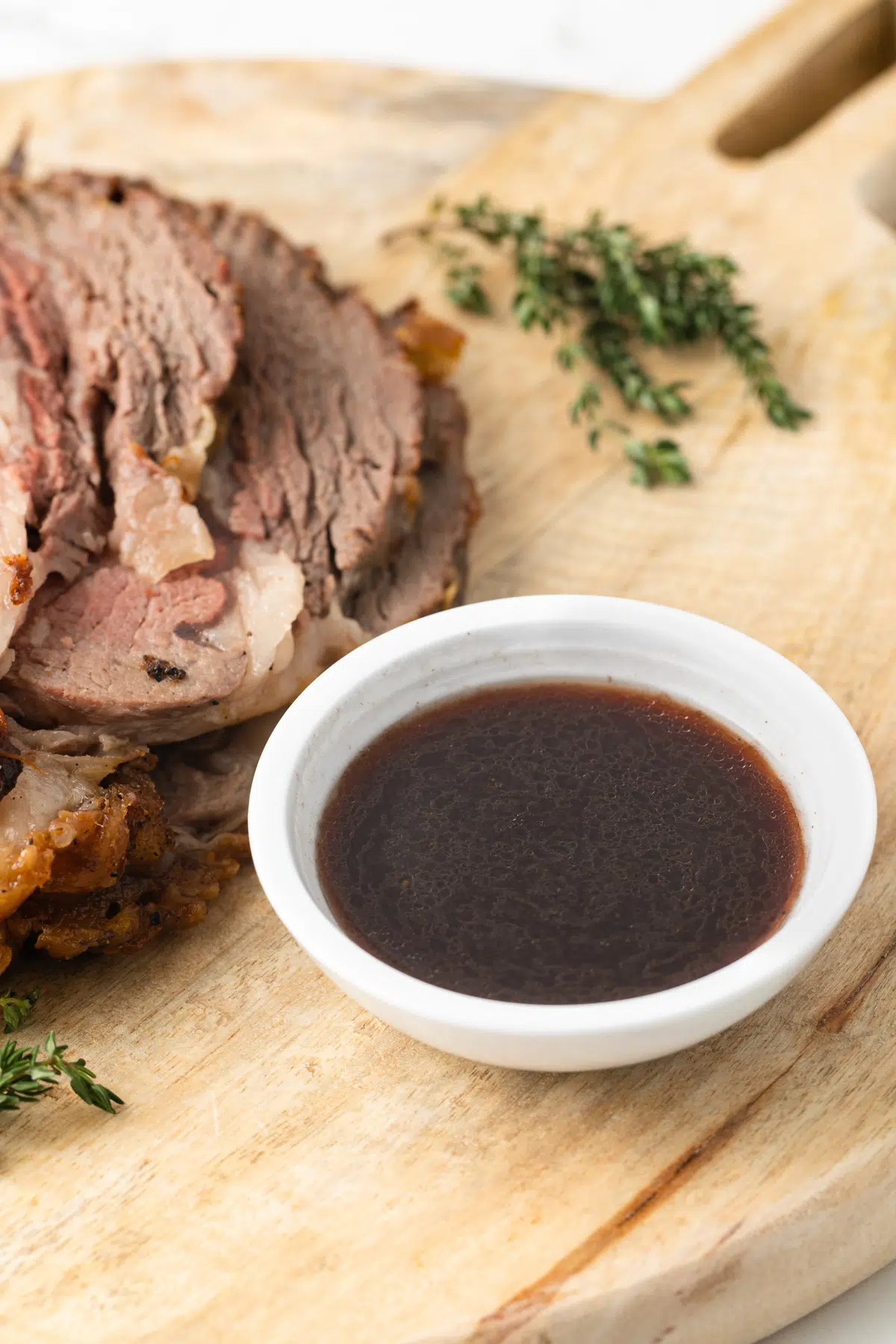 Tips
We love to make french dip sandwiches with leftover prime rib and au jus. Slice the leftover meat thinly (this is easier to do when it is cold) and then heat the meat up in the oven. Serve on a toasted baguette or french roll, alongside a small ramekin of au jus for dipping the roast beef sandwich in. Yum!!