This post may contain affiliate links. Read the full disclosure here.
This simple potsticker sauce recipe is easy to make with just a bowl and spoon, and loaded with sweet tangy flavors.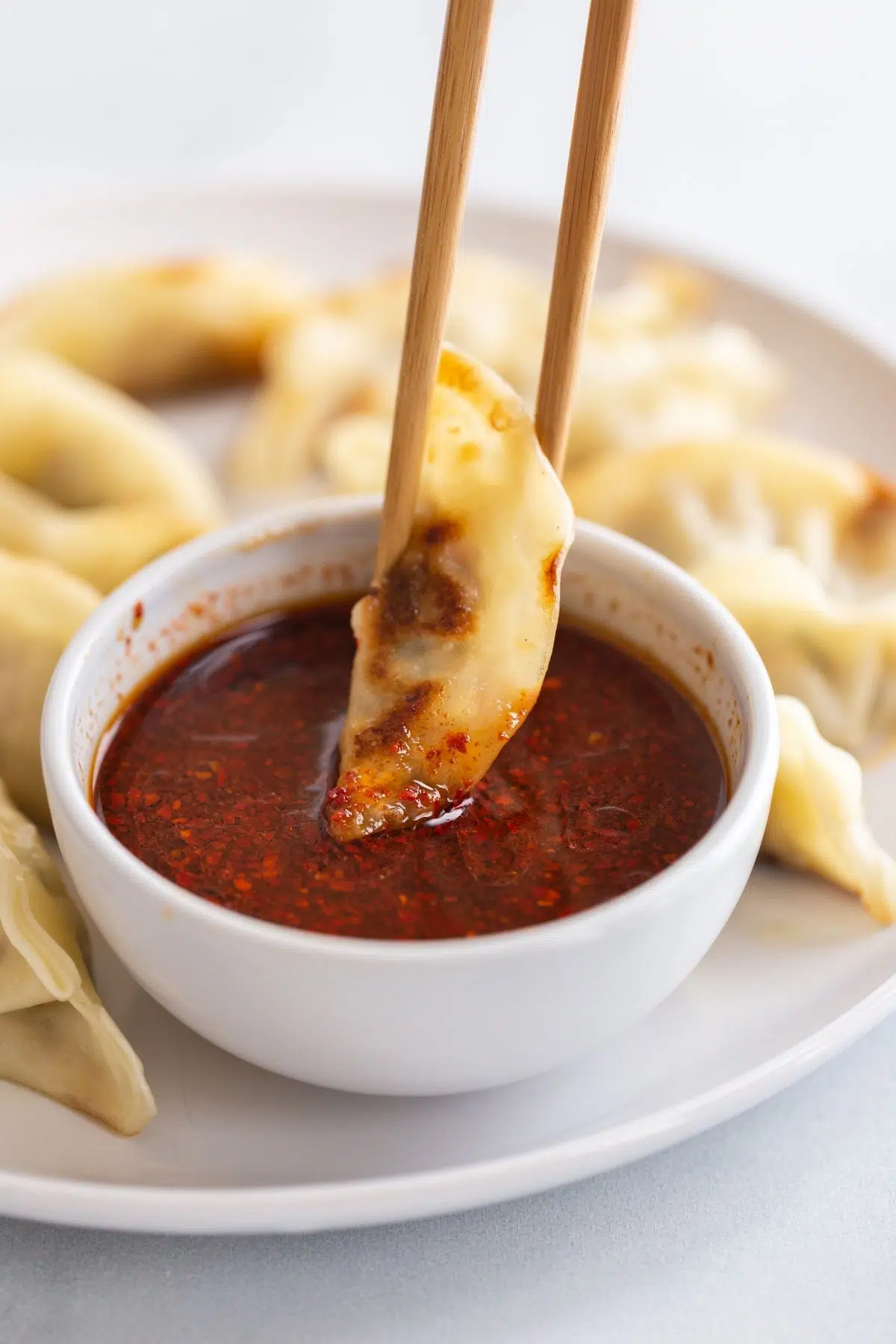 Easy Potsticker Sauce
Nothing beats a tangy yet sweet sauce to dunk potstickers in. It's literally the best sauce for all sorts of Asian dumplings. I actually prefer this over dim sum dipping sauce.
If you love Chinese dumplings, you'll love them even more with this vinegar based sauce. You can make it as spicy as you like also!
Those irresistible potstickers pair perfectly with a mix of soy sauce, vinegar, sesame oil, sugar, and red pepper flakes.
You can add more or less vinegar depending on how tangy you like it. You can also add more or less red pepper flakes depending on how you tolerate spicy food.
This sauce is so simple, you just toss all the ingredients into a bowl and stir it up. And did I mention it's insanely good!
So grab your dumplings and whip up this easy pot sticker sauce today!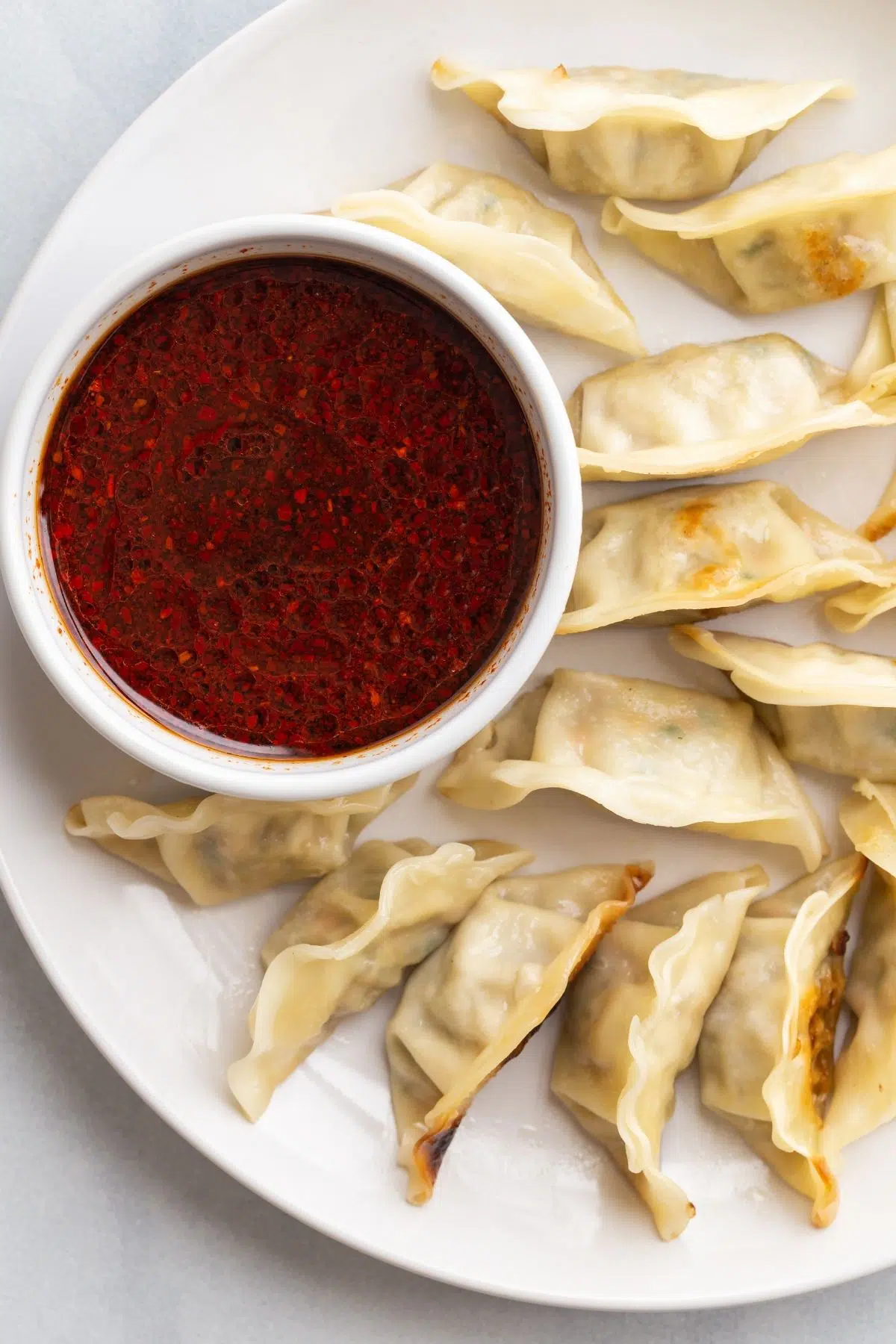 POTSTICKER SAUCE INGREDIENTS:
To make this potsticker sauce recipe, you will need:
Soy Sauce: I like to use regular soy sauce but you can use low sodium or tamari sauce instead
Rice Vinegar: It's a bit less harsh than other kinds of vinegar I've tried
Sesame Oil: Love the flavor
Sugar: Just a touch of sweetness makes this sauce so tasty
Crushed Red Pepper Flakes: You can find this in all Asian supermarkets or order it online
Water: You only need a little bit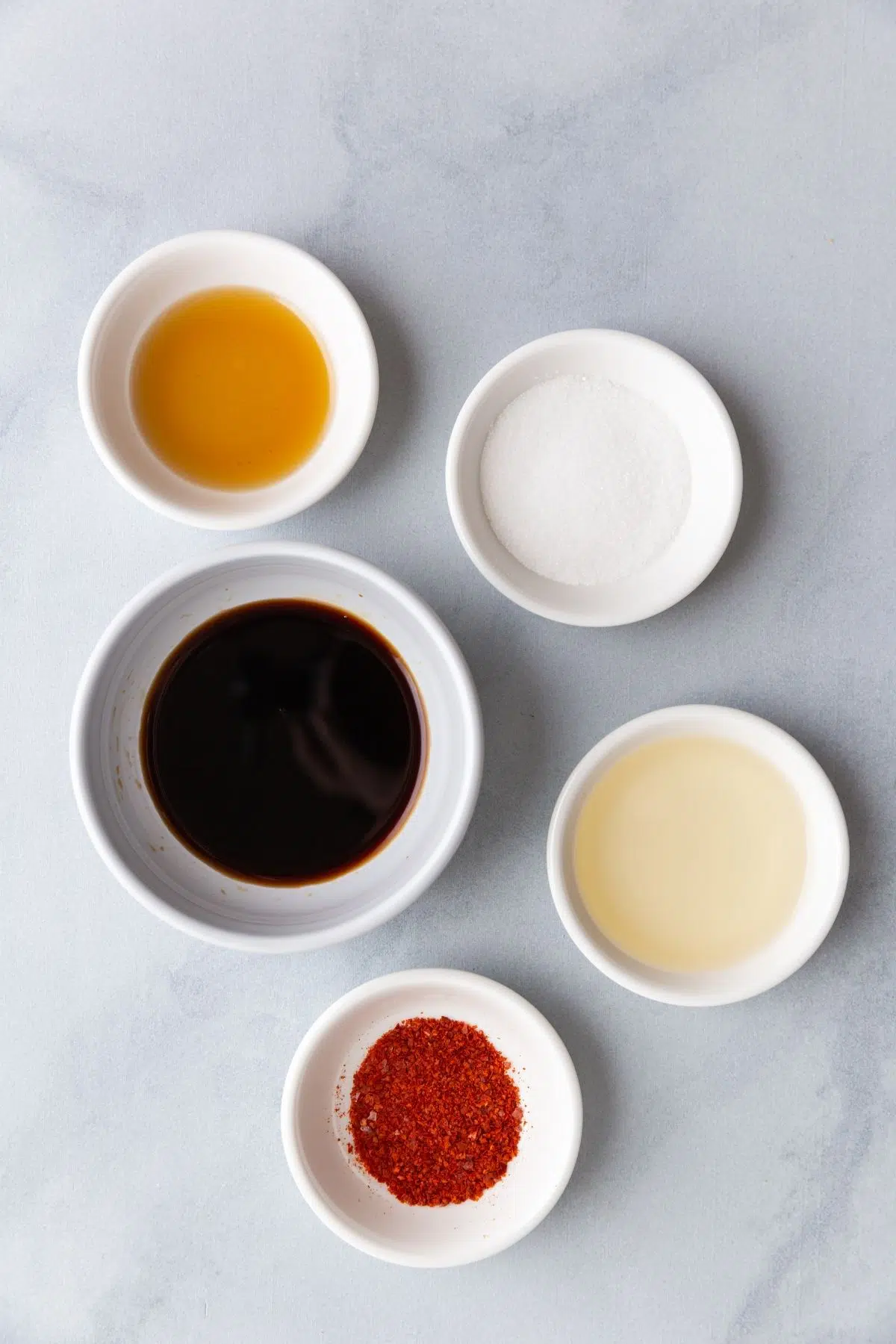 HOW TO MAKE POTSTICKER SAUCE:
To make this easy potsticker dipping sauce, simply…
Place all the ingredients into a small bowl and stir to combine. That's pretty much it. It's so simple!
Taste and adjust. Give the sauce a taste, and season with extra vinegar, soy sauce, or red pepper flakes.
Use it right away or refrigerate it for later. Serve it with freshly cooked potstickers.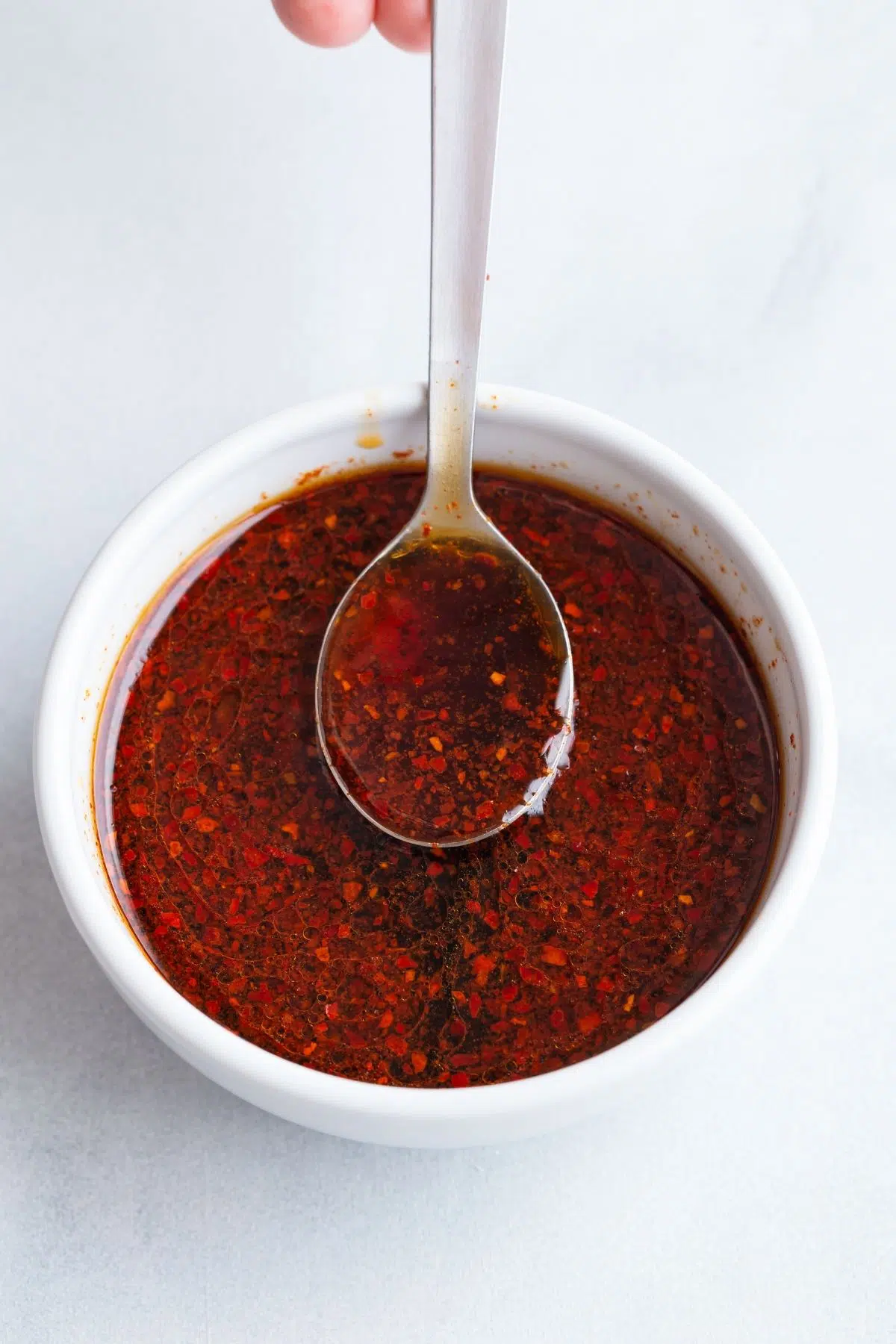 POTSTICKER SAUCE RECIPE VARIATIONS:
There are quite a few ways you doctor up this potsticker sauce recipe.
Add finely minced garlic: We love garlic. You could add a clove or two depending on your tastes.
Add finely chopped green onion: The freshness of green onion really brightens up the sauce.
Add minced ginger: Ginger is such a wonderful flavor to add to any sauce.
Use fresh chilis in place of red pepper flakes: Dice up a chili pepper and stir it in for an extra hot dipping sauce.
Add Sriracha sauce: This is for all you Sriracha lovers!
How to Refrigerate Potsticker Sauce: To refrigerate potsticker sauce, store it in a sealed container and refrigerate for up to 5 days.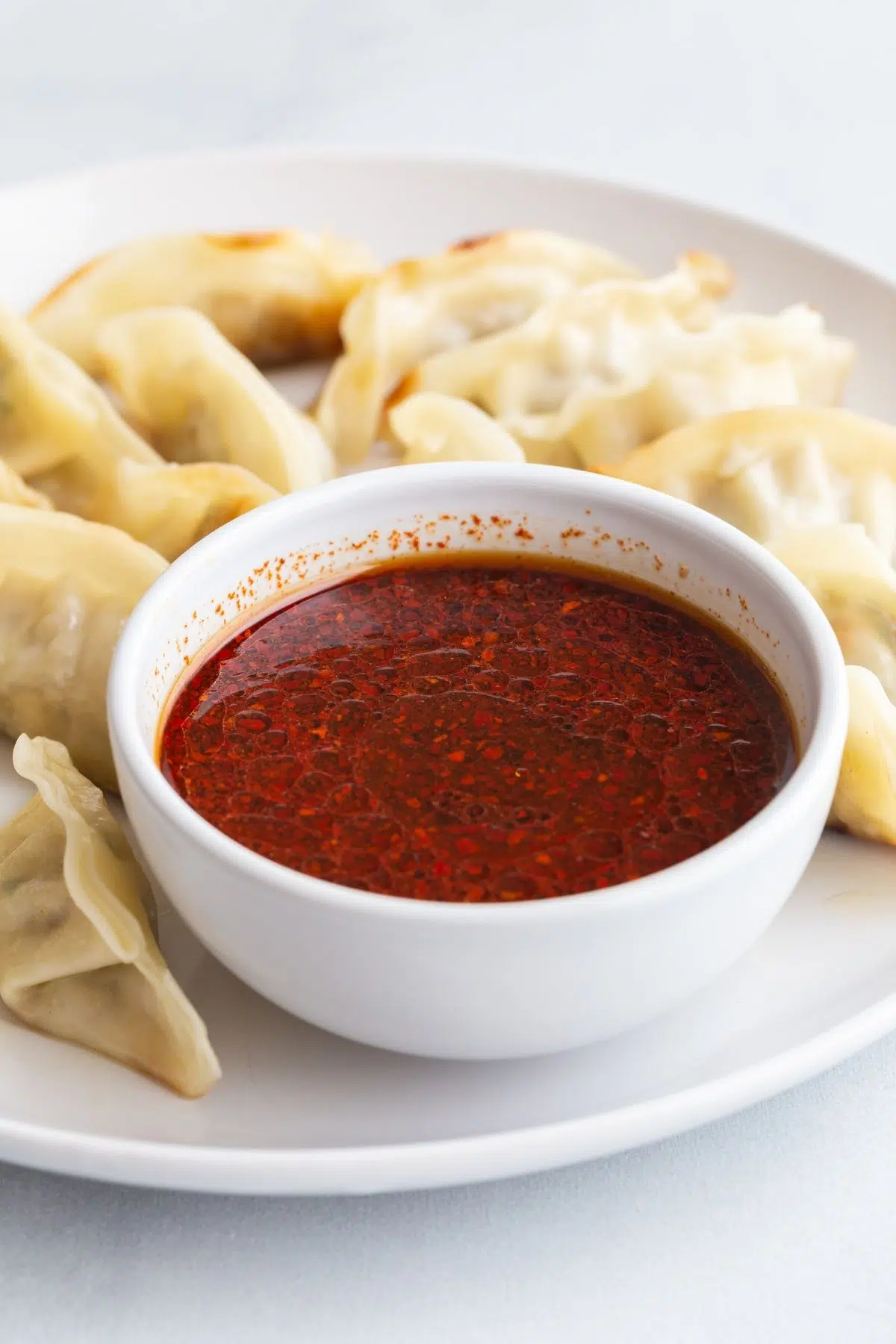 You might also want to try our easy spaghetti sauce and easy homemade bbq sauce. Enjoy!