This post may contain affiliate links. Read the full disclosure here.
Super easy homemade bbq sauce that is simply the best. It comes together in just 20 minutes and can be used for marinating, basting, dipping, and more!
Easy Homemade BBQ Sauce
BBQ sauce is something that is loved by many. We eat it on pork, beef, chicken, in so many different ways.
We especially think of bbq sauce during the summer when everyone is grilling. But it's also good on cold winter days when you just want to stay in and bake chicken.
Today's sauce is so flavorful. It's sweet, tangy, and a little spicy. It's honestly one of the best bbq sauces we've had. Next to our blueberry bbq sauce, Jack Daniels sauce or apricot bbq sauce!
It doesn't take much to make a great bbq sauce at home. We took the cheater's way and used ketchup as a base.
Ketchup combined with dried spices means the sauce will have a long shelf life. It should keep for well up to 3 weeks as long as it's stored in an airtight container in the refrigerator.
Mix this bbq sauce with pulled pork and serve it on a sandwich! It is wonderful with cabbage coated in homemade coleslaw dressing. And if you enjoy it, you may also like our meatloaf sauce. It's very similar to bbq sauce.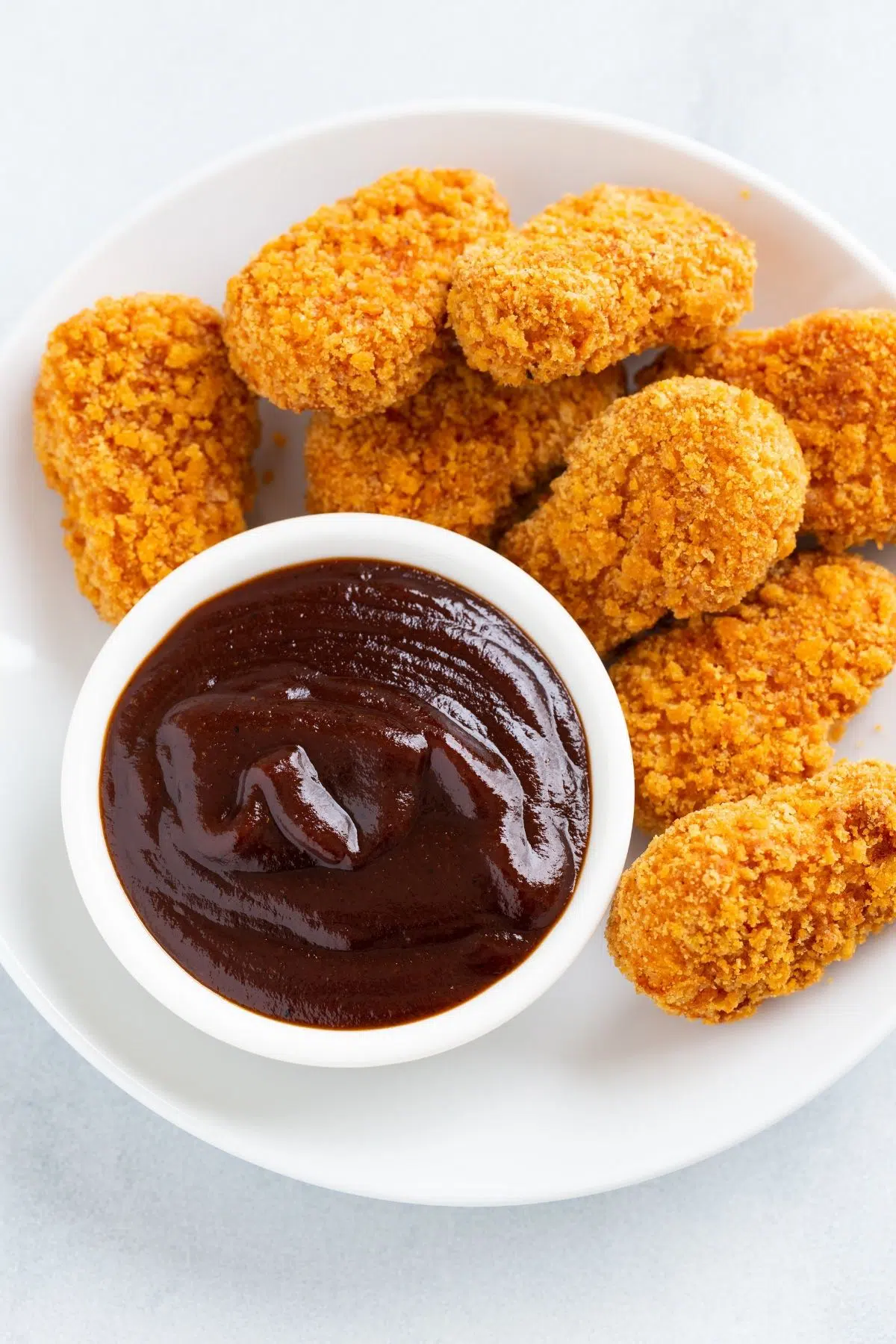 Homemade BBQ Sauce Ingredients:
To make this bbq sauce recipe, you will need:
Ketchup: The base of the sauce
Molasses: Look for unsulfered molasses because it's milder in flavor
Apple cider vinegar: Adds tanginess to the sauce
Worcestershire sauce: Don't leave it out!
Dijon Mustard: We love the depth of flavor this adds
Sugar: You only need a little bit; ketchup is already plenty sweet
Spices: We used a blend of onion powder, chili powder, garlic powder, and black pepper
How to Make BBQ Sauce:
To make this easy homemade bbq sauce, simply…
Combine the ingredients. Place them all into a saucepan and stir well.
Cook. Bring the sauce to a boil then reduce the heat and let it simmer for 20 minutes; until it thickens.
Use it right away or refrigerate it for later. Serve it with chicken, pork, beef, and more!
Homemade BBQ Sauce Variations:
There are quite a few ways you doctor up this bbq sauce recipe.
Add cayenne pepper: If you want it spicier, add a ¼ to ½ teaspoon.
Add hot sauce: For more spice and tang, add 1 to 2 tablespoons of your favorite hot sauce.
Add lemon juice: A tablespoon will be enough to brighten the sauce.
How to Store Homemade BBQ Sauce:
Refrigerate – Allow the sauce to cool for about 1 hour then transfer it to an airtight container and refrigerate for up to 3 weeks.
Freeze – Allow the sauce to cool for about 2 hours then transfer it to a freezer-safe container and freeze for up to 3 months. Thaw overnight in the refrigerator.
Are you a fan of dipping sauces? We have plenty more for you to try!