This post may contain affiliate links. Read the full disclosure here.
Creamy Peppercorn Sauce will elevate any juicy steak to a sophisticated entree. It's made with a handful of simple ingredients which give a nod to its French flavor cousin, steak au poivre.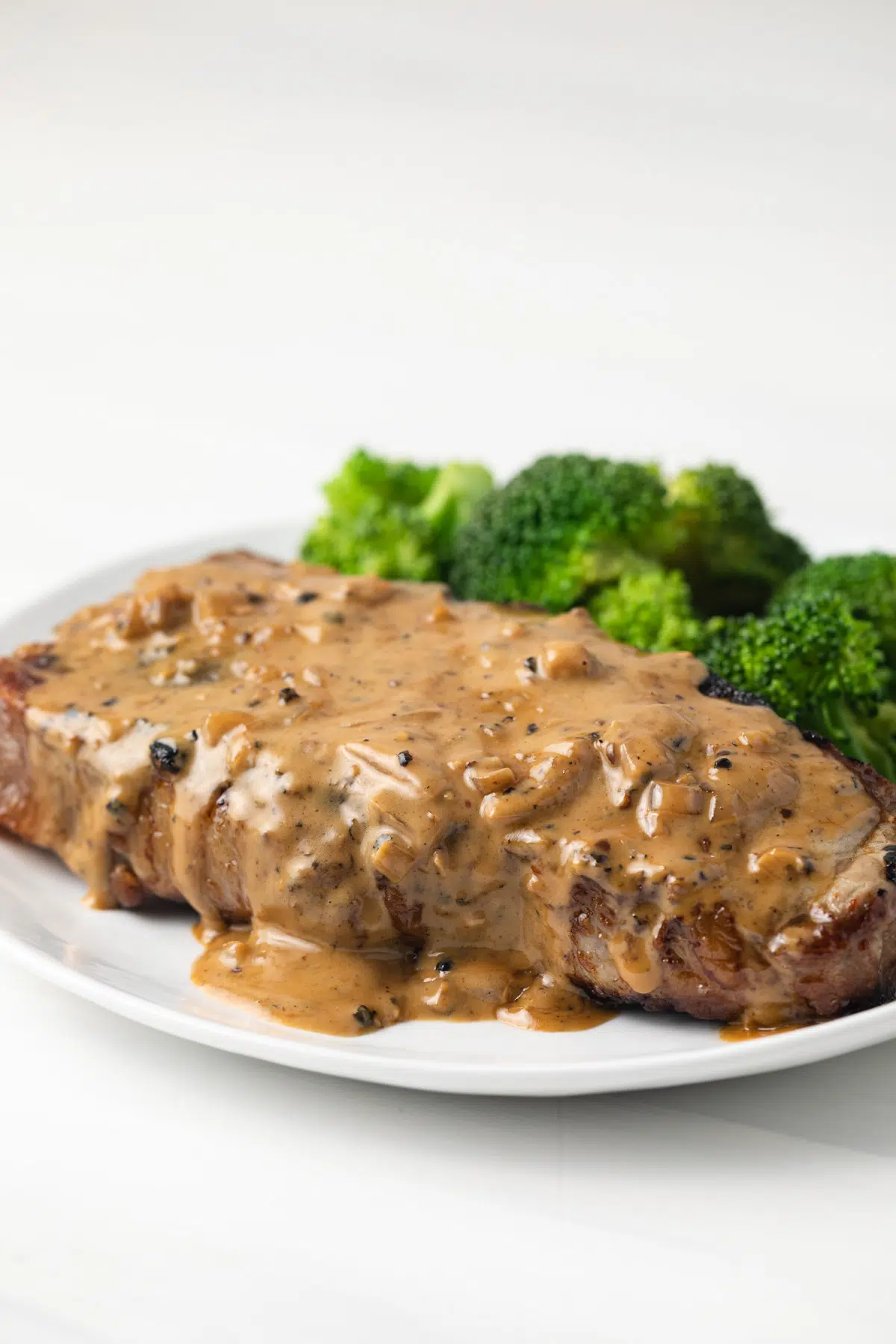 This richly flavored peppercorn sauce is creamy (from the heavy cream), peppery (from the crushed black peppercorns), rich (from the beef broth) and has a kick (from the cognac or brandy).
Steak au poivre is classic French dish. It is made from crushing whole black peppercorns (you can use green peppercorns or pink ones but both of those are noticeably more spicy than the black variety) with a rolling pin (or mortar and pestle). The crushed peppercorns are pressed into a filet or other steak before searing it. The steak is finished with a splash of brandy and served with a cream sauce. It's delicious, flavorful and super peppery.
This pepper sauce summons up all those flavors, but it's slightly more versatile because the sauce has all the flavor. And maybe it's just slightly less peppery than a steak seared in crushed peppercorns.
Also – this sauce doesn't just have to be for steak – though there is no denying it's the most delicious way to serve it. Once made, it can be spooned over a seared steak, of any variety, served over grilled chicken or even over a grilled or seared mushrooms.
Honestly it has so much flavor I'd even spoon it over some mashed potatoes and call it dinner for a quick and cozy mid-week winter meal.
While I love the richness that the beef stock adds to this sauce, if you wanted to make a vegetarian version, you can make this with vegetable broth instead of beef. You might want to add a bit of Worcestershire sauce to add a little flavor depth.
For all my other carnivores out there – as the weather starts to turn and dinners become cozier, I have plenty of steak sauces that you should try on my site. Other gravies or steak sauces I love to serve in the winter are my mushroom sauce, onion gravy, my horseradish sauce, and my au jus sauce.
Ingredients
These few simple, French inspired ingredients make the most delicious and flavorful sauce.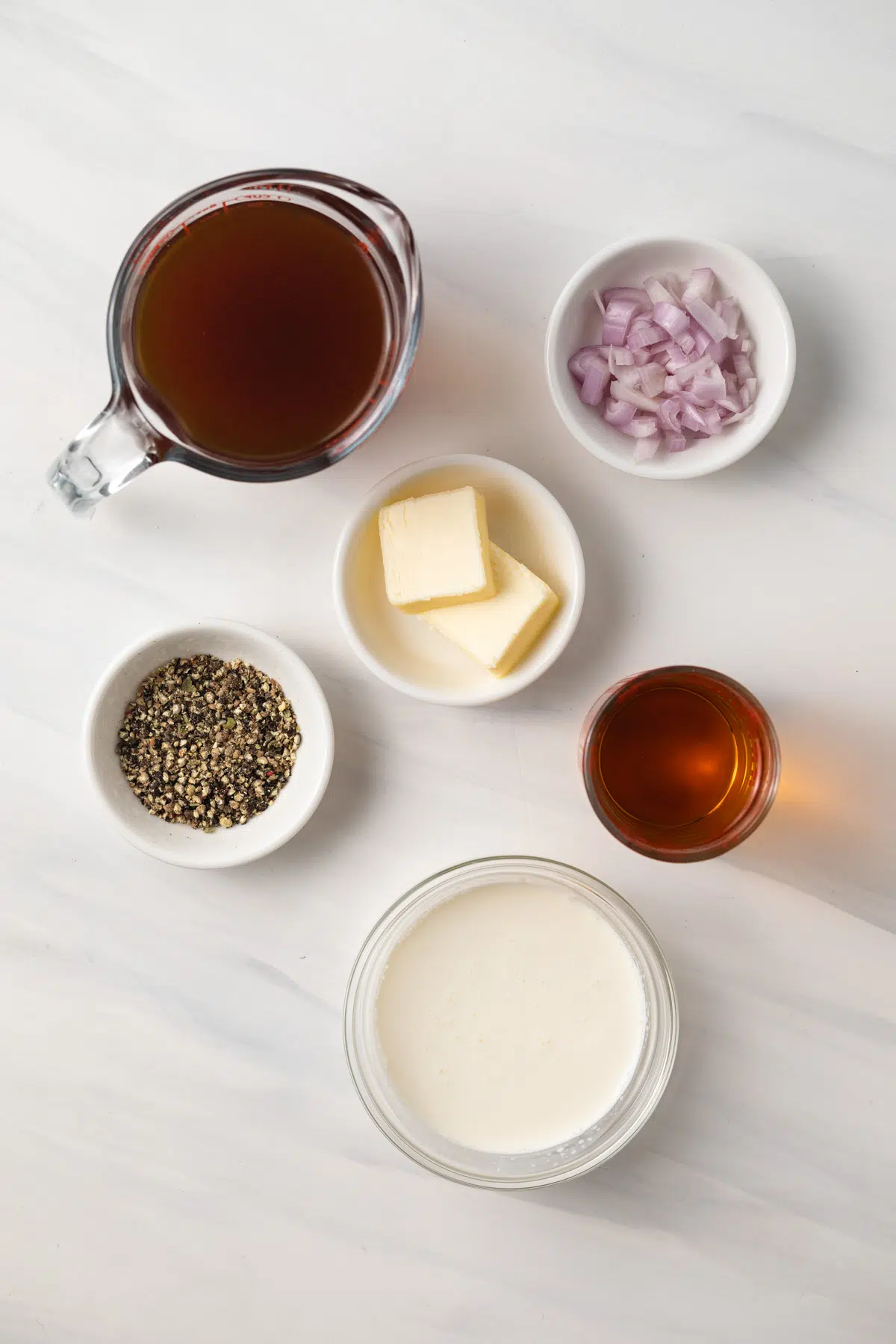 Butter – Unsalted sweet cream butter.
Shallot – For its slightly mellow and sophisticated flavor.
Brandy or Cognac– For a bit of a boozy kick.
Beef stock – Adds richness and depth.
Heavy cream – Puts the cream in cream sauce.
Peppercorns – A necessity. Buy whole peppercorns and crush them yourself, they will have far more flavor this way.
How to Make Creamy Peppercorn Sauce
This flavorful sauce is quick and easy to make, yet boasts tons of sophisticated flavor. It comes together in less time than it takes to cook steak!
Melt 1 tablespoon of the butter in a large skillet over medium heat. Add the shallot and cook until softened and lightly browned, 2-3 minutes.
Carefully add the brandy and cook over medium-high heat until reduced by half, about 1 minute. Whisk in the beef stock, bring to simmer, and let it simmer rapidly for 2 to 3 minutes or until it reduces by half.
Turn heat down to medium. Stir in the cream, remaining tablespoon of butter, and peppercorns and simmer for 4-5 minutes until the sauce thickens.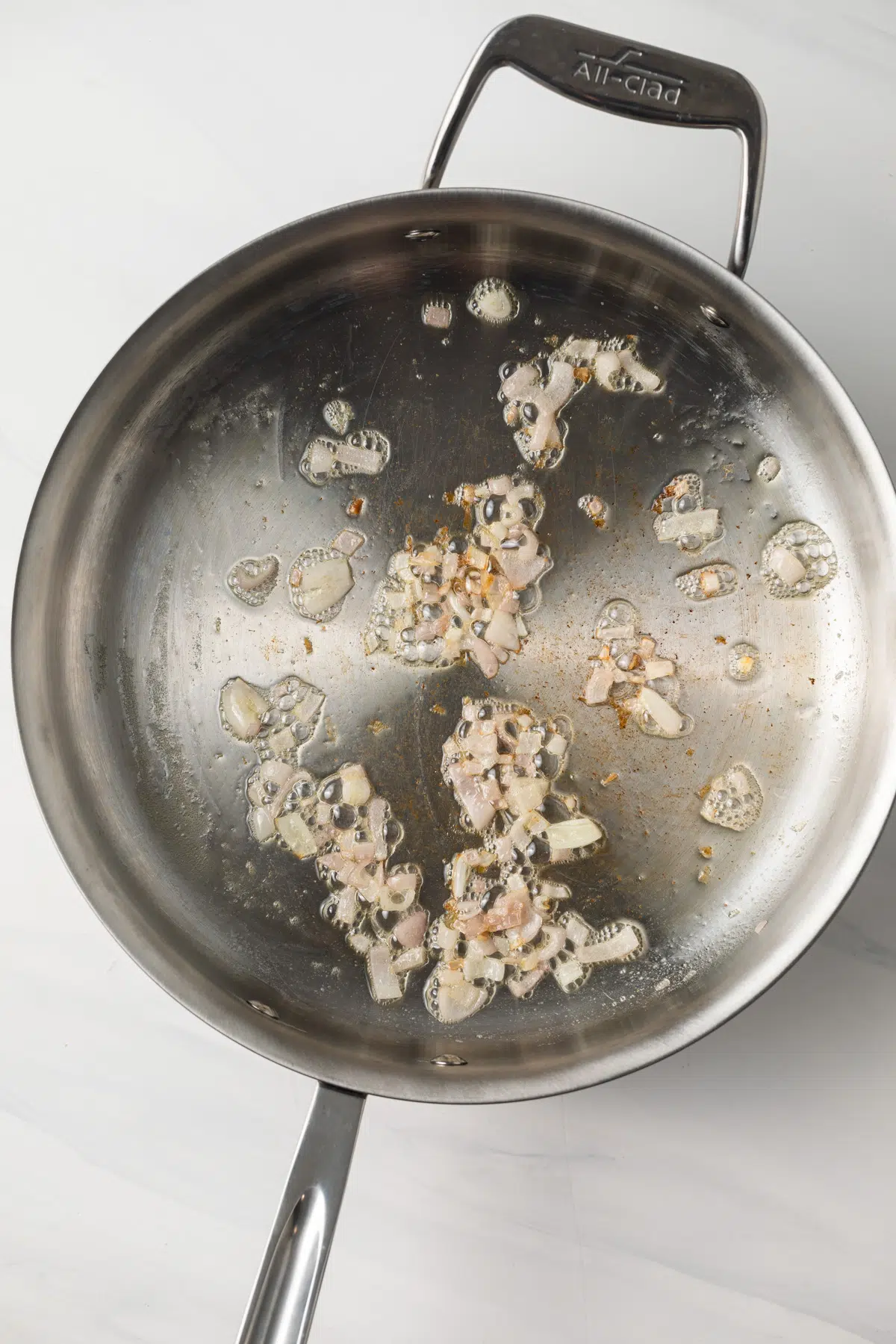 Substitutions
Shallots – you can use finely diced onions in place of the shallots though it's worth trying to find shallots. They give a slightly more sophisticated flavor to the sauce.
Beef stock – you can make this sauce with vegetable broth if you want a vegetarian option, just add a teaspoon or so of Worcestershire sauce for a little kick of richness and flavor.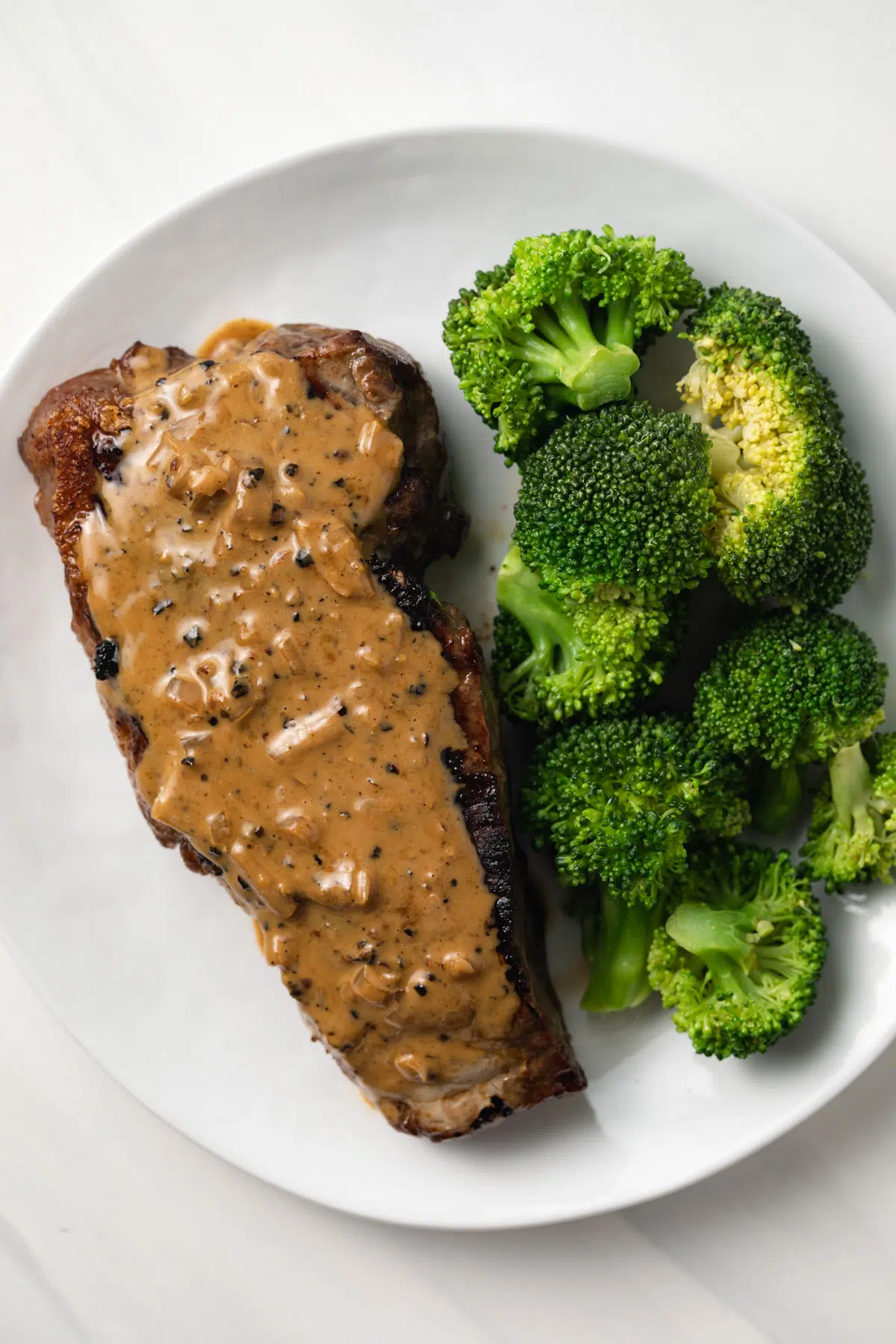 Storage
This creamy peppercorn sauce is best used immediately after it is prepared.
---
Tips
To crush the peppercorns, use a mortar and pestle if you have one. If not, put the peppercorns in a ziplock plastic bag and roll them with a rolling pin until coarsely crushed.
This flavorful creamy sauce is a quick and easy way to turn a piece of steak into an elegant dinner entree. Other delicious beef sauces – either to serve as steak sauces or which include beef are: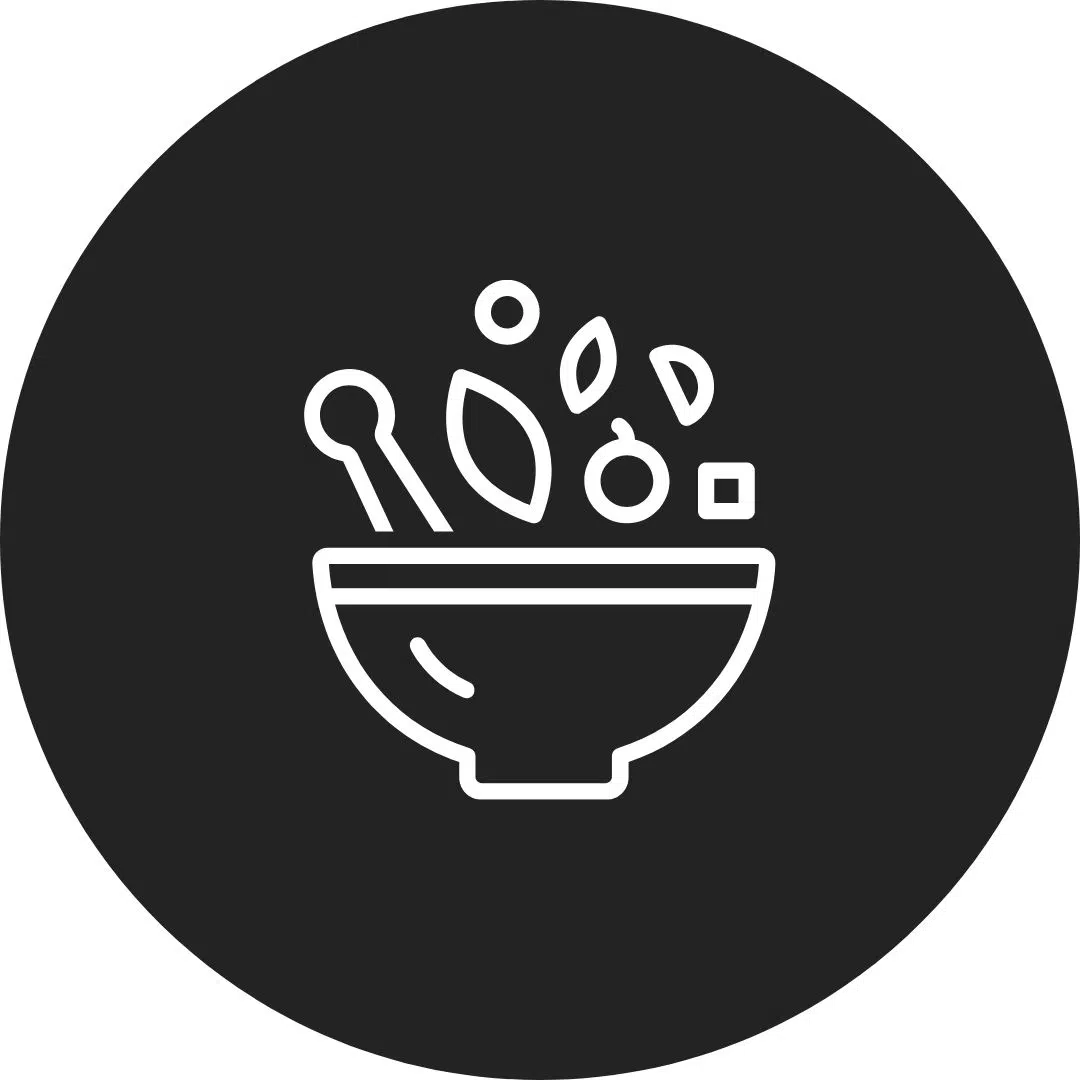 Printable Recipe