This post may contain affiliate links. Read the full disclosure here.
This flavorful Pot Roast Gravy is rich and savory. It comes together in just 10 minutes. It can quickly take any of your favorite recipes to the next level.
Pot roast is one of those comfort food dishes that people pretend to not like, but secretly love. I don't bother pretending. I love it.
My grandmother made a mean pot roast. I crave it served over a fluffy mound of mashed potatoes and smothered with this pot roast gravy. It really was the perfect pot roast.
A classic pot roast is a usually made from a beef chuck roast. It's braised with a liquid – usually red wine or beef broth or a combination of the two.
Sometimes I throw a sliced yellow onion in along with it to add a little flavor. And instead of cooking it over high heat, it's cooked low and slow in a crock pot slow cooker or a dutch oven.
There is something about the long slow braise that makes the meat so tender it practically melts in your mouth. In my mind, the perfect pot roast doesn't even need a knife to eat – you can cut it with your fork.
Someone recently served me pot roast over a bed of grits. I was a little skeptical at first, but I shouldn't have been. It was delicious. But all I could think about was how much better it would taste with some of this gravy on top.
Gravies made from pan drippings always have so much flavor, and they add depth and deliciousness to the meats they are served with. My turkey gravy is this kind of gravy. As is my au jus sauce.
This gravy takes just minutes to prepare, but when it is served over a hot pot roast with mashed or roasted potatoes, you'll swoon. It's such a simple recipe, but it tastes anything but.
So while the nights are still cool and there is a fire going in your fireplace, make yourself or your family a pot roast and serve this delicious gravy over it. You will be so happy you did.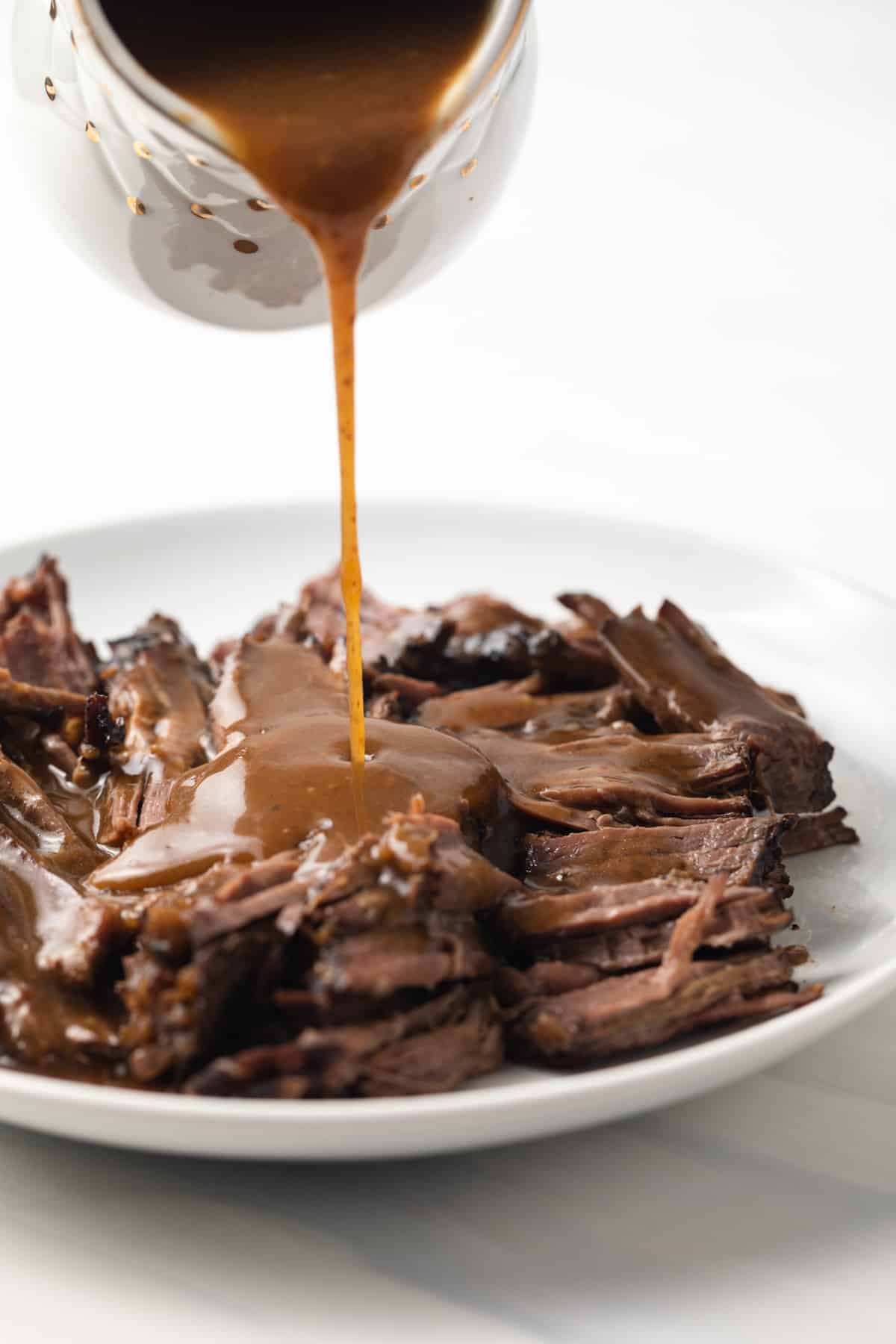 ---
Ingredients
These pot roast gravy ingredients are easy to find, particularly if you have just made a pot roast. All you really need, in addition to the pot roast drippings is a little bit of flour.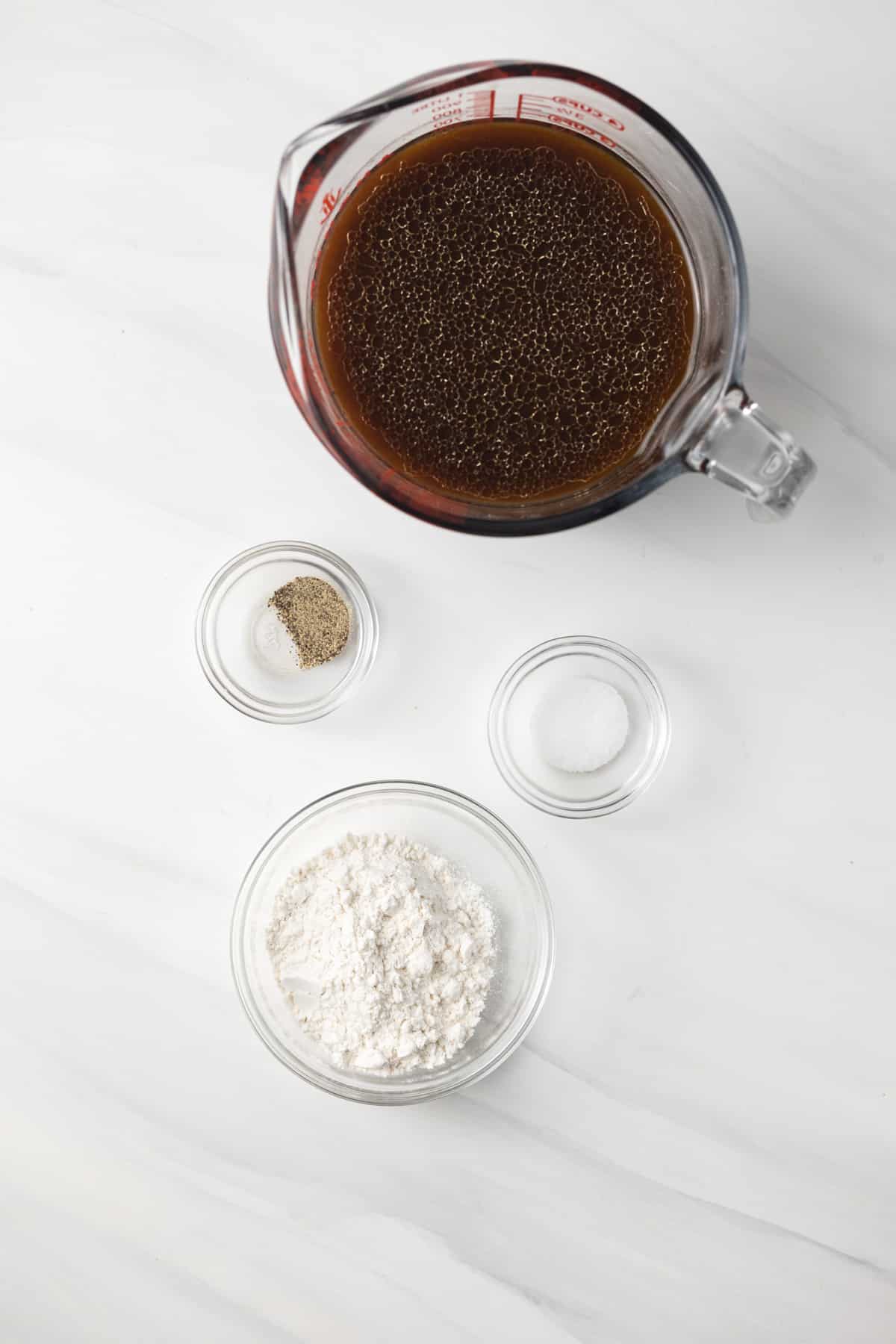 Roast drippings – Use drippings from your cooked pot roast, or you can use beef stock
All-purpose flour – This is used to thicken the flour.
Salt and Pepper – For seasoning.
---
Instructions
After you have made your pot roast recipe, this gravy will take just a few minutes to pull together.
Strain the drippings. Pour the roast drippings through a fine mesh sieve to remove any solids.
Cook. Transfer the drippings to a skillet and add the flour, salt, and pepper. Bring to a boil and slowly whisk to thicken the gravy.
Enjoy. Remove from heat and serve warm.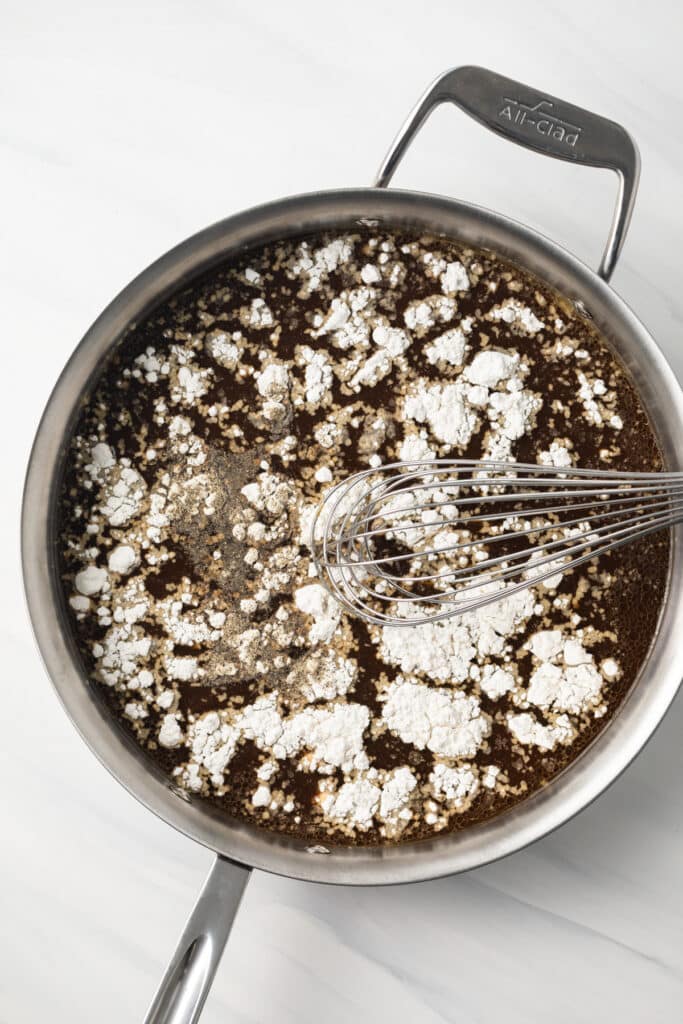 Substitutions
Flour – you can use a gluten free 1:1 flour in place of all purpose flour if you are gluten free.
---
Variations
This gravy is pretty perfect as is. You may want to add a dash of Worcestershire sauce for a bit more depth to the gravy, but its not necessary.
Storage
This gravy is best served immediately after cooking it. I don't recommend storing it.
---
Tips
If you don't have enough of the pot roast drippings to make 3 cups worth, add enough beef stock to make up the difference.
Gravies add flavor and richness to all kinds of dishes. These are some of my favorite gravy recipes.
Printable Recipe