This post may contain affiliate links. Read the full disclosure here.
This sweet and zingy ham glaze recipe is all you need to make a store bought sliced ham holiday-table worthy.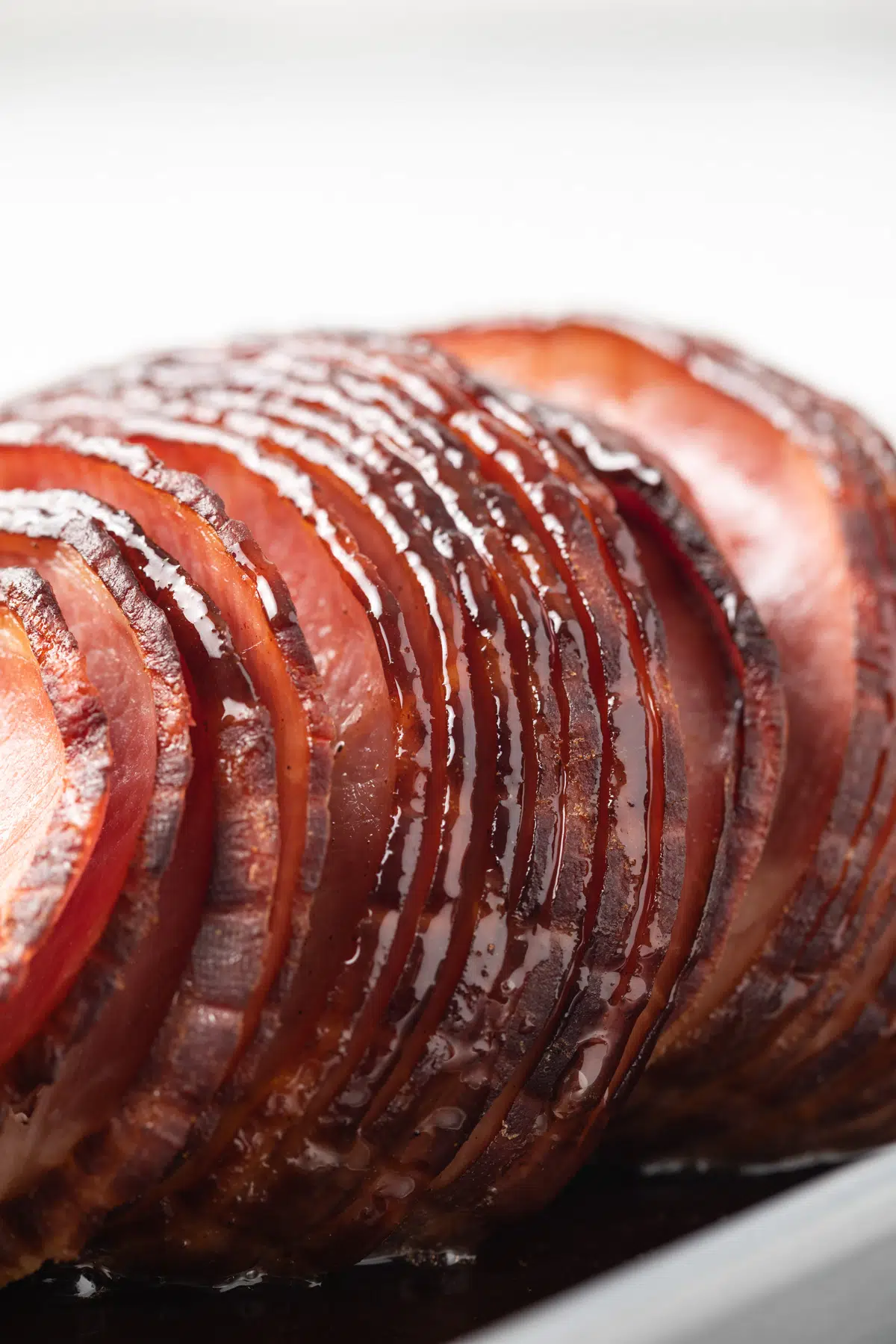 This homemade sweet brown sugar glaze is everything you need in one quick and easy recipe to take a pre-cooked spiral cut ham, yes, the ones you buy in the grocery store, and turn it into a show-stopping star of the buffet table. Who doesn't love a holiday ham?
Whether as an Easter Ham or a Christmas one, I love to serve this baked ham with a homemade macaroni and cheese, a big salad, and maybe some creamed spinach. Then I make a big batch of buttermilk biscuits and put them out with a variety of mustards – dijon, honey mustard, spicy brown and others – for make your own sandwiches.
The ham glaze is made from sweet and flavorful ingredients. Brown sugar, honey, orange juice, cloves and cinnamon. Can't you just smell it cooking?
When you pour this sweet and sticky glaze over the cooked ham, you just really need to heat the ham through, but the glaze will cook and the sugars in the glaze will harden so you end up with a crisp, flavorful edge to the ham.
To reheat the spiral cut ham with this glaze poured over it, preheat your oven to 325 degrees. You want to reheat the ham without drying it out – the secret to doing so is to somewhat steam the ham.
I normally place the glazed ham on a rack in a roasting pan. Add some water to the bottom of the pan and cover the whole thing with foil. Bake at 325F for 16-20 minutes per pound, taking the foil off for the last 30 minutes to crisp up the glaze.
The best thing about this is that you can serve the ham from the oven or let it sit and serve it at room temperature. Honestly, it's equally delicious both ways. That makes this the perfect recipe to serve at a holiday open house buffet.
---
Ingredients
This simple list of sweet and flavorful ingredients creates the most delicious ham glaze.
Light brown sugar – Always measure this firmly packed
Orange juice – I think juicing an orange gives the most flavorful oj, but use what you have.
Honey – For sweet stickiness.
Cinnamon – A little sweet comfort.
Cloves – The homiest, coziest flavor there is.
---
How to Make Ham Glaze
It's hard to believe something that is so easy to make is so delicious and can turn an ordinary ham into something extraordinary.
Add all ingredients to a medium saucepan.
Bring to a boil over medium-high heat and cook for 3-4 minutes until thickened.
Pour over or use a silicon brush to apply to a spiral cut or scored ham
Variations
This is a pretty standard recipe for a ham glaze. There isn't much I would do to change it.
Though it you wanted it to have a bit of a kick, you could use hot honey instead of regular honey.
For a more pineapple glaze, use a pineapple juice in place of the orange juice. If you do this, I would suggest serving the ham with some broiled pineapple chunks or slices.
Storage
You can make this earlier in the day and warm it up to pour, but it really is better to use it right after you make it.
---
Tips
The glaze will thicken and possibly harden as it cools. Simply reheat over low heat until warm and pourable.
Here are a few of my other sauces that work well with meats or pork.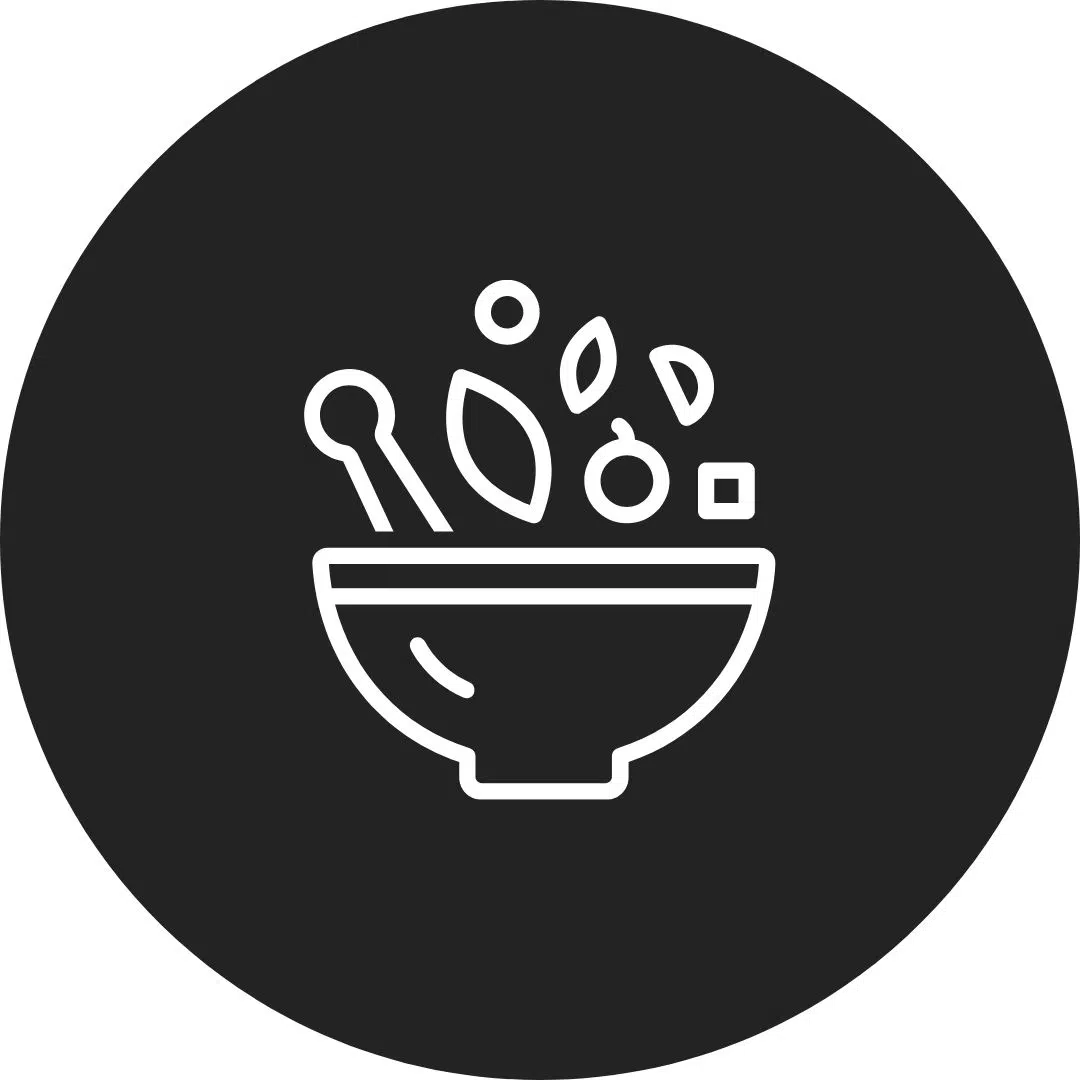 Printable Recipe