This post may contain affiliate links. Read the full disclosure here.
I'm so excited to share this homemade Boiling Crab sauce recipe with you. This spicy, buttery, cajun flavored sauce brings shrimp to the next level. It's so good. You may not be able to make it to New Orleans for Mardi Gras, but this sauce will transport you straight to Bourbon Street!
This boiling crab sauce is a riff on the famous "Whole Sha-Bang" sauce at the restaurant chain called the Boiling Crab. It's a seafood restaurant that has become famous for its seafood boils, and more importantly, its "Whole Sha-Bang" sauce. This shrimp boil recipe has loads of yummy ingredients that, when mixed together, become something out of this world.
This is, at its heart, a garlic butter sauce. But add to it cajun seasoning – which is, not surprisingly, the hallmark ingredient of any Cajun seafood boil. Lemon, cayenne pepper, paprika, and Old Bay seasoning and we have a sauce that makes you want to lick your fingers clean!
This is one of our favorite ways to prepare shrimp, and we know you'll love it too! If you haven't tried Cajun shrimp before, we're a little jealous because you are in for such a treat. This sauce is full of flavor.
And in a seafood boil, the sauce is really all that matters. This addicting crab boil sauce can be used with any cooked seafood, but really, it is best with shrimp, andouille sausage, potatoes, and corn. That's right. The Boiling Crab sauce is usually served with shrimp. We don't know why, and because it is so fabulously spicy and bold and delicious, we don't ask!
If you're looking for other sauces to go with seafood, try our imperial sauce, garlic butter sauce, our copycat Mumbo sauce, or, for a more tropical flavor, our coconut cream sauce.
Ingredients
This is essentially a garlic butter sauce loaded with bold and flavorful seasonings. Feel free to adjust the spiciness to your liking by fiddling with the amount of cayenne pepper and chili powder.
Butter: Use unsalted butter so you can be in control of the amount of salt.
Garlic: Fresh garlic always offers the best flavor. We really don't care for the garlic in a jar.
Old bay seasoning: If you know, you know. If you don't, this is the unmistakable flavor of Maryland crab boils.
Paprika: Paprika has a subtle flavor, but it provides an awesome deep color to the sauce.
Cajun seasoning: Yum. You can't have a Cajun shrimp boil sauce without cajun seasoning.
Sugar: White granulated sugar. You could use coconut sugar but I wouldn't use brown sugar.
Hot Sauce: If you can find Louisiana hot sauce, it will be that much more authentic. If you can't find it, just use your favorite.
Oregano: We love the warmth and coziness oregano brings to sauces.
Cayenne pepper: Bring the heat.
Chili powder: Spiciness and depth of flavor.
Lemon pepper: A peppery tang. If you don't have lemon pepper you can use a squeeze of lemon juice and a bit of black pepper.
Fresh lemon juice: This balances the heat and spice of the sauce. Please use fresh.
How to Make Boiling Crab Sauce
Making boiling crab sauce is really as simple as melting butter and adding all the seasonings. Once you have assembled your ingredients, you can enjoy a Cajun shrimp boil in less than 30 minutes.
To use this Boiling Crab sauce, add steamed or boiled seafood (maybe with sausages and potatoes) into a large bowl. Add the sauce and toss to coat everything well. Serve with corn on the cob, maybe some cornbread, and lots of napkins!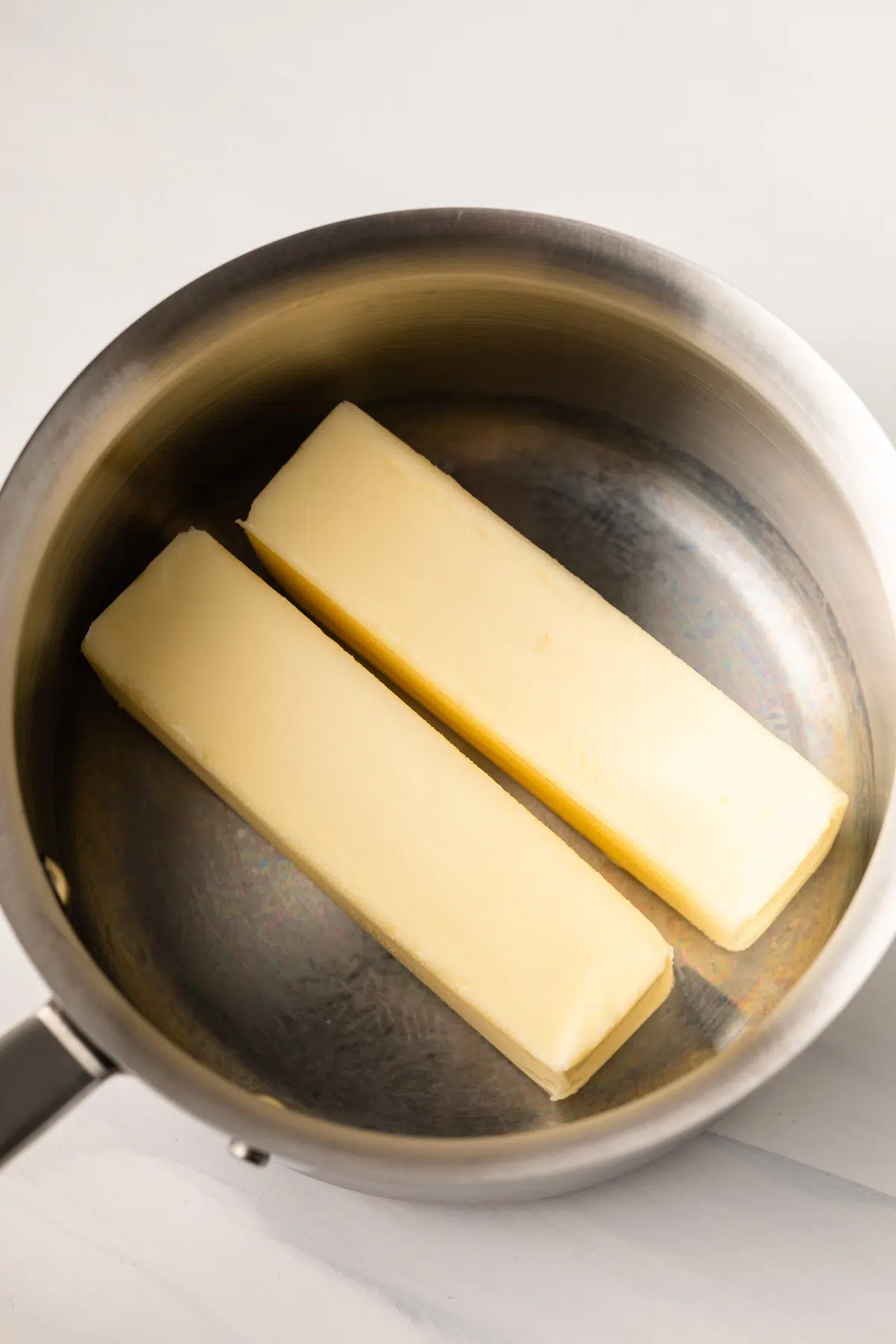 In a large pot, melt the butter over medium-low heat.
Once melted, reduce heat to low and add garlic powder, minced garlic, old bay seasoning, paprika, cajun seasoning, sugar, cayenne pepper, chili powder, and lemon pepper. Cook for 30 seconds until you begin to smell the spices.
Stir in the hot sauce and lemon juice. Bring to a simmer for 5 minutes.
Use right away.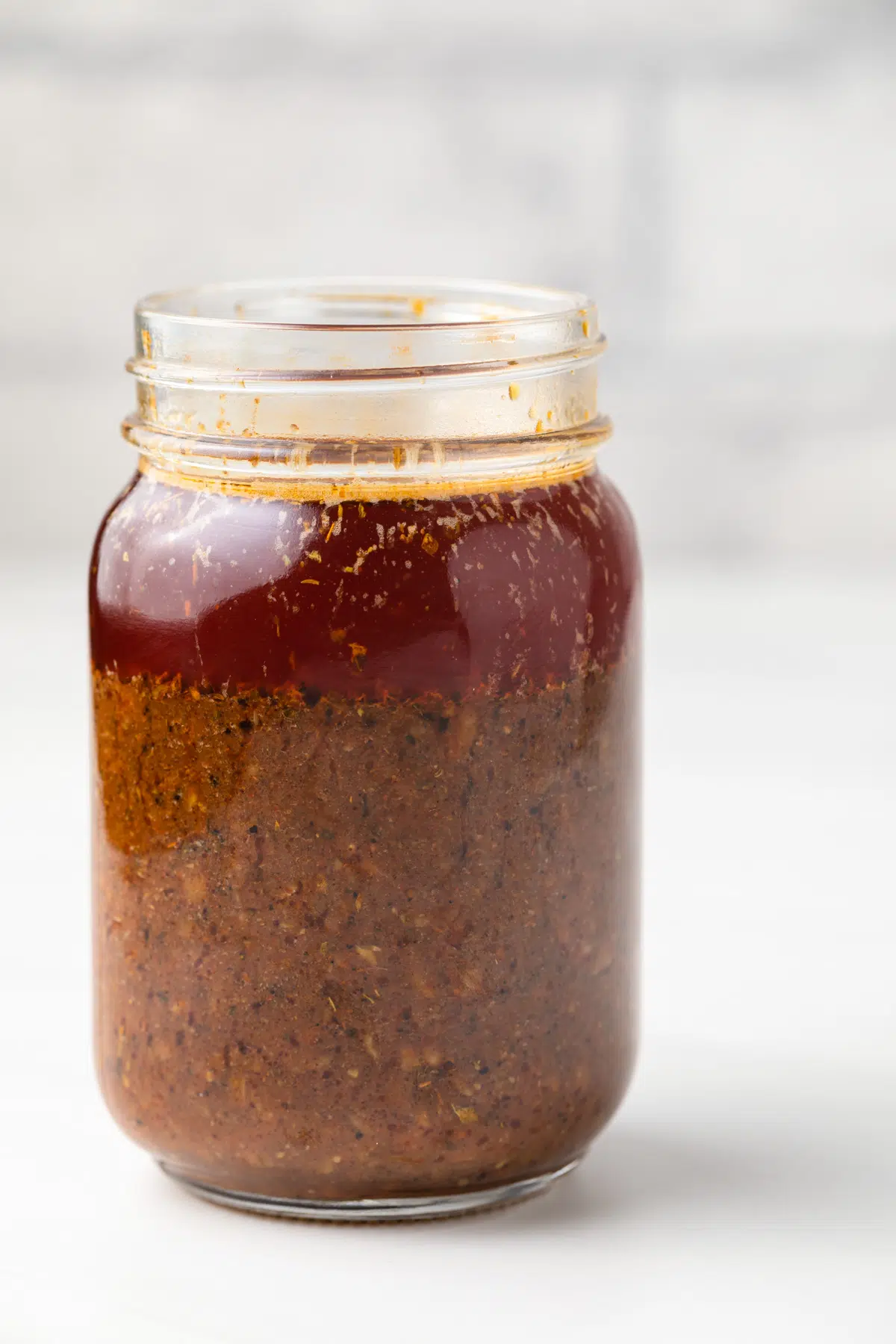 Substitutions
The thing we love most about sauces is that for the most part, you can tweak the ingredients a little bit if you don't have something on hand. Out of cayenne pepper, or looking for extra spice, add some red pepper flakes. No lemon pepper? Mix some black pepper into a teaspoon of lemon juice. It's all good.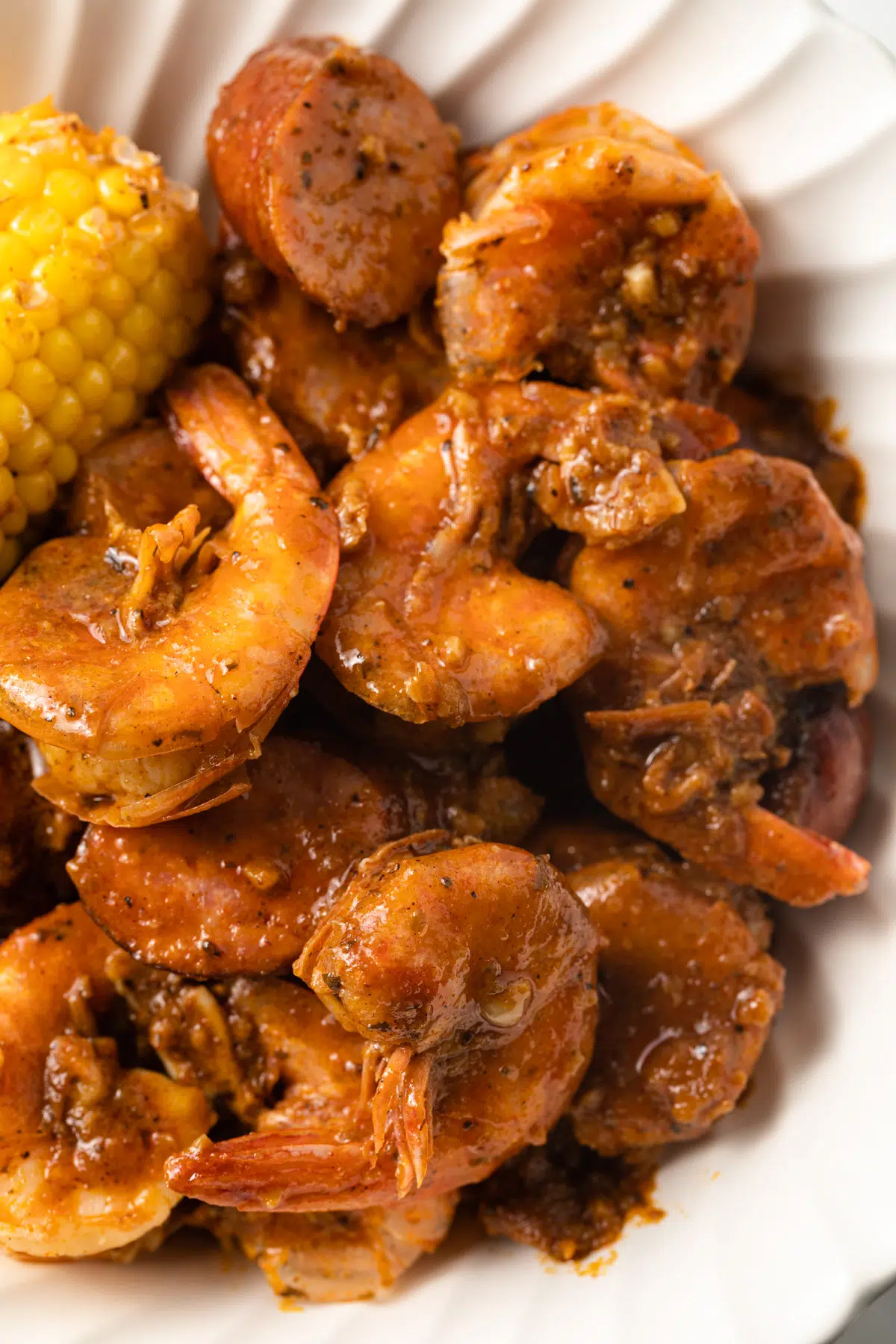 Storage
This sauce is best if used immediately.
Tips
Use two pounds of shell-on shrimp with this sauce. Half the fun of this dish is pulling the shells off the cooked shrimp with your fingers. Dip the shrimp in extra sauce in your bowl for even more flavor.