This post may contain affiliate links. Read the full disclosure here.
This Chamoy Sauce recipe is much like a hot sauce with the kick of dried peppers. It hits you in the throat but the flavor is oh so delicious. Sweetened with apricots, raisins and a touch of sugar.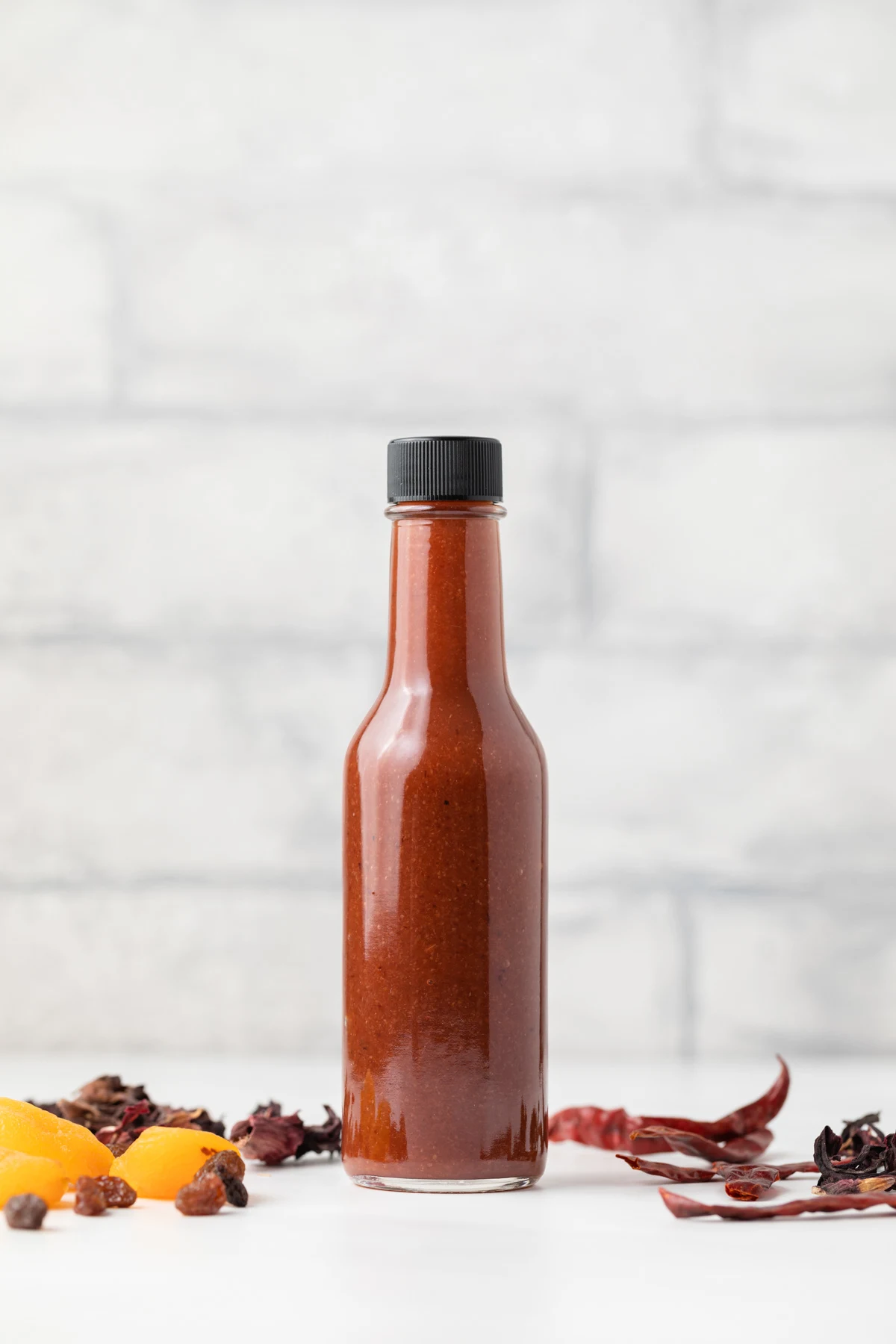 What is Chamoy Sauce?
Homemade Chamoy sauce is a Mexican condiment that will leave you wanting more. It is a perfect blend of sweet and sour with a little spice, a little salt, and a citrus tang. The Arbol chilis give it a hot sauce kick, but because of the sweetness from the raisins, dried apricots, and hibiscus, it's often paired with fresh fruit or shaved ice.

In Mexico, Chamoy sauce is a staple at roadside fruit stands. There it is drizzled over fresh slices of mango (our favorite!), pineapple, or coconut. You can serve it with anything you would use hot sauce for, dip the rim of a cocktail glass in it, or put a few drops in your favorite margarita.
If you like spicy food, try our jalapeno hot sauce next.
Chamoy Sauce Ingredients
Chamoy sauce is a simple staple of Mexican cuisine that doesn't take long to make, but it does require planning in advance. Ingredients like dried hibiscus flowers or arbol chilis need to be purchased ahead of time.
Dried Fruit: Rehydrated apricots and raisins give the sauce a fruity sweetness

Dried Hibiscus flowers: Adds a tart, almost cranberry like flavor, and adds color

Dried Arbol Chilis: For a fiery kick. Seeds are taken out to remove some of the heat.

Granulated sugar: Adds sweetness

Lime juice: For citrusy zing. Fresh lime juice is always preferable but you can use bottled if limes aren't available

Salt: To round out the flavor
How to Make Chamoy Sauce
This Chamoy recipe is made in 4 easy steps. The idea of making hot sauce may seem intimidating – but it shouldn't be! Once you see how simple it is to make, and how delicious it is, you'll be making it over and over again.
Combine all ingredients (other than lime juice and salt) with water in a sauce pan. Bring to a boil then simmer.

Let cool before transferring mixture to a blender, and blend until smooth.

Press through a fine-mesh sieve and discard any pulp.

Whisk lime juice and salt into the sauce.

Store in glass jars in the refrigerator for up to two months.
How to Serve Chamoy Sauce
Chamoy sauce is a sweet-sour condiment that can be served in many ways:
Drizzled over fresh fruit

As a dipping sauce for potato chips or nuts

Over shaved ice, mango sorbet, or vanilla ice cream

In a citrusy cocktail or on the rim of the cocktail glass

Drizzled over key lime pie or serve with a dollop on a plate with pineapple curd.
Substitutions
A few of the ingredients in this Chamoy Sauce recipe might not be in your everyday pantry, so there are a few substitutes if you're having trouble:
We have used Mexican hibiscus flowers for this recipe but you can use Jamaican flowers also.

If you can't find dried arbol chiles, substitute for dried jalapeno peppers or dried thai bird chiles.
Variations
Like most sauces, this recipe can be modified to suit your personal preferences. Always make sure you taste for seasonings before storing your sauce and tweak if needed.
For a spicier version of the sauce, add the whole pepper into the saucepan. Remember, the real heat in peppers is usually in the seeds.

If you want to make it extra tangy, add ¼ – ½ of a teaspoon of citric acid. This powdered citrusy acid packs a zingy punch.
Equipment
Chamoy sauce is made easily with a saucepan, a blender, and a sieve.
Storage
This sauce can be kept in a mason jar or other glass container for up to two months in the refrigerator. It's not a great idea to freeze it.
Tips
Don't over-boil the ingredients initially. There should be enough water in the pan to hydrate the fruit and make it all plump and soft.