Hawaiian Brown Gravy (Loco Moco Gravy)
This post may contain affiliate links. Read the full disclosure here.
Dreaming of a vacation but can't get away right now? This Hawaiian Brown Gravy recipe, or Loco Moco recipe, will transport you to the Big Island. Loco Moco is beloved Hawaiian comfort food. It is a ground beef patty served over white rice, topped with a runny fried egg, and smothered with this rich and delicious gravy.
Loco Moco is a local Hawaiian favorite. Legend has it that it was created in the 1940's at a diner on the Big Island. It's often served for breakfast, but with the rice topped with a hamburger patty covered in delicious Hawaiian-style brown gravy, you can serve it for any meal you want.
The funny-sounding name for the dish comes from the Hawaiian words Loco – meaning crazy – and Moco – meaning burger. So… crazy burger. Once you try this Loco Moco Gravy recipe, you'll be calling it Loco Ono Moco – which means crazy delicious burger.
If you enjoy this gravy recipe, you may also want to try my country white gravy, Swedish meatballs sauce and chicken marsala sauce. And if you can't get enough of Hawaiian cooking – make up a batch of my Hawaiian teriyaki sauce.
Ingredients
This Loco Moco Gravy recipe comes together quickly with items that you likely have in your pantry.
Butter: Use unsalted sweet cream butter so you can control the salt in the gravy

Flour: All-purpose flour whisked with the butter becomes the roux which adds thickness to the gravy.

Beef Broth: The base of the gravy, providing rich flavor.

Ketchup: Adds a little zing.

Sugar: For a bit of sweetness.

Soy Sauce and Worcestershire Sauce: For umami and depth.

Heavy Cream: For a smooth and creamy gravy.

How to Make Hawaiian Brown Gravy
Loco Moco Hawaiian Brown Gravy can be made with ingredients you have on hand in about 5- 10 minutes. Must faster than a flight to Maui!
Make a roux: Melt butter, whisk in flour and cook until golden brown.

Add broth and other flavor ingredients: Whisk in broth, ketchup, sugar and Worcestershire sauce over medium high heat. Bring to a boil and then simmer until thickened.

Add in soy sauce and cream.

Season with pepper to taste and enjoy!
Hint: We tested this recipe with regular soy sauce so no additional salt was needed. If low sodium sauce is used, you may need additional salt.

If the gravy is runny, mix 1 tablespoon cornstarch and 1 tablespoon cold water and whisk into the gravy. Bring to a simmer and stir until thickened.
Make it Vegetarian/Vegan
If you would like to make this recipe vegetarian or vegan, I suggest the following substitutions:
Vegan Butter – Instead of butter use a vegan alternative.

Vegetable stock – Replace the beef stock with vegetable stock.

Cashew milk – Works as a great alternative to heavy cream but you can use your preferred dairy alternative.

Vegan Worcestershire sauce – Look for vegan alternatives to Worcestershire sauce at the market or make it at home.

Beyond meat patty – Use a meat alternative for the beef patty. We like the beyond meat patties.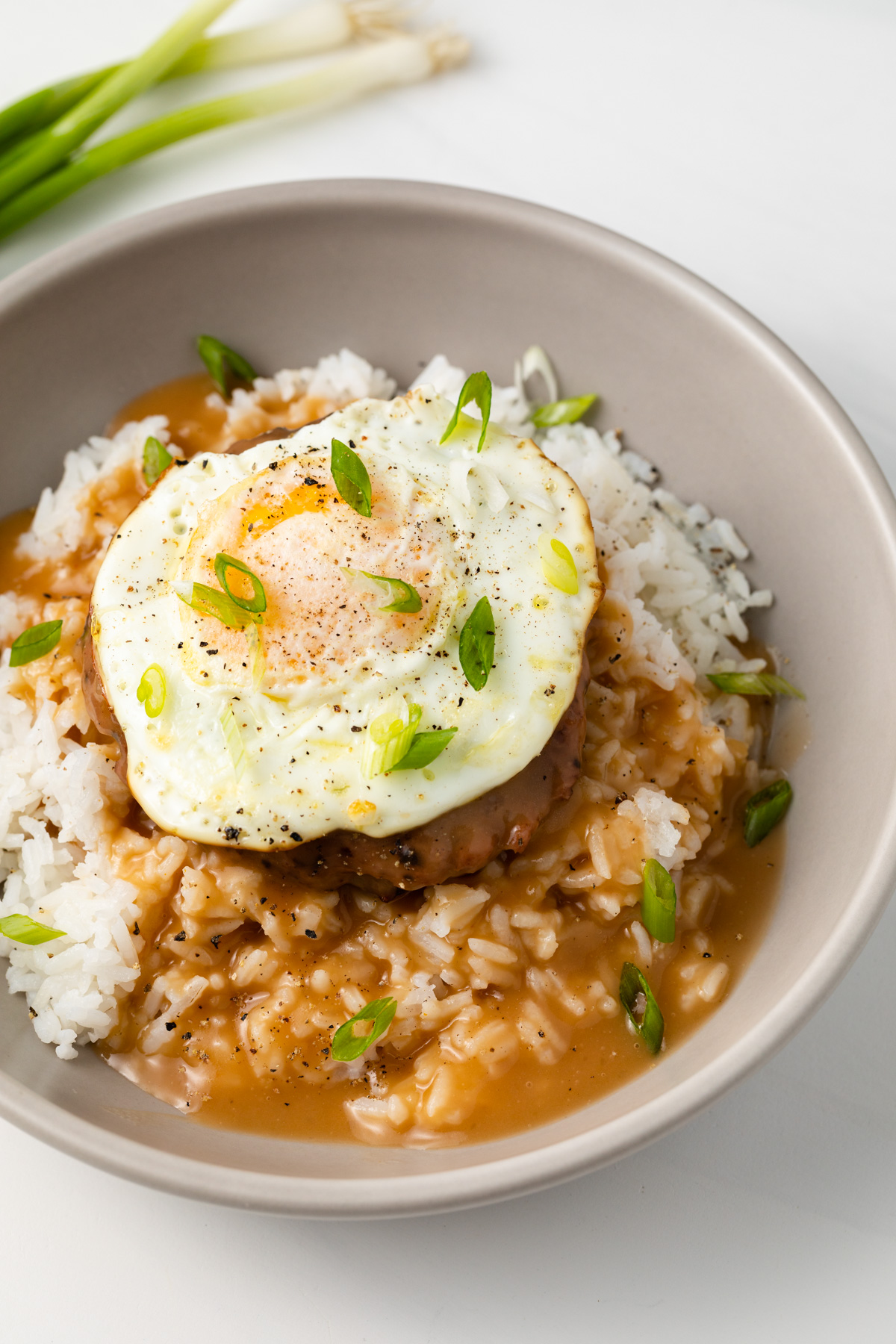 Equipment
This Hawaiian Brown Gravy can be made with only a skillet and a whisk. If you are also cooking a burger for Loco Moco, we prefer using a cast-iron skillet.
Storage
Once cooled, Hawaiian Brown Gravy can be kept in an airtight container in the refrigerator for up to 4 days. Or it can be kept in a freezer-safe container in the freezer for up to 3 months.
Tips
When making the roux, whisk it gently, but you want the flour and butter to foam. When the foaming subsides, the roux is done. If you don't let it cook to the point where it foams, the flour will have a raw flour flavor which will come through in the sauce.
To make Loco Moco – place a burger patty over cooked rice and spoon gravy over the top. Top with a fried egg. It's traditional to use a sunny side up egg but cook the egg however you prefer. Garnish with chopped green onion if desired.