This post may contain affiliate links. Read the full disclosure here.
Pink sauce, also known as rosa sauce, is a creamy tomato sauce like vodka sauce, but, well, without the vodka. It's quick and easy to put together and can make any weeknight dinner feel like a special occasion.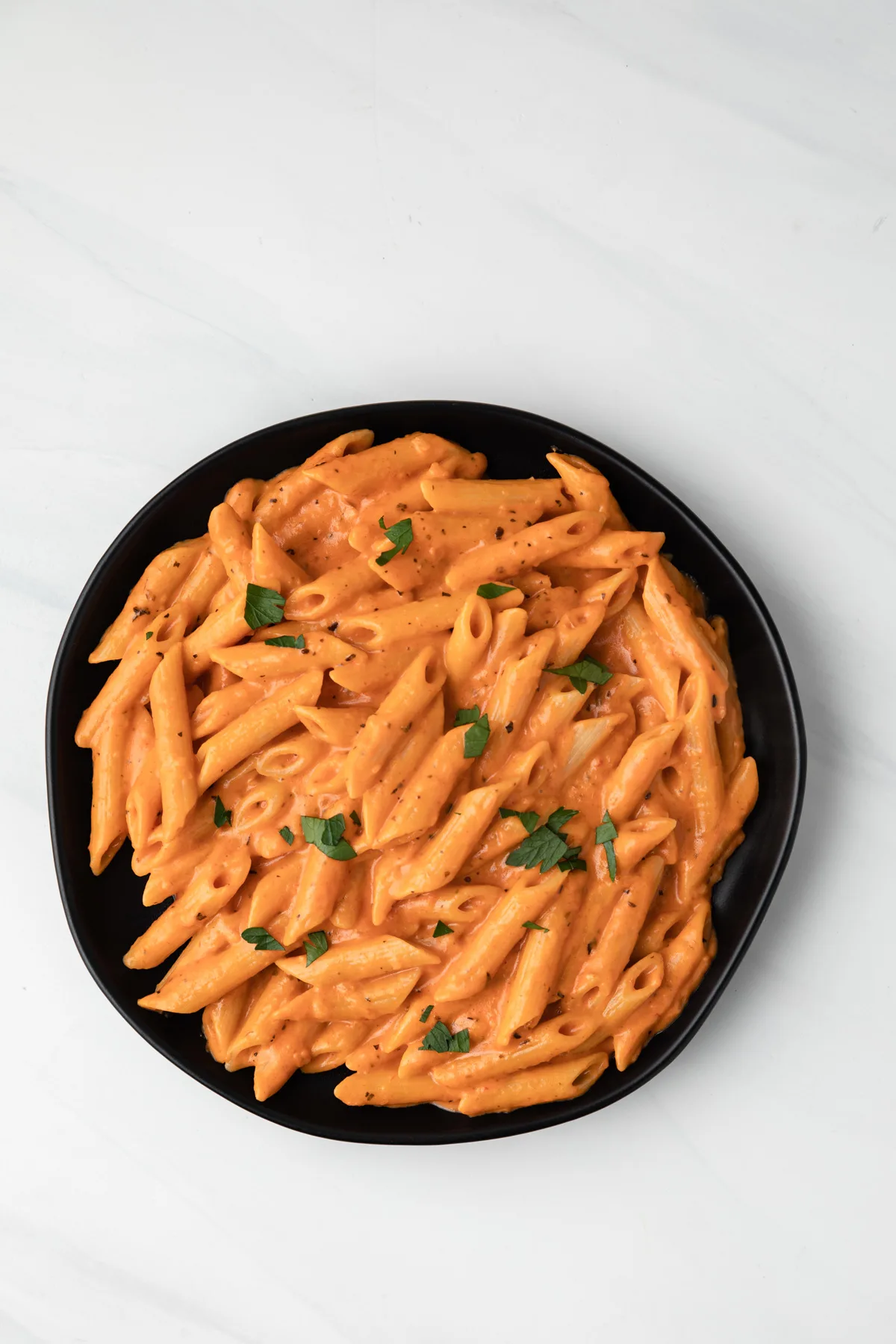 Is there anything more comforting than a bowl of pasta with homemade sauce and freshly grated parmesan cheese? Probably not. This pink sauce recipe adds cream and cheese to elevate everyday marinara sauce to a whole new level.
Just a few minutes of effort on the sauce pays big rewards. Add some freshly cooked pasta and your family's new favorite dinner is ready.
If this pasta recipe reawakens your love for pasta dishes, try this eggplant tomato sauce, creamy pesto sauce, or classic alfredo sauce.
Ingredients
This pink sauce can be made in about the same time it takes to boil the water and cook the pasta.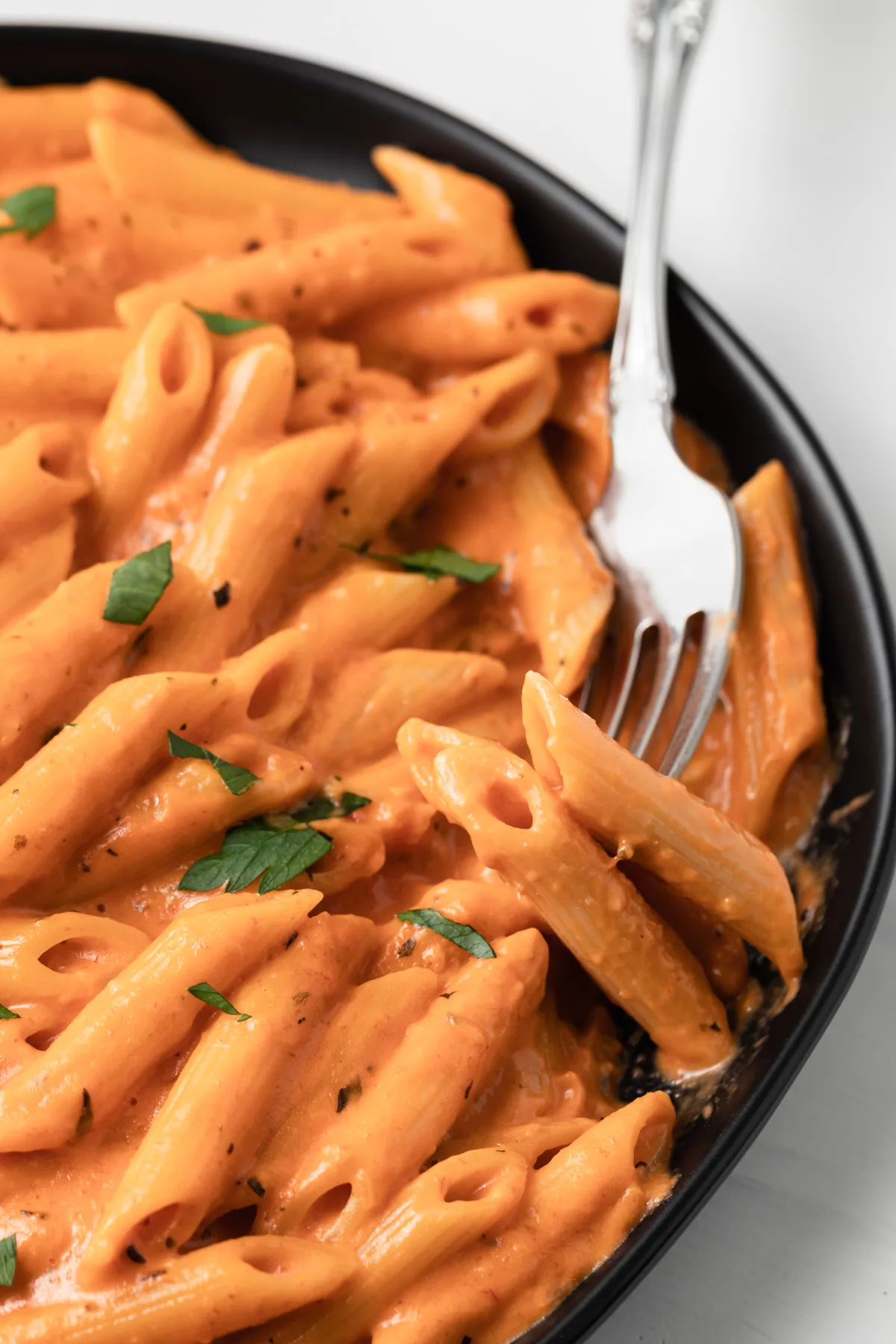 Tomato Sauce: Canned tomato sauce is the base of this creamy pink sauce.
Butter: Use unsalted butter – it's always better to add the amount of salt you want separately.
Onion and Garlic: Aromatic flavors that add richness to the sauce.
Dried Basil: Adds the unmistakable Italian flavor to the sauce.
Bouillon Cube: For instant flavor and depth.
Red Chili Flakes: A little heat is never a bad thing, but if it is not for you, leave it out.
Half and Half: For creaminess and to bring the pink to this pink sauce recipe.
Mozzarella Cheese: Cheesy, creamy goodness.
Instructions
This pink sauce comes together quickly using one pan and ingredients you probably have in your pantry.
Melt butter in a saucepan over medium heat.
Add onions and garlic and cook until fragrant.
Add tomato sauce, basil, salt, chicken bouillon, and chili flakes and cook.
Stir in half and half and simmer.
Remove from heat, add mozzarella and stir to combine
Cook pasta (we like al dente) separately, drain the pasta, toss with sauce and enjoy!
Hint: Don't let the onions and garlic brown – they will make the sauce bitter.
Taste the sauce before serving and adjust seasonings – add either salt and pepper or more chili flakes to your liking.
This sauce recipe will make enough to coat 300 g of pasta, or about ⅔ of a box. We like to use penne but rigatoni is great as well in this pink sauce pasta.
Substitutions
As with most sauces, you can often tweak ingredients if you don't have everything on hand.
Substitute heavy cream for the half and half, but don't use milk – it won't add the same level of creaminess.
The chili flakes don't really make the sauce spicy, they will just add a little extra flavor. If chili flakes scare you, feel free to omit.
If your garden is overflowing with basil, use it rather than dried. You can also garnish with fresh chopped basil rather than parsley.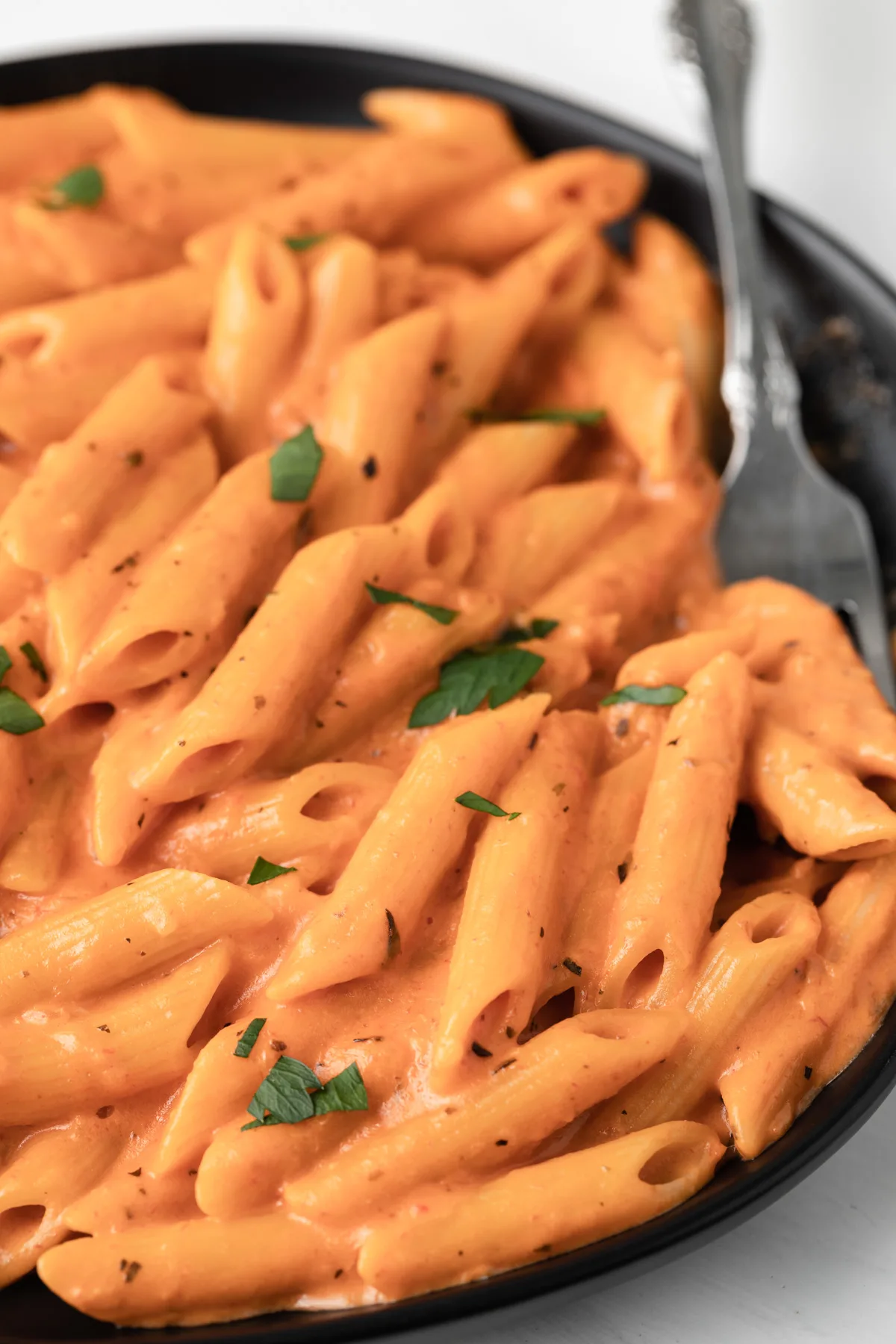 Variations
You can make a dairy free version of this sauce by using olive oil for the butter, full fat unsweetened coconut milk and your favorite dairy free shredded cheese substitute. I haven't tested this method so I cannot vouch for it.
Equipment
This recipe requires no special equipment. If you (or your little ones) prefer a smooth pink sauce, blend the sauce before adding the half and half with an immersion blender.
Storage
This sauce can be refrigerated for up to 3 days. It's not best frozen.
Tips
Serve immediately and top with fresh basil or parsley and serve with freshly grated parmesan cheese. Add a simple green salad (try our basic vinaigrette) and garlic bread for a delicious and simple weeknight meal.