This post may contain affiliate links. Read the full disclosure here.
This creamy balsamic dressing recipe is perfect for when you want to lighten things up a bit with a salad, but you still want something delicious. Tangy from balsamic vinegar, this bright creamy dressing will soon become a staple in your pantry. Once you see how easy it is to make on your own, you'll never go store-bought again!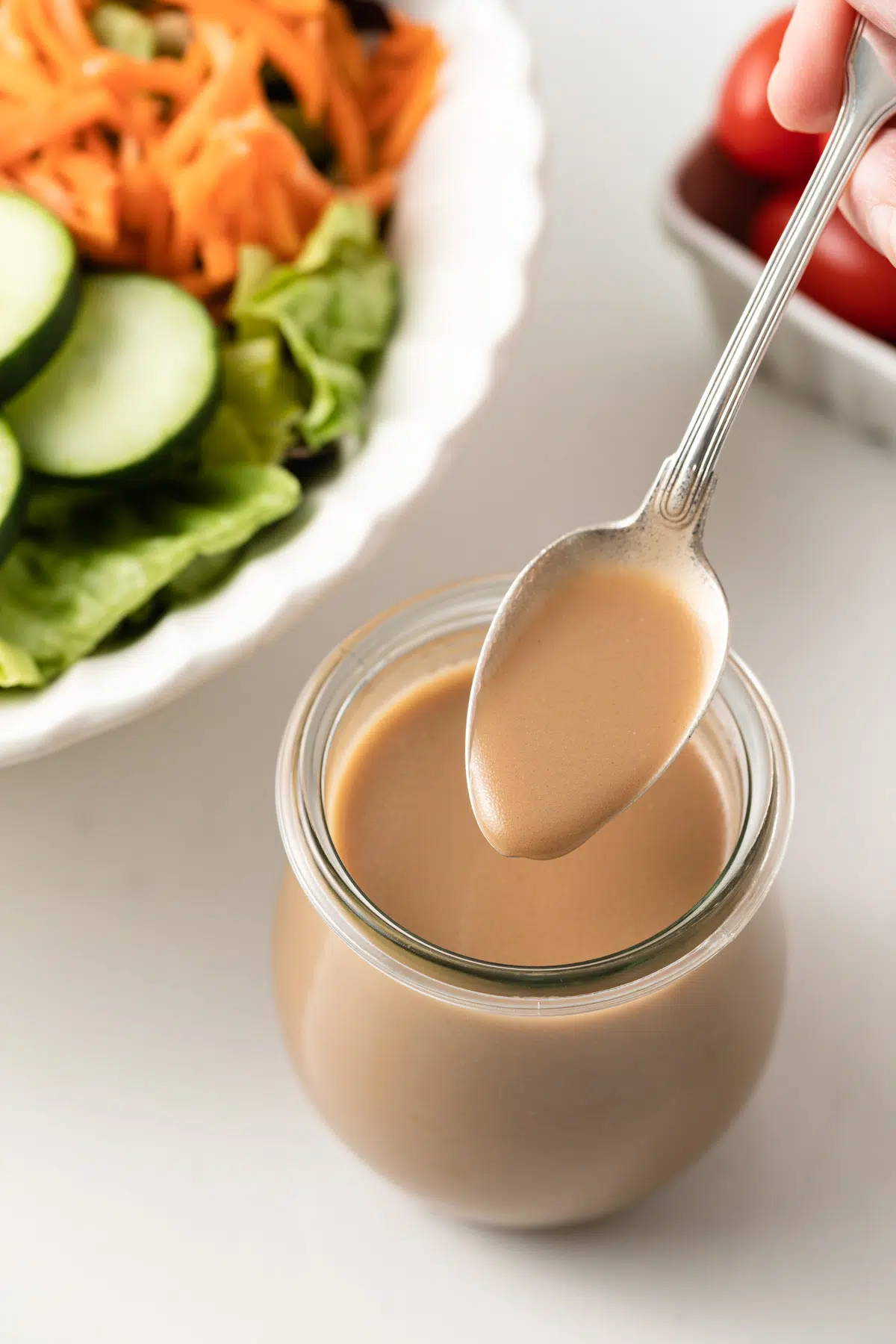 Having a homemade salad dressing on hand might be something you've never considered. But homemade tastes better and contains fewer ingredients than anything you'd ever buy from the store. You'll be shocked at how ridiculously easy it is to make.
A basic vinaigrette is made from 1 part vinegar and 3 parts oil. This homemade creamy balsamic vinaigrette recipe uses the same ratio but usually gets its thickened creaminess by drizzling the oil slowly into the vinegar with a blender running to emulsify it. We've skipped that step here – mayonnaise is a ready-made emulsified oil. It adds all the creaminess without the hassle.
I love the flavor of creamy balsamic dressing. It's a little richer than a standard balsamic vinaigrette. It can also be used as a condiment or a marinade.
This dressing is great drizzled on a salad, of course. A spinach salad with this dressing and chicken pulled from a store-bought rotisserie makes an easy and delicious lunch. The dressing can also be a dip alongside ranch dressing on a veggie platter. It is even delicious on pasta salad with veggies as a side dish!
If you're looking for something a little sweeter, give my honey balsamic vinaigrette a try!
Why add mayonnaise and mustard?
Mayo is already emulsified, and mustard helps the oil in this recipe emulsify with vinegar. Both contribute to the creaminess.
Ingredients
Homemade creamy balsamic salad dressing is super easy to make with pantry ingredients you have on hand.
Mayonnaise: Use your favorite brand. Mayo creates creaminess in the dressing.
Dijon mustard: This adds depth and richness, but not a mustardy flavor, and helps the oil and vinegar blend together.
Honey: A touch of sweetness.
Salt: Just a touch.
Balsamic vinegar: Use the best quality balsamic vinegar you can find.
Canola oil: You can use whatever unflavored oil you prefer – avocado works well.
Instructions
This quick and easy creamy balsamic vinaigrette comes together in minutes.
Combine the mayonnaise, mustard, honey, and salt in a bowl using a whisk or with a blender. You can use an immersion blender with a whisk attachment if you have one.
Mix in the vinegar until well combined.
While whisking continuously or blending, add the oil in a slow stream until all the oil is incorporated.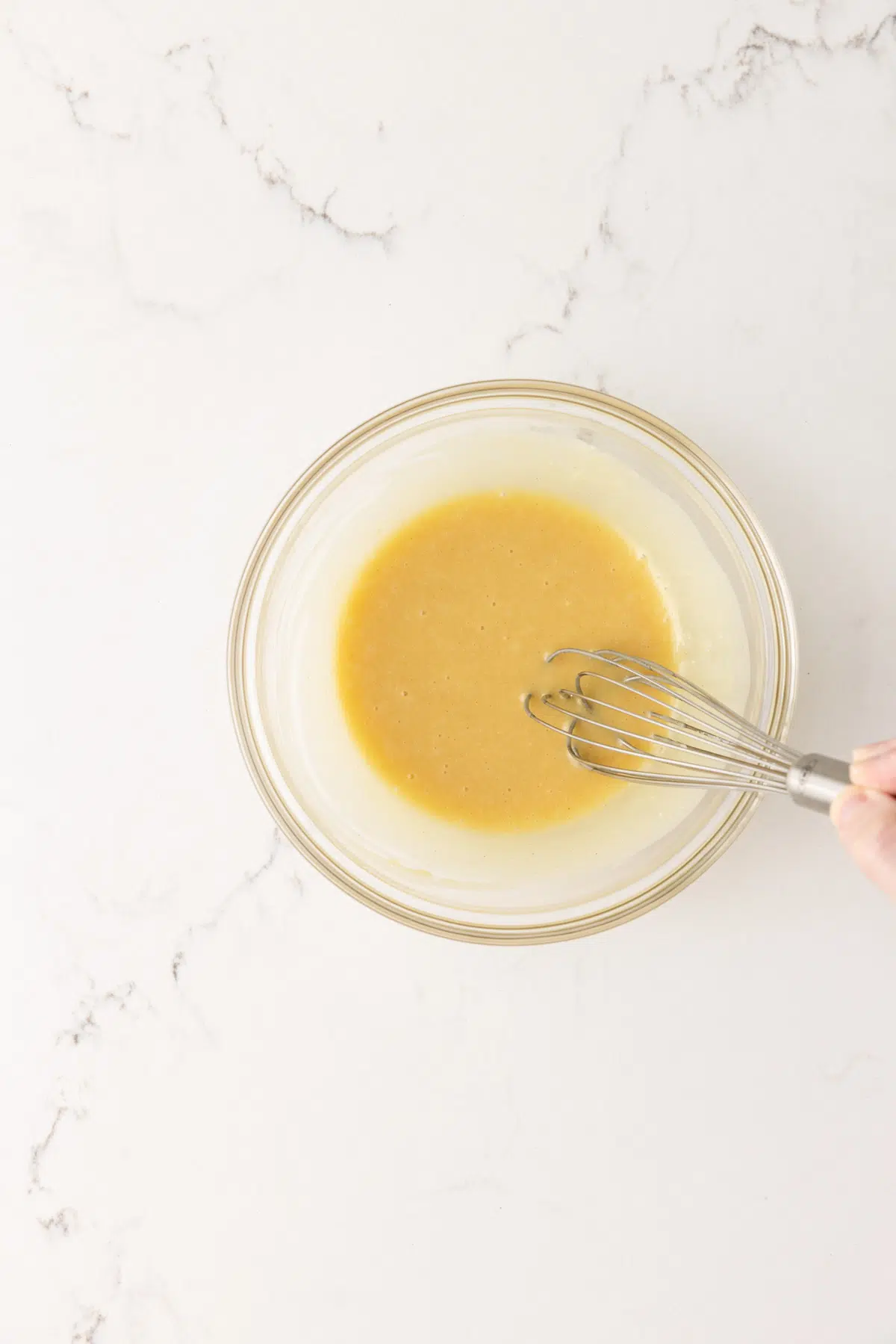 Substitutions
Honey: You may use brown sugar instead.
Oil: You can use whatever mild, unflavored oil you prefer. Olive oil can be used if that's all you have, but I do like this better with an unflavored neutral oil.
Variations
You can modify the sweetness of the dressing by adjusting the amount of honey, or use brown sugar in its place.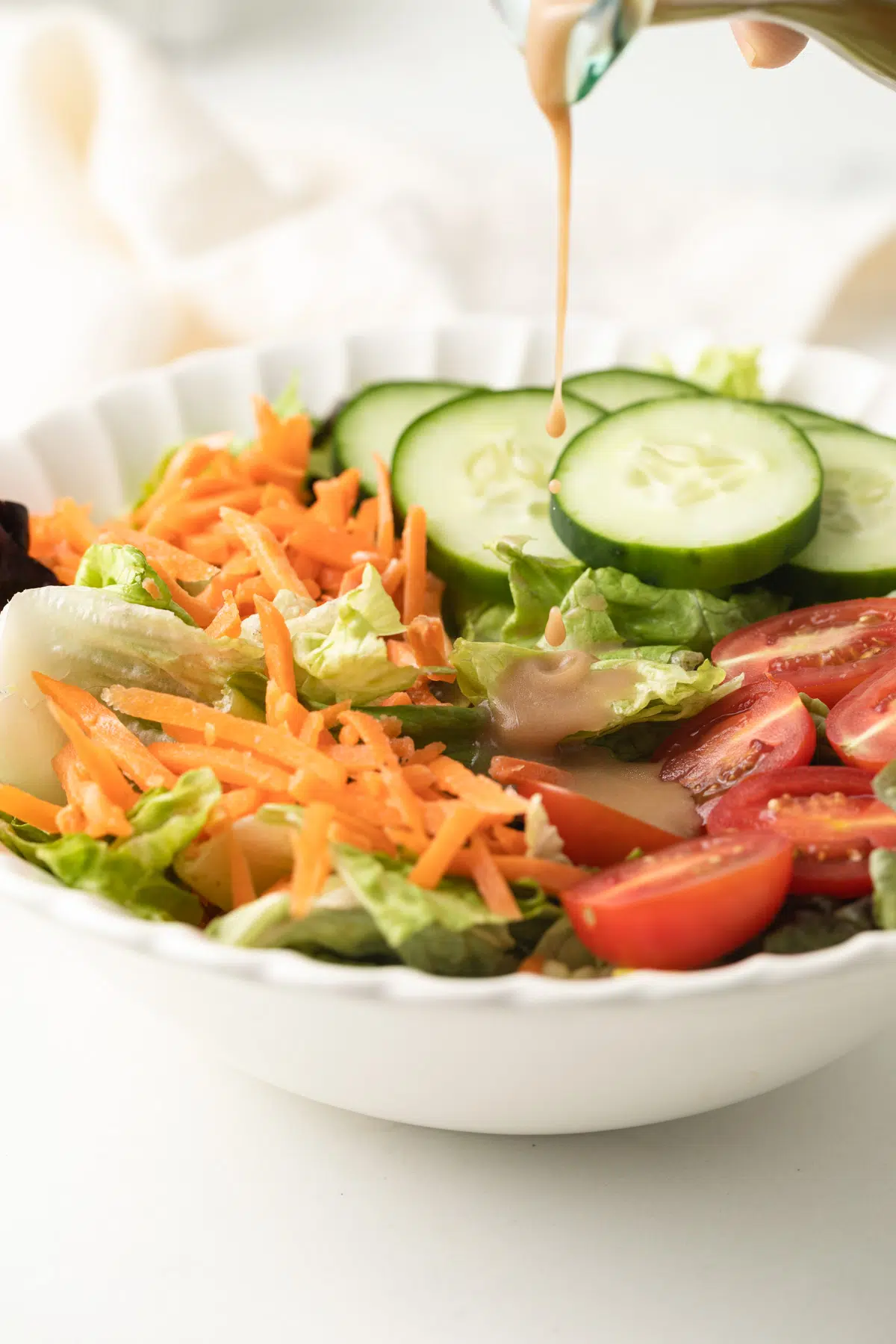 Storage
The dressing will keep for up to one week in the refrigerator.
Tips
When making dressings, the oil is the star. It takes on the flavor of whatever other ingredients added to it, but be sure to start with the best quality oil you can find.