This post may contain affiliate links. Read the full disclosure here.
This authentic Birria Consomé is a Mexican beef stew loaded with tender meat and flavorful broth. It's amazing ladled into bowls or used as a dip for tacos. It even works amazingly as a sauce for meat, rice, and more.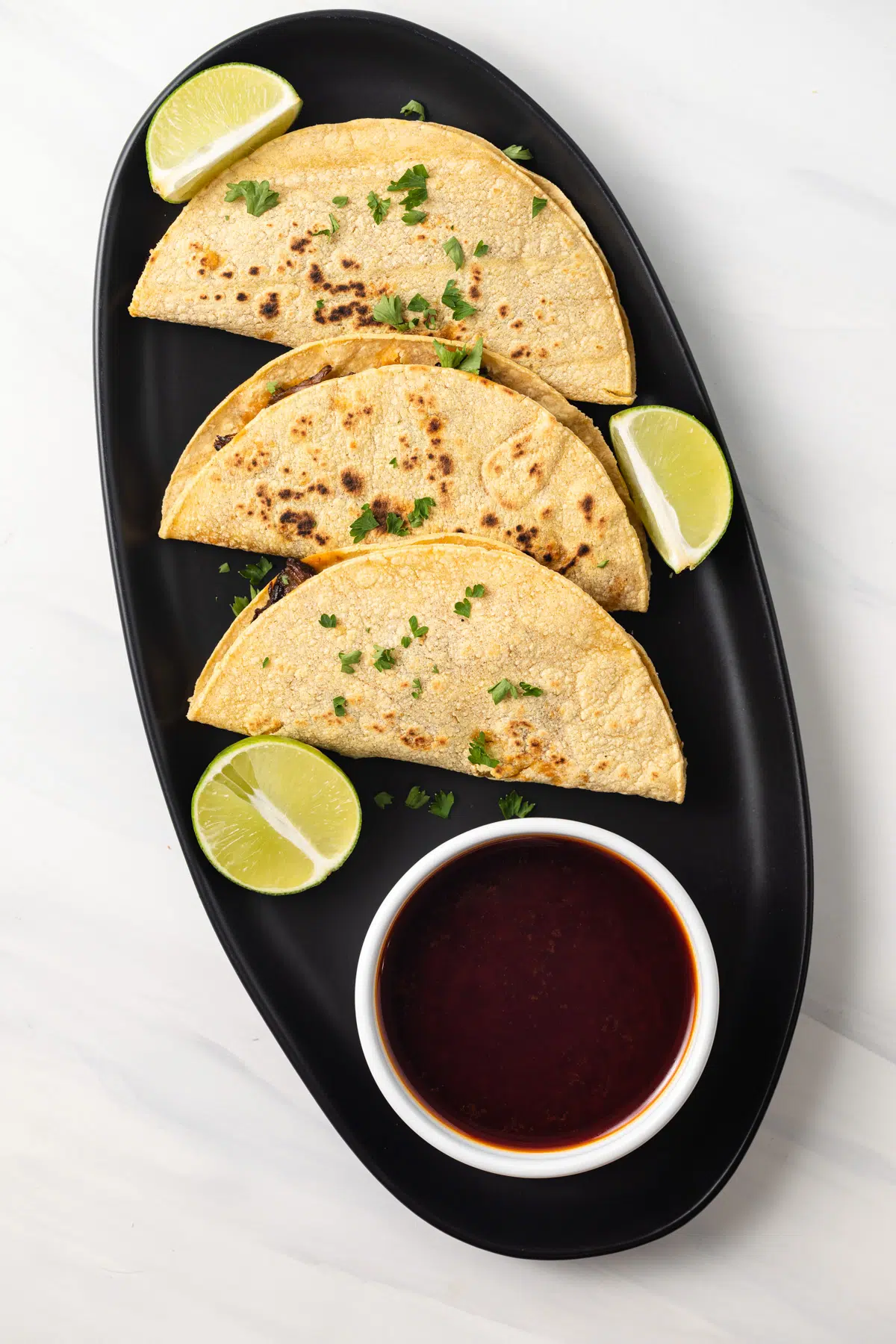 I love this birria consome recipe – it creates a rich, hearty and flavorful dipping sauce for tacos or quesadillas.
While you may think of a consomme as a clear clarified broth served as a first course in French restaurants, this is not that! This is a Mexican consome – I have to assume it gets it's name from the French consomme, but I can't find cold hard proof of that. So don't hold me to it.
What you can hold me to is that this Birria Consome is spicy, earthy, hearty and delicious!
The brothy sauce makes an incredibly flavorful dip for tacos or a sauce for other Mexican favorites. Serve this at your next Mexican fiesta along with my fish taco sauce, my avocado crema and my fresh peach mango salsa.
Birria beef has a spicy, savory and sweet taste. Traditionally, it is served as a soup or stew made with chili peppers, beef (goat meat if you really want to be traditional), a variety of savory spices (garlic, cumin, bay leaves, and thyme) and broth.
It is similar to barbacoa in that both meats are slow cooked with a variety of spices, but birria is spicier. It also is cooked fully submerged in the broth. Barbacoa is less brothy. The flavor of birria is sort of next level – it is really delicious.
Another awesome reason to make this sauce – you also get all the deliciously flavored cooked meat. You can use the shredded meat as a filling for tacos, burritos, quesadillas or enchiladas. It's spicy and bursting with flavor, and you're sure to love it.
---
Ingredients
This spicy Mexican sauce requires more ingredients than my typical sauce, but it is worth it.
Beef – I use chuck roast and bone in short ribs. Both have unique flavors that add to the richness of this sauce.
The Basics – Olive oil, kosher salt and pepper (whole peppercorns!)
Aromatics – Onion and garlic, fresh please, nothing from a jar or plastic container.
Chilis – This recipe calls for three different types of dried chilis – all will be seeded and stemmed – guajillo (delicate chili flavor), ancho (dried poblano peppers) and arbol (smaller, spicier chilis).
Tomatoes – Fresh diced roma tomatoes (you know, the oval ones).
Spices – For that complex chili flavor and zip – cumin, cinnamon, oregano, paprika and a bay leaf.
Broth – Beef broth gives a richer, heartier flavor here.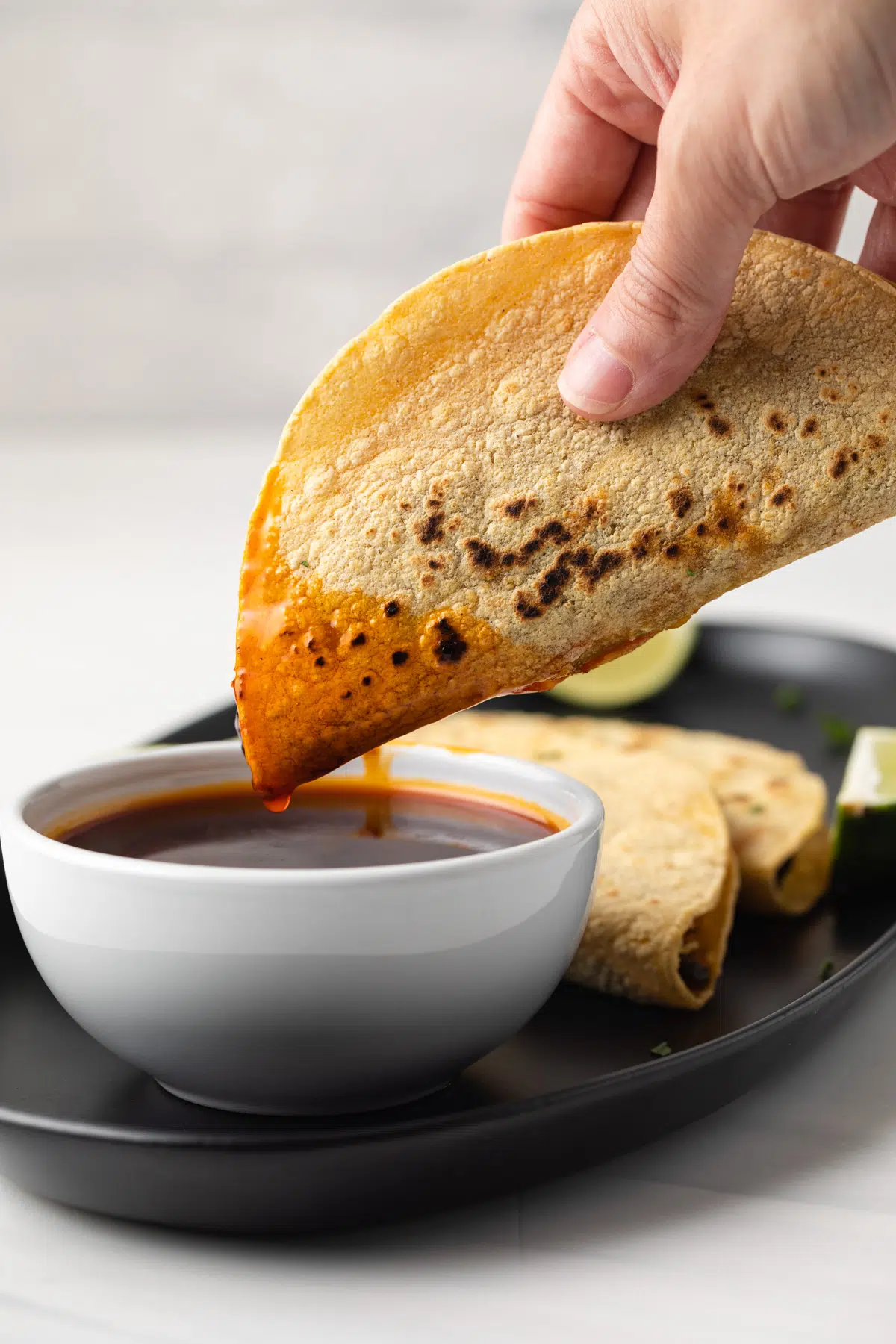 How To Make Birria Consome Sauce
This sauce takes a little effort – be sure to set aside about 4 hours to prepare the meat and sauce, and allow it to evolve to its full, rich flavor.
Season the meat roast and short ribs on all sides with salt and pepper.
Brown the meat. Heat olive oil in a dutch oven or large pot over medium-high heat. Add the roast and short ribs and cook until browned on all sides. Add half the onion. Cook for an additional 2 minutes. Then remove from the heat and set aside.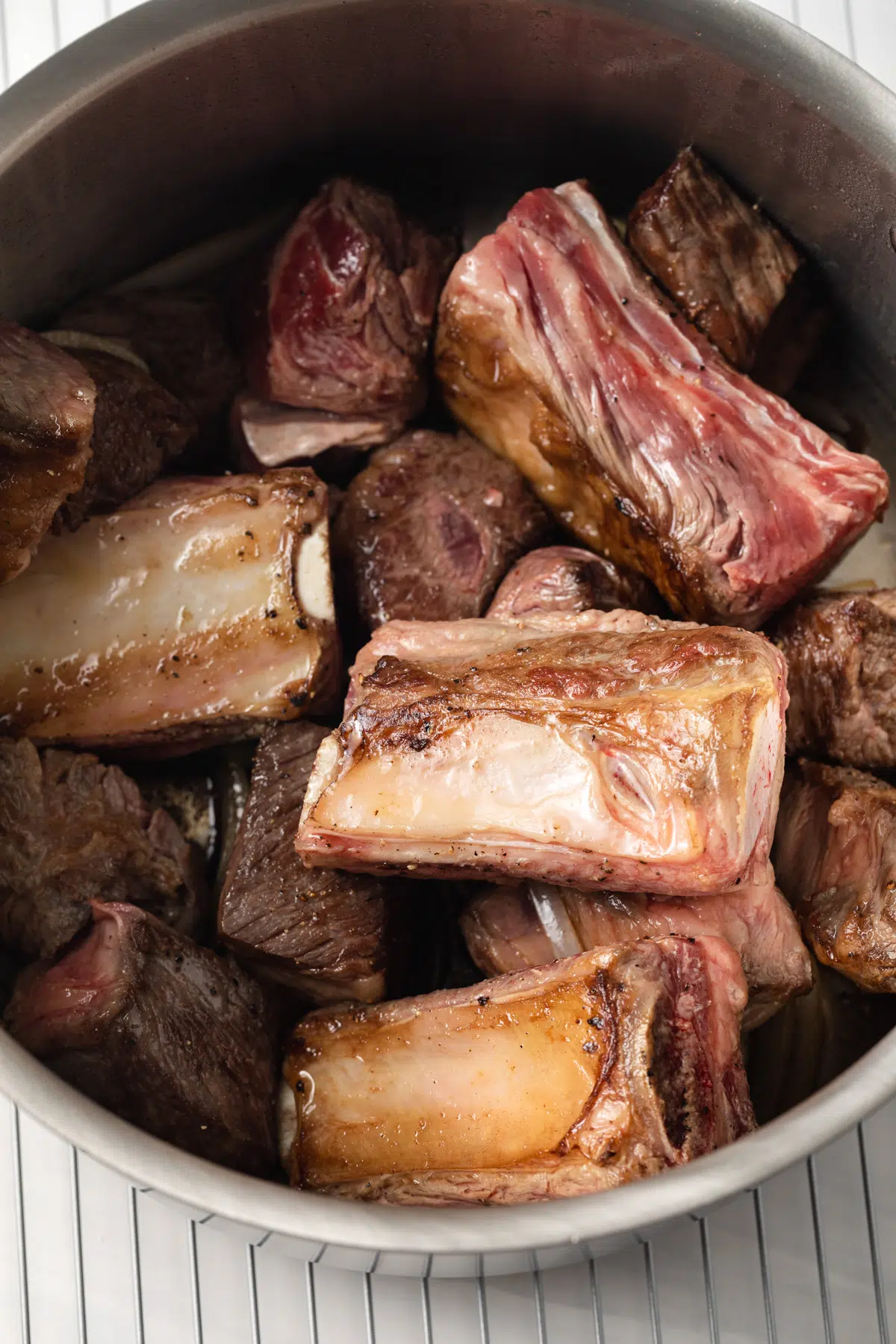 Make the sauce. In a separate medium pot, add the remaining half onion, garlic, all the chiles, tomatoes, cinnamon, oregano, paprika, cumin, bay leaf, peppercorns, and salt. Cover with about 4-5 cups of water and bring to a boil over medium-high heat. Reduce heat to low and simmer for 15 minutes.
Strain the sauce. Using a fine mesh sieve, strain the liquid over a bowl. Remove the bay leaf and discard. Save the solids and place them into a blender.
Blend the sauce. Add 2 cups of the strained liquid plus 1 cup of beef broth to the blender. Cover tightly (if you don't the hot liquid will pop the lid off the blender and you'll have a huge mess) and blend until smooth.
Place the pot with beef back on the stove at medium heat. Strain the blended sauce into the pot with the beef. If needed, add more beef broth so the sauce covers the beef.
Simmer. Partially cover the pot, reduce heat to low, and simmer for 3 hours. Taste and add more salt if needed.

Six back and relax as your house smells delicious!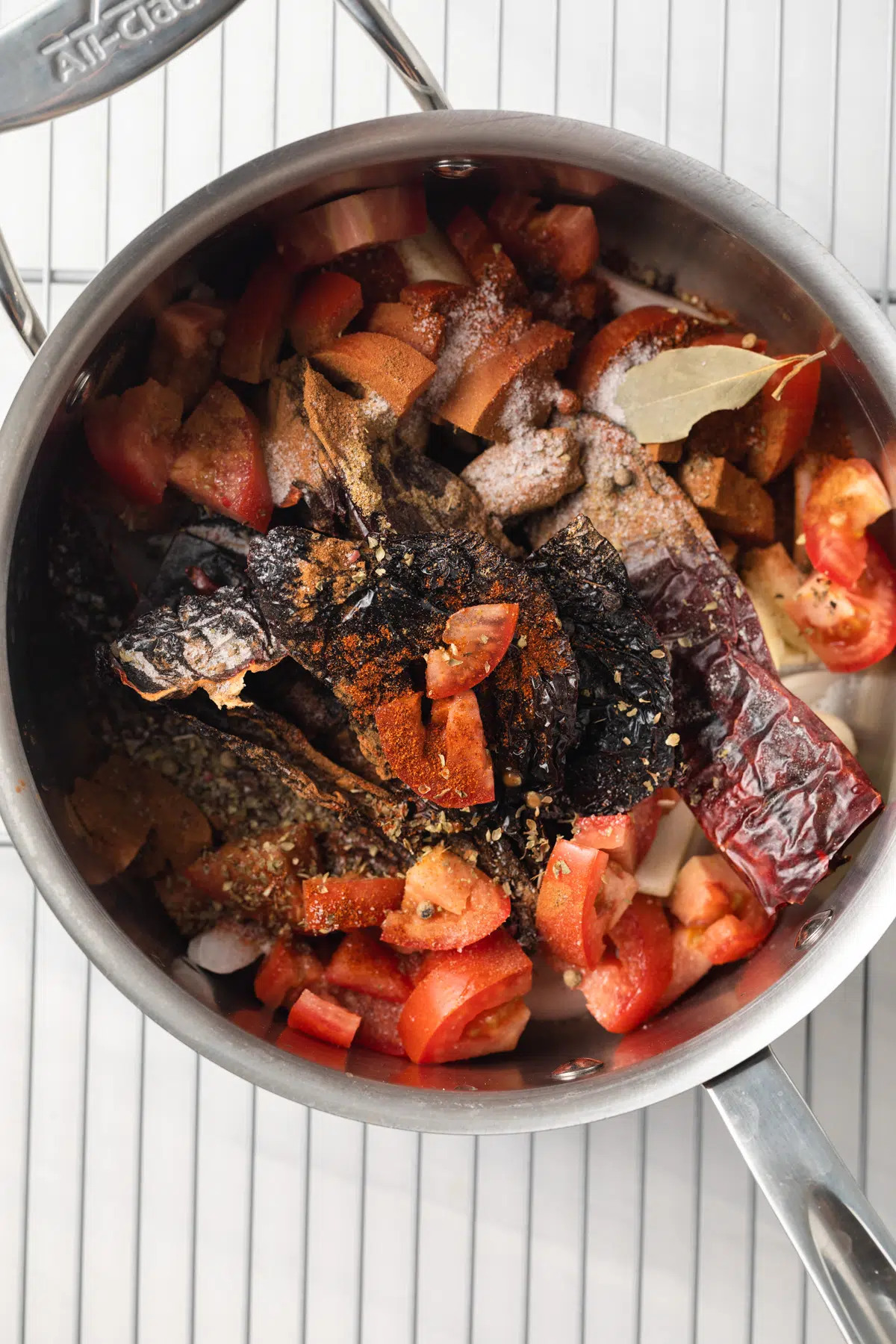 Substitutions
Chiles: The arbol chiles add a nice heat to the stew. If you desire more heat, you can leave the seeds in these peppers.
---
Variations
You can alter the spice level of this sauce by adjusting the amount and types of chili peppers.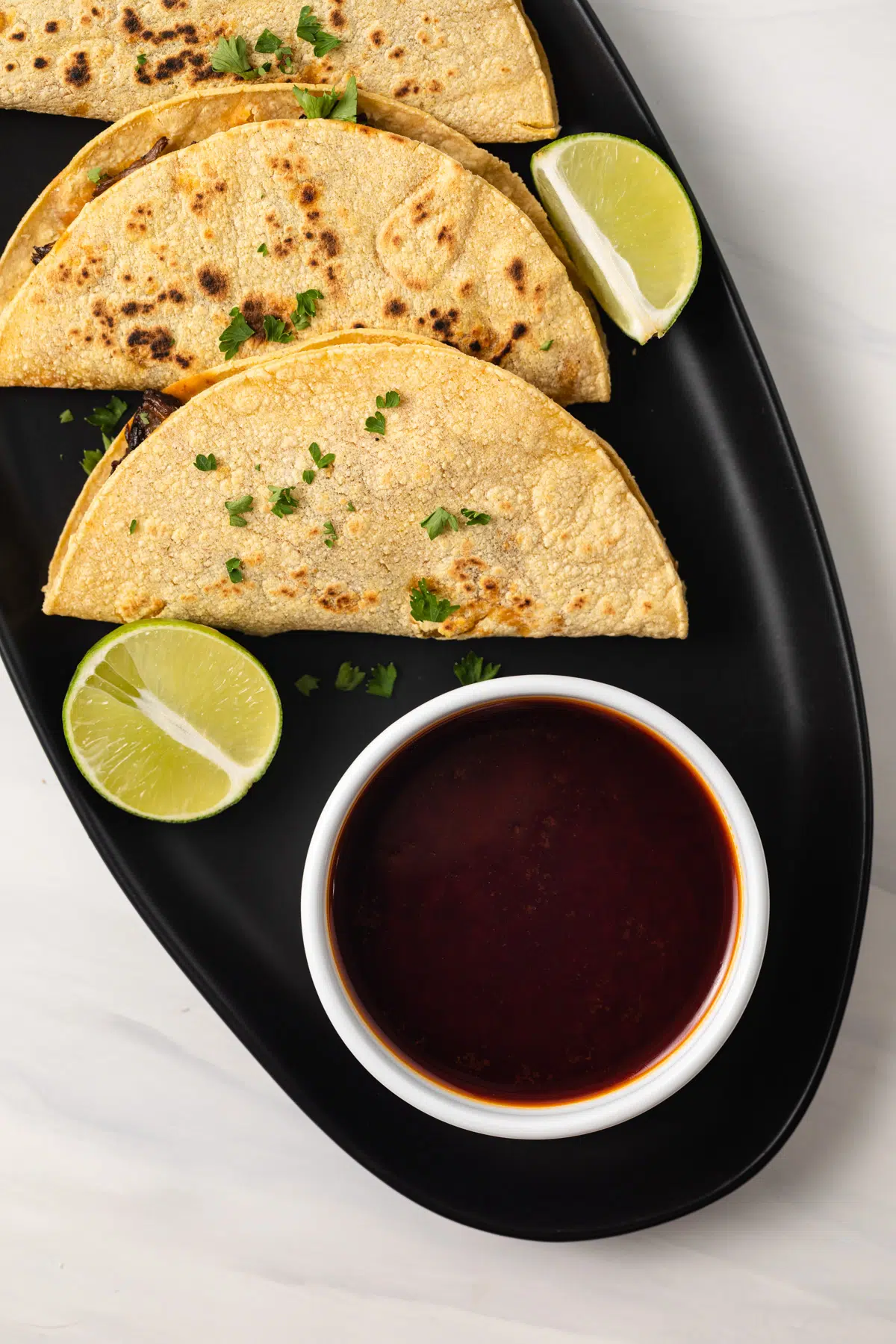 Storage
This beef birria consome recipe will keep in an airtight container in the refrigerator for up to 3 days. You can store it in the freezer for up to 2 months.
Tips
How to serve: Remove the meat from the sauce and shred it. Serve over rice or in birria tacos. Use the broth as a birria sauce over rice or as a dip for the tacos.
Here comes fall! Enjoy these hearty beef sauces for a cozy fall dinner.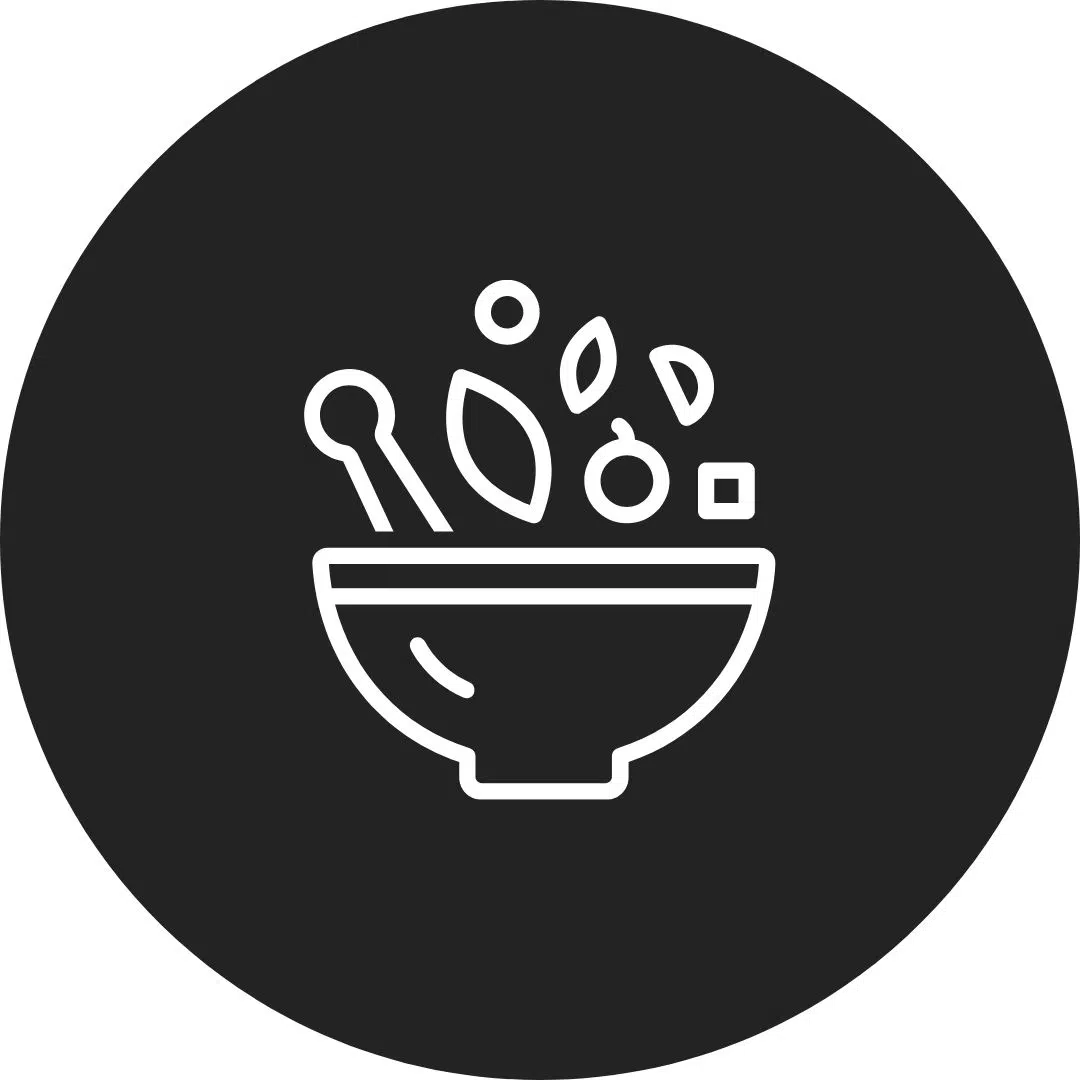 Printable Recipe