This post may contain affiliate links. Read the full disclosure here.
This Basic Vinaigrette recipe is perfectly balanced and will be great on any salad, and it's super easy to make in just 5 minutes.
Having a homemade salad dressing on hand is probably something you've never considered. But homemade tastes better and contains fewer ingredients than anything you'd ever buy from the store.
We're going to walk you through how to make a basic vinaigrette which is probably the easiest thing in the world to do.
All you do is combine oil, vinegar, and some seasonings in a jar. You don't need a whisk or fancy machine to blend it together. Just screw the lid on tight and give it a vigorous shake.
See, we weren't kidding when we said this was easy, right?
You have full control over the flavor and can use almost any oil and vinegar combination you desire.
You can even add fresh raspberries to make raspberry vinaigrette!
Let's talk about the ingredients and how they work together.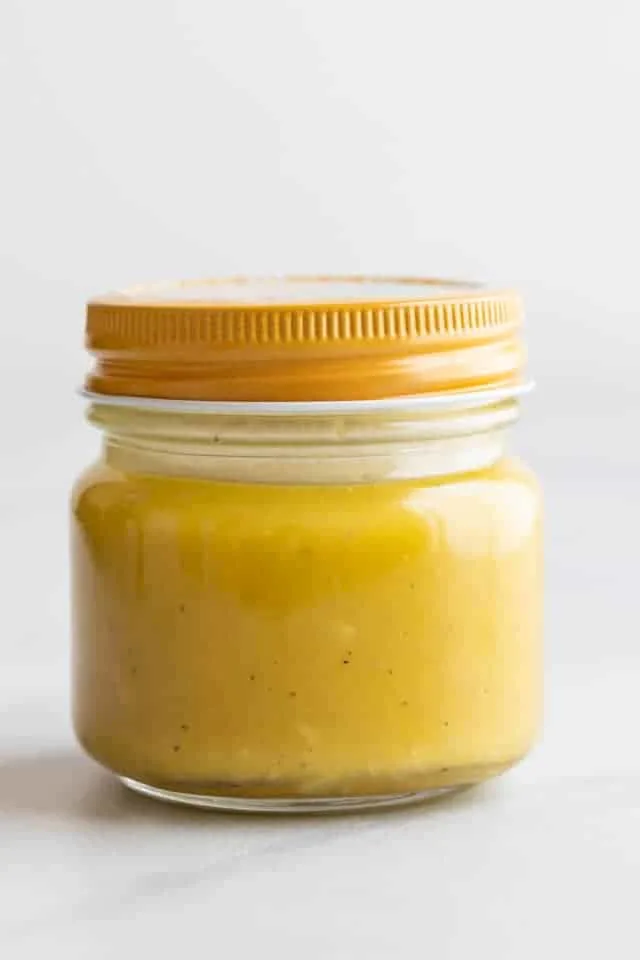 Basic Vinaigrette Ingredients:
The basic formula for vinaigrette is 1 part vinegar to 3 parts oil. For example, use 1 tablespoon of vinegar with 3 tablespoons of oil. If you want to make a larger batch, use ¼ cup of vinegar with ¾ cup of oil.
Oil: Be careful when choosing oil since some can be quite overpowering. I use extra virgin light olive oil because it's neutral in flavor. Regular extra virgin olive oil can be too strong.

Regular olive oil (not extra virgin), coconut oil, and avocado oil are also great options.

Vinegar: Today's recipe uses white wine vinegar but you can use any other vinegar that you enjoy.

Balsamic vinegar, red wine vinegar, apple cider vinegar are good options. Plain distilled white vinegar can be too strong so we don't recommend that.

You can also use lemon, lime, or orange juice.

Garlic: This is a staple in classic vinaigrettes.
Dijon mustard: Just a touch to help the dressing emulsify.
Sugar, salt, pepper: To enhance the flavor.
You can make this basic vinaigrette dressing in:
How to make vinaigrette dressing:
It's insanely easy to make homemade vinaigrette.
Place all ingredients in a jar. Just add everything all at once to the jar.
Shake. Seal the jar tightly with the lid and shake it vigorously to combine.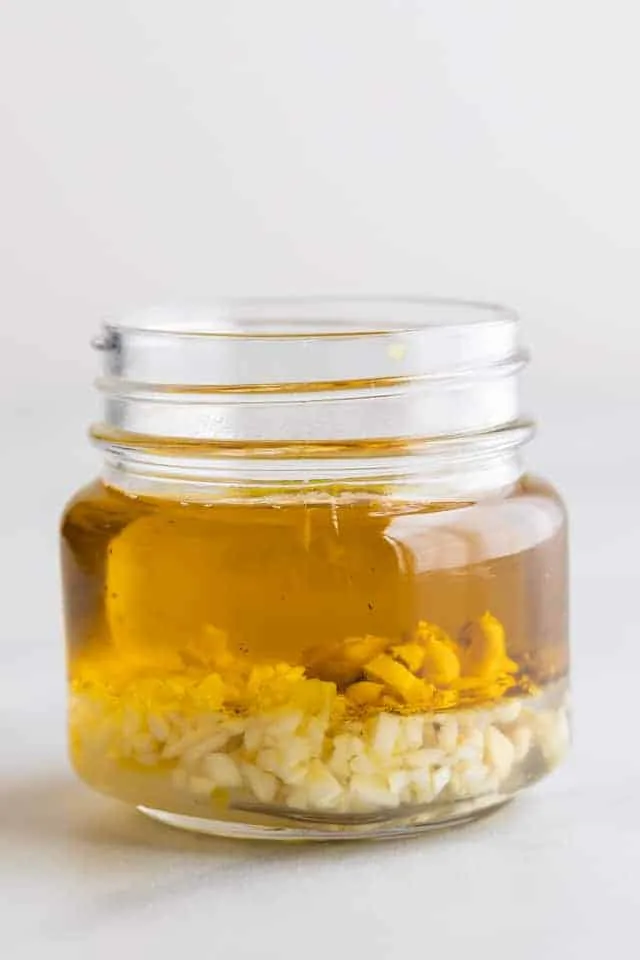 How to serve vinaigrette:
Vinaigrettes can be used in more ways than just salad dressing!
As a salad dressing: The most common use!
As a marinade: Use it to marinate poultry, beef, and fish.
As a finishing sauce: Drizzle it over sandwiches, cooked vegetables and potatoes, or salmon cakes.
Basic Vinaigrette recipe variations:
If you would like to change things up, feel free to try these:
Add fresh herbs: Adding fresh herbs will make the vinaigrette taste bright and fresh. Try basil or mint.
Add Italian seasoning: About ½ teaspoon is plenty to give the dressing flavor.
Add brown sugar or honey: White sugar isn't the only sweetener you can use!
Add bacon: If you love the flavor of bacon, add some crumbled bits to the dressing. It's perfect for serving over strong greens.
Add mayonnaise: Make a creamy vinaigrette by adding mayo.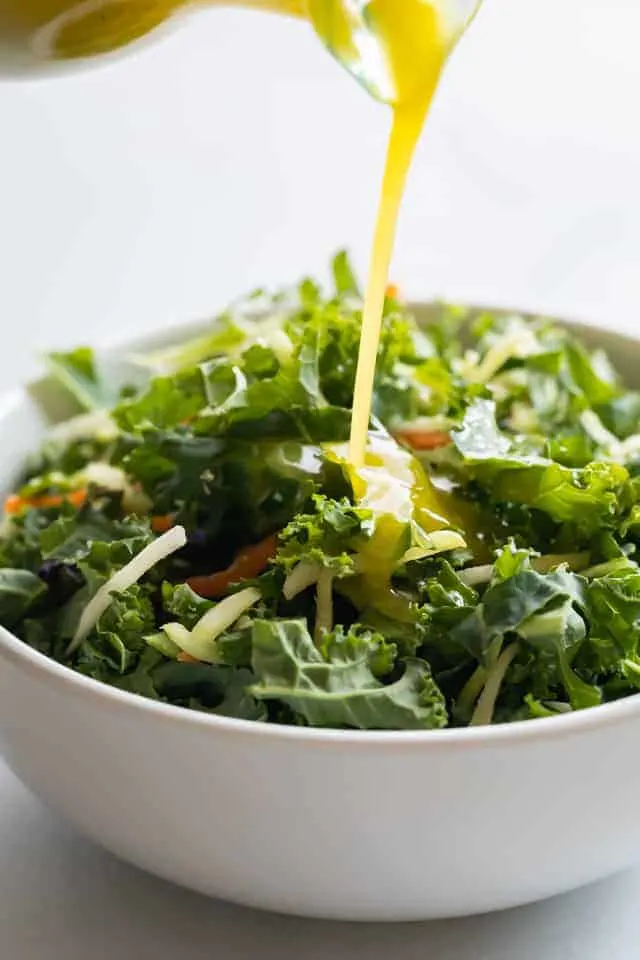 How to store Vinaigrette:
Refrigerate – Store in the refrigerator for up to 7 days. Shake to combine before using.
Finishing Sauces
If you enjoyed this sauce and want more ideas for dinner, these are great: