This post may contain affiliate links. Read the full disclosure here.
Crab Imperial is a delicious dish made with lump crabmeat baked in a creamy and flavorful old bay seasoned sauce. This crab imperial sauce recipe can be a delicious entree or a crab dip served with toasted baguette slices. Bring a touch of the Maryland shore to your dinner table, wherever you live.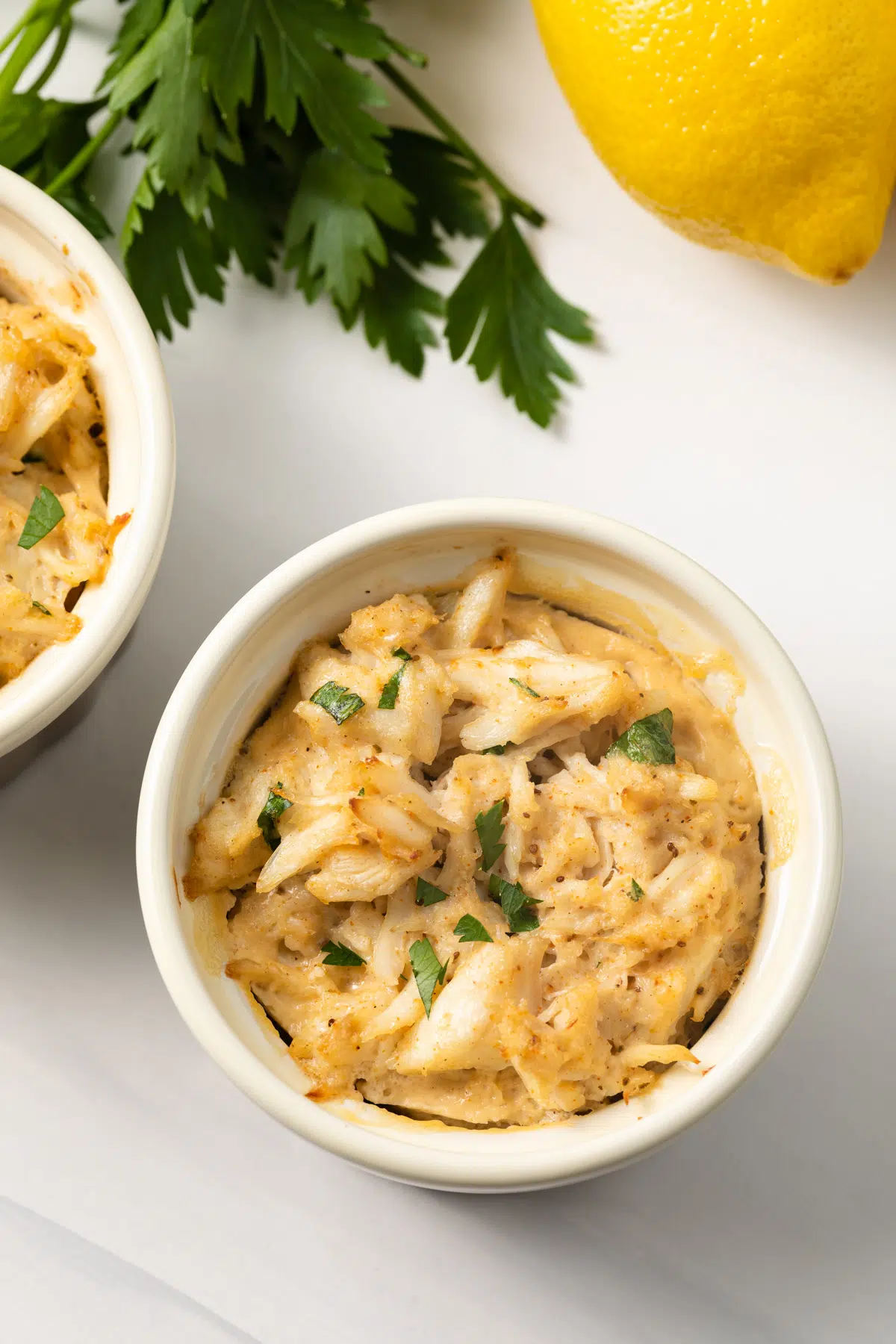 Baked crab imperial is a truly decadent dish. It's almost like a crab cake in a baking dish – without the bread crumbs – just all crab and flavor. Lump crab meat is tossed in a delicious imperial sauce – flavored with garlic, old bay seasoning, and lemon – and baked until warm and delicious. As a meal, as an appetizer, or even as an accompaniment to a grilled steak, you will love this versatile crab sauce recipe.
Lump crab and Old Bay Seasoning are a match made in heaven. Tossing a bushel of freshly boiled blue crabs out on a paper-lined table and hammering out the delicious meat has its place. It's fun and festive. But it is so much work. This sauce recipe gives you all the flavor and reward with none of the hassle.
This crab imperial recipe would be, well, just crab, without the imperial sauce. Somehow the mixture of simple everyday ingredients together as a whole take
If you haven't tried my boiling crab sauce, it's delicious with shrimp. And my fish taco sauce is an easy way to add restaurant flavor to fish tacos.
---
Ingredients
This is another recipe where the whole is greater than the sum of the parts. These everyday simple ingredients are combined together to create a sauce worthy of it's "imperial" name.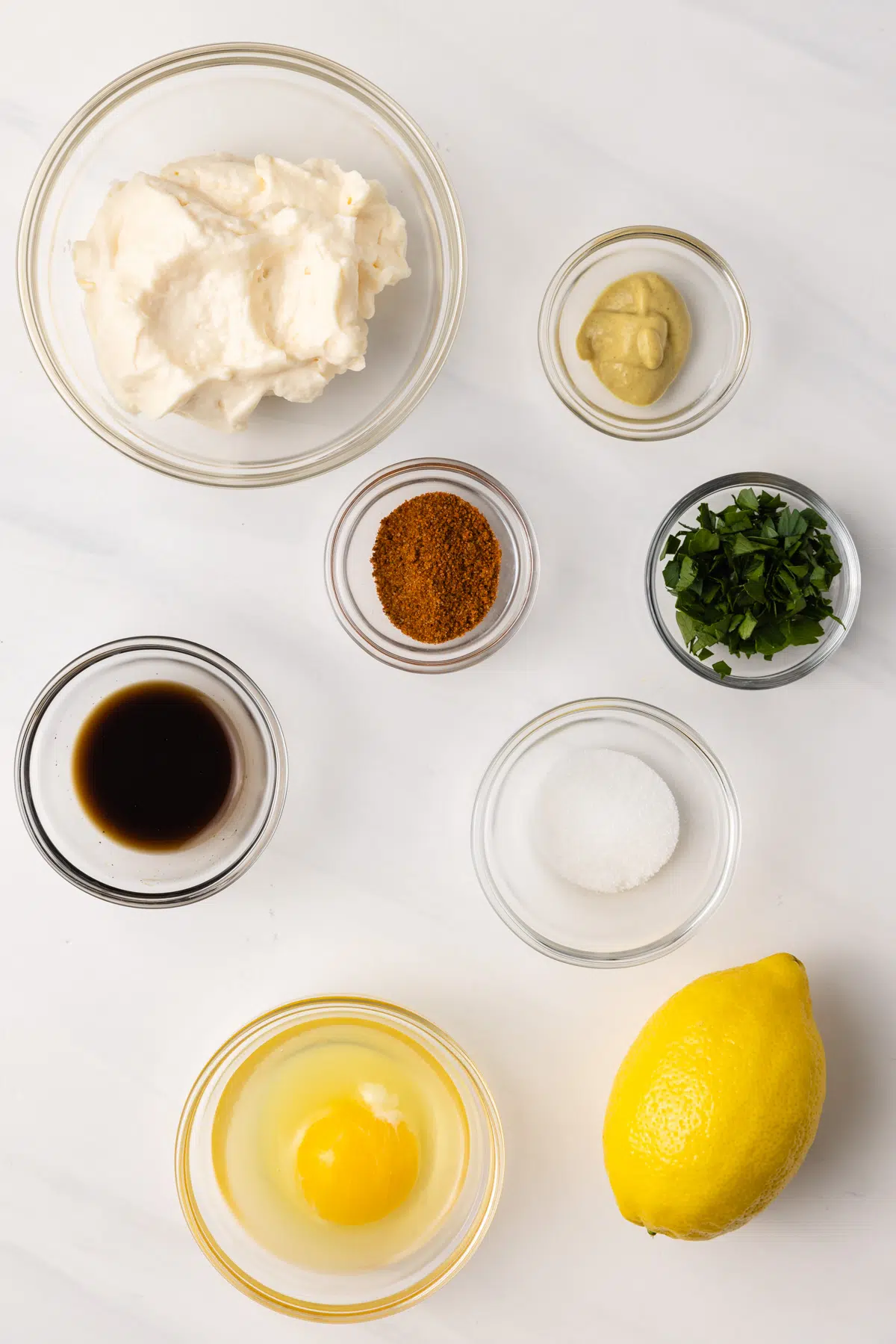 Mayonnaise – My go to mayo is Helman's. It really is better in my opinion.
Worcestershire sauce – This gives a little bite and richness to the sauce.
Dijon mustard – Pardon me, do you have any Grey Poupon?
Old Bay seasoning – The everything seasoning for crab. If you can't find it (please try) you can use cajun seasoning as a substitute.
Sugar – White granulated sugar adds a touch of sweetness.
Italian parsley – For garnish.
Large egg – to hold the crab mixture together and to add richness.
Lemon juice – Just a squeeze for brightness and kick.
---
How to Make Imperial Sauce
What I love about so many of our sauces is that they are crazy easy to prepare. You take regular ingredients, mix them together, and end up very quickly with something special that tastes as if you have put in far more effort. This is another one of those recipes. A quick mix of all ingredients and it is ready to use. It's that easy.
To make Imperial Sauce – in a large bowl, whisk together the mayonnaise, Worcestershire sauce, Dijon mustard, Old Bay seasoning, sugar, parsley, egg, and lemon juice until well combined. Use right away.
To make Baked Crab Imperial – bake the mixture in a 350°F oven for 20-25 minutes, until the tops are golden brown. I like to bake this in small ramekins or small casserole dishes. To serve as a dip, bake in a round baking dish. Be careful not to overbake as it will dry out the crab.
Variations
Just like crab cakes, crab imperial can be tweaked however you might like to your preference.
To add crunch – toss some crushed up Ritz crackers on top, drizzled with melted butter.
You can add chopped onions or peppers if you like.
Add cayenne pepper for heat.
Or, to add a very traditional flavor, add a splash of dry Sherry to the crab mixture before baking.
---
Storage
This sauce should be used right away. It's so easy to prepare there is no need to make it ahead of time.
---
Tips
Makes enough sauce for about 1 pound of crab meat.
Don't add all the sauce at once. Larger pieces of fresh lump crab meat will need less sauce and small pieces will need more sauce. Ultimately, you want the meat to be lightly coated in sauce.
We have many more great sauces to use with seafood!