This post may contain affiliate links. Read the full disclosure here.
This orange ginger sauce is the ideal blend of sweet and tangy with a bit of zing. It's almost like a sweet and sour sauce, but a little more sophisticated. It's often served at Chinese restaurants with chicken as "Chinese Orange Chicken," but it's more versatile than that. This homemade orange ginger sauce recipe is sure to become a family favorite.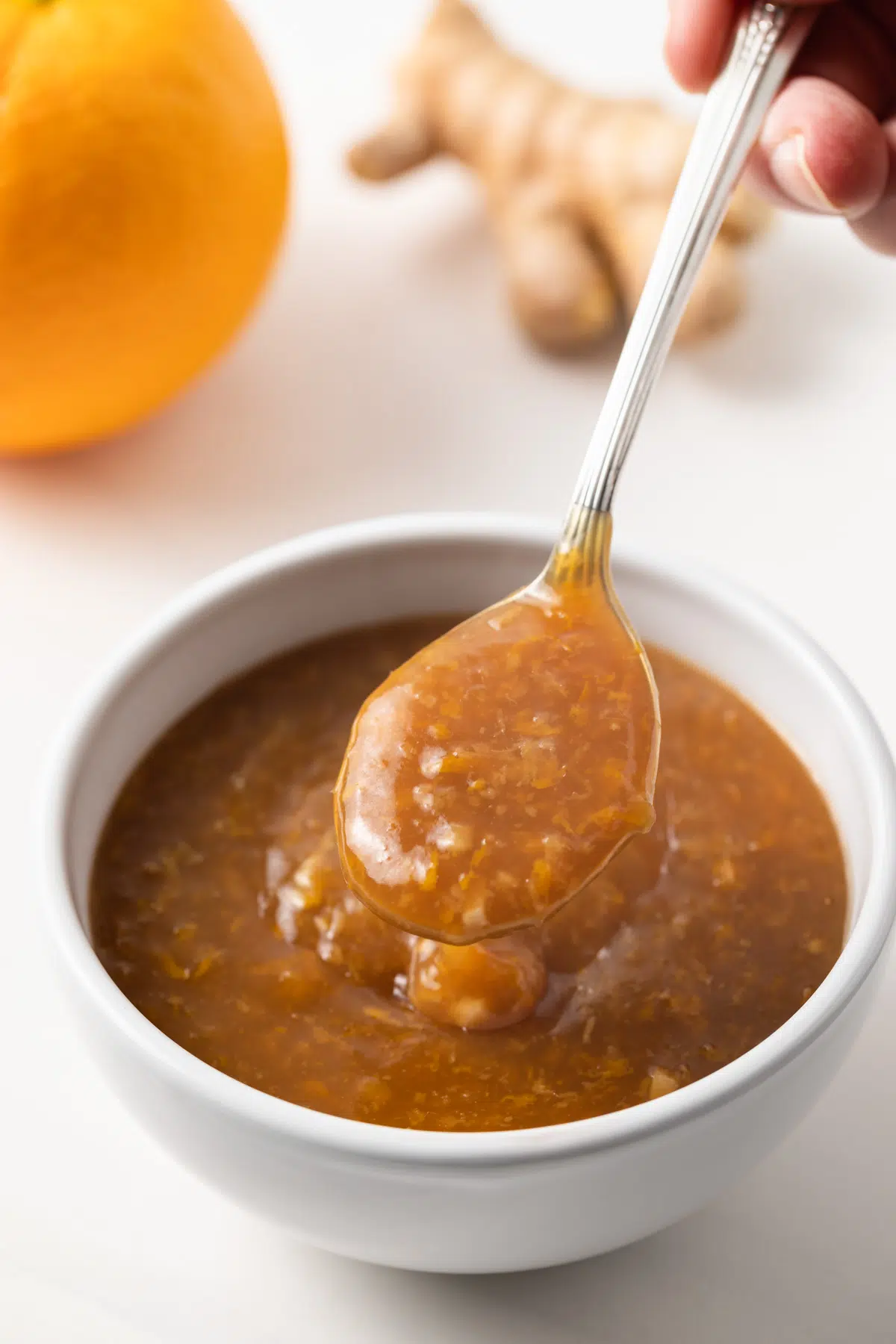 If you love Chinese food like we do, it's often hard to pick a favorite Chinese dish. Orange chicken is right up there at the top of the list. Tender cubes of chicken breasts are sauteed until crispy and coated in a tangy orange flavored sweet and zippy sauce, usually served over white rice. Yum!
We know some readers are intimidated by the idea of attempting to make restaurant favorites at home. Don't be! It is often so much easier than you think, and this orange chicken recipe is no exception!
This sauce comes together quickly and is often served with fried or sauteed chicken. It's equally good drizzled over grilled shrimp, used as a veggie stir fry sauce, as a marinade for grilled chicken, or even as a dip. It has a bright orange flavor that works with chicken, seafood, and veggies.
Stir-fry is one of our favorite things to make when trying to clean out the veggie drawer or an in a pinch for time. It's quick, easy, delicious and usually makes everyone happy. This is a great stir-fry sauce, but also try our Chinese Garlic Sauce, Hawaiian Teriyaki Sauce or Sesame Chicken Sauce.
FAQs
What is orange sauce made of?
Orange sauce is a yummy sauce that gets its orange flavor, not surprisingly, from orange juice and orange zest. It also contains soy sauce, ginger, and cornstarch for thickening.
What is a cornstarch slurry?
Cornstarch thickens sauces, but if you put the cornstarch in directly, it may clump up and become lumpy. Instead, mix the cornstarch with a little bit of water or sauce in a separate bowl to make a smooth paste or thick liquid, then add to the sauce. No lumps!
Is this recipe spicy?
This recipe is more zingy than spicy, but if you want to spice it up – don't let us stop you. Toss in some crushed red pepper flakes to turn up the heat.
Is this orange sauce gluten-free?
The only item in this sauce that may contain gluten is the soy sauce. If you follow a gluten-free diet, feel free to use Tamari or coconut aminos in place of the soy sauce.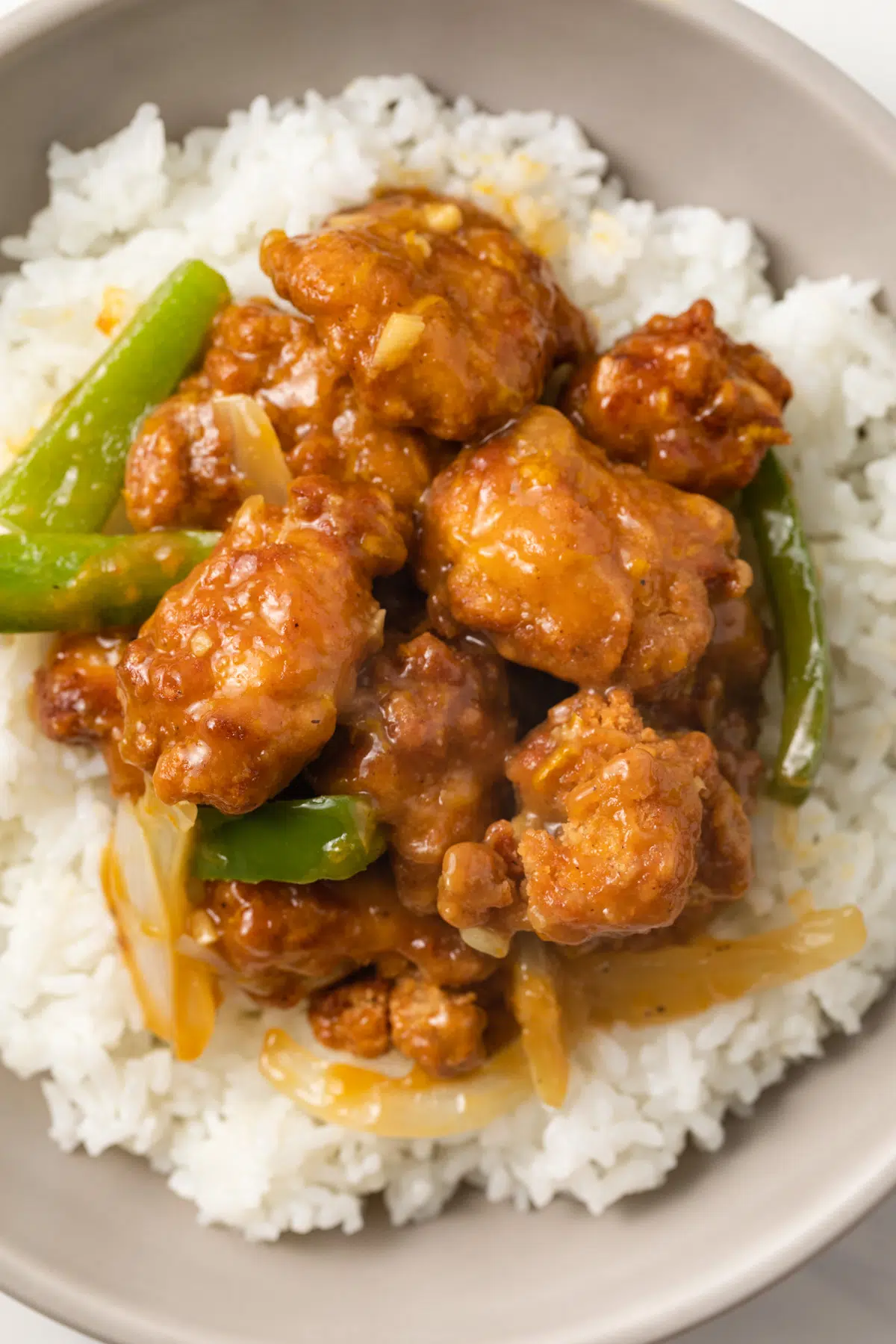 This is a quick and easy recipe that uses basic household ingredients. Orange, ginger, garlic, cornstarch, and soy sauce.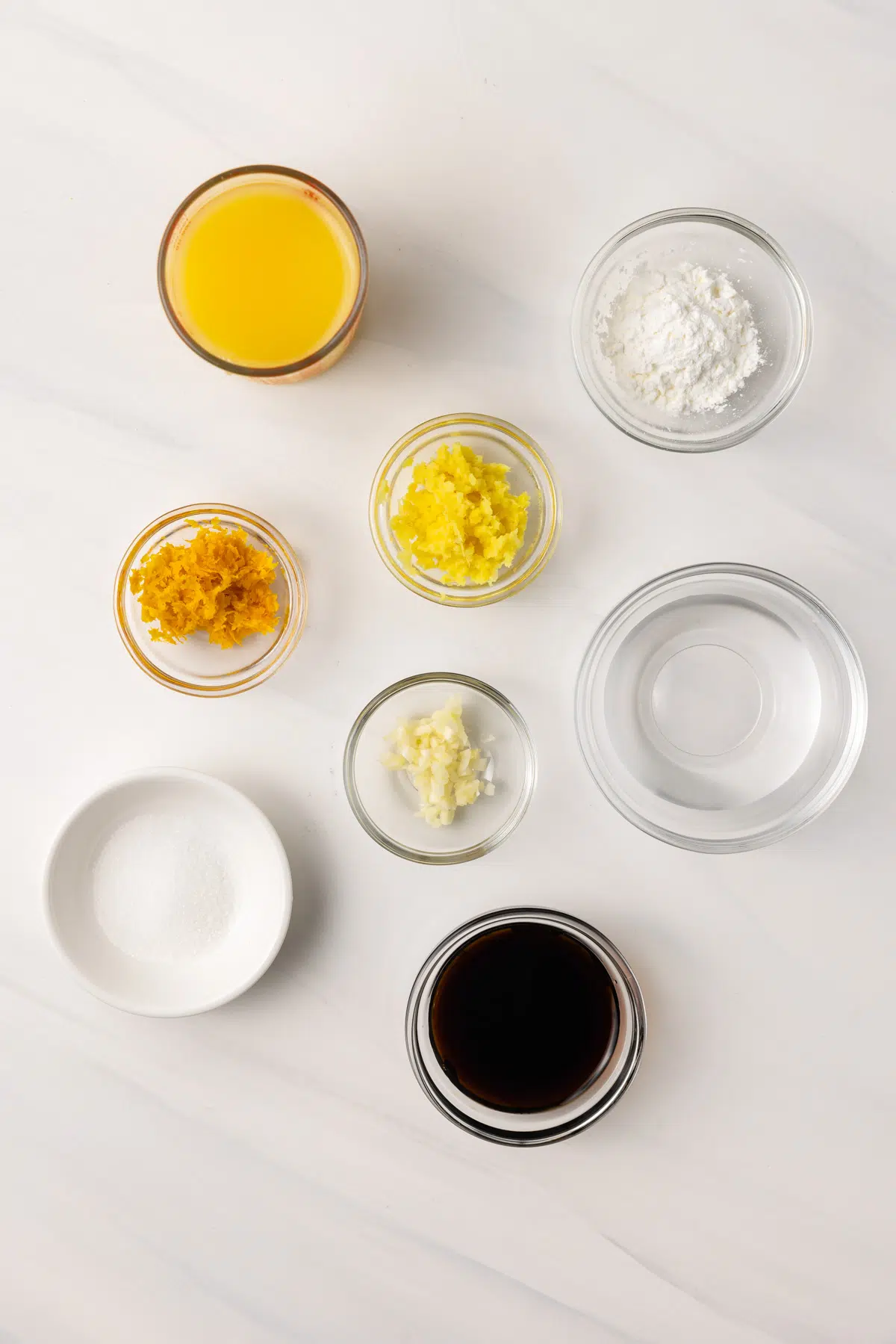 How to Make Orange Ginger Sauce
Orange ginger sauce is not only quick to pull together, but it makes your kitchen smell delicious in the process!
Saute the aromatics. Heat a drizzle of olive oil in a small saucepan over medium heat. Add the minced ginger, garlic, and orange zest and cook for 2-3 minutes, until fragrant. Stir often to avoid burning.
Add the liquid ingredients. Stir in the orange juice, soy sauce, and sugar. Continue to cook for 3 minutes.
Thicken with the Slurry. Stir the water and cornstarch together in a small bowl until the cornstarch is fully dissolved and pour it into the sauce. Cook, stirring constantly until the sauce thickens, about 3-5 minutes. Serve and enjoy!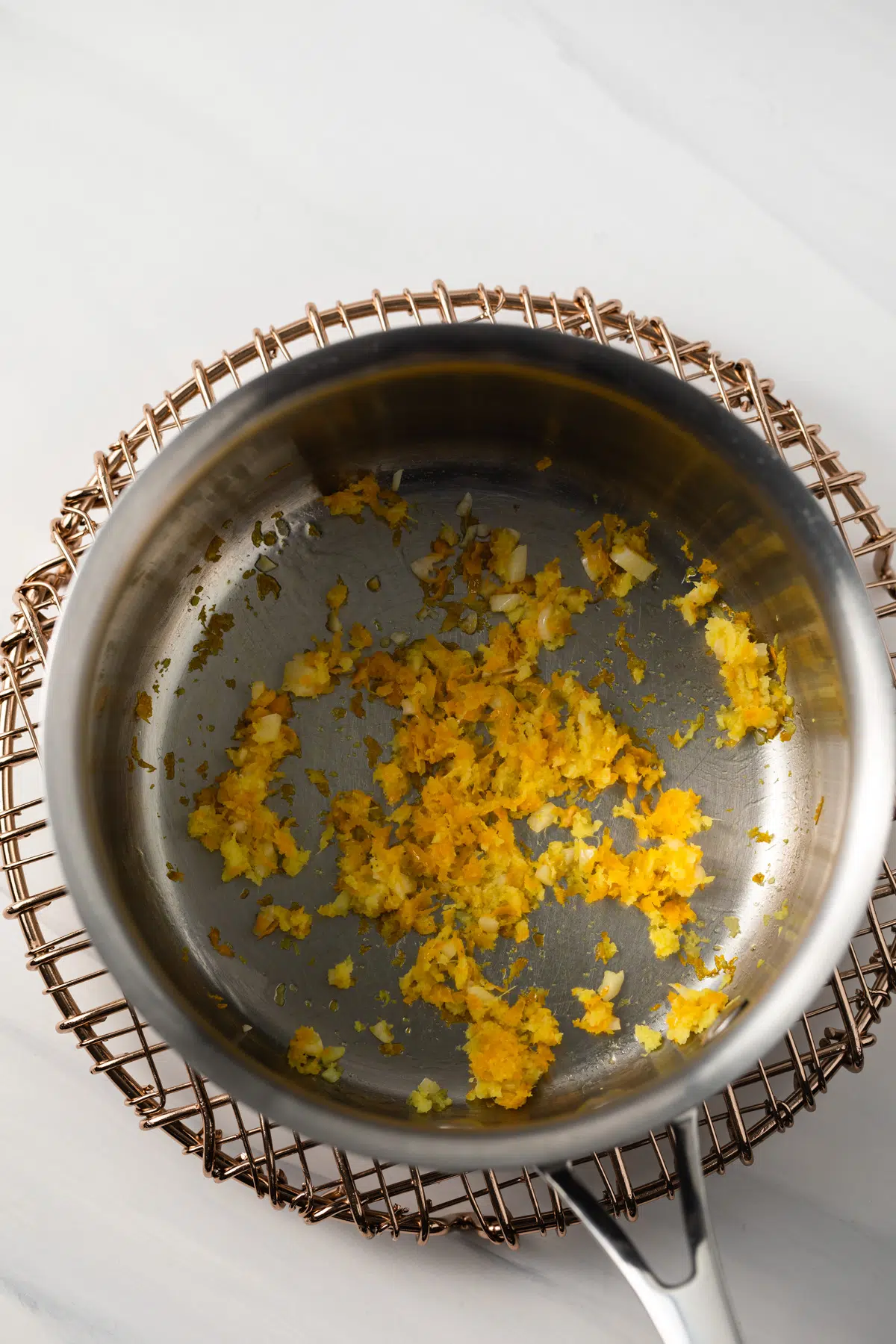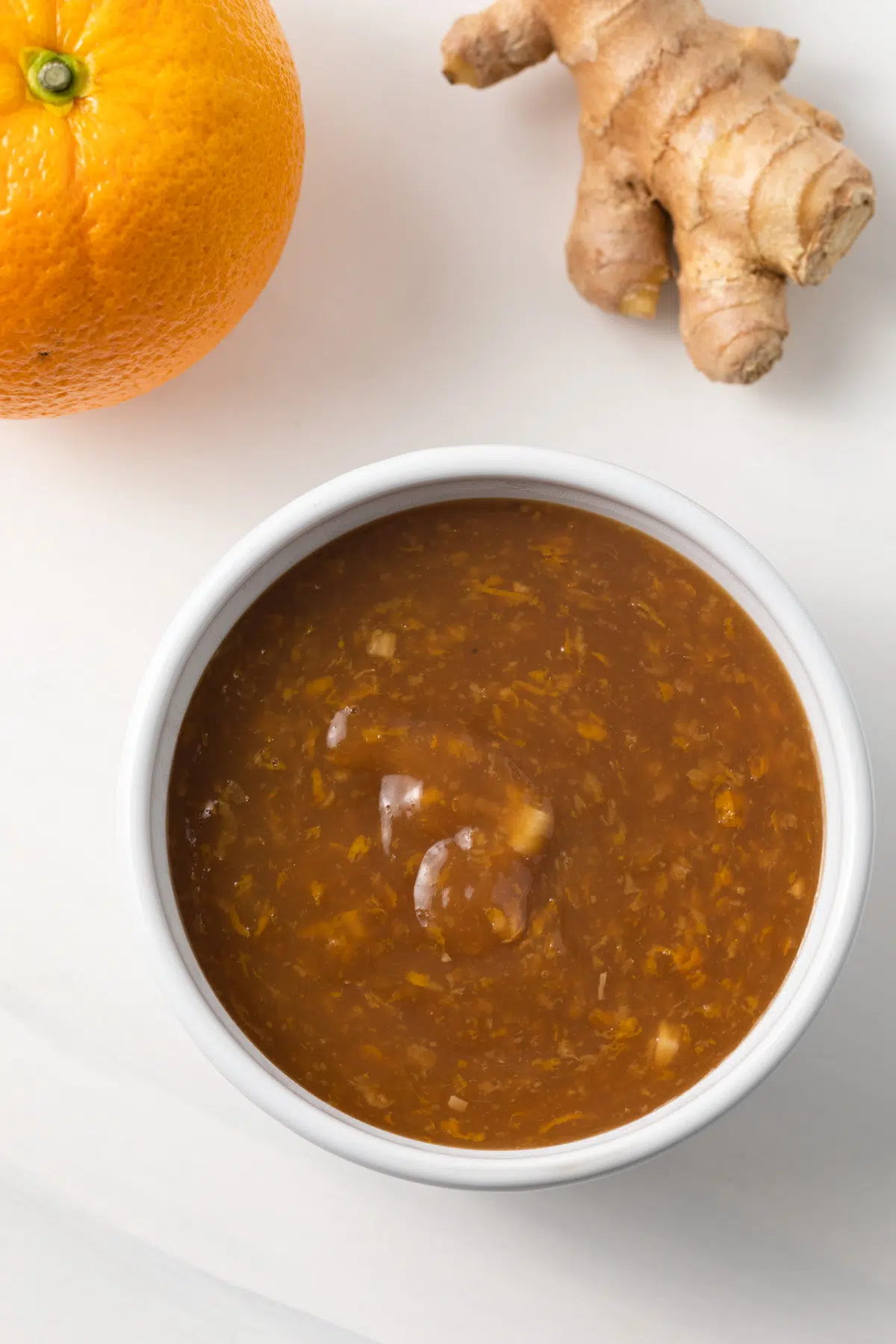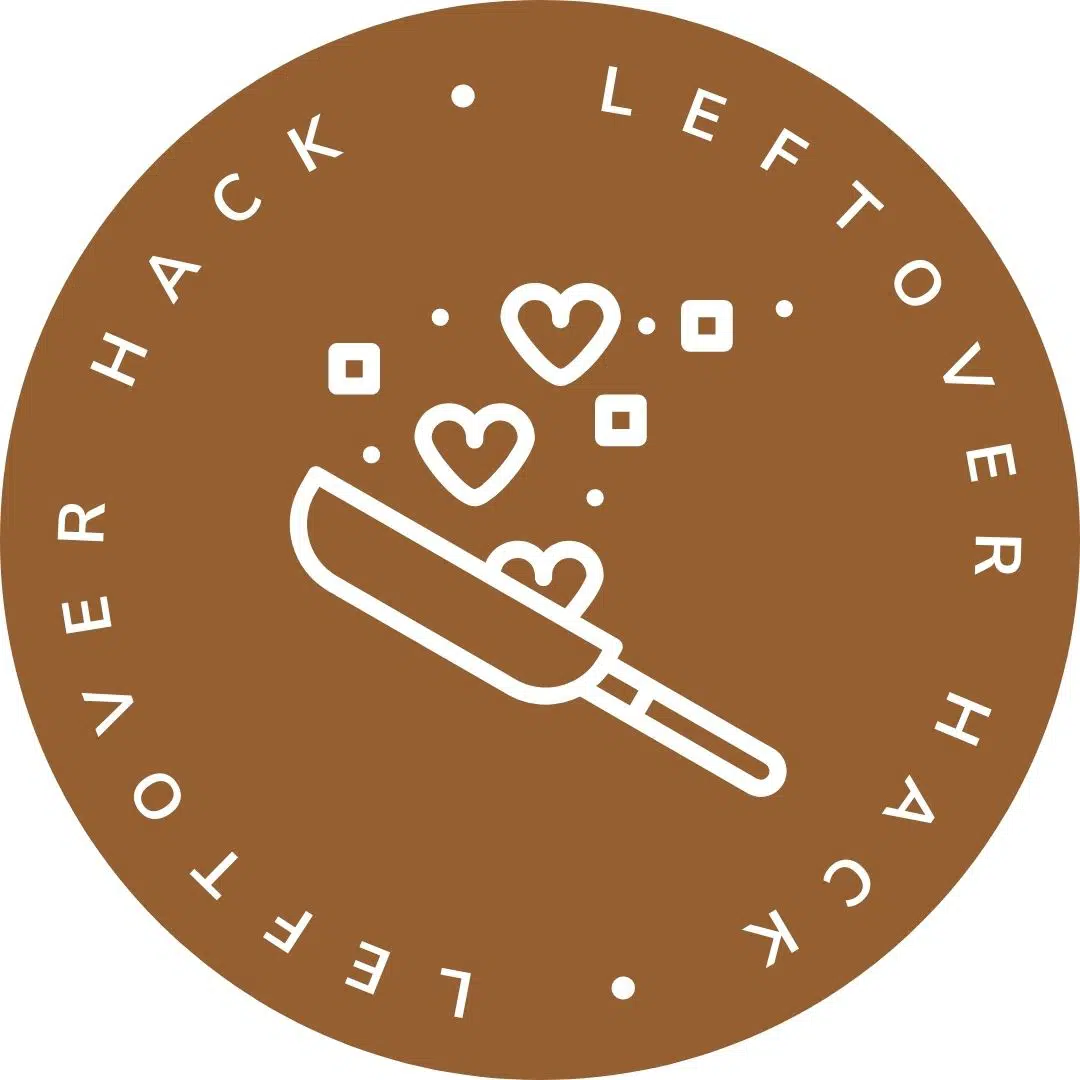 Storage
Allow the sauce to cool for 1 hour then transfer to an airtight container and refrigerate for up to 4 days. Reheat the sauce by warming it over low heat.
Orange zest: You want the colorful part of the peel only, not the white pith! The pith has a bitter taste and will cause the sauce to taste bitter.
Orange juice: Fresh juice will yield the best flavor.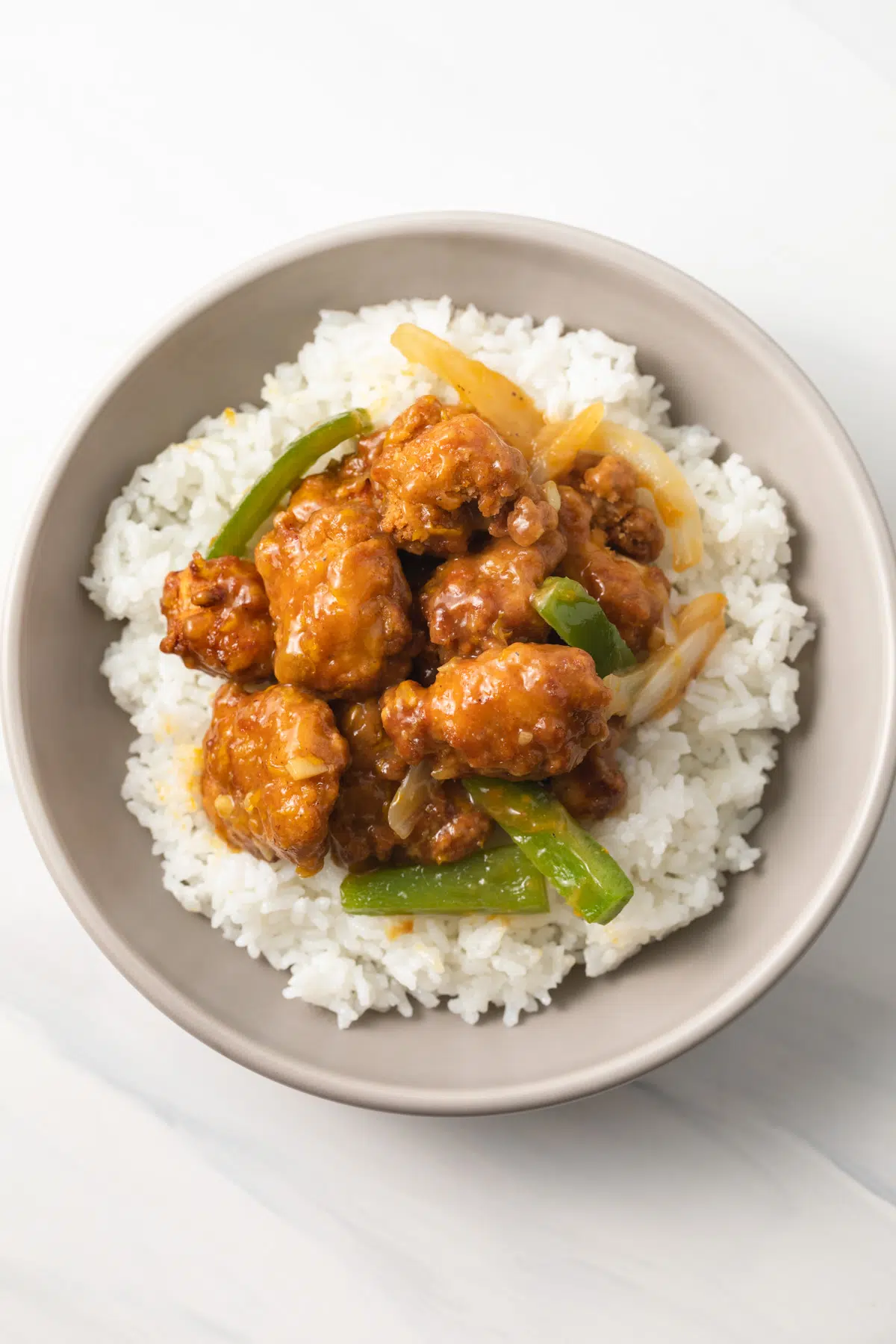 Chocolate bar marzipan jujubes jelly-o carrot cake caramels. Tootsie roll cookie jujubes powder icing lemon drops. Pastry brownie topping oat cake chocolate cake jelly candy gingerbread tart.