This post may contain affiliate links. Read the full disclosure here.
Fish tacos aren't complete without fish taco sauce! This creamy white sauce is enhanced with chipotle and lime, making it the best topping for all your tacos.
This sauce is a delicious blend of mayo, sour cream, chipotle peppers, garlic, and lime!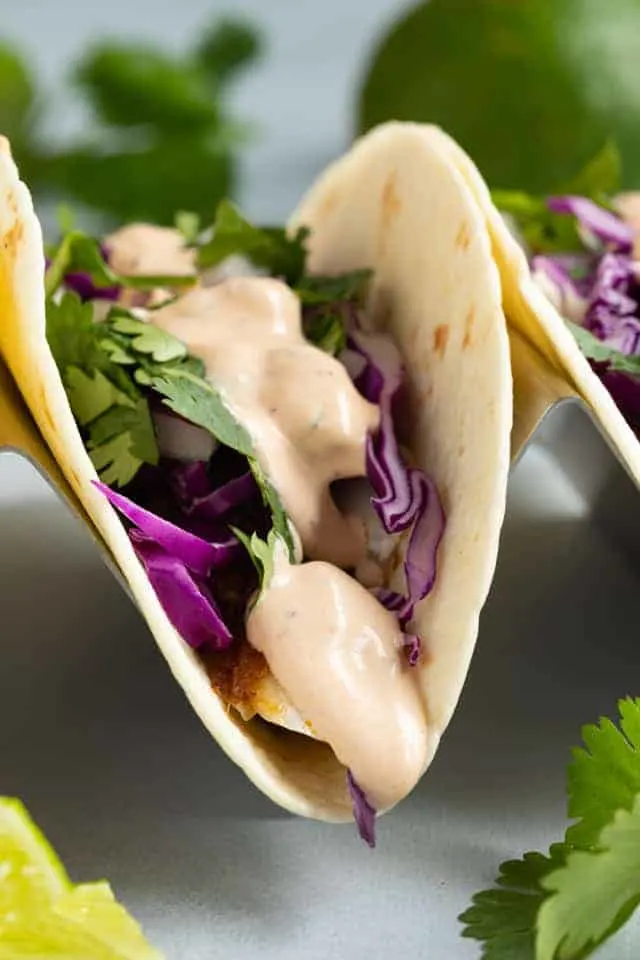 What Sauce Is Used For Fish Tacos?
We've visited Mexico a few times and one time, in particular, we sat oceanside at an outdoor restaurant and feasted on the best fish tacos ever. What made these tacos so amazing, you ask… The fish taco sauce!
It was cool, creamy, and tasted like chipotle peppers. It paired wonderfully with the fresh ingredients and fish over a soft taco shell.
We still think about this crema and decided it was time to recreate it.
There are several fish taco sauces online and after plenty of trial and error, we finally adapted one to make it close to what we had in Mexico. It actually reminds us a lot of our imperial sauce, yum yum sauce, quesadilla sauce, and burrito sauce.
The great thing about sauces like this is you can add more or less of the ingredients to suit your taste. Play around with it until it's exactly how you like it.
If you're looking for a traditional sauce for fish, give my tangy tartar sauce a try. Or if you want a great taco sauce, try our chipotle sauce.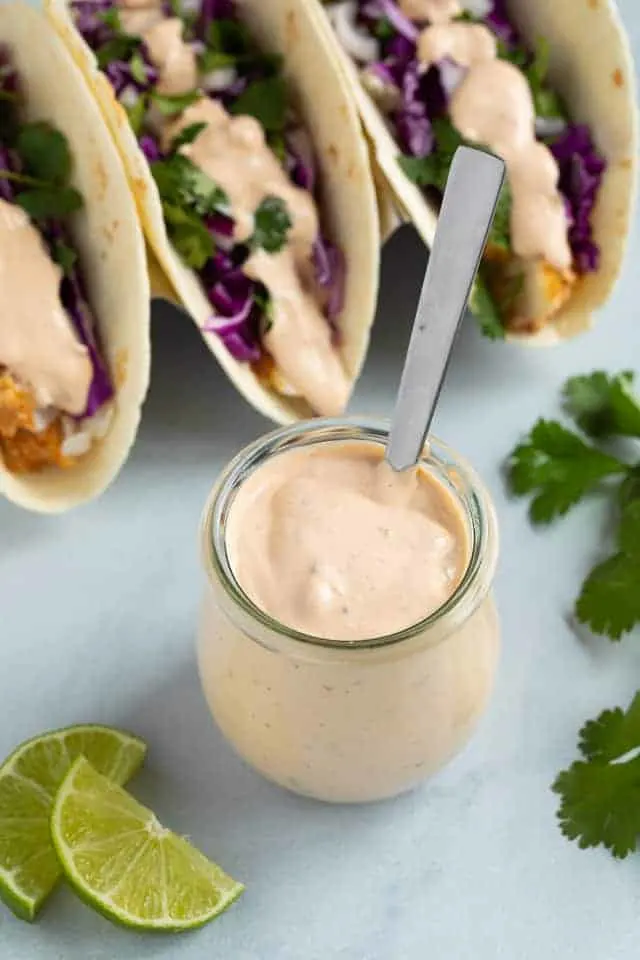 Fish Taco Sauce Ingredients:
To make this fish taco sauce recipe, you will need:
Mayonnaise: Makes up the base of the sauce
Sour cream: Lightens up the mayo to make the sauce creamy
Chipotle peppers: Use diced chipotle pepper in adobo sauce
Garlic powder: Add more or less depending on your taste
Lime juice: Brightens up the sauce
Salt: You may or may not need it, you decide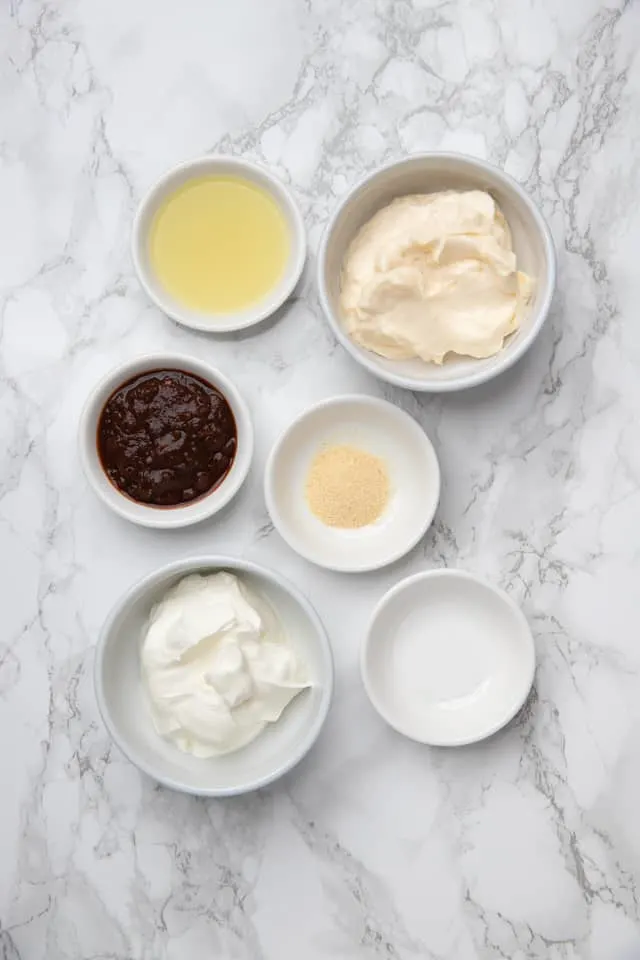 How to Make Fish Taco Sauce:
To make this tasty crema, simply…
Combine the ingredients. Place them all in a bowl and stir until smooth.
Taste and adjust. Give the sauce a taste, and season with more salt, garlic, lime, etc.
Use it right away or refrigerate it for later. Serve it over fish or shrimp tacos with fresh toppings.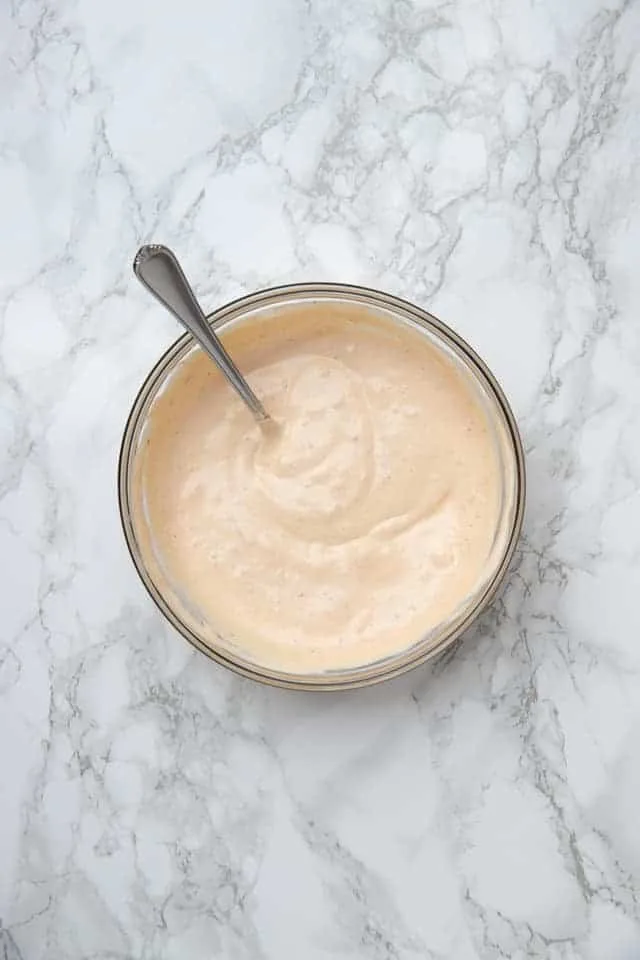 Fish Taco Sauce Variations:
There are quite a few ways you can doctor up this fish taco sauce recipe.
Add more garlic: If you love the taste of garlic, add a little more until you are happy.
Add sriracha: If you love sriracha as much as we do, dry using it in place of chipotle peppers.
Add cayenne: If you want some heat but don't want to use sriracha, add ¼ to ½ teaspoon of cayenne pepper.
Add onion powder: We love to add onion powder when we are in the mood.
Add cumin: This works well if you are using sriracha and still want that smoky flavor.
Skip the mayo: Use 1 cup of sour cream instead of half mayo and sour cream.
Add yogurt: Use Greek yogurt in place of sour cream.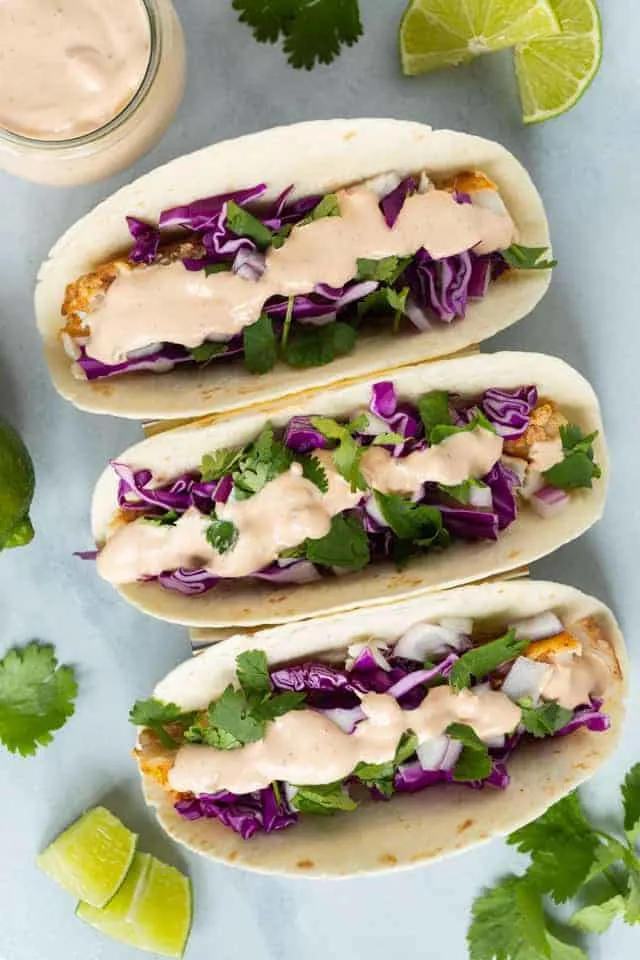 How to Store Fish Taco Sauce:
Refrigerate – Store sauce in a jar with a tight-fitting lid for up to 4 days.
If you enjoyed this sauce and want to try more like it, these are great: