This post may contain affiliate links. Read the full disclosure here.
This peach mango salsa yummy as a dip or a condiment. It's great served next to guacamole with chips, or on grilled fish or chicken. When peaches are in season, there is almost nothing better than this juicy, tangy salsa. But you can make it all year round.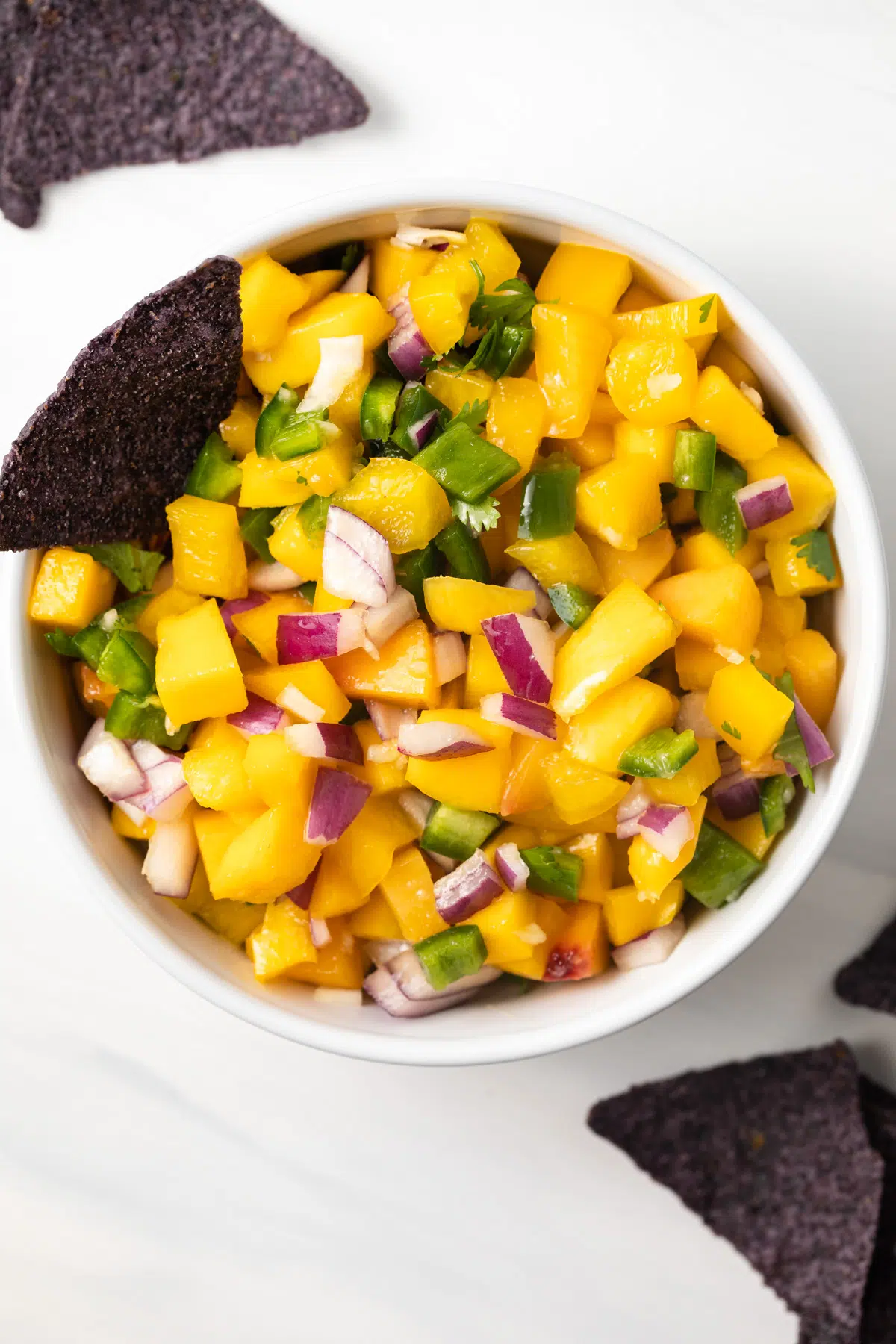 I love to make this homemade peach mango salsa recipe when peaches are fresh and juicy and bursting with summer flavor. This salsa recipe gets a slight tropical flavor from the fresh mango and the lime juice, and a kick from the jalapeno peppers and the red onion.
Serve it in a bowl with chips, and it won't last long, I promise. I also love it on top of grilled shrimp or mahi-mahi, or served as a side dish with jerk grilled chicken breasts (using my Jamaican jerk sauce) and rice and beans. This peach mango salsa is a versatile condiment – it instantly turns grilled halibut and corn tortillas into fish tacos.
What I love the most about fruit salsa recipes is just how easy they are to make. This mango peach salsa recipe is no different. All you need is a ripe mango and you are good to go. Add in some onion, a squirt of lime juice, and fresh peach. If you don't have peaches, you can use a nectarine. If you don't have lime juice, give it a squeeze of lemon. It won't taste exactly the same, but it will still be yummy.
If you want to kick it up a notch, you can add a few drops of my Chamoy sauce. If you remember that post, you know Chamoy is sweet and spicy with an awesome kick that pairs perfectly with mangoes. So adding it into mango salsa – wow – the flavor will be amazing.
This salsa is the ultimate summer condiment. I recommend making a batch on Friday mornings and using it all weekend.
For more salsa recipes, try my salsa verde and homemade ranchero sauce.
FAQs
What to eat with peach mango salsa?
Everything! But no, really – use it as a dip with tortilla chips and watch it disappear. But if you have some left for the main course, I love this spooned over grilled chicken breasts, halibut filets or shrimp.
What can I substitute for cilantro in mango salsa?
If you are one of those people who don't like cilantro (and you're not alone – the Queen of home cooking – Ina Garten – famously doesn't like it either) use mint or parsley in its place.
Can peach mango salsa be frozen?
You can freeze this salsa, but know that the fruits and veggies might be a little squishier after they thaw, and the salsa won't be as crisp. But it will still taste good!
This tropical fruit salsa is so good. Use fresh, ripe fruits. I'd rather you use a fresh nectarine than a frozen peach. Fresh fruits really make this salsa something spectacular.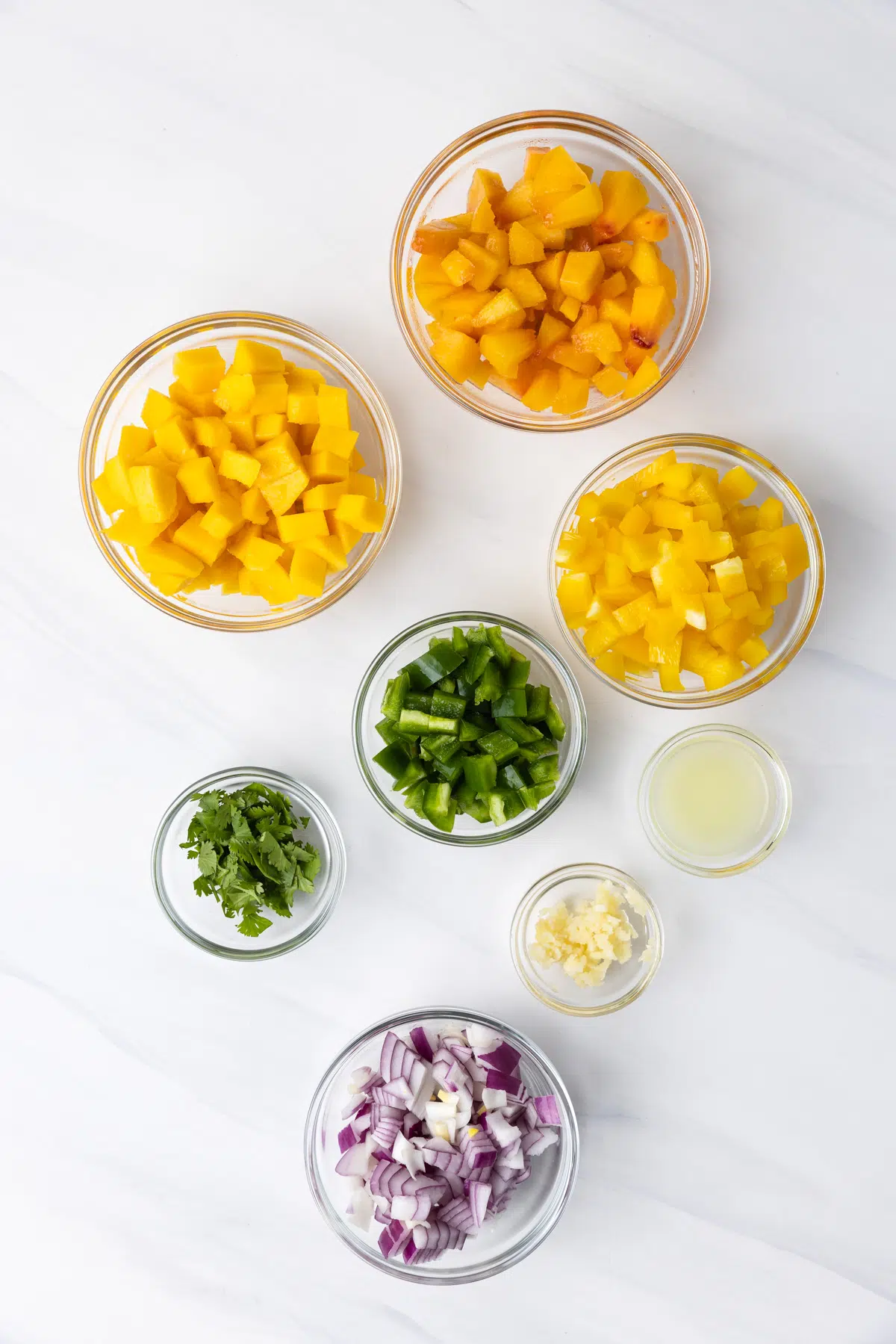 How to Make Peach Mango Salsa
This tropical fruity salsa really truly requires no more than chopping and mixing. In a large bowl, combine the peaches, red onion, yellow pepper, mango, jalapeno, garlic, lime juice, and cilantro. Give it a good stir to blend everything together.
Cover and refrigerate until ready to serve.
Be sure to check out the full recipe and ingredient list below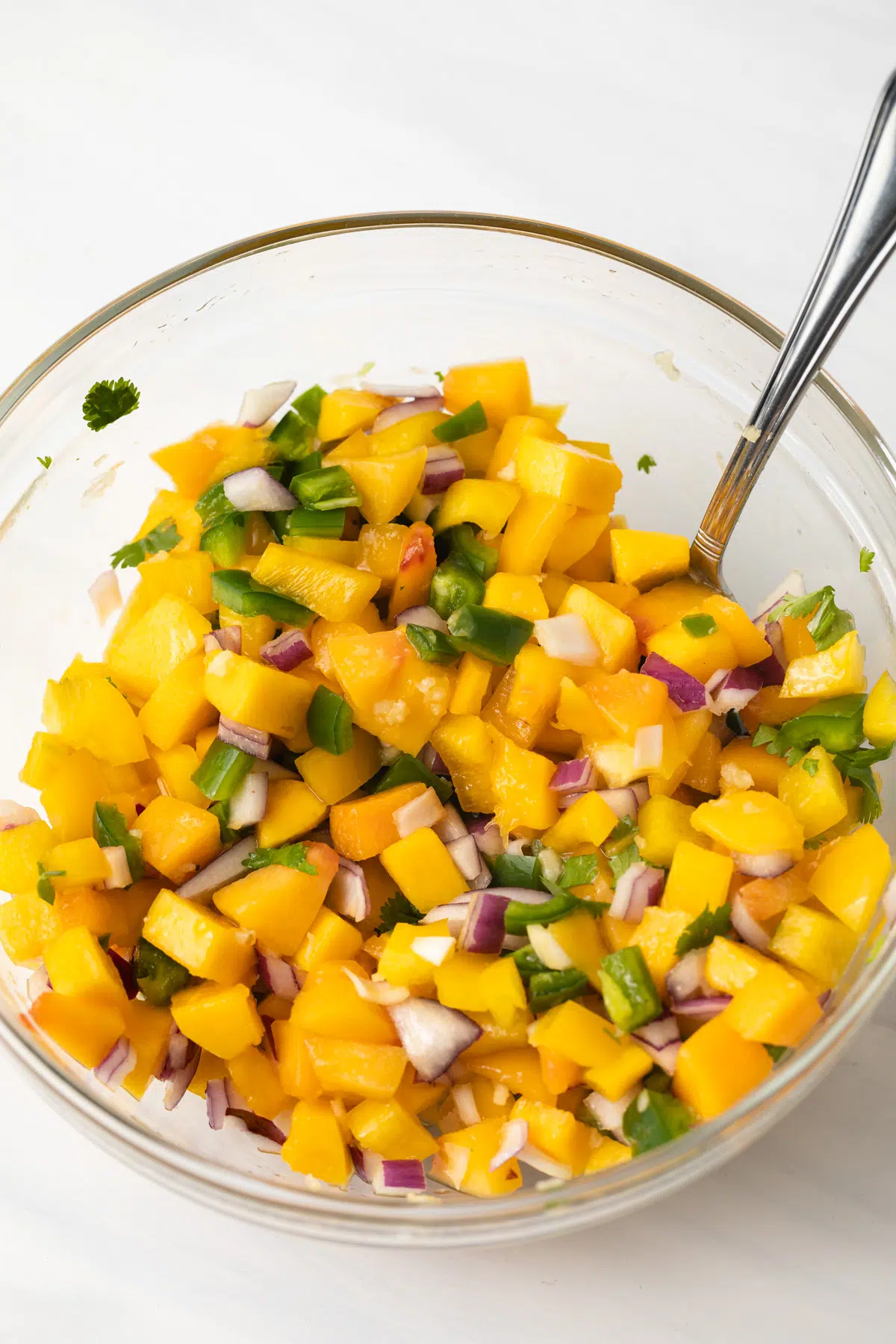 Yellow Peppers – You can use a red or orange bell pepper if you don't have yellow. Green ones have a slightly more distinct flavor, so I would substitute with that only as a last resort.
Jalapeno Peppers – This is for spice. So if you like super spicy, go habanero or Thai

chili. Consider it fully customizable depending on your preference.

Peaches – Fresh is more important to me than the stone fruit, even though it is a peach mango salsa. I'd rather see you use a fresh nectarine than a frozen peach. I wouldn't use a plum though.
Cilantro – Use it, leave it out, substitute with mint or parsley – it's entirely up to you.
Spicy – The jalapeno peppers add a kick – if you want more spice, change up the peppers.
Dessert salsa – If you want a dessert salsa that you can serve with pound cake and ice cream, skip the onion and peppers.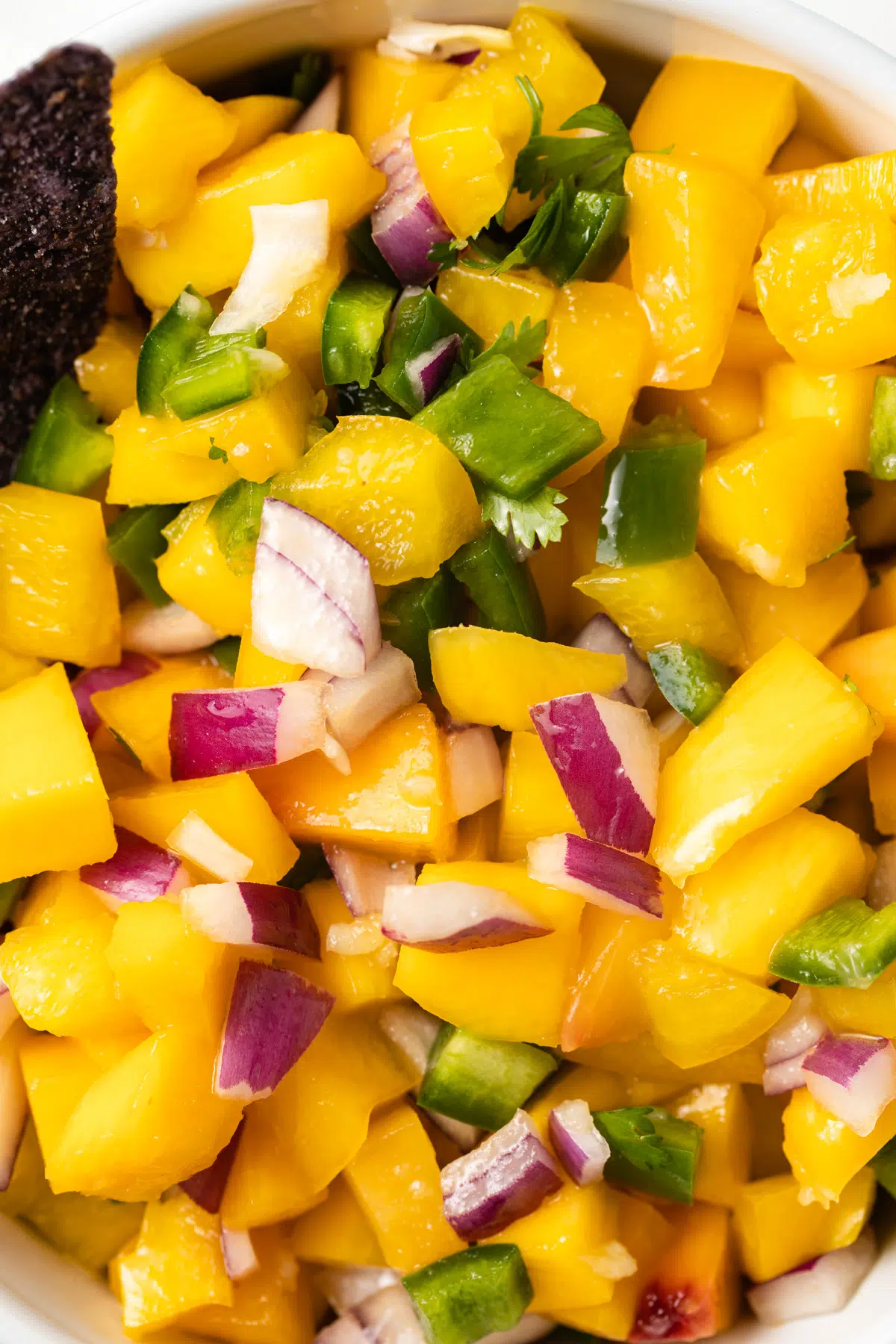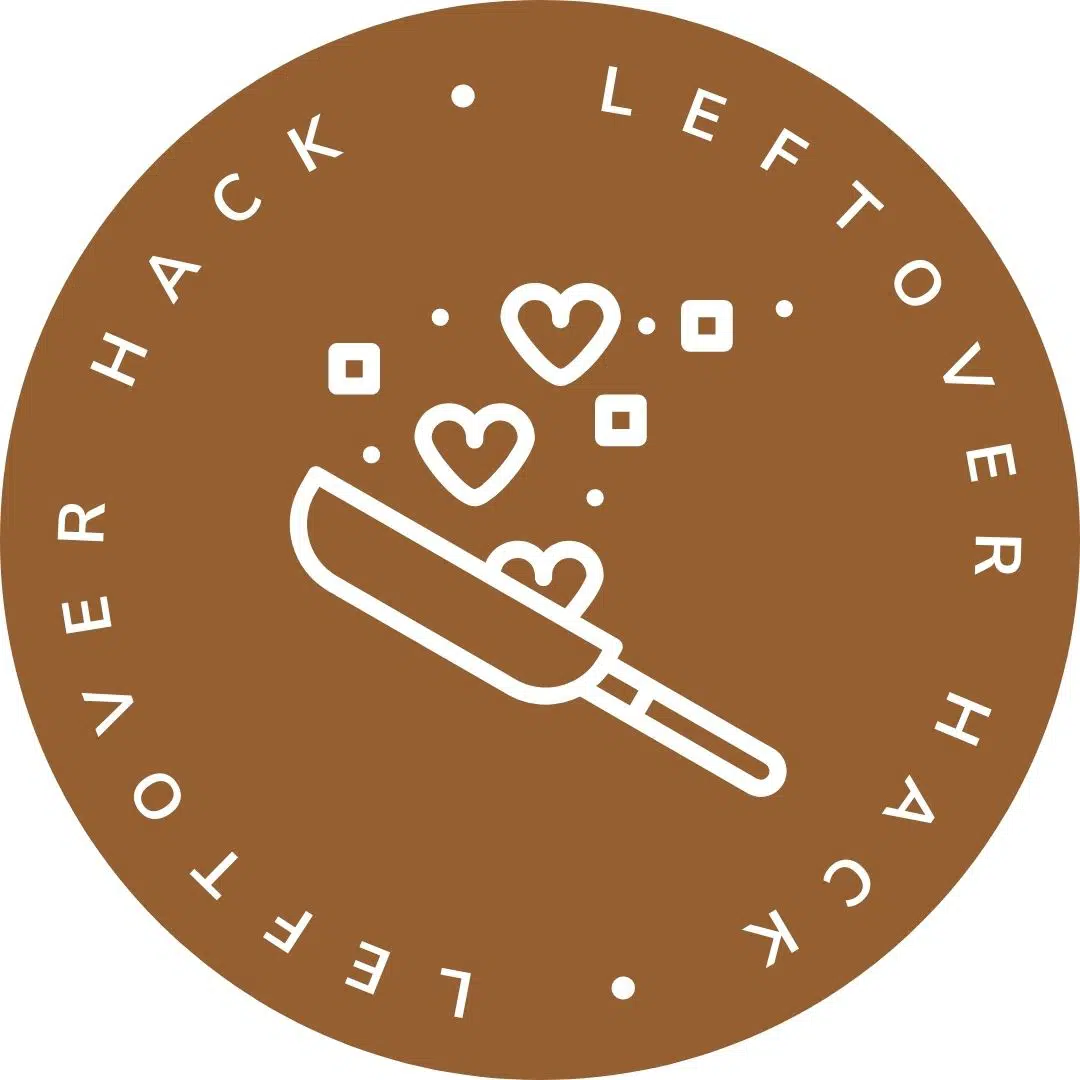 Storage
Keep this refrigerated for up to 3 days. You can freeze it, but the texture of the fruits and veggies will change a bit.
Use ripe, fresh fruit.
Lime juice should be from a lime – the bottled lime juice flavor won't taste as good with this.
Other Mexican recipes that I have made and love are below. Enjoy!