This post may contain affiliate links. Read the full disclosure here.
This red wine sauce is one of my favorite steak sauces. It adds flavor and sophisticated to roasted beef or pan seared or grilled steak.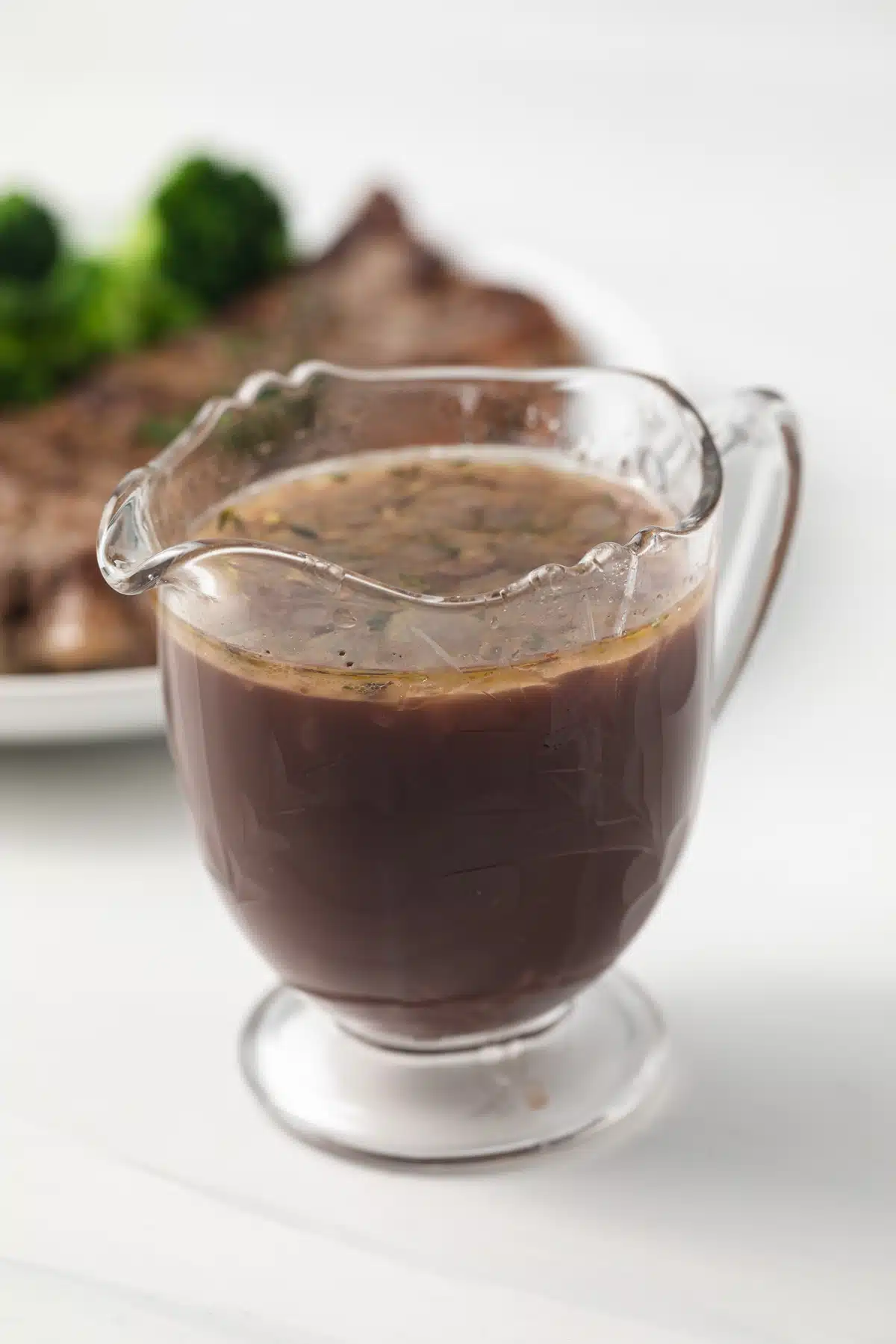 Sometimes the most simple recipes create the most flavorful and sophisticated dishes. This red wine sauce is proof. Your simple grilled steak dinner will taste as if it was cooked at a chic French bistro.
Similar to a au jus sauce, this sauce is basically a red wine jus. It is made from sauteeing aromatics and then adding red wine and beef stock and allowing it to reduce.
The aromatics used in this sauce are shallots and garlic with a bit of thyme. Very French, very delicious, very sophisticated.
I truly love the flavor that shallots add to a sauce. They're fragrant and flavorful but not overpowering like onions can sometimes be. They are a common ingredient in French sauces like Diane sauce, beurre blanc, and dijon mustard sauce.
Shallots and herbs are a great combination that can also be found in my most delicious cowboy butter sauce – another one of my favorite steak sauces.
But on a cold winters night, when all I want is a comforting steak dinner, I like to make this red wine steak sauce. The shallots and garlic soften up and add great flavor to the red wine and beef broth, which then cooks for a bit until it is reduced.
The end result is a delicious and elegant red wine reduced sauce that can be spooned over grilled steak, roast beef, pan seared filets or any other steak cut you prefer. All this meal requires is a side of a simple green salad with a homemade vinaigrette and some crusty french bread. Make a fire, cozy up in front of it, and of course, serve with red wine.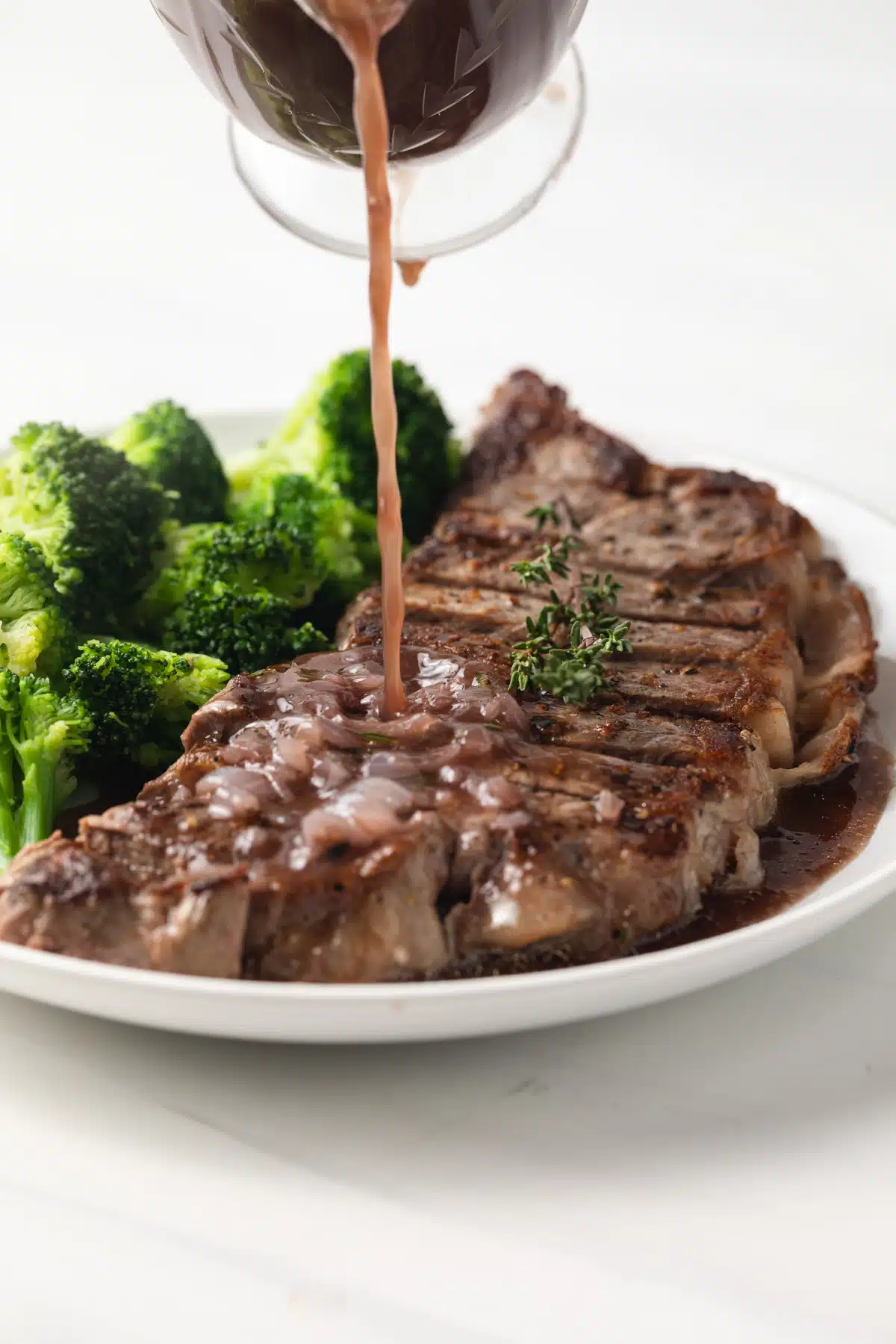 ---
Ingredients
This red wine reduction sauce is turns a simple steak dinner into something special. Even better, it's made from simple every day ingredients.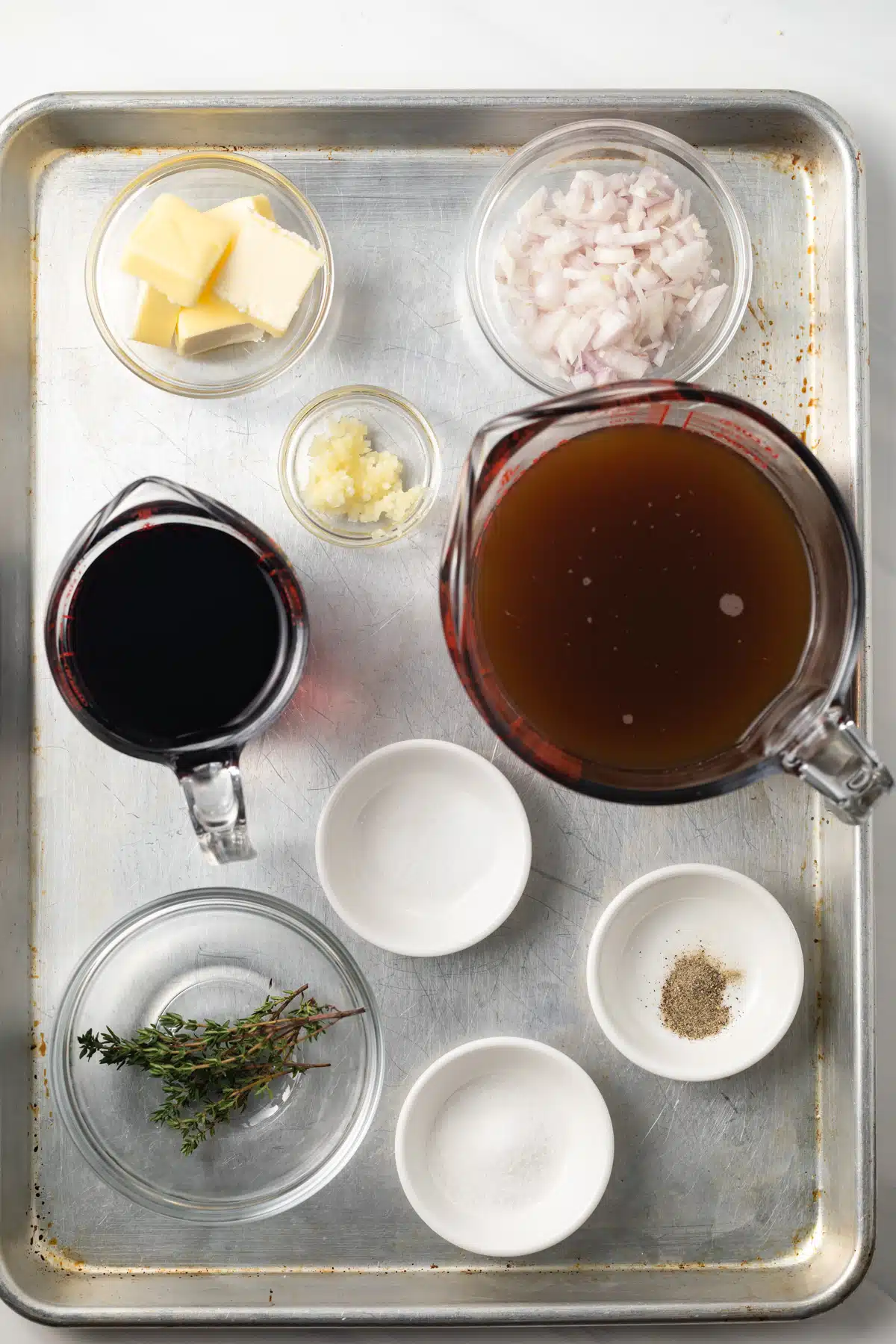 Butter – Unsalted butter adds richness and creaminess to the sauce.
Shallots – Add a delicate and sophisticated French essence to the sauce.
Garlic – Fresh chopped garlic.
Red wine – any dry red wine will do.
Beef broth – Adds depth to the sauce. Use beef stock or broth, whatever you have easy access to.
Thyme sprigs – For an herby flash of flavor.
Salt and Pepper – For seasoning.
Sugar – Just a touch to balance the flavors.
---
How to Make Red Wine Sauce
This red wine sauce recipe is rich and flavorful and surprisingly quick and easy to make. It only tastes complicated!
Cook the aromatics. Melt the butter in a medium saucepan over medium heat. Add the shallots and garlic and cook over medium-low heat, stirring occasionally, until soft, 7 to 8 minutes.
Add the liquids. Add red wine, beef broth, thyme sprigs, salt, pepper, and sugar, and bring to a boil.
Reduce. Cook over medium high heat until the wine mixture is reduced, approximately 10 minutes.
Enjoy! Serve with beef and enjoy.
Substitutions
Shallots – finely chopped white onion can be used in place of the shallots, though shallots will add a slightly more subtle flavor.
Thyme – I prefer the flavor of thyme with this sauce, but if you don't have it, you can use rosemary, parsley or tarragon in its place. Rosemary and tarragon will have a stronger flavor, so use a little less.
---
Variations
This is a fairly straightforward pan sauce for beef, so there aren't a lot of variations I suggest.
Richer – Use a demi-glace in place of the beef broth if you want a richer, meatier flavored sauce.
More wine – If you love the wine flavor of a red wine sauce, alter the ratio of wine to broth, or switch up the variety of wine. Reds like cabernet sauvignon are more full bodied and flavorful than a more delicate pinot noir.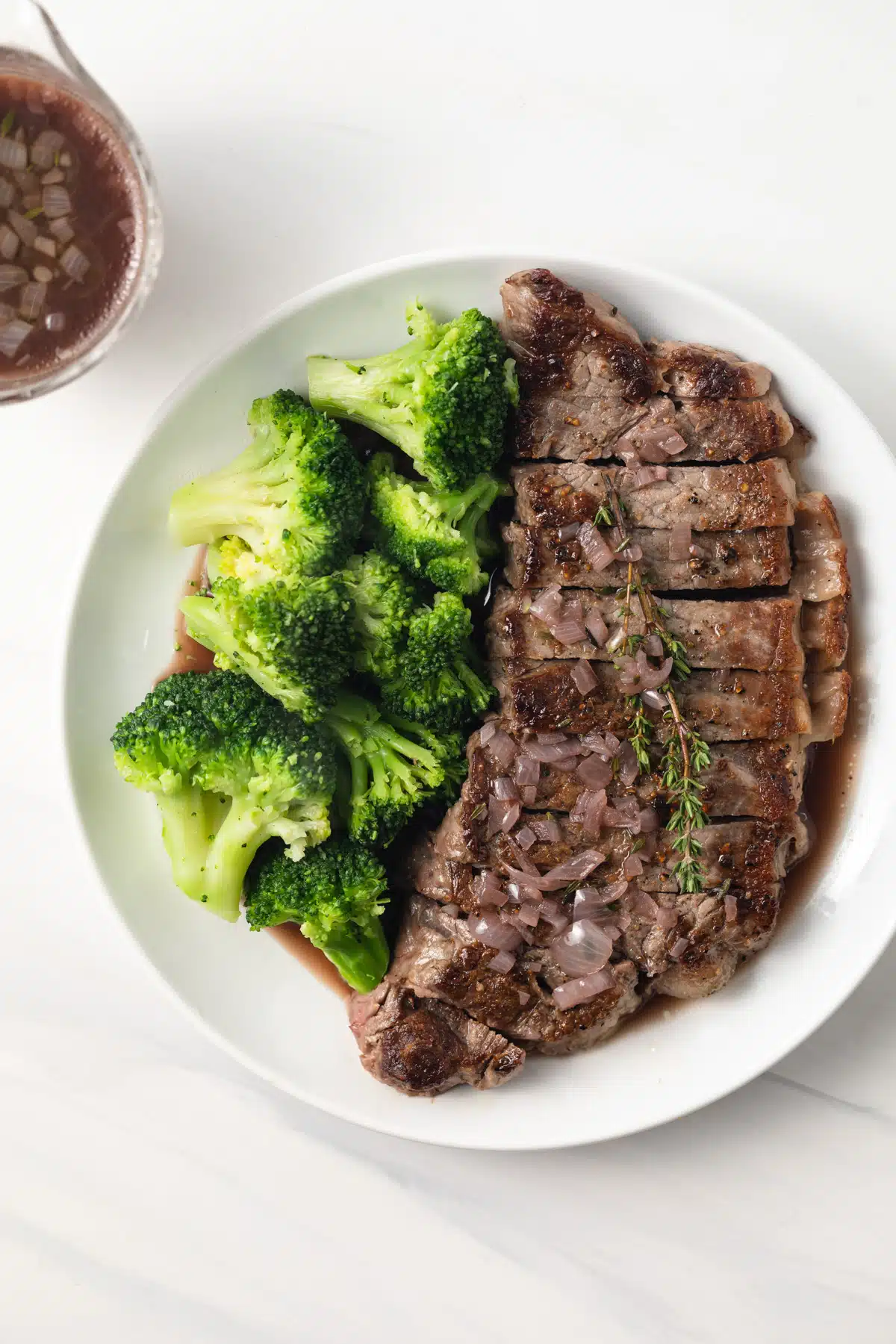 Storage
This will keep in a covered container for up to three days in the fridge. Reheat before using.
---
Tips
Be careful not to burn the garlic and shallots. The flavor of burned garlic can be very overpowering and will alter the sauce.
A sauce is a quick and easy way to add flavor to your favorite entree or mix up a regular menu rotation. Try some of my favorite ways to add punch and flavor to your dinner.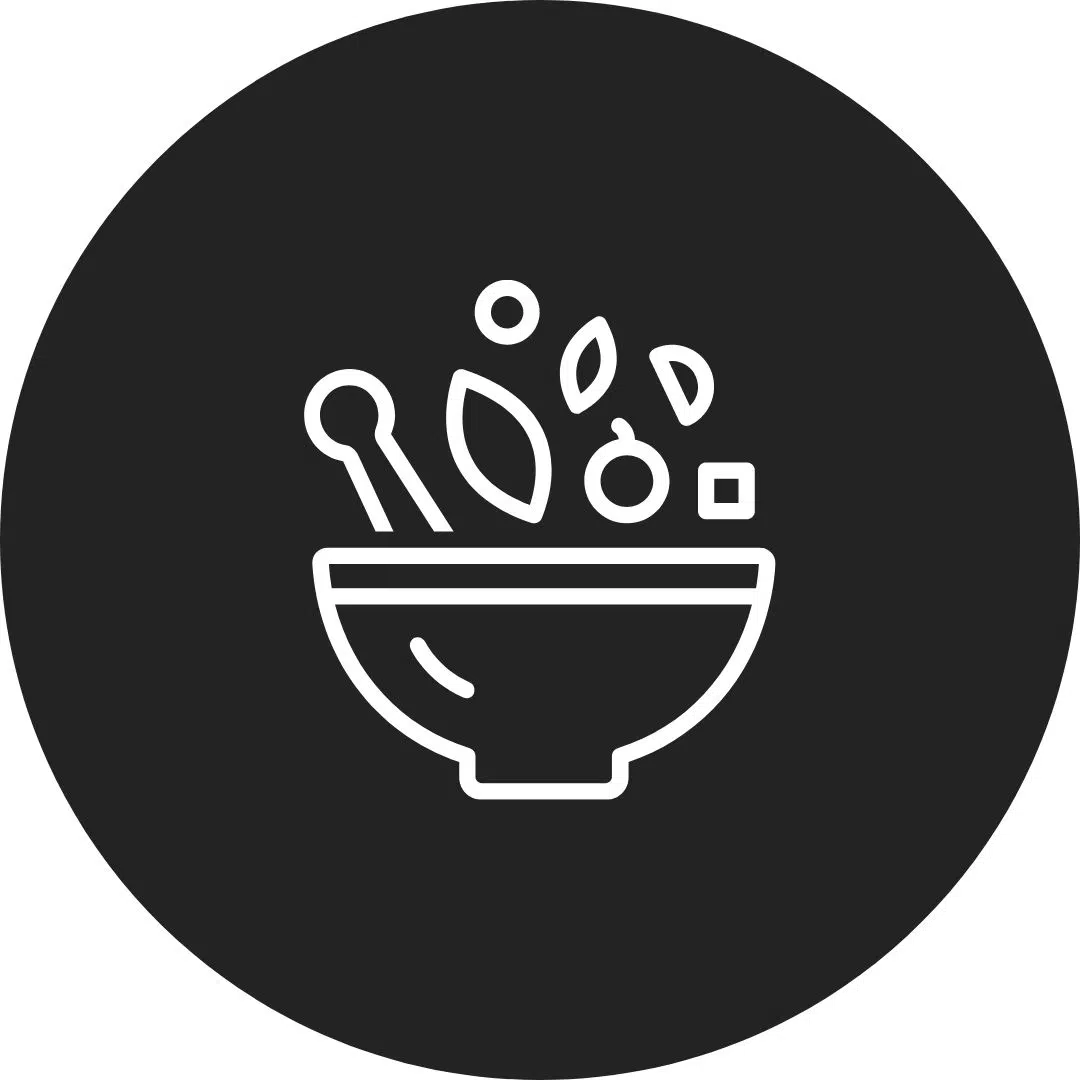 Printable Recipe