This post may contain affiliate links. Read the full disclosure here.
This homemade quesadilla sauce has a little smoke, a little heat and a little creaminess. It is a terrific accompaniment to your favorite cheesy quesadilla.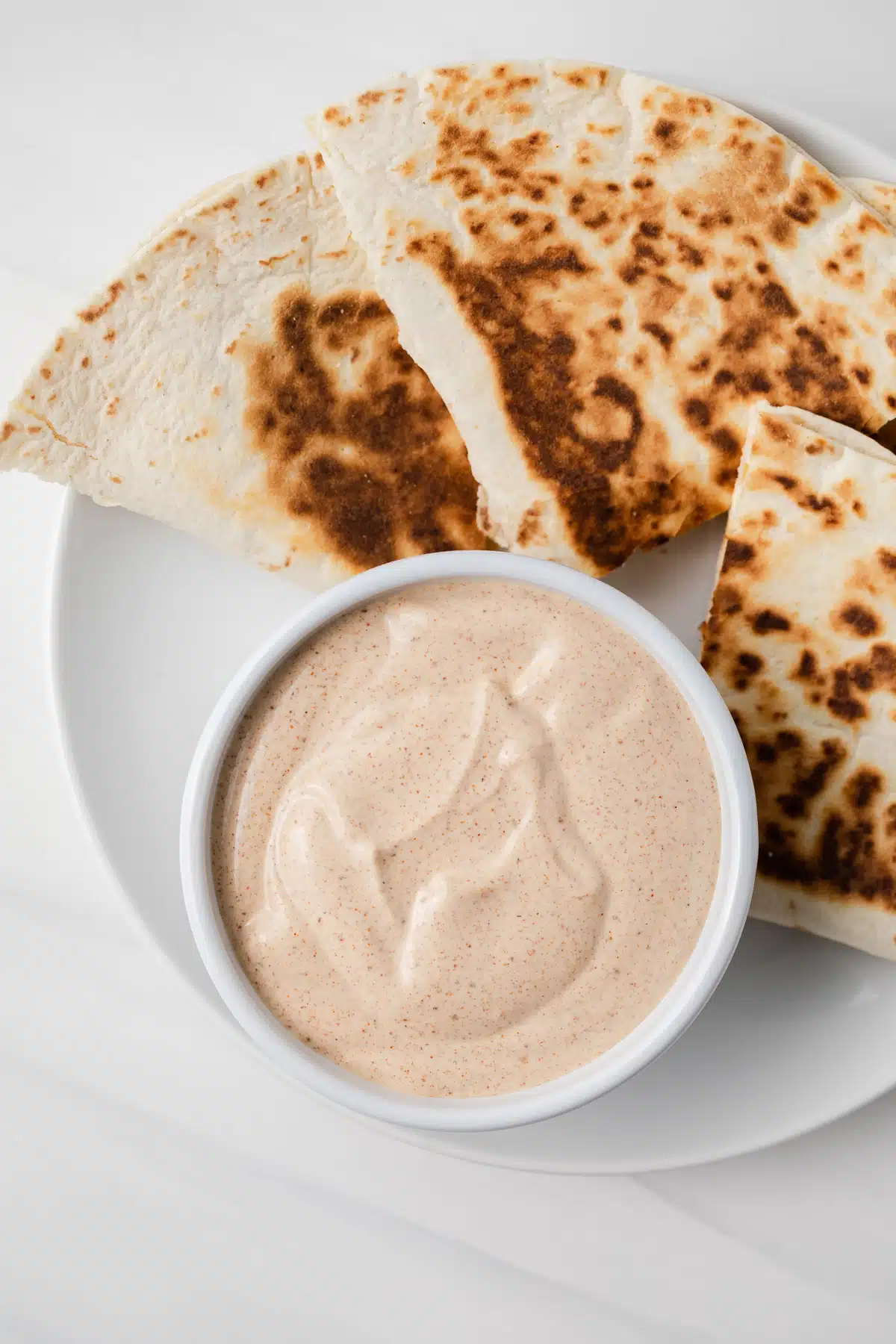 I've said it before and I'm sure I will say it again, there is a part of me that believes the best part of Mexican cuisine is all the flavorful sauces that accompany the dishes.
My peach mango salsa is so good with tortilla chips or on tacos. This burrito sauce is a delicious dipping sauce for your favorite burrito. Fish tacos are so good on their own, but even more so with a drizzle of this fish taco sauce.
As usual, these sauces are so much better when made homemade rather than store-bought. The fresh ingredients create brighter and more flavorful sauces.
This quesadilla sauce recipe is no exception – simple ingredients you have at home come together to create a better sauce than any store quesadilla sauce you could buy. It's creamy and spicy and adds a great kick to quesadillas of any variety you want to dip in it.
I've also been known to dip tater tots or french fries in this spicy, creamy deliciousness. (You should try my french fry sauce if you want a less-spicy, more standard dipping sauce for dipping all things potatoes.)
If you've ever been to a Taco Bell (I won't tell anyone), you might have tried their cult favorite Taco Bell Quesadilla Sauce. People go absolutely crazy for it. IYKYK (translation from teen-talk: if you know, you know).
This sauce is as close to a copycat Taco Bell Quesadilla sauce recipe as I could come up with. It has all the creaminess and flavor of the restaurant version but is a fresher, brighter homemade variety.
Sour cream (or Greek yogurt, your choice) and mayonnaise combine to create the creamy base of this sauce. Jalapenos themselves add too much texture, but the juice they've been brined in adds the perfect amount of zip. Cayenne pepper, chili powder, garlic powder, and cumin all add Southwestern warmth, heat, and flavor.
The end result is a zingy, warm, creamy, and versatile sauce that is not just for quesadillas, but is a delicious salad dressing on a taco salad as well. It adds pizazz to grilled chicken or shrimp fajitas too. Make a batch to keep in your fridge to have on hand for the next time you make quesadillas.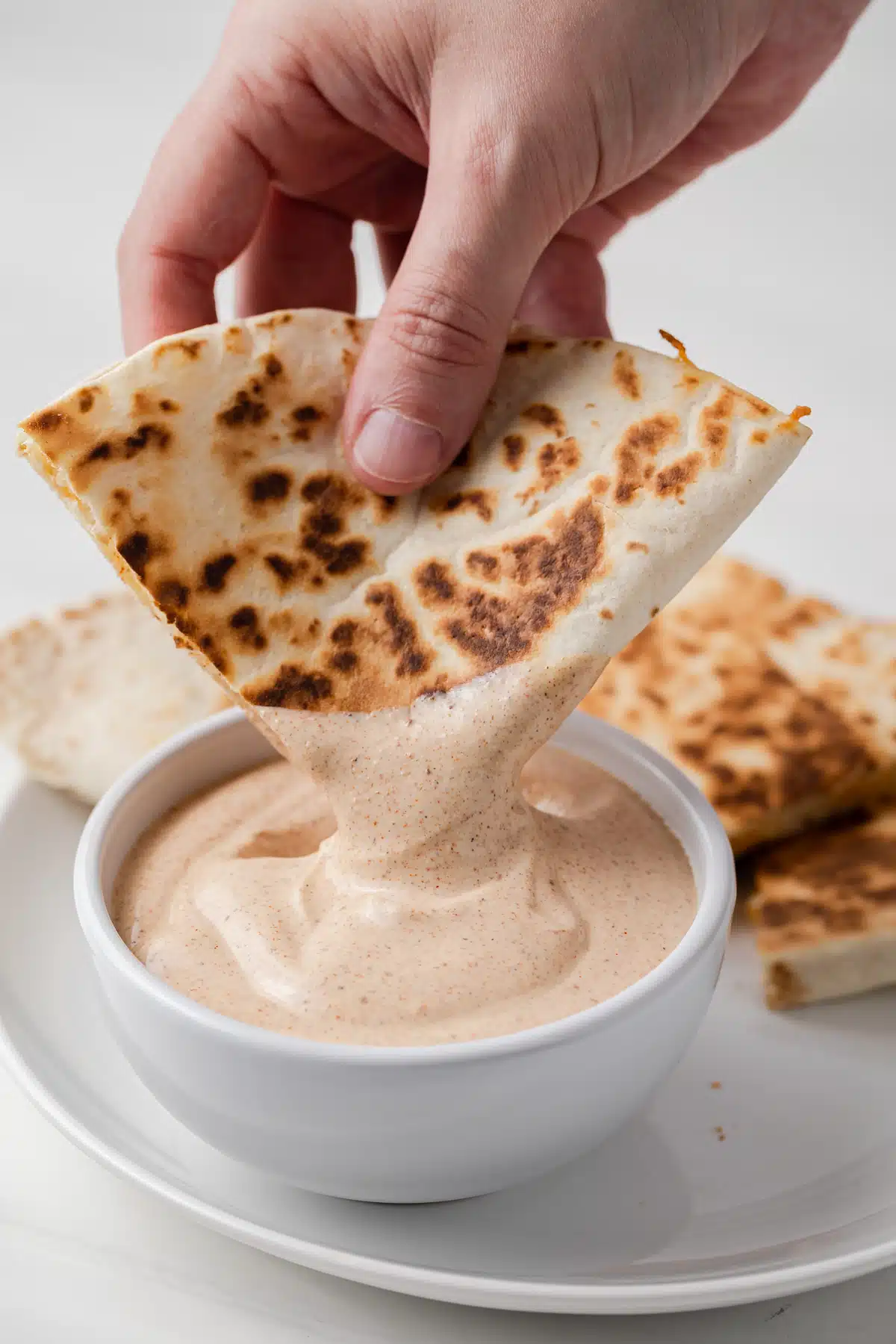 ---
Ingredients
These simple quesadilla sauce ingredients combine to create a flavorful and delightful addition to your favorite chicken quesadillas (or any variety).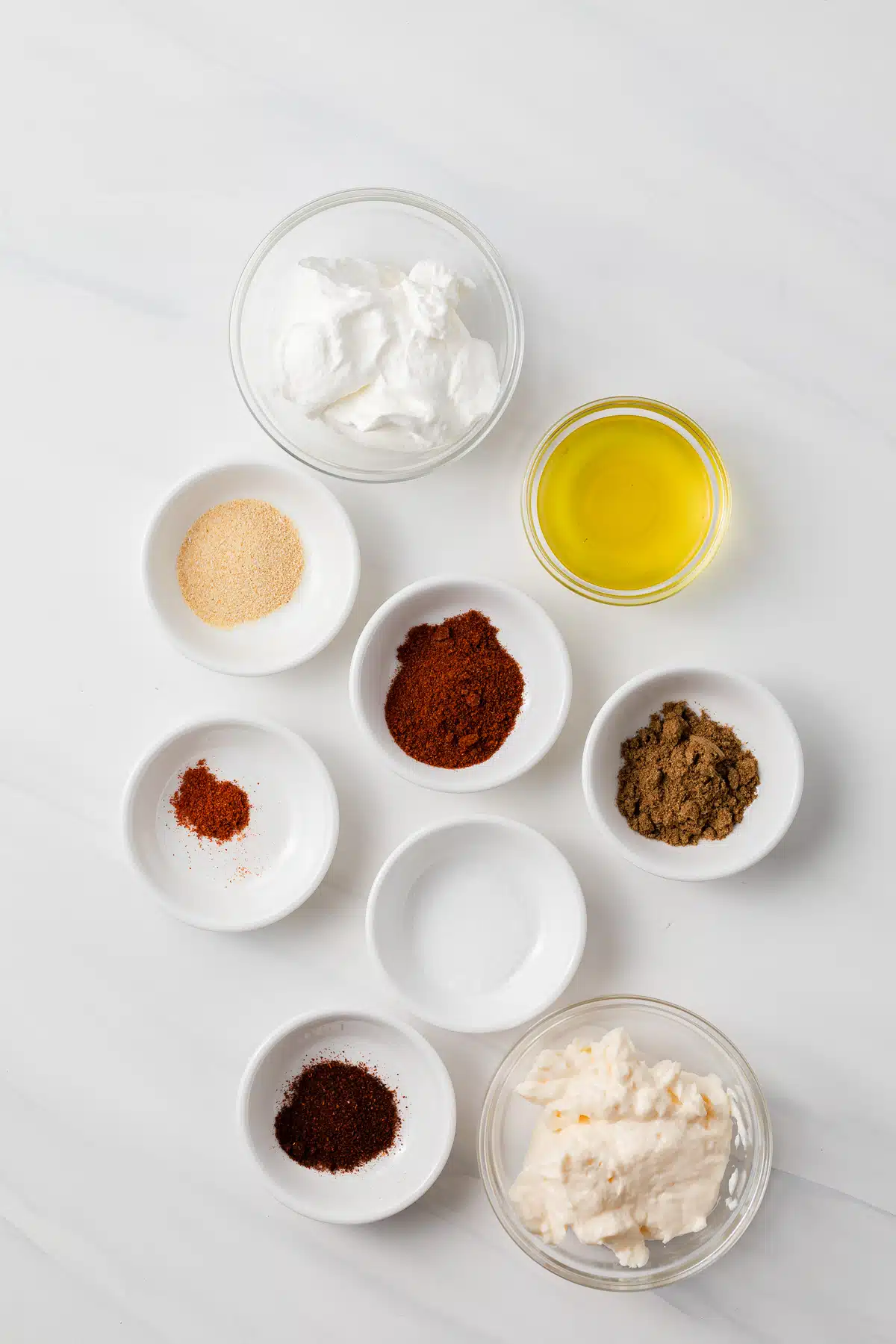 Mayonnaise – Just use Hellman's – it's creamy and rich.
Sour cream – Adds creaminess and a bit of tang.
Pickled jalapeno juice – Drain a few tablespoons of juice from a jar of pickled jalapenos. All the flavor, but with a little less bite and none of the texture.
Paprika – Adds color and a bit of smoky flavor.
Cumin – A warm and earthy Southwestern spice.
Garlic powder – For a little kick.
Salt – To balance the flavors.
Chili powder – For flavor and color.
Cayenne – For a oomph of heat.
---
How to Make Quesadilla Sauce
This delicious Taco Bell copycat quesadilla sauce recipe comes together quickly and easily.
Be sure to check out the full recipe and ingredient list below
Step one. Add all ingredients to a small bowl and whisk until smooth.
Step two. Serve with a quesadillas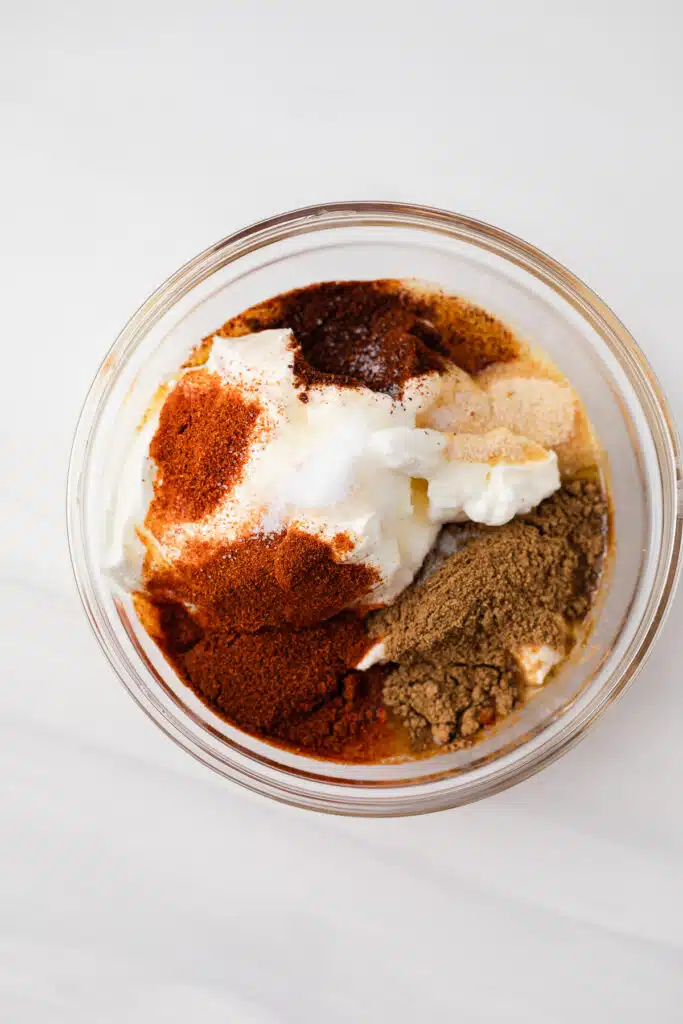 Substitutions
Sour cream – Use plain whole milk Greek yogurt in place of sour cream if desired.
---
Variations
To add more spice to the quesadilla sauce, add more chili powder or cayenne pepper. To give this sauce more of a smoky, Southwestern flavor, add a teaspoon of blended chipotle pepper.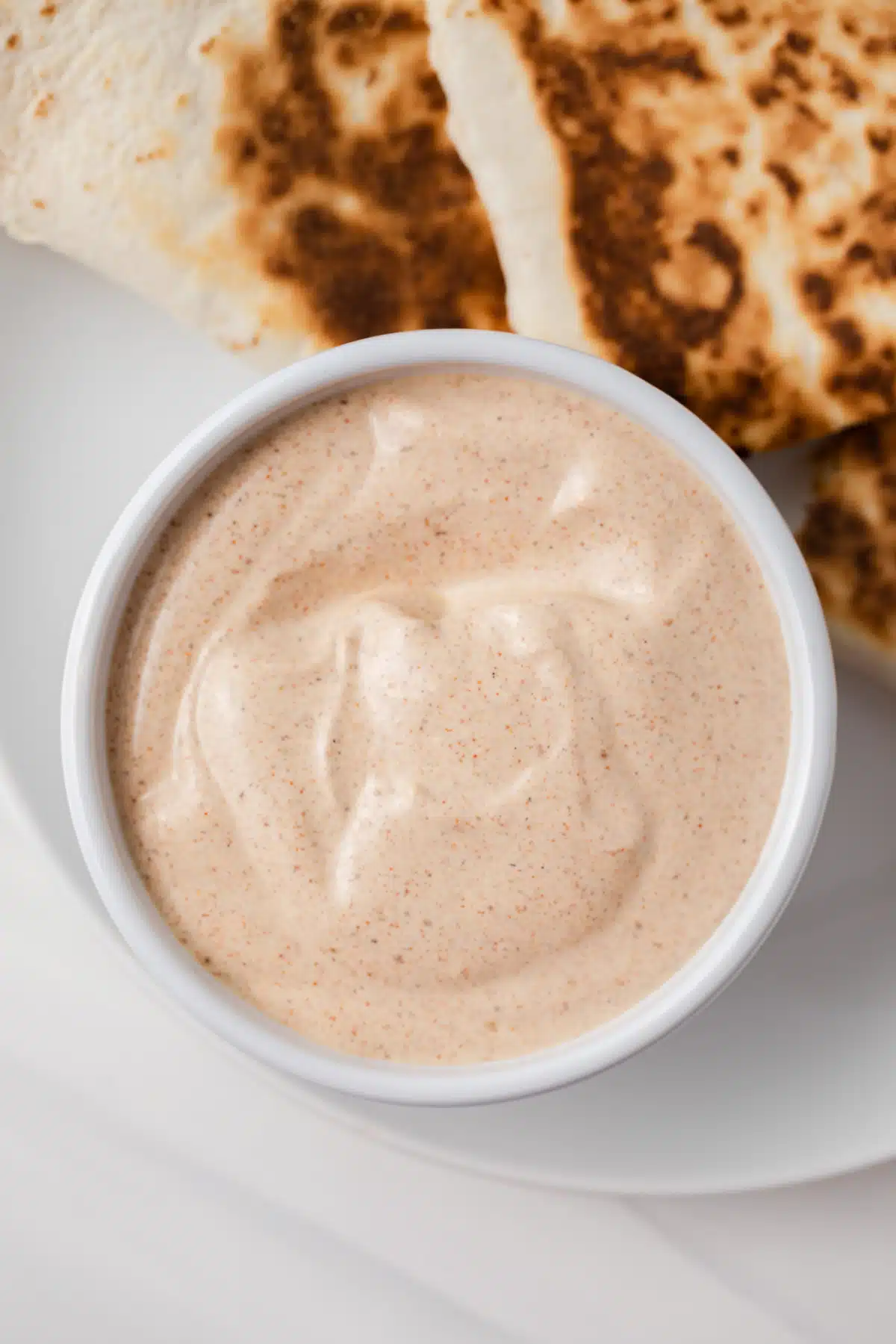 Storage
Store in an airtight container in the refrigerator for up to 1 week. I do not recommend freezing this sauce.
What sauce does Taco Bell use in their quesadillas?
Taco Bell uses a jalapeno sauce similar to my recipe here. It's made with mayonnaise, sour cream, jalapeno juice, and spices.
What is the best sauce for quesadillas?
This creamy quesadilla sauce! Pairing a delicately crispy flour tortilla adorned with diced chicken and melted cheese with this delectable sauce creates a harmonious culinary symphony. The sauce boasts a tantalizing fusion of refreshing, velvety mayo and tangy sour cream, complemented by a subtle kick from pickled jalapenos and the alluring essence of smoky spices. Prepare yourself for a gustatory experience that seamlessly blends textures and flavors, leaving your taste buds delightfully intrigued.
This creamy jalapeno sauce recipe is loaded with flavor, as are the other condiment recipes listed below.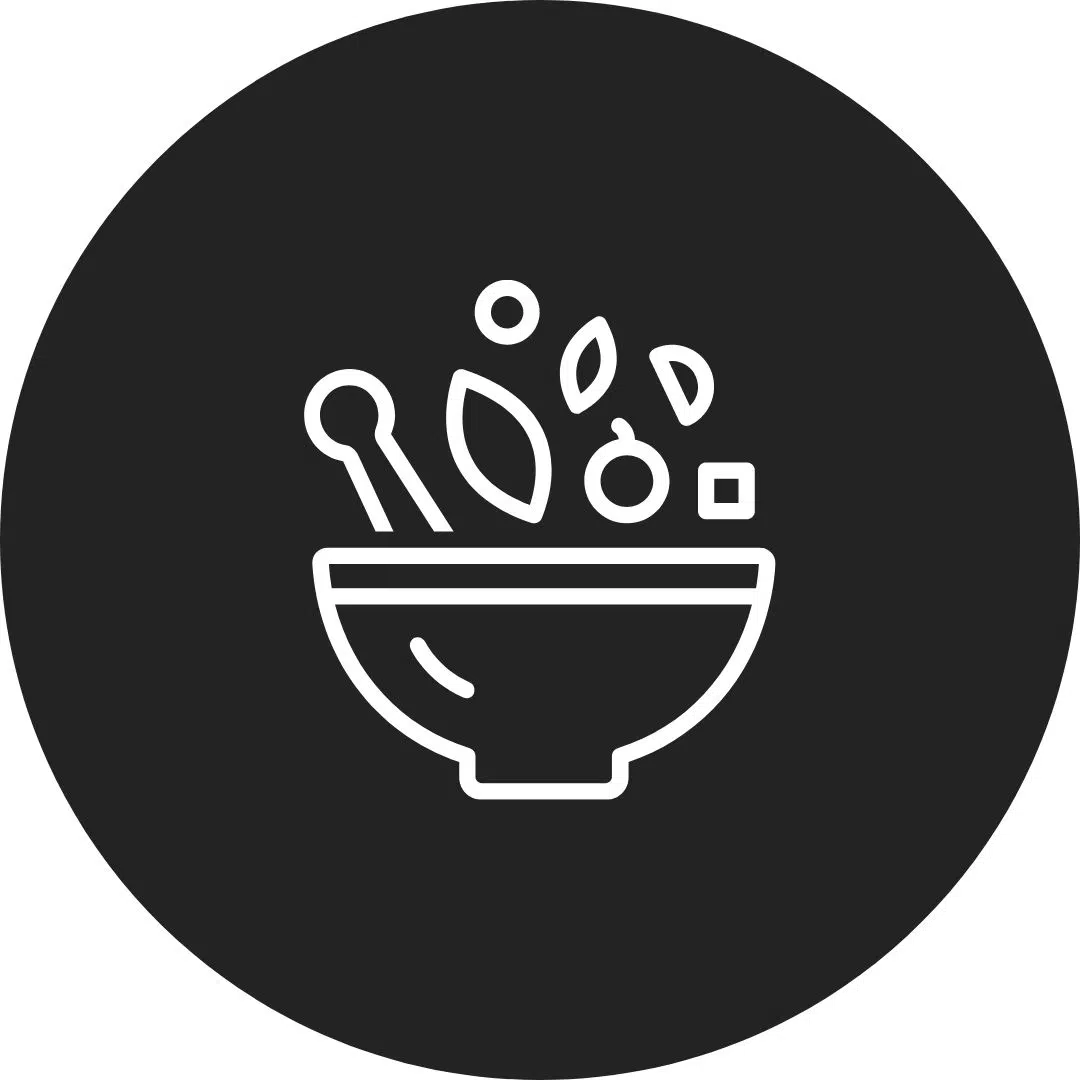 Printable Recipe