This post may contain affiliate links. Read the full disclosure here.
This bang bang sauce is sweet and spicy and is the perfect creamy sauce for seafood, meat, and more! This Bonefish Grill copycat sauce is so easy to make at home and tastes even better.
If you've been to the Bonefish Grill, you've likely tried their fried shrimp with a bang bang sauce – it's one of their specialities. The creamy sweet and spicy sauce compliments the crunchy deliciousness of the fried shrimp.
This homemade bang bang sauce is a copycat recipe of the same sauce served with fried shrimp at the Bonefish Grill, but, like most all my recipes, the homemade version is even better.
Bang Bang Sauce is a creamy, tangy, spicy sauce. The sweet and spicy flavor goes particularly well with fried fish – especially fried shrimp and calamari. It's even better with a squeeze of fresh lemon juice!
The key ingredient in this recipe is the sweet chili sauce. Thai sweet chili sauce is an Asian sauce that is tangy, sweet and spicy. It's made from garlic, ginger, red chilies, sugar and vinegar. If you've never made your own, try using this sweet chili sauce recipe.
The sauce is sweet, but not too sweet, and spicy, but not too spicy. It's truly hard to resist. This creamy sauce isn't just a sauce for shrimp, despite its name. It is also a delicious dipping sauce for fried calamari or fried pickle slices.
While I love french fry sauce with french fries, or chicken nugget dipping sauce for chicken nuggets, and fish taco sauce for fish tacos, this versatile bang bang sauce is delicious with all of the above!
I have recently started using this sauce on rice bowls, and wow – is it good. I make a slightly spicier version of the sauce by upping the Sriracha sauce in the recipe to take the flavor up a notch.
I fill the bowl with brown rice and top it with grilled salmon or shrimp, and whatever vegetables I have on hand – like broccoli, edamame, or cucumber sticks. I sprinkle the bowl with toasted sesame seeds and drizzle with a generous portion of the spicy sauce. It's just so yummy.
Make this recipe today and serve it with your own creation!
Ingredients
Just a handful of ingredients combine to make a delicious copycat recipe of the bang bang shrimp sauce served at the Bonefish Grill.
Mayonnaise – Offers the creamy base for the sauce.
Thai sweet chili sauce – Provides flavor, a bit of a kick and a hint of sweetness.
Sriracha – For heat and spice.
Honey – For sweetness.
Rice vinegar – For a subtle tang.
---
How to Make Bang Bang Sauce
This bang bang sauce recipe is another one of my mix and enjoy sauces. It takes just a little bit of time but packs a big punch of flavor. It's a creamy spicy sauce that is sure to become a favorite.
Be sure to check out the full recipe and ingredient list below
Whisk the mayonnaise, sweet chili sauce, sriracha, honey, and vinegar together in a small bowl.
Enjoy!
Substitutions
Mayonnaise: You can use any type of mayonnaise you like, whether it's regular, light, or vegan.
Sriracha sauce: You can use more or less depending on your heat tolerance.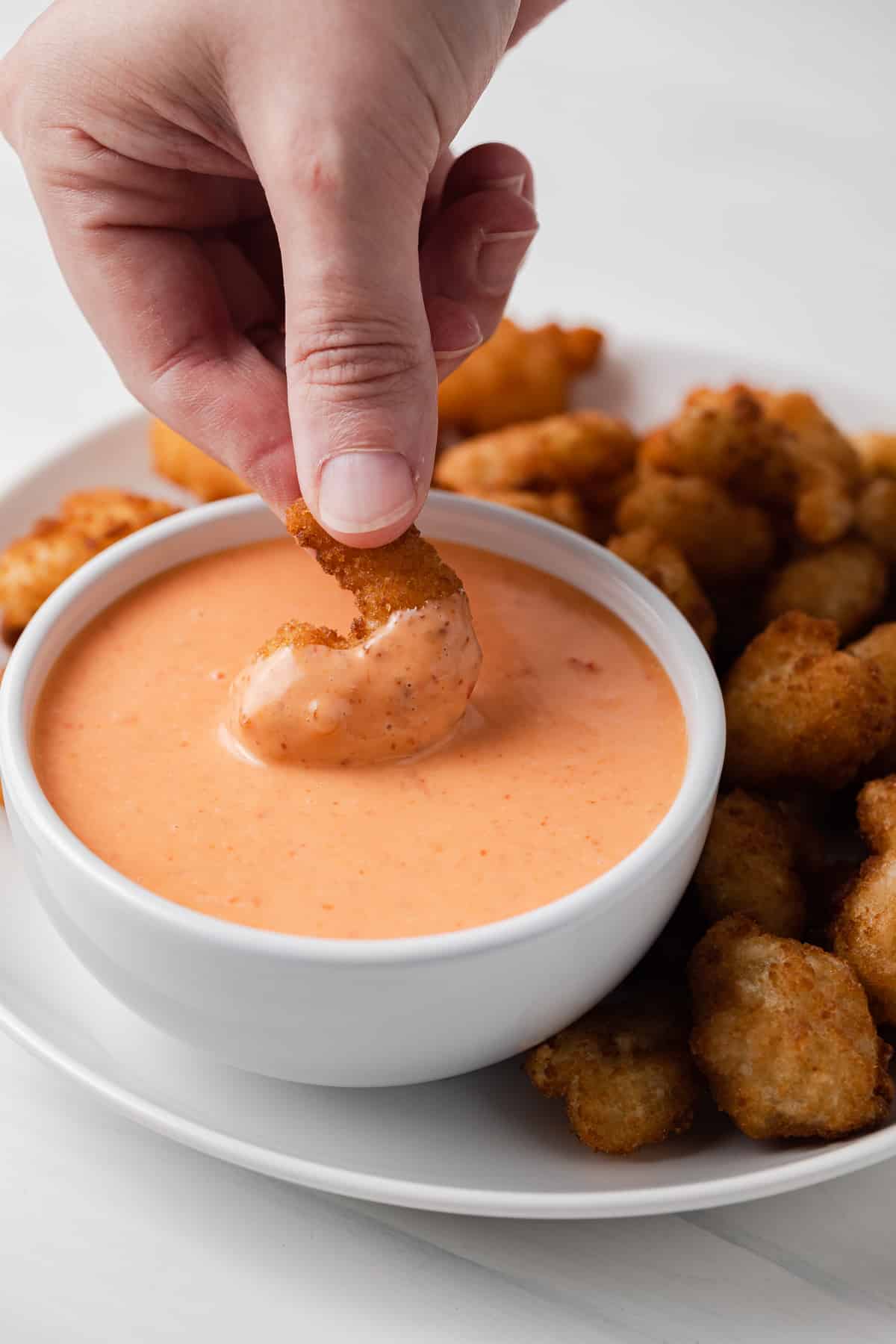 Storage
The sauce will keep for up to 4 days stored in an airtight container in the refrigerator.
---
Tips
This versatile sauce can be used as a dipping sauce for shrimp, chicken, fries, and more.
It can also be a delicious marinade for meats, poultry, or seafood.
Sauces are the spice of life! I love the kick, tang, creaminess or coolness that condiments provide to my entrees. Here are some of my favorite sauces:
Printable Recipe