This post may contain affiliate links. Read the full disclosure here.
This Raspberry Vinaigrette recipe makes a smooth, sweet, and tangy dressing bursting with raspberry flavor. It's so easy to make!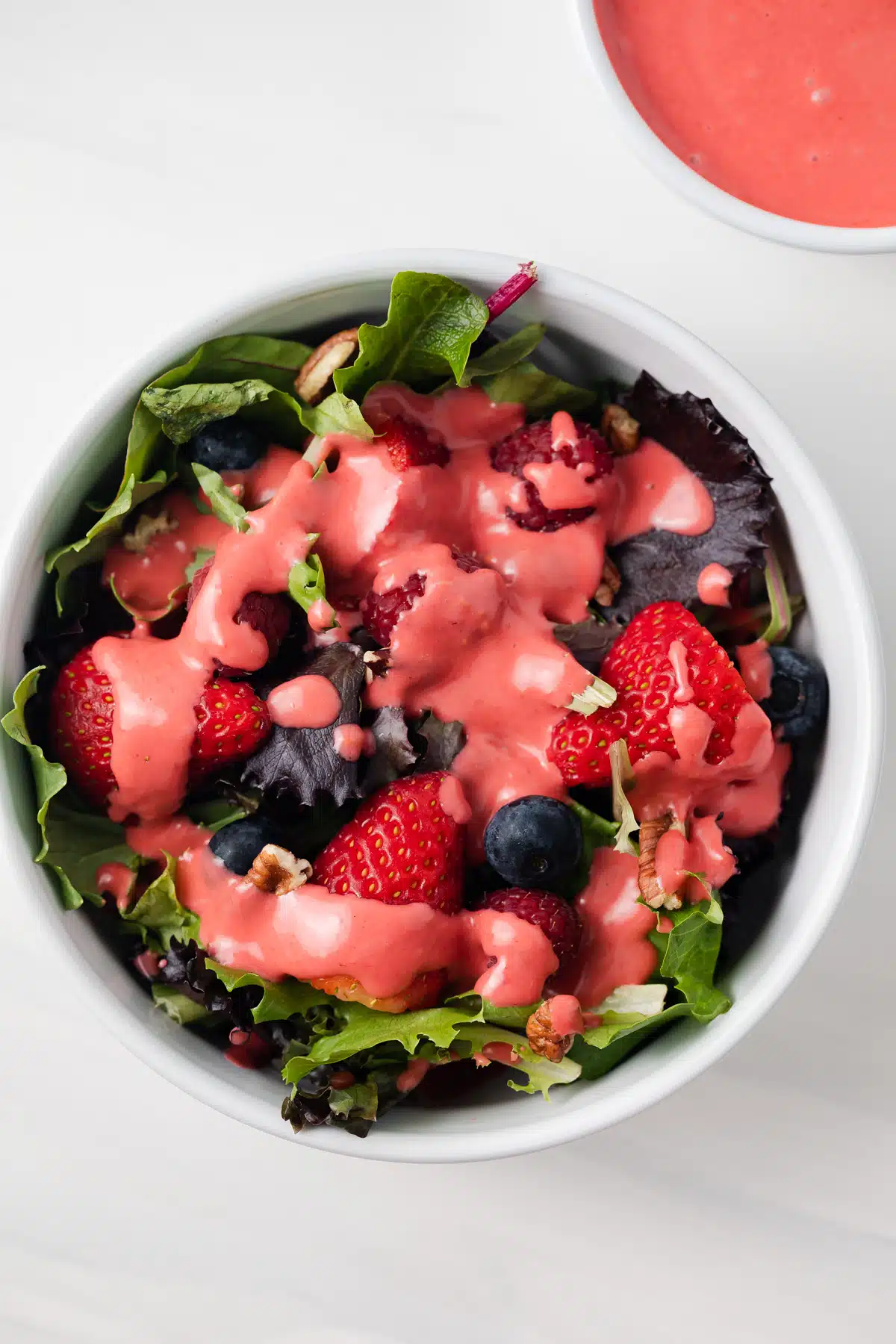 Summer is right around the corner – and with it comes all the delicious meals of the season. One of my favorite salads to make with fresh summer produce is a spinach salad with strawberries and this sweet and tangy raspberry vinaigrette dressing.
This dressing is so much better than store-bought dressings. It's made from fresh ingredients and is tangy, sweet, and delicious. It's sure to become one of your favorite salad dressing recipes.
Oftentimes I'm ok with using fresh or frozen berries in a recipe that calls for berries, but this is not one of those recipes. Frozen raspberries will add too much water to the dressing and just won't do the job here. Fresh raspberries have the right flavor and water content and will be just right here.
This homemade raspberry vinaigrette works on all sorts of salads, or even as a drizzle on grilled halibut, chicken, or shrimp. But it adds such great flavor to any sort of salad with fruit – you'll love it.
Two salads I particularly love with this dressing are a strawberry mixed green salad and peach and spinach salad.
For the strawberry salad, toss together torn red and green leaf lettuce, finely sliced shallots, and sliced strawberries, topped with grilled chicken breast and drizzled with this fruity dressing. Perfect salad for a summer lunch!
For the spinach salad, I like to toss together baby spinach, sliced peaches, and thinly sliced red onion or shallots, then I top it with torn fresh mozzarella cheese, and this dressing. It's such a delicious taste of summer!
The best thing about this dressing is how easy it is to make. Just put all the ingredients in the blender and blend until emulsified (combined). That's all that you need to do to make a vinaigrette dressing that is more flavorful, better, fresher, and cheaper than store-bought dressing. No trip to the market needed!
You might also want to try my honey balsamic vinaigrette. It's also great for strawberry salads.
---
Ingredients
This sweet and fruity dressing is made with a very small number of ingredients. Use fresh berries, high-quality extra virgin olive oil, and local honey for the freshest, brightest flavor.
Fresh raspberries – For the berry flavor.
Olive oil – Use high quality extra virgin olive oil.
Red wine vinegar – For a subtle yet bright tang.
Honey – Adds sweetness and a bit of texture.
Salt – Balances the flavor.
---
How to Make Raspberry Vinaigrette
This is a quick mix and blend dressing recipe – it's ready in just minutes.
Be sure to check out the full recipe and ingredient list below
To make this dressing, simply add all the ingredients into a blender or food processor and blend until smooth.
Substitutions
Vinegar – Red wine vinegar is the best, but you can use champagne or white wine vinegar in its place.
---
Variations
This dressing can be turned into a blackberry vinaigrette by substituting blackberries for the raspberries.
If you want bold flavor and are up for a little experimentation – try using hot honey instead of regular honey here. It'll have a little kick.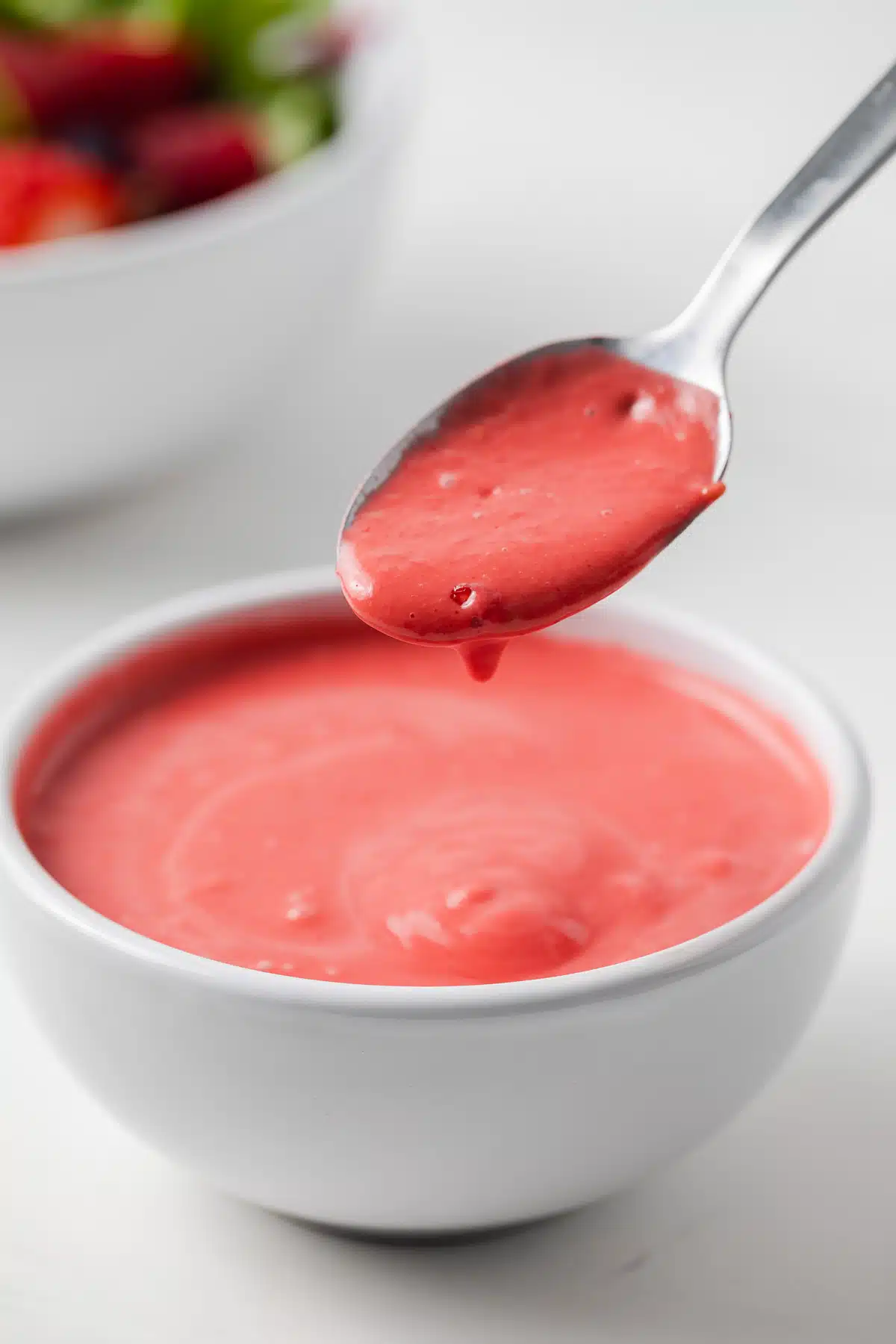 Storage
You can store this raspberry vinaigrette for up to a week in the fridge.
---
Tips
You can strain the dressing through a fine mesh sieve to remove seeds if desired.
Try all my other delicious salad dressing recipes!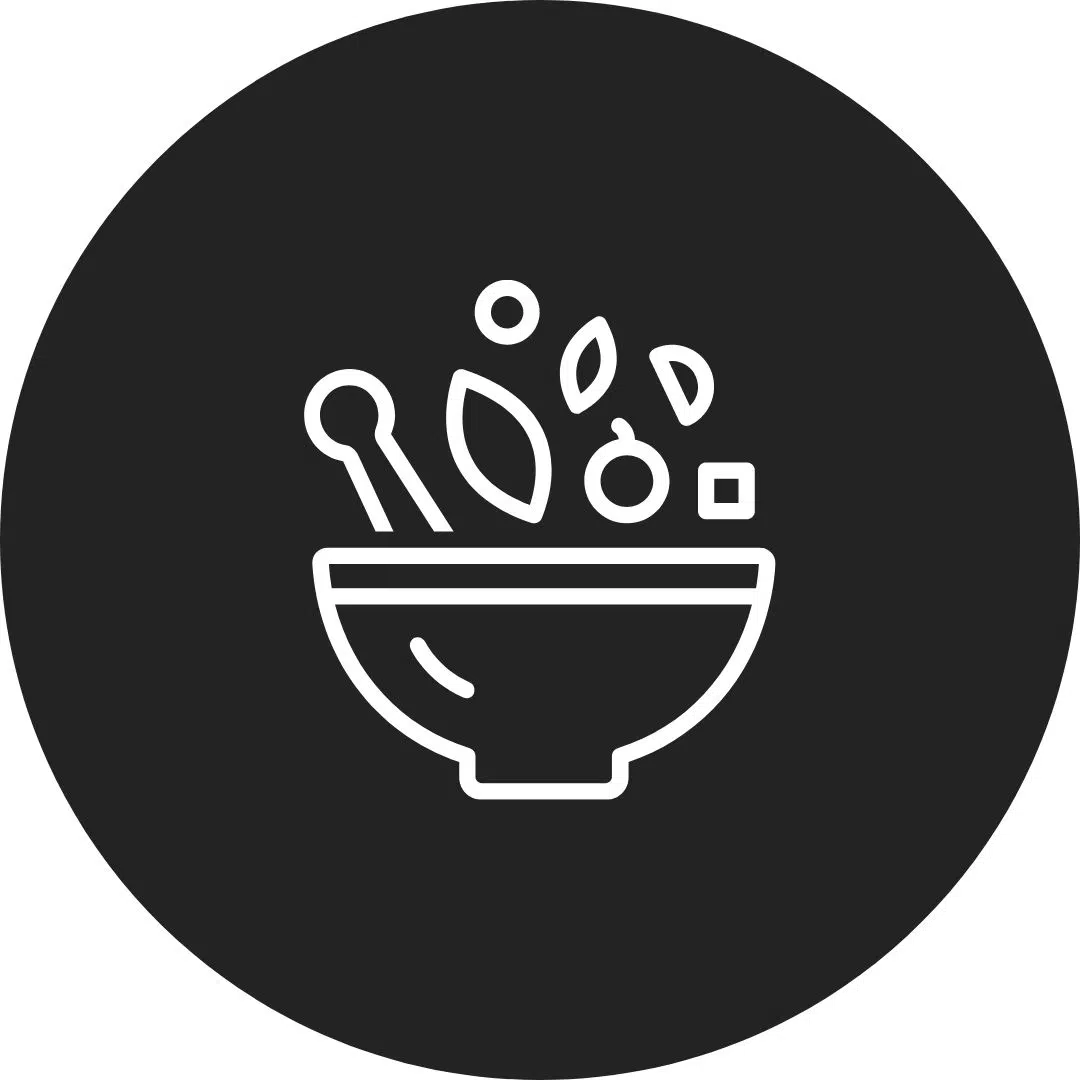 Printable Recipe