This post may contain affiliate links. Read the full disclosure here.
Sukiyaki is a Japanese dish that is similar to its slightly more famous cousin, Teriyaki. "Yaki" means "grill" in Japanese. Teriyaki usually refers to grilled meats smothered in a sweetened soy sauce. Sukiyaki is a hot pot dish, where meat and veggies are cooked in a hot broth made from soy sauce and sugar. This sukiyaki sauce recipe is truly delicious, full of umami, and could not be easier to make.
Sukiyaki is traditionally cooked hot pot style, meaning at the table. If you are lucky enough to have been to a Sukiyaki restaurant, you know how delicious this one-pot meal is. What you might not know is how easy it is to prepare this dish at home.
You don't need to commit to the full hot pot concept to enjoy Sukiyaki! It is also delicious as a condiment. This recipe can been spooned over grilled meats, fish or vegetables and serve with white rice or udon noodles for a simple yet impressive Japanese style dinner.
Traditionally, there are two types of Sukiyaki broth preparations. You can add broth to this sauce to make either of them. In the first, Kanto-style, thinly-sliced beef and an assortment of veggies are cooked directly in the sauce.
In the second, Kansai-style, marbled beef slices are first cooked in the pot with a little bit of sugar – giving it a grilled-like flavor. Thinly sliced chicken, pork or tofu can also be used. The meat is added to the veggies which have been cooked in the broth separately. It's simple, delicious, and flavorful.
If you are making Sukiyaki, use any assortment of veggies you have. Bok choy and shiitake mushrooms are traditional, but add spinach or other leafy greens if you would like. Finish with a sprinkle of green onions.
What is sukiyaki sauce made from?
Sukiyaki sauce is made from soy sauce, brown sugar, mirin, and sake.
What is sukiyaki sauce used for?
This sauce can be used for braising meats or vegetables or as a condiment, spooned over grilled meats or veggies.
What is the difference between teriyaki sauce and sukiyaki sauce?
These sauces are very similar – both use soy sauce, brown sugar and mirin. Terikyaki involves basting the meat in the sauce and then grilling it. Sukiyaki involves either cooking the meat in the sauce as a broth, or using it as a condiment after the meat has been cooked.
If you are a fan of Asian cuisine, you may also like our udon sauce, sesame chicken sauce, and Chinese garlic sauce.
Ingredients
Sukiyaki sauce can be made with only four ingredients. If using the sauce as a broth to cook the meat and vegetables, you'll make this sauce and add broth to it for cooking.
Sake: Japanese liquor that can be found at any wine or liquor store. Adds tang to the sauce.
Mirin: Japanese rice cooking wine. This creates a little sourness in the sauce and balances the soy sauce.
Brown Sugar: For sweetness and balance.
Soy Sauce: Salty, umami foundation for this sauce.
How to Make Sukiyaki Sauce
It almost takes longer to measure the four ingredients out than it does to make Sukiyaki sauce!
Combine all ingredients in a saucepan.
Bring to a boil. Bring to a boil over medium high heat. Stir until the sugar is dissolved.
Substitutions
This Sukiyaki recipe is delicious as written. If you can't find some of the ingredients, you can make some substitutions:
Sake: You can replace the sake with dry sherry, dry white wine or increase the amount of mirin. If you want to make it alcohol free, you can use unflavored rice vinegar.
Mirin: All the substitutions for Sake will work for mirin as well. You can increase the sake, use dry white wine, dry sherry or rice vinegar.
Brown Sugar: If in a pinch, you can use granulated sugar or honey for sweetness, though neither will replicate the brown sugar flavor exactly.
Soy Sauce: There are so many substitutions for soy sauce these days. Coconut Aminos, Gluten Free Soy Sauce or Tamari can all be used as substitutes here depending on your dietary preferences.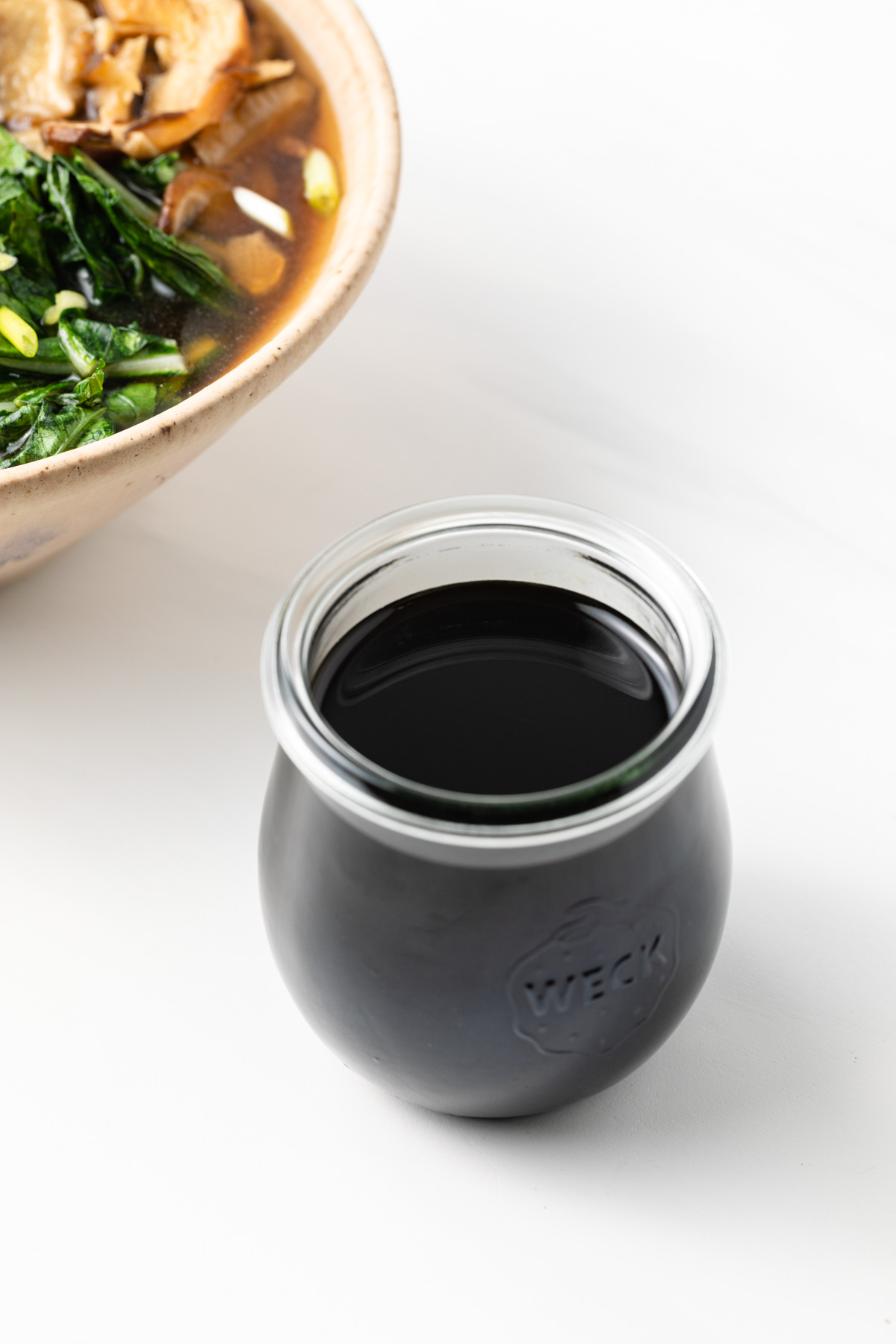 Storage
Use the Sukiyaki sauce right away or allow to cool and store in the refrigerator in an airtight container for up to 2 weeks. The sauce can be frozen for up to 3 months.
Tips
This recipe is for the Sukiyaki sauce, which is more of a condiment. If you want the hot pot experience or to use this as a soup, add ½ cup of sauce to 2 cups of beef, chicken or vegetable broth and heat as needed.