This post may contain affiliate links. Read the full disclosure here.
There is something so comforting about a bowl of Asian noodles smothered in this udon stir fry sauce. In less time than it takes to order delivery, you can whip up a delicious stir-fried udon noodle dish with this simple recipe. The warm and comforting flavors of sesame oil and dark soy sauce will make this one of your go-to recipes.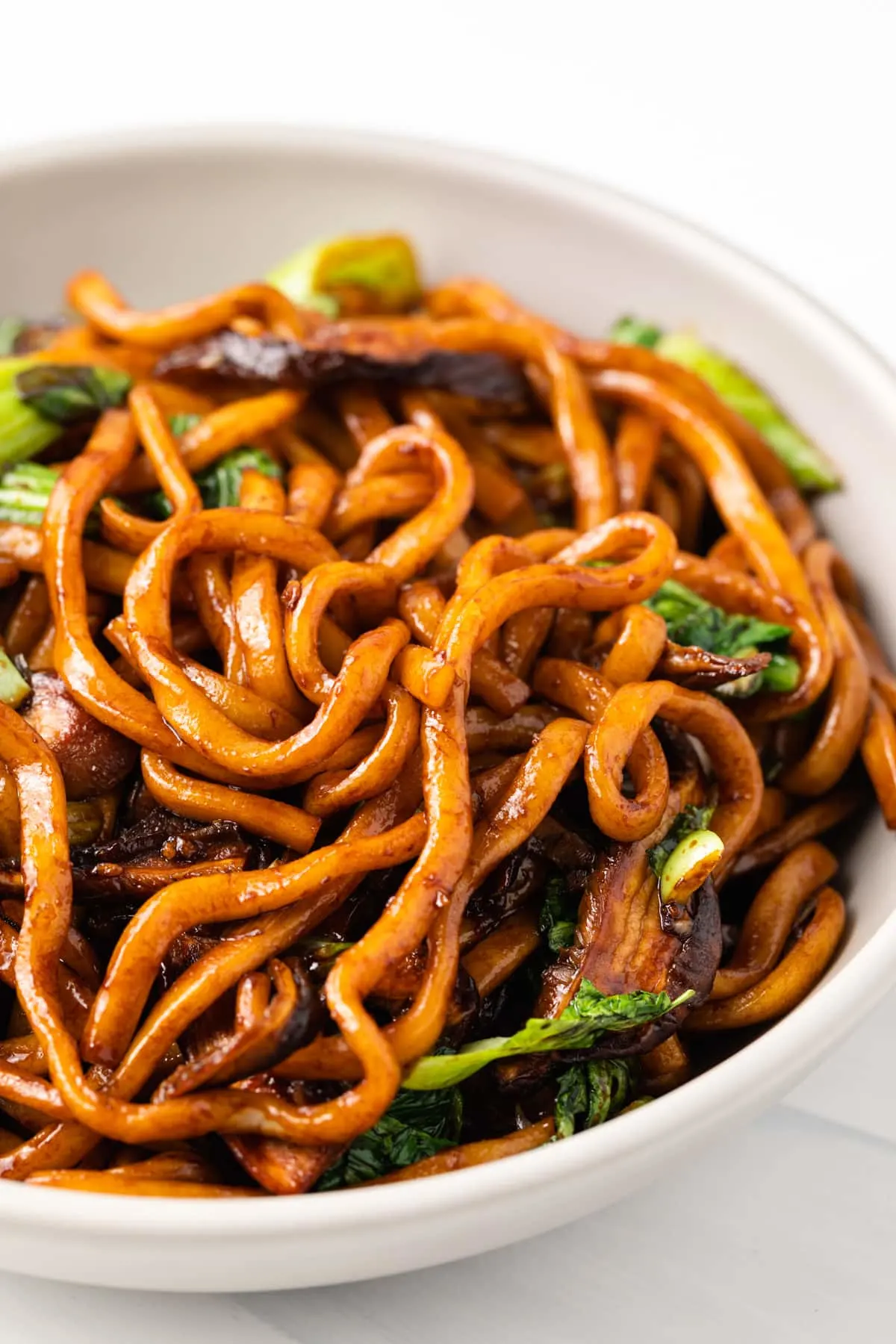 Udon sauce, often called yaki udon sauce, can be used to make a delicious and customizable stir-fried noodle dish. The sauce comes together quickly using ingredients you will likely find at your favorite grocery store. You can also order them online.
There are many kinds of Asian noodles – rice noodles, lo mein noodles, ramen, and others. Truly, any would taste great smothered in this sauce. Udon sauce is, not surprisingly, usually served with udon noodles. These are thick, chewy noodles made with wheat flour, water, and salt.
The sauce is the star here – it turns regular ingredients into something spectacular. Add chicken, pork, shrimp, or tofu to the cooked udon noodles. Typical vegetables used are shiitake mushrooms, bok choy, and green onions.
I'd love to tell you that leftovers are even better the next day, but we never seem to end up with any, so I don't know!
If you are a fan of Asian flavored sauces, be sure to try my yummy Sukiyaki sauce.
what is udon sauce?
Udon sauce is a slightly sweet and richly flavored Asian sauce made from sesame oil, dark soy sauce, mirin, sugar, oyster sauce, rice wine vinegar, and sugar. It is tossed with fresh or frozen cooked udon noodles and makes a delicious stir fry dinner.
What goes with udon noodles?
Udon Noodles are thick chewy noodles that take on the flavor of the sauce they are tossed in. They are often served with ground pork or chicken, but shrimp or tofu work too. For a traditional stir fry, mix in sliced shiitake mushrooms, bok choy, and green onions. Don't be shy – add in any veggies you have on hand.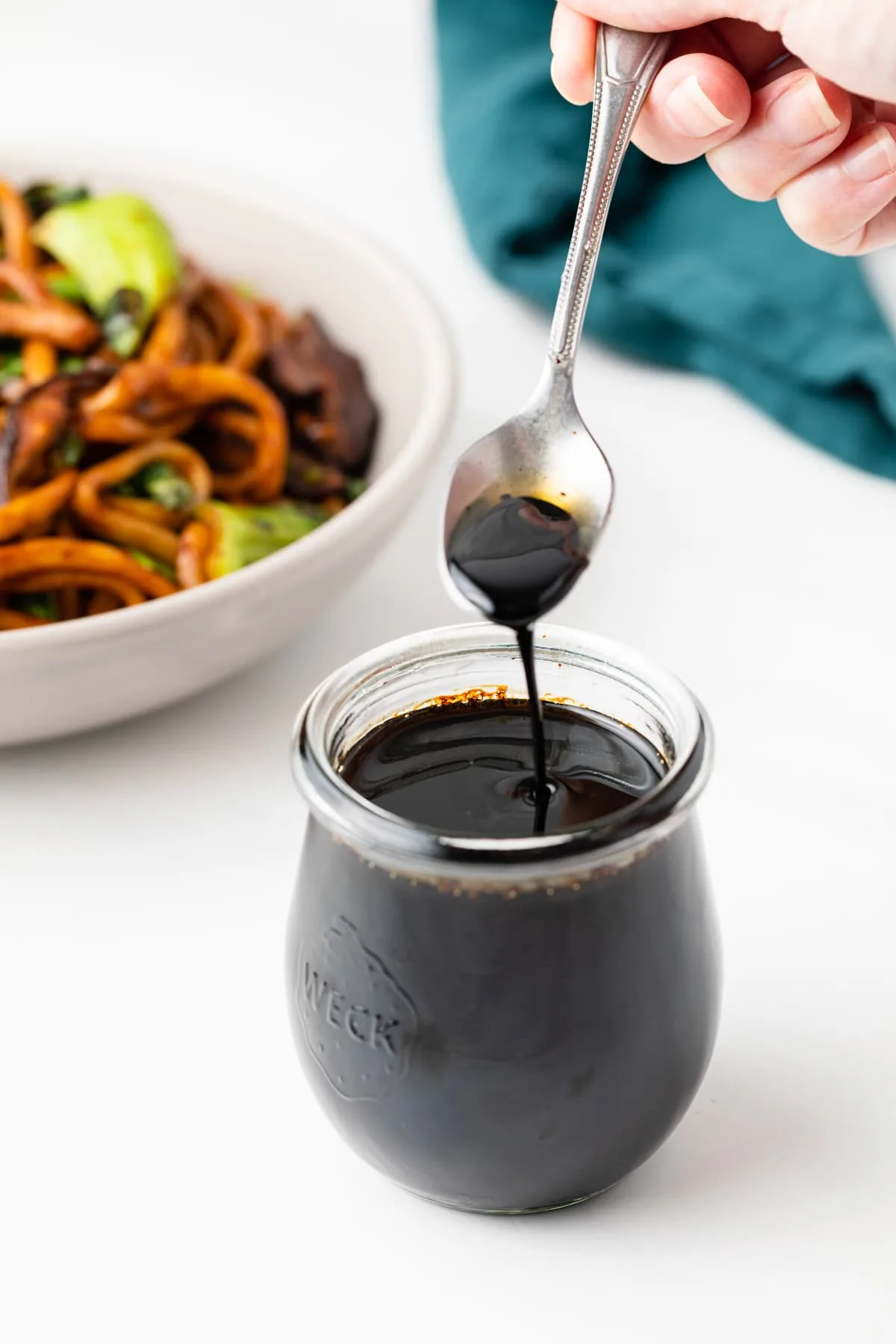 Ingredients
While most of these ingredients are available in the international aisle of standard grocery stores, an Asian market will be sure to have them. You can also purchase them online if you don't live near an Asian market.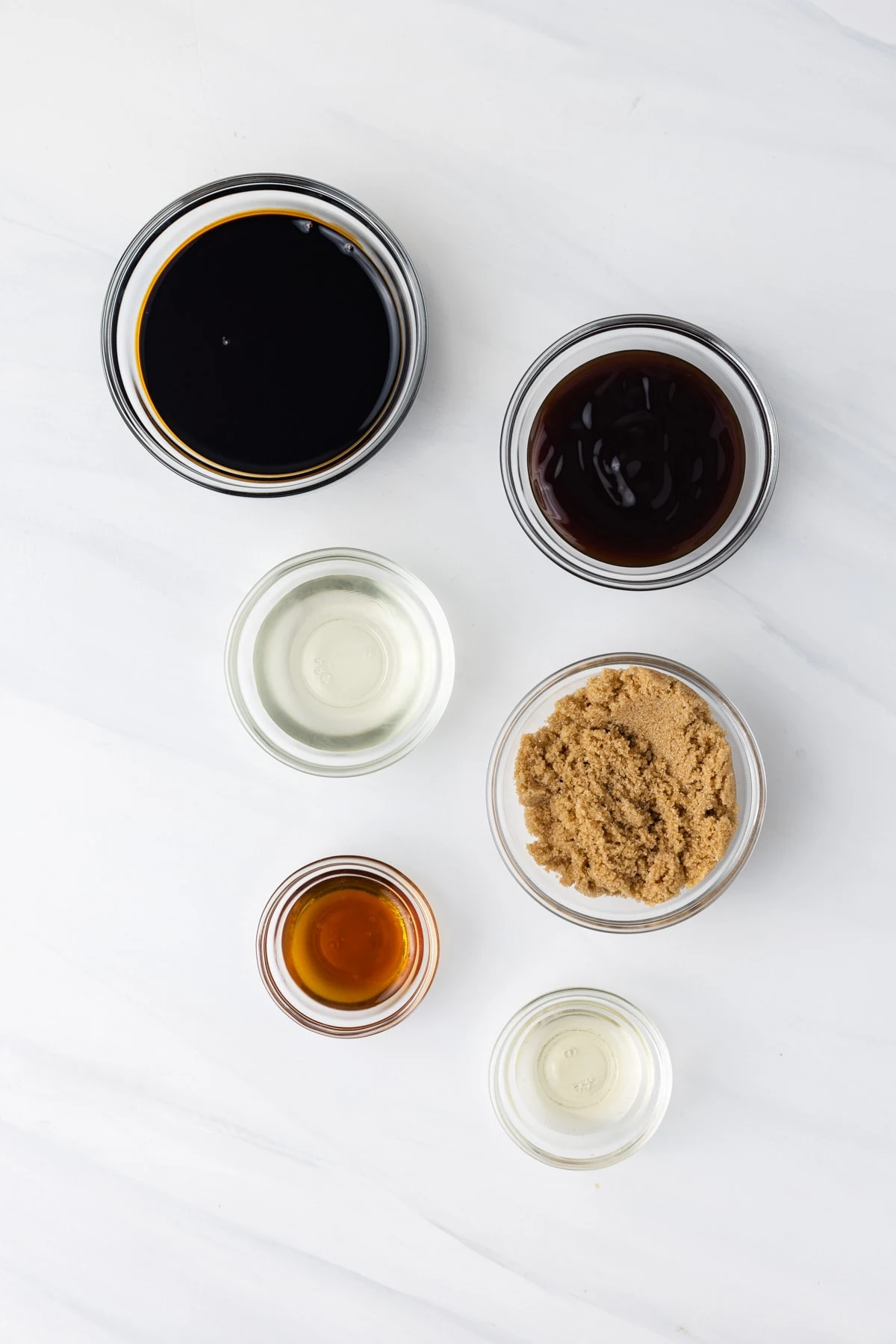 Mushroom Flavored Dark Soy Sauce: This is the foundation of the sauce. Dark mushroomy soy sauce is thick and richly flavored. It's available in Asian markets or online.
Oyster Sauce: Rich, syrupy, slightly sweet and salty.
Brown Sugar: For sweetness.
Mirin: Mirin is a Japanese cooking wine that adds sweet balance to the soy sauce.
Sesame Oil: A flavor bomb. Adds so much deliciousness to the sauce.
Rice Wine Vinegar: Tangy and zingy balance.
How to Make Udon Noodle Sauce
This is another quick and easy sauce that tastes like it takes a lot longer to pull together than it actually does!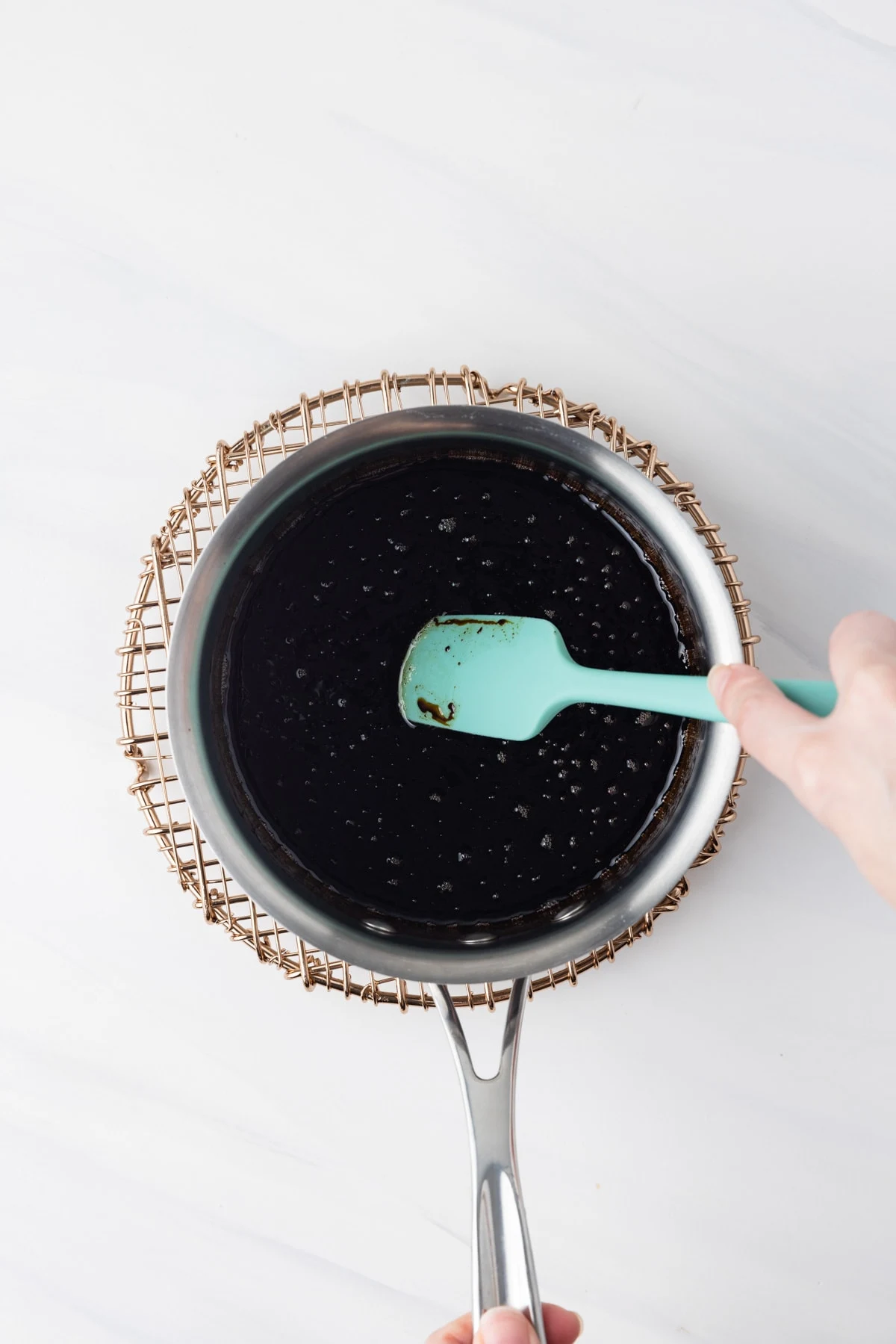 Combine all ingredients. Add all ingredients together in a small sauce pan. Bring to a boil over medium-high heat, stirring to dissolve the sugar.
Enjoy! And that is it! Remove from heat, and use immediately over cooked udon and veggies. Or cool slightly before serving.
Substitutions
Mirin: You can substitute sake, dry sherry or dry marsala for Mirin.
Oyster Sauce: Hoisin Sauce has a slightly different flavor but can be a substitute for the Oyster Sauce.
Mushroom Flavored Dark Soy Sauce: Dark soy sauce is concentrated and more flavorful than regular soy sauce. It is ok to use if you don't have the mushroom flavored version. In a pinch, you can also use regular soy sauce, gluten free tamari or coconut amino acids.
Tips
This sauce is delicious with udon noodles. Depending on where you live, you may find some types of udon noodles easier to find than others. Here is the breakdown of the types available. My favorite is fresh udon noodles, but those are probably the most difficult to find.
Fresh udon noodles. These will be available at your local Asian market. They are usually in the refrigerated section. They'll be uncooked and will need to be cooked in boiling water.
Frozen udon noodles: These are usually precooked. Boil them for a minute or two to defrost them up. They're most often sold in in the freezer section at Asian markets.
Pre-cooked packaged udon noodles: These are the most common at bigger grocery stores. They're pre-cooked and sold in the refrigerator section, in a vacuum sealed package.
Dry udon noodles. These are sold in the international aisle of your grocery store. They're dry noodles, in a box or bag. You'll need to cook these in boiling water, like pasta, before using in your stir fry.
Variations
You can always add a little heat to this dish using crushed red pepper or a bit of Gochujang sauce.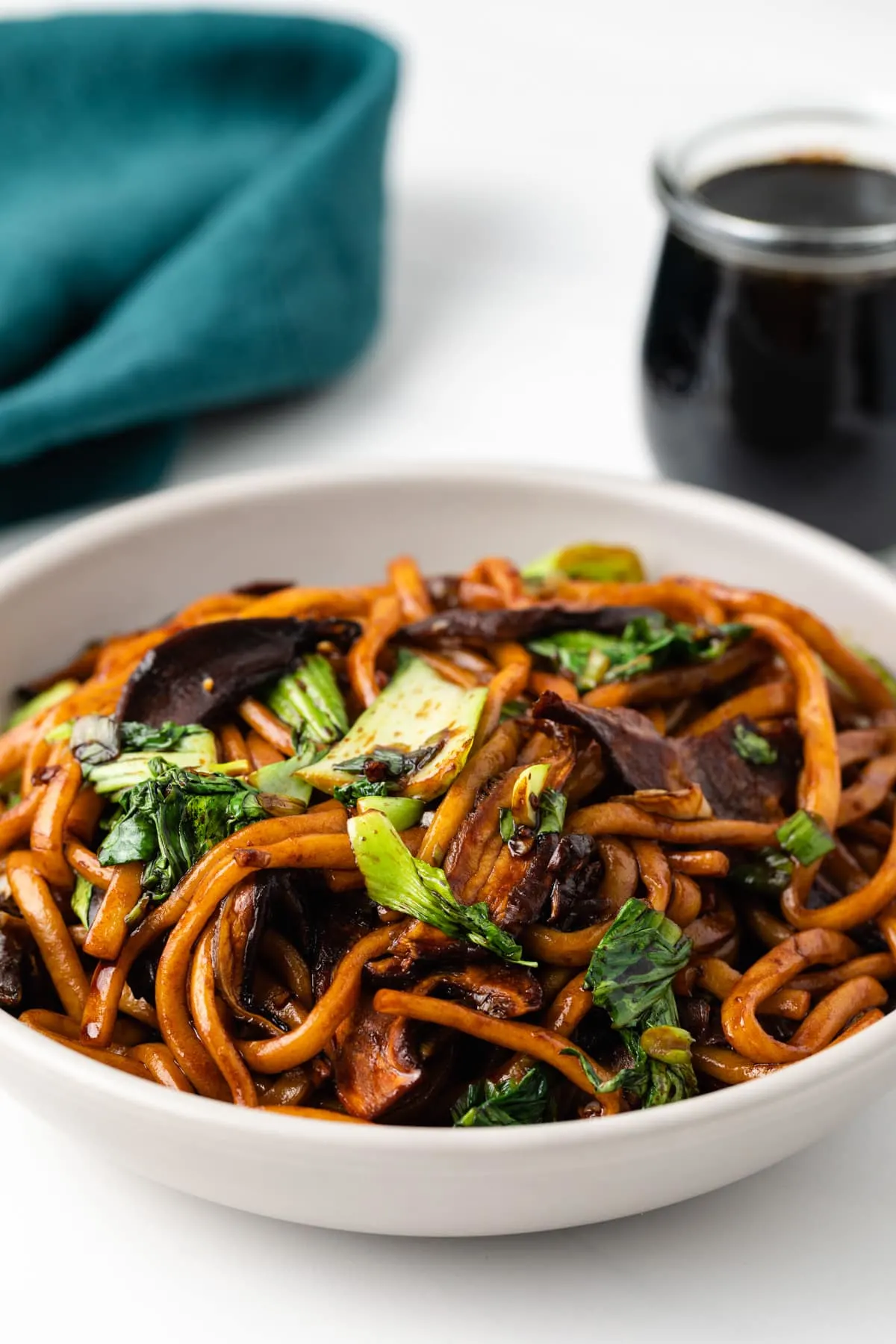 Storage
This udon sauce can be stored in the refrigerator for up to 5 days, or in the freezer for up to 2 months.