This post may contain affiliate links. Read the full disclosure here.
This Vodka Sauce recipe will help you transform a few basic pantry ingredients into a creamy, delicious pasta dish worthy of a restaurant menu. This rich and silky pasta sauce will turn a box of rigatoni into one of your family's favorite meals. Because it is so easy to pull together, you'll happily make it for them anytime they ask.
Vodka sauce is a staple in Italian restaurants, but its origins are a little unclear, but is purely American. A little vodka, a little cream, and a sprinkle of grated parmesan cheese take traditional marinara sauce to a whole new level. It's an Italian American delicacy! What I love about this sauce is how simple it is to make at home, but it is every bit as delicious as any restaurant version.
This creamy and decadent homemade pasta sauce is ready in under 30 minutes. It is elegant enough for Valentine's Day, but simple and easy enough for a regular weeknight dinner. Either way, you'll be sure to impress your dinner companions!
Our favorite pasta to serve this with is rigatoni, but penne or other short tube pasta will work well also. Always cook your pasta in a large pot of salted water for the best flavor. Toss the pasta with the sauce, serve with a simple green salad and garlic bread for an elegant weeknight meal.
This sauce is similar to my pink sauce recipe, or if you want to avoid the cream and cheese, can stick with my go-to easy spaghetti sauce.
What is vodka sauce?
Vodka sauce is a luscious tomato sauce made extra special by the addition of cream, parmesan cheese, and vodka.
What does vodka sauce taste like?
Vodka sauce tastes like a little bit of heaven. It is a delicious, creamy, and silky smooth tomato sauce.
Can you make vodka sauce without vodka?
You can, but as the sharpness of the vodka balances out the sweetness of the tomatoes and the cream, the sauce won't taste quite the same without it.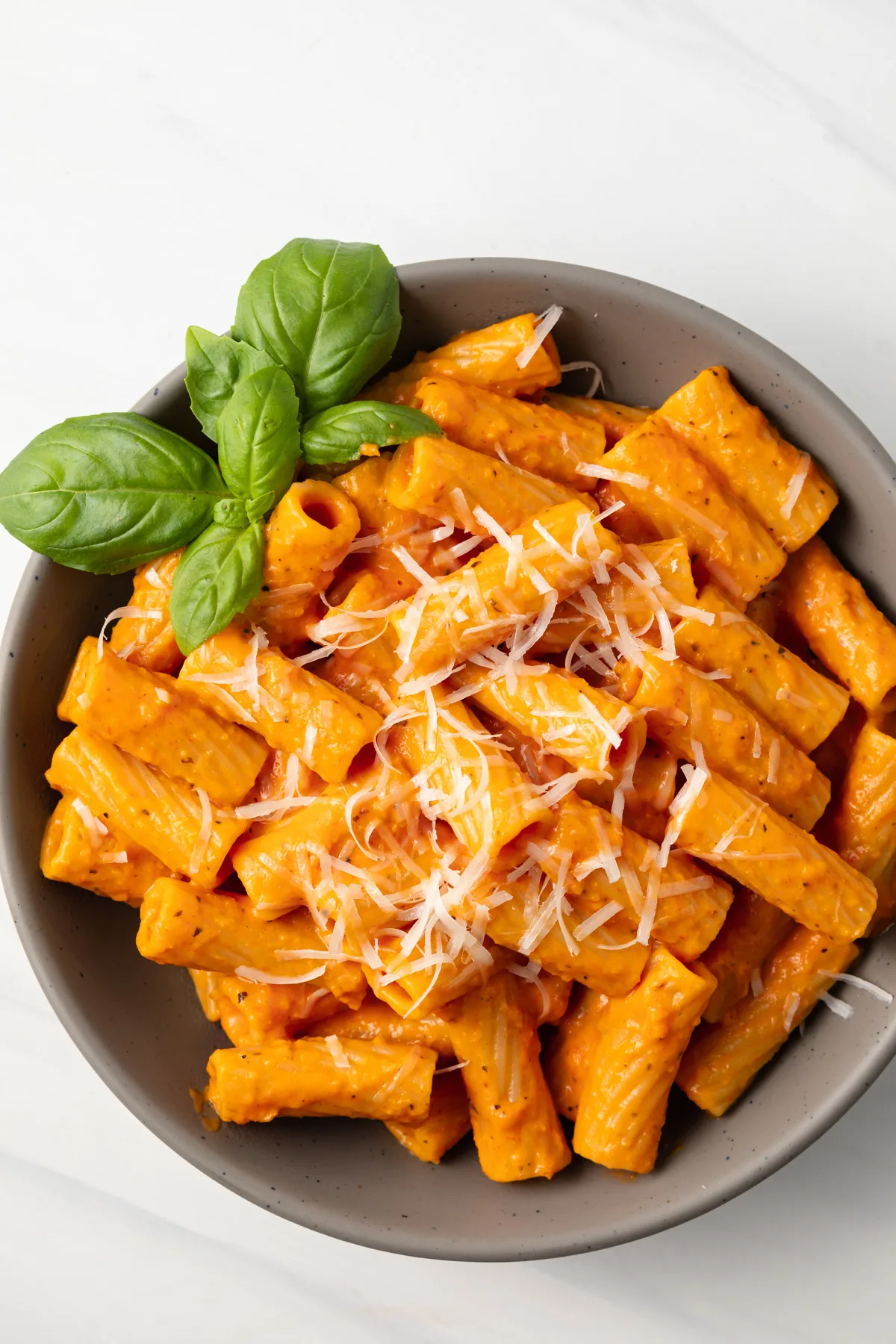 Ingredients
This vodka pasta sauce recipe can be made with standard ingredients that you are likely to have in your pantry or refrigerator already.
Unsalted butter: Always use unsalted butter, it's better to adjust the salt on your own.
Onion and Garlic: These ingredients should be fresh for the best flavor.
Tomato Sauce: A can of plain tomato sauce is the base of this recipe.
Flavorings: Dried basil, salt, and a bouillon cube provide extra flavor.
Granulated sugar: Just a touch for sweetness.
Heavy Cream: This adds richness to the sauce.
Vodka: Balances out the flavors of the tomato sauce and the cream.
Parmesan: For garnish.
How to Make Voda Sauce
Vodka sauce comes together in about as much time as it takes you to boil the water and cook the pasta. We love rigatoni with this dish, but penne works great too.
Saute the aromatics: Saute the onions and garlic in butter until softened.
Add in tomato sauce and flavorings: Add in the tomato sauce, basil, chicken bouillon cube, and sugar. Cook stirring slowly for about 3 minutes.
Add Cream and Vodka: Bring to a boil and reduce heat and simmer for 7 minutes, until sauce is thickened.
Blend: Use an immersion blender to smooth the sauce.
Serve: Season with salt to taste, toss with cooked pasta and garnish with freshly grated parmesan cheese.
Hint: If the sauce is a little thick, you can thin it with a little bit of the cooked pasta water or a little milk.
Variations
Vodka sauce is a simple and creamy pink-orange sauce that will turn al dente pasta into something extra special. While it is delicious as is, it can be tweaked a little bit to your personal preference.
Spicy – Add red pepper flakes while cooking to imbue heat into the dish.
Lighter – You can substitute half and half for heavy cream to make it a touch lighter, but I don't recommend milk as it won't be rich enough to add creaminess to the sauce.
Alcohol-free – You can omit the vodka if you want to avoid alcohol, but it will alter the flavor a little bit.
Equipment
This vodka sauce can be made with basic kitchen equipment – all you need is a saucepan and an immersion blender.
Storage
If you are making this sauce ahead of time, let it cool for about an hour and then transfer to an airtight container.
Refrigerate for up to three days.
This sauce also freezes well and can be frozen for three months.
To reheat: Gently heat in a saucepan over medium heat with a splash of milk or pasta water if needed to thin it out. Stir frequently until warmed through.
Tips
If you don't have an immersion blender, let the sauce cool for a few minutes, transfer to a blender and then blend until smooth. Bring it back to serving temperature in the saucepan.