This post may contain affiliate links. Read the full disclosure here.
This easy recipe for homemade sweet and sour sauce is, as the name suggests, sweet and tangy. It turns ordinary chicken into sweet and sour chicken, and your kitchen into a Chinese restaurant.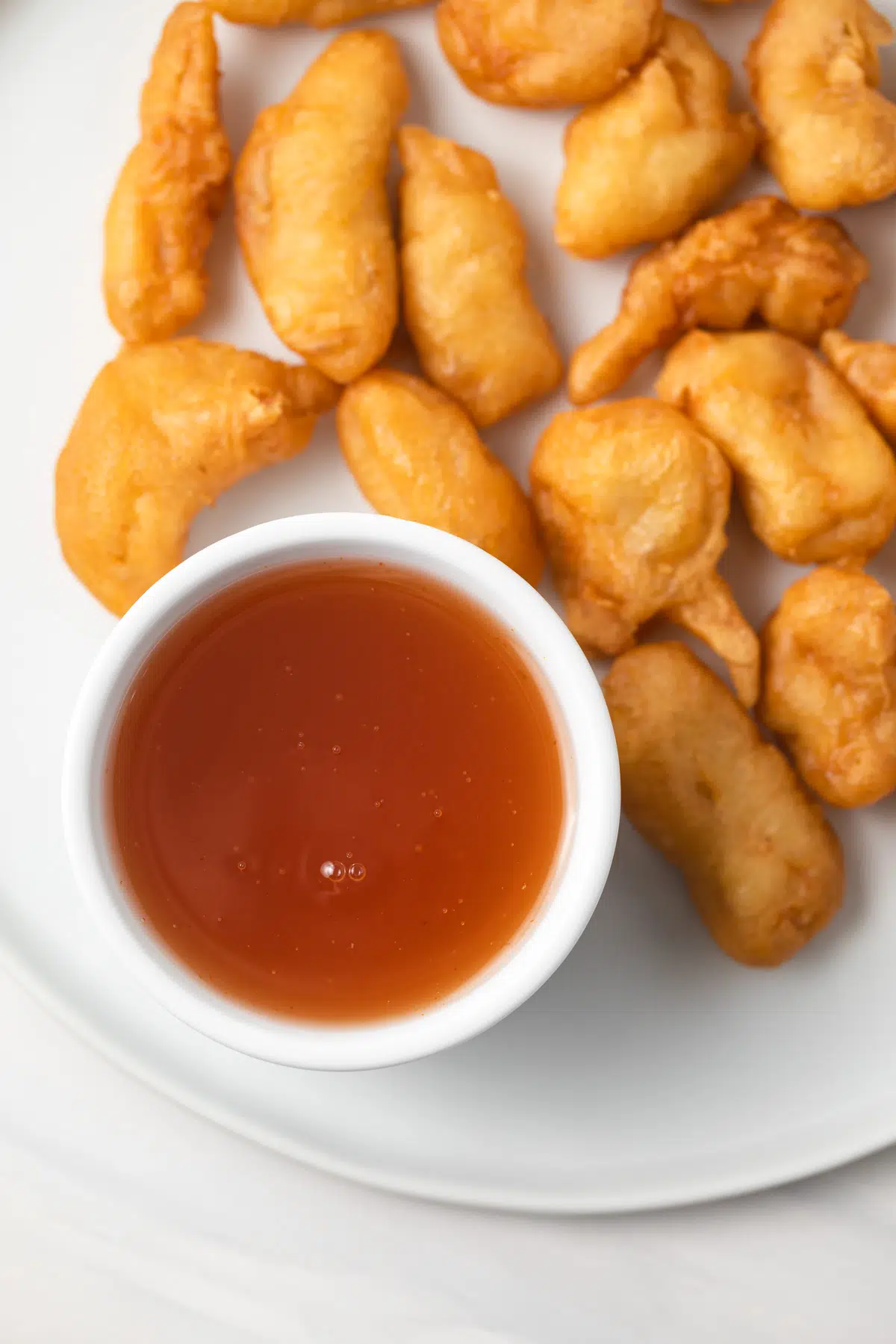 This homemade Chinese sweet and sour sauce recipe is a nostalgic favorite of mine. Next time you think about ordering Chinese takeout, try this instead.
This homemade version of sweet and sour sauce is made with a little bit of ketchup for flavor and color, sugar for sweetness, and vinegar for zip and zing. And you know what – it is delicious. A little less over-the-top sweet than the red pineapple studded sweet and sour sauce of my youth, but still wonderful.
It works so well as a dip for chicken fingers, egg rolls, teriyaki skewers, and coconut shrimp – just keep the ideas flowing.
For a great Chinese dinner at home, serve your favorite frozen appetizers like crab rangoon and spring rolls with this sweet and sour sauce. Then for dinner, make a batch of this udon noodles sauce, a shrimp stir fry with this stir fry sauce, sweet and sour chicken using this sauce, and some fried rice with a side of sweet chili sauce. Takeout might be easier, but this will be better!
---
Ingredients
Five clean simple ingredients come together to make this delicious homemade sweet and sour sauce that is much better (and better for you) than store-bought.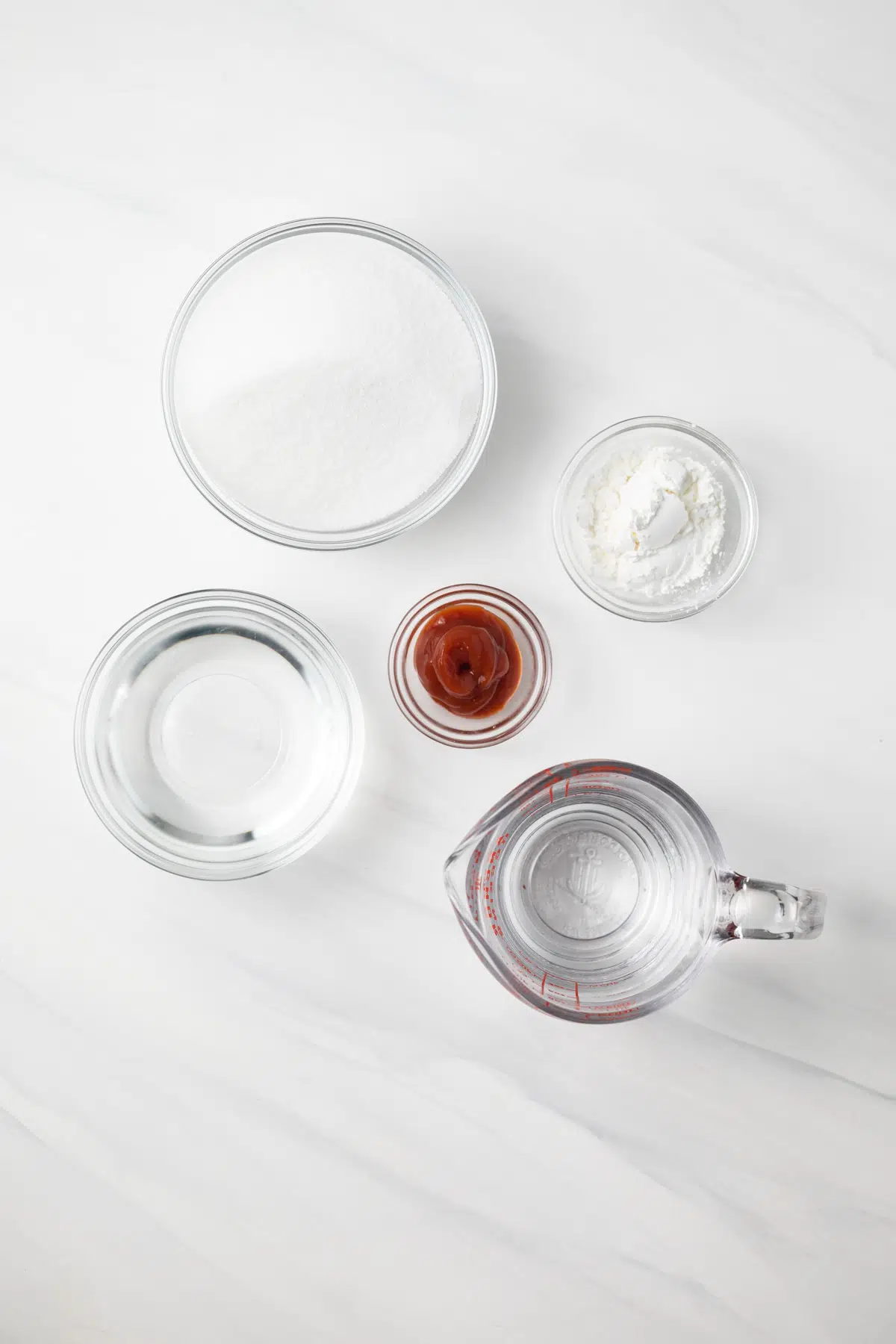 Sugar – White granulated sugar puts the sweet in sweet and sour.
Water – To thin out the sauce.
Vinegar – White vinegar for zip and tang.
Cornstarch – For thickening
Ketchup – For a bit of flavor and color.
---
How to Make Sweet and Sour Sauce
This sauce requires nothing more than mixing, heating, and enjoying.
Be sure to check out the full recipe and ingredient list below
Place vinegar, sugar, ketchup, cornstarch, and water in a medium saucepan and bring to a boil over medium-high heat.
Stir or whisk continuously until the mixture has thickened. This should take about 3 minutes.
Let the sauce cool completely and enjoy.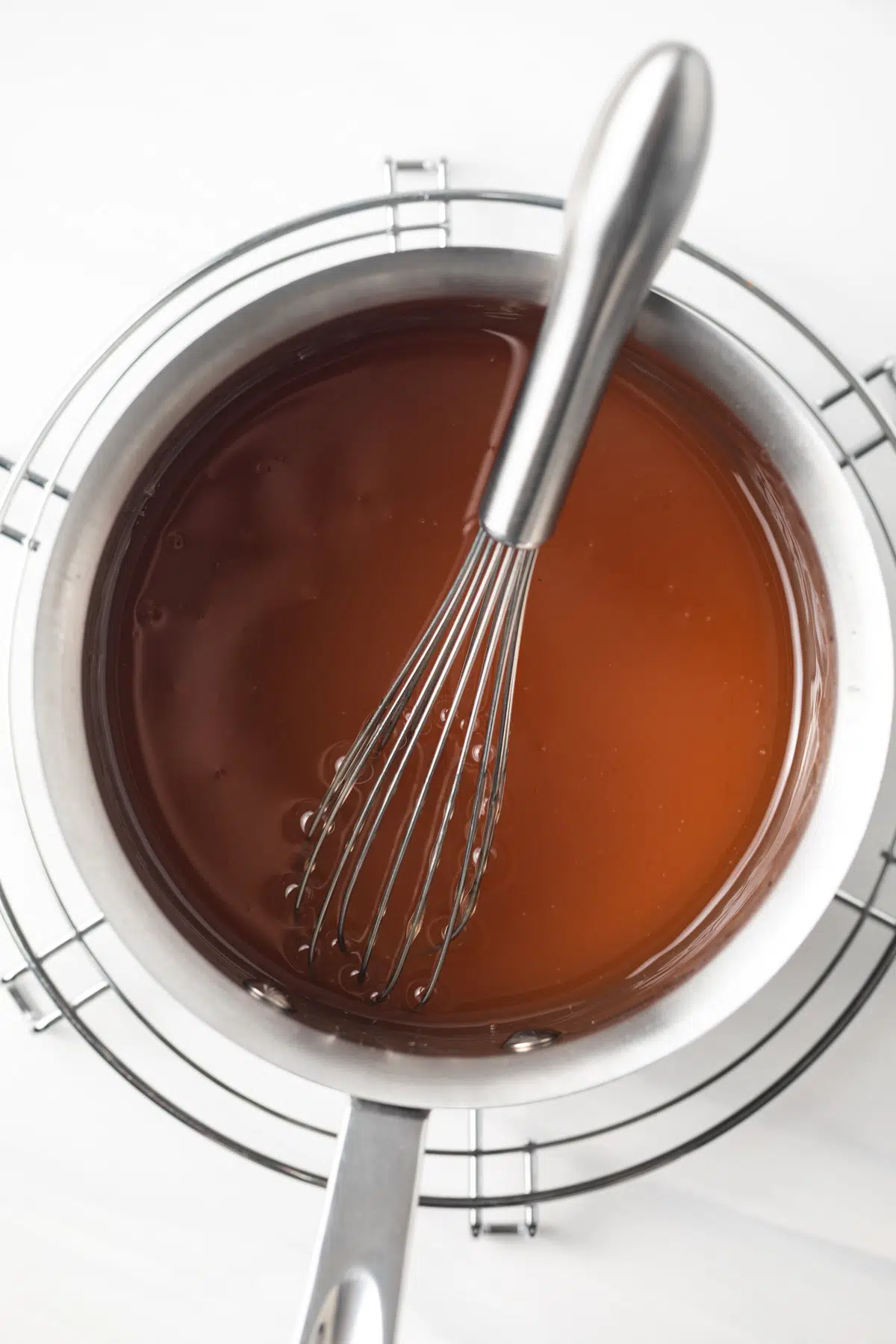 Substitutions
Sugar – Use white granulated sugar here but brown sugar can be substituted. If it is sugar in the raw, add it to the water first until it is fully dissolved. Light brown sugar can also be used but note it will change the color of the sauce, deepening it a bit.
Vinegar – Substitute Rice Vinegar for white vinegar. This will give the sauce a slightly less tangy more authentic Asian dipping sauce flavor.
---
Variations
This is a fairly straightforward recipe that can't be changed all that much. There are a few modifications you can make if you are so inclined.
Spicy – add a dash of cayenne pepper or chili pepper flakes while cooking to imbue heat into the dish.
Deluxe – substitute a bit of the water, maybe a ¼ cup, with pineapple juice to add an extra bit of zing and a touch of tropical flavor to the sauce.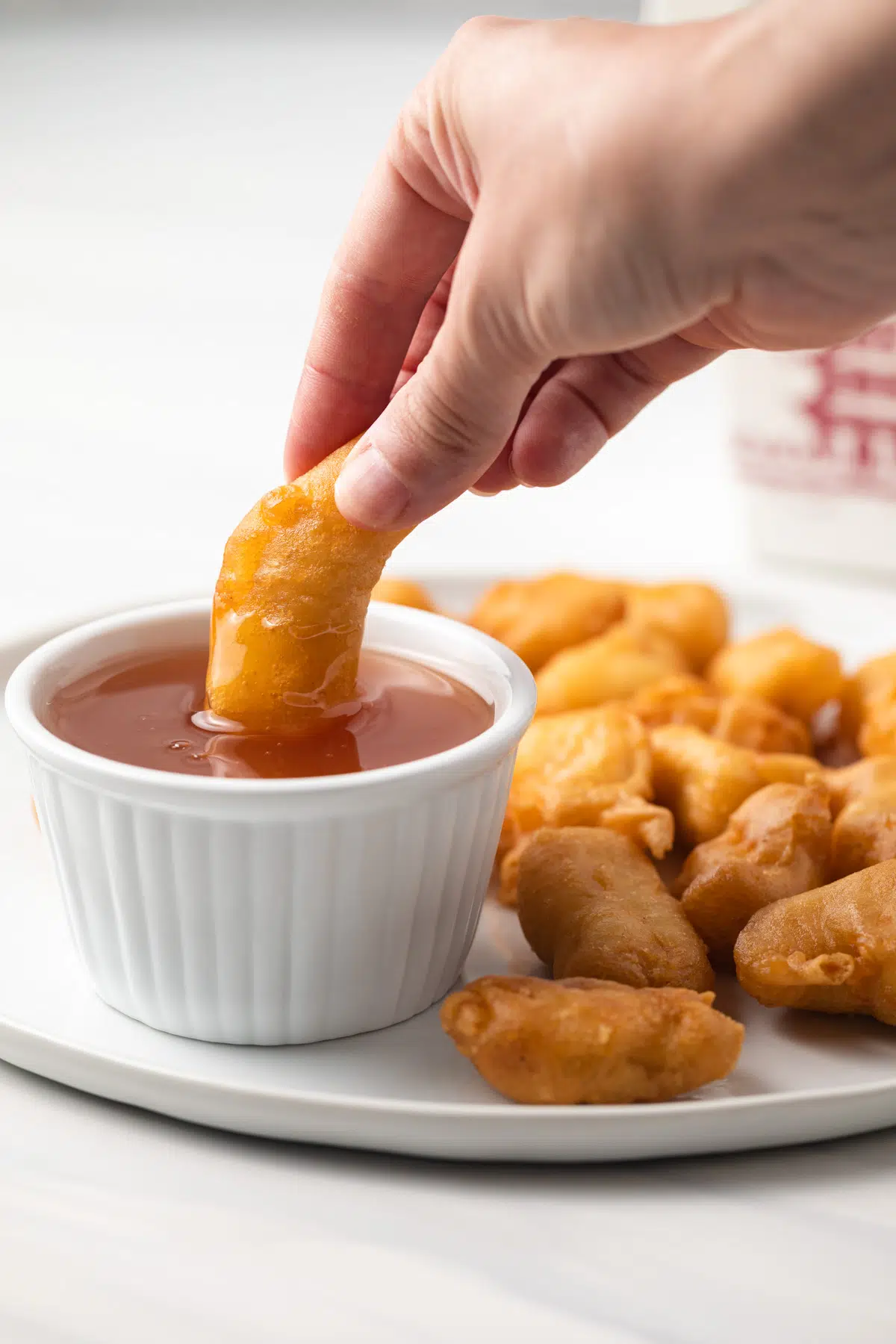 Storage
This sauce is really better when consumed the day it is made.
---
Tips
Before adding the ingredients to the saucepan make a cornstarch slurry. Take the cornstarch and an equal amount of water and mix it together in a separate small bowl until it is smooth (no lumps). Then add the thick liquid to the other ingredients in the saucepan. This will make it easier to whisk in the cornstarch and will avoid any lumps or clumps in the sauce.
Condiments are the spice of life! Enjoy some of these favorites with your next meal.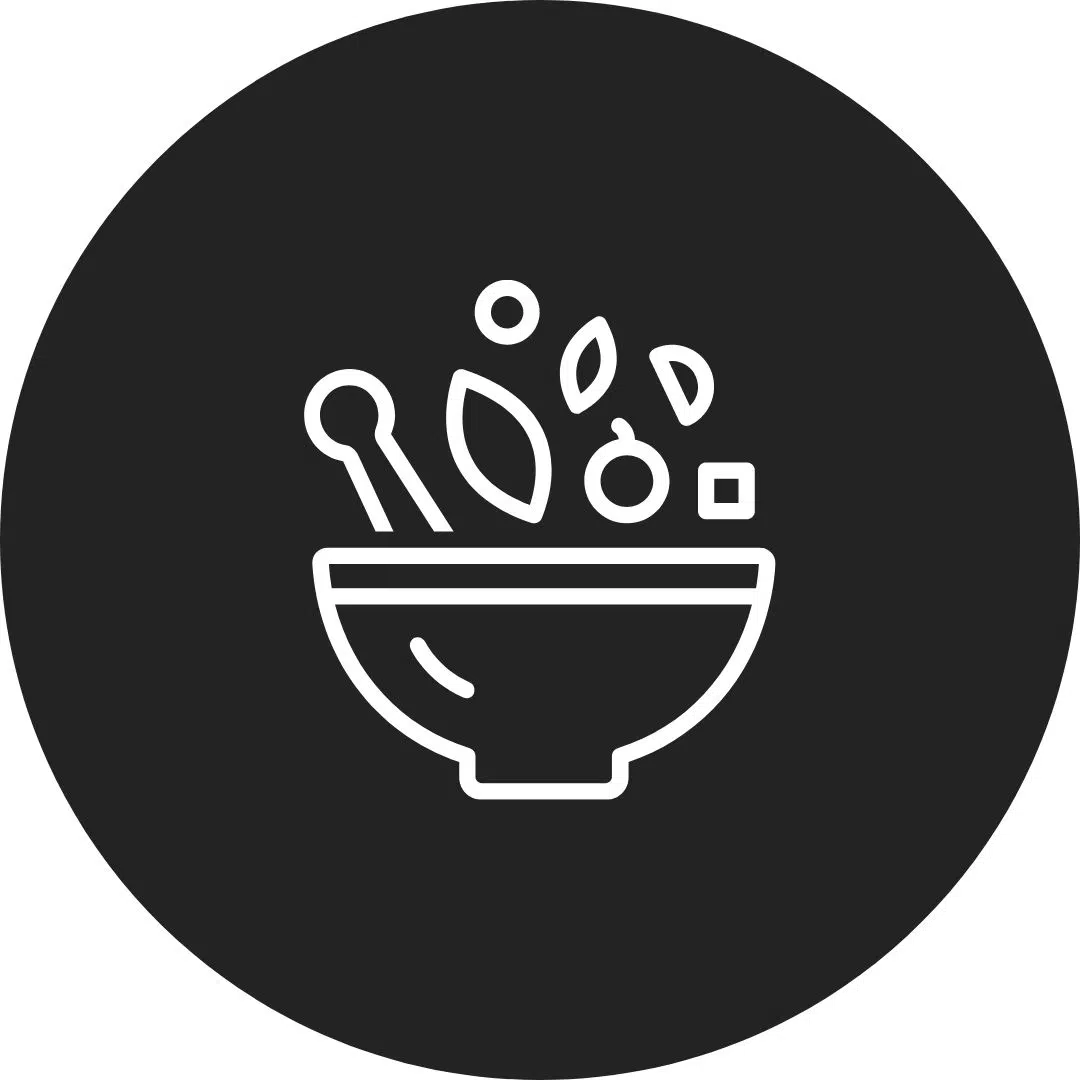 Printable Recipe