This post may contain affiliate links. Read the full disclosure here.
All hail Caesar, dressing, that is! This creamy garlicky caesar dressing is everything you want it to be, and so much better than store-bought.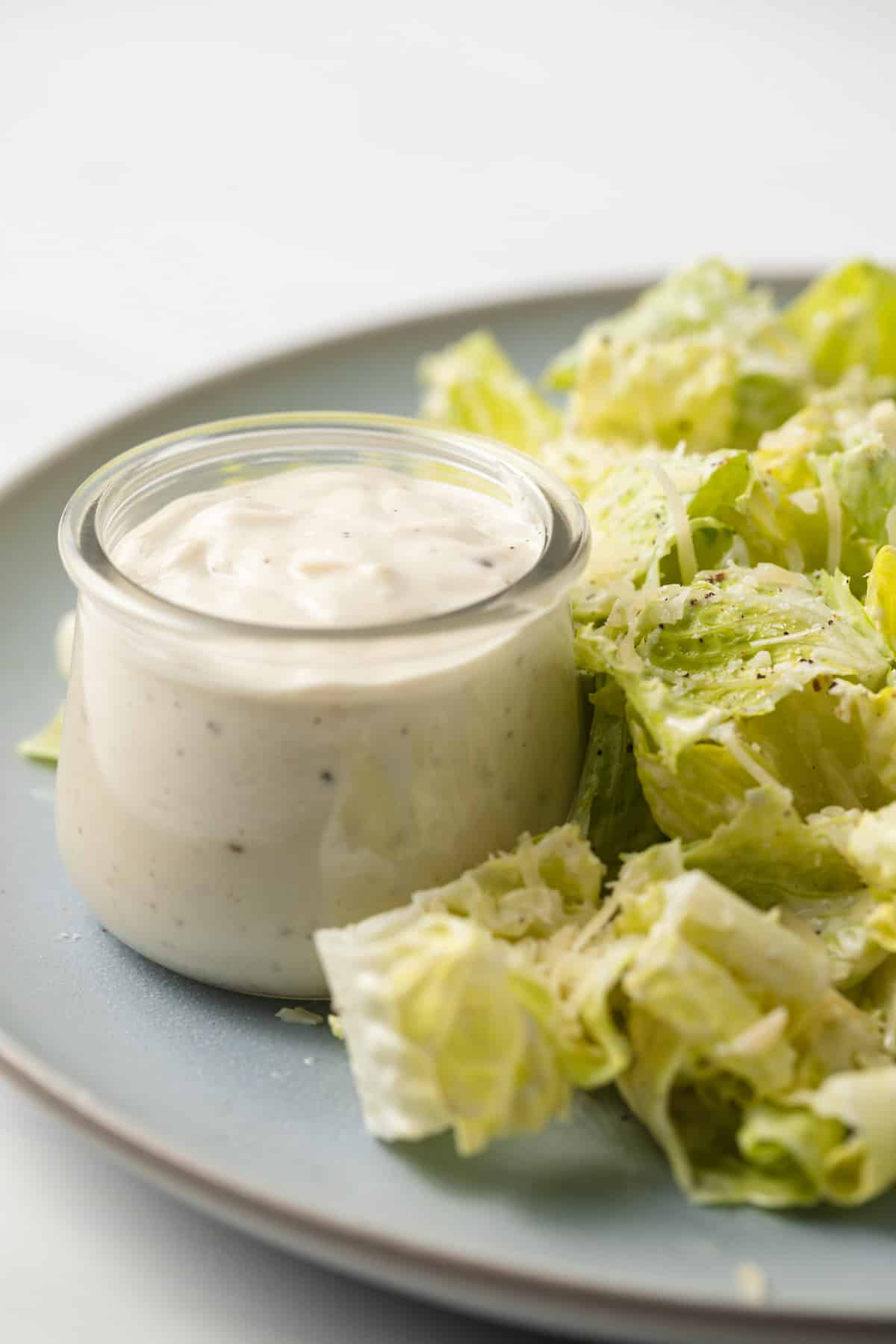 This caesar dressing recipe is one of my favorites. It has all the flavors of a classic caesar salad dressing but rather than using an emulsion of raw eggs and extra virgin olive oil, this recipe calls for mayonnaise.
Mayonnaise is basically an emulsion of olive oil and eggs, and using it avoids any concerns about whether or not the eggs being used are pasteurized eggs. It also gives the dressing a rich and creamy consistency – and it is delicious.
This dressing recipe is a truly classic steakhouse recipe. Garlic, lemon, parmesan cheese, anchovy fillets, and mayo give this the umami flavor for which it is known.
Don't worry, the anchovies don't give it a fishy flavor at all – just a depth and a richness that compliments and brings out all the other flavors.
This salad is best made by tossing this dressing with torn romaine lettuce leaves, croutons, and shredded parmesan cheese. Add grilled chicken, grilled shrimp or salmon and you've turned your salad into a meal!
Are you looking for more delicious salad dressing ideas? How about homemade ranch dressing, extra creamy honey mustard, or a fabulous blue cheese?
Ingredients
A little of this, a little of that, and somehow it comes together to create this show stopping salad dressing.
Mayonnaise – Your favorite brand is fine, I prefer Hellman's.
Lemon juice – Fresh squeezed lemon juice, from a lemon, not a bottle.
Anchovy paste – You can find this in a tube at grocery stores.
Garlic clove – Freshly minced garlic.
Dijon mustard – I love the depth of flavor this adds. You won't taste it as mustard.
Salt and pepper – Kosher salt and freshly ground black pepper, to taste.
Parmesan – Fresh parmesan cheese, finely grated.
---
How to Make Caesar Dressing
There are no particular steps to make this dressing. Just add the ingredients together in a small bowl and whisk until combined. If you want a thinner dressing with no texture from the garlic you can put it in the blender. I personally like this to be a slightly thicker creamier dressing.
Substitutions
There aren't many substitutions I would use here – every ingredient has it's job in this homemade caesar dressing and it all come together to create a very specific distinct flavor.
If you really are opposed to the anchovy paste, you can leave it out, but the combination of anchovies and garlic in this caesar salad dressing does make a difference.
If you are not opposed to anchovies but can't find anchovy paste, you can take a small amount of anchovy fillets and dice them up.
---
Variations
There aren't many ways to vary this dressing – it's so specific – you'll be making a different dressing by changing things up. If you must make it spicy, you can do so by adding crushed red pepper or some blended chipotle peppers from a can.
Storage
Keep this in an airtight container in the fridge for up to a week.
---
Tips
If you don't have access to anchovy paste but you do have anchovies in olive oil, just put the fillets in a blender or food processor and blend until paste-like.
Serve this with torn romaine lettuce leaves, shaved parmesan cheese and garlic croutons.
So many salad dressings, so little time…
Printable Recipe