This post may contain affiliate links. Read the full disclosure here.
Deliciously creamy White Garlic Sauce that pairs wonderfully with pasta, beef, chicken, and more! It can be ready in just 10 minutes and will take your dinner to a new level.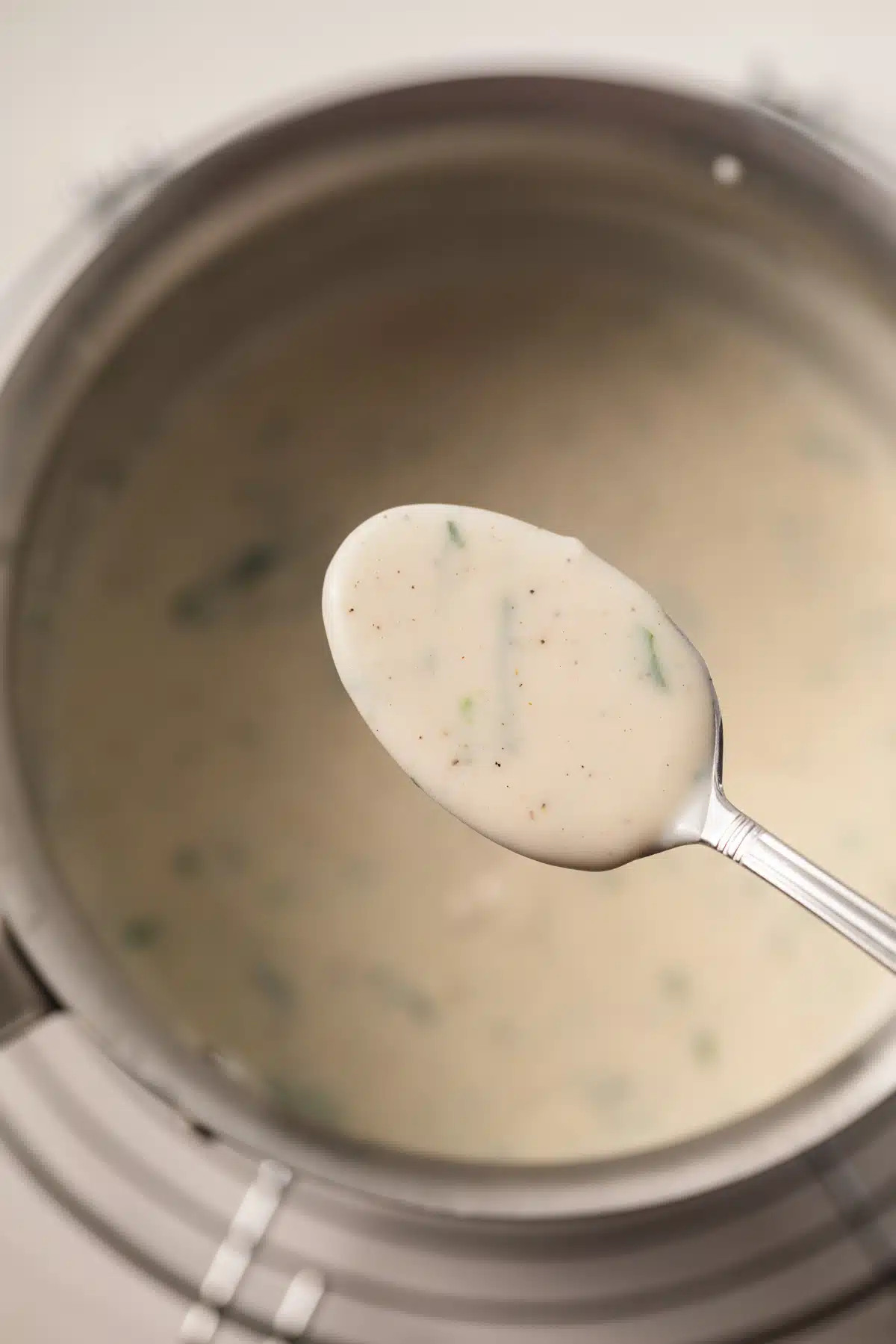 Garlic cream sauce is a variation of the cheese and heavy cream favorite Alfredo sauce, but just a little bit lighter. This sauce uses whole milk instead of heavy cream, and a bit less cheese. It's simple, flavorful, and easy. What's not to love?
The flavor combination of cheese, garlic, and milk or cream is just so decadent. This sauce immediately elevates whatever protein it is spooned over – from shrimp to chicken to beef.
I love to serve this as a pasta sauce with chicken or shrimp. It's one of my favorite easy-to-whip-up comfort food dishes – made even simpler when I use chicken pulled off of a rotisserie chicken.
When I am craving alfredo sauce but trying to be a little healthier, I'll make a batch of this sauce and serve it over oven-roasted spaghetti squash alongside a piece of grilled chicken or fish.
I also serve spaghetti squash with pesto sauce or bolognese sauce. It's a great alternative to pasta when you're craving the comfort of a pasta dish but trying to be good.
This garlic cream sauce also works incredibly well as a white garlic sauce for pizza. If we're making pizzas at home for a group, I'll make a few with tomato-based pizza sauces, and one with this sauce topped with chopped broccoli, chicken, and cheese. It's so good – people love it.
The creamy, garlicky flavor of this sauce is super versatile and works well with everything from beef tenderloin to chicken wings to grilled salmon. It's a recipe I know you'll turn to time and time again!
---
Ingredients
The best thing about this simple and delicious garlic cream sauce recipe is that it is made from basic ingredients you are likely to have in your kitchen and pantry at any given time.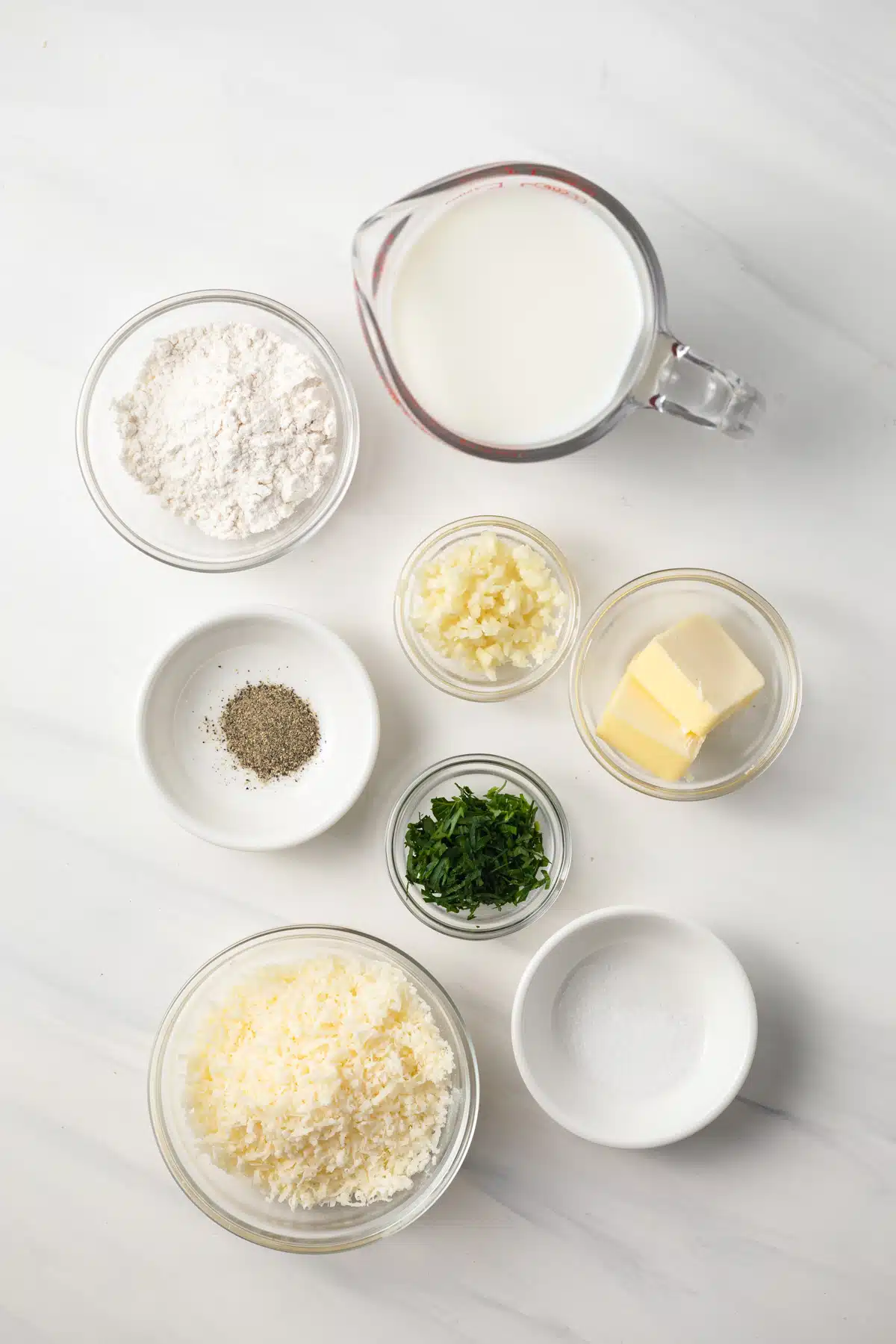 Butter – Unsalted butter allows you to control the amount of salt in the sauce.
Garlic – Fresh garlic cloves, minced or pressed
Flour – I use all-purpose flour, you can use your favorite gluten-free substitute if desired.
Milk – Whole milk gives a little extra creaminess to the sauce without being overly creamy.
Parmesan cheese – Freshly grated, not from a can or jar, please!
Parsley – Just a bit, chopped
Salt and pepper – For seasoning.
---
How to Make Garlic White Sauce
On a night when you need to have dinner on the table in 20 minutes, this delicious garlic sauce recipe will save you! It comes together incredibly quickly and will add punchy flavor to your favorite entree.
Be sure to check out the full recipe and ingredient list below
Cook the garlic. Melt the butter in a saucepan over medium heat. Add garlic and cook for 30 seconds, until fragrant.
Make a roux. Whisk in the salt, pepper, and flour, and cook for 1 minute while whisking.
Add milk. Slowly add the milk, whisking until well combined. Continue whisking constantly until the sauce thickens, about 1-2 minutes. It should be thick enough to coat the back of a spoon.
Finish the sauce. Whisk in the parmesan and parsley and remove from heat.
Enjoy! White garlic sauce is best served right away. Serve with pasta, beef, chicken wings, and more!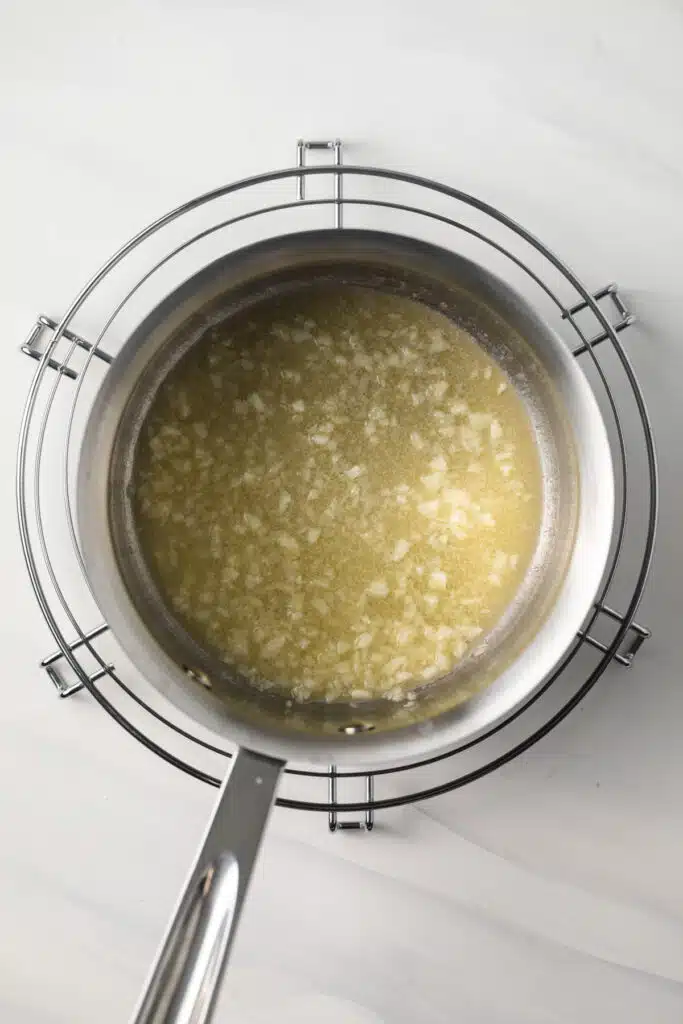 Substitutions
Garlic – Though this is a garlic cream sauce, you could substitute finely chopped shallots if you find your garlic bulb has gone bad on you. Or you could use garlic powder or garlic granules. Don't use garlic salt, it will obviously be too salty.
Milk – Cream or half and half can be used in place of whole milk for an extra creamy sauce. You could also use your favorite dairy milk alternative, though I'll admit I haven't tried that.
---
Variations
This sauce is delicious as is, but there are many variations of it. Try some of these suggestions or come up with your own!
Spicy – add chili pepper flakes while cooking to imbue heat into the dish.
Cheesy Deluxe – use grated gruyere or extra sharp cheddar to give this sauce a more pronounced cheese flavor.
Southwestern – add a tablespoon or two of blended chipotle peppers for a southwestern vibe that will add great flavor to grilled chicken.
Cajun – add a bit of your favorite cajun seasoning to give this sauce a New Orleans kick that works well with shrimp or fish.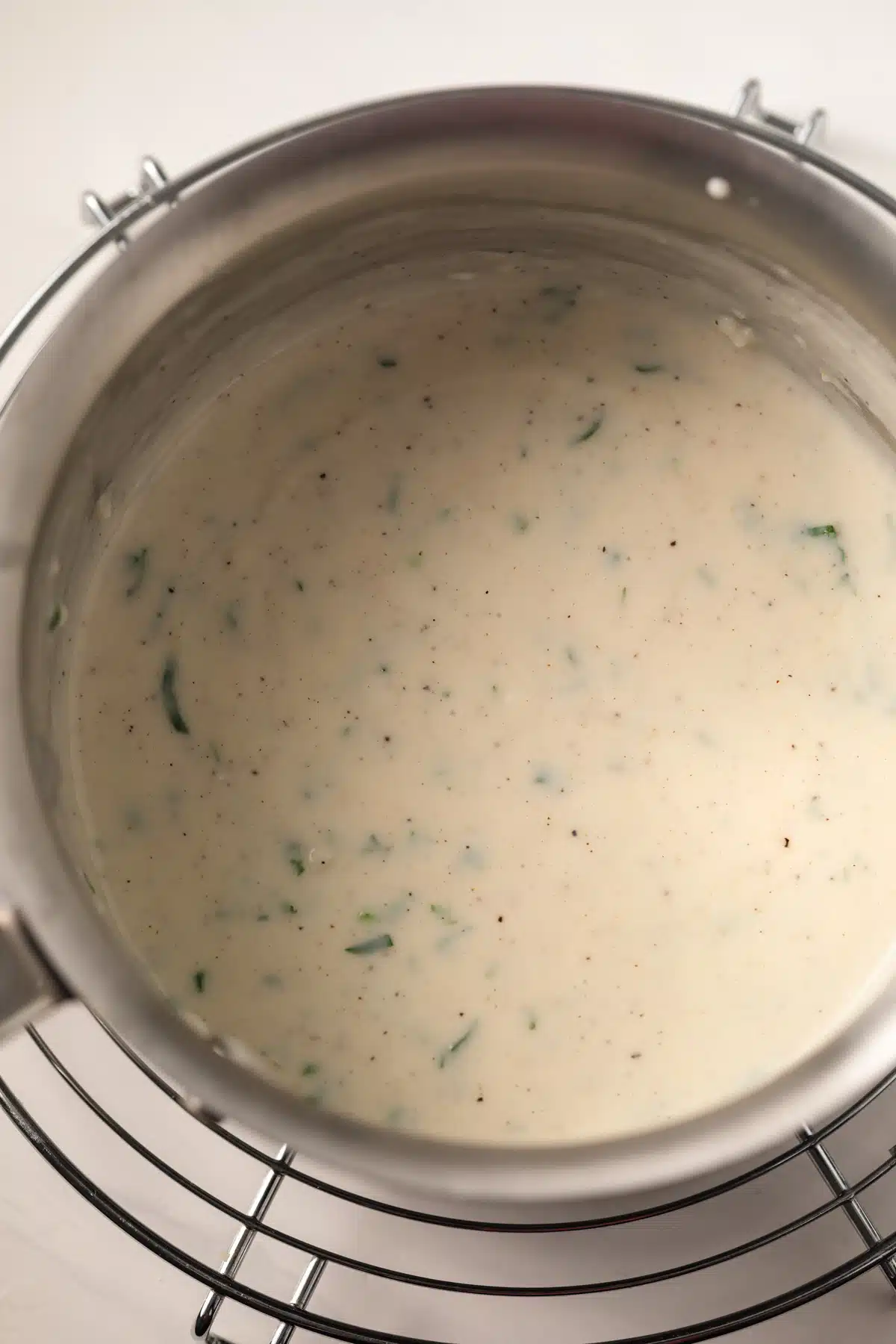 Storage
Like most cheese and cream based sauces, this one is best when used immediately.
---
Tips
Make sure you whisk the sauce constantly so that it is not lumpy.
Don't skip the step of letting the flour cook for a minute or so before you add the milk – uncooked flour can give a sauce a slightly raw flour flavor.
While it isn't necessary, if you heat the milk in the microwave a little bit before adding it to the roux, the sauce will thicken more quickly.
More Creamy Sauce Recipes
Of all the sauces I make, these creamy sauces might be my favorite category. Particularly in the winter when all I want is something warm and comforting.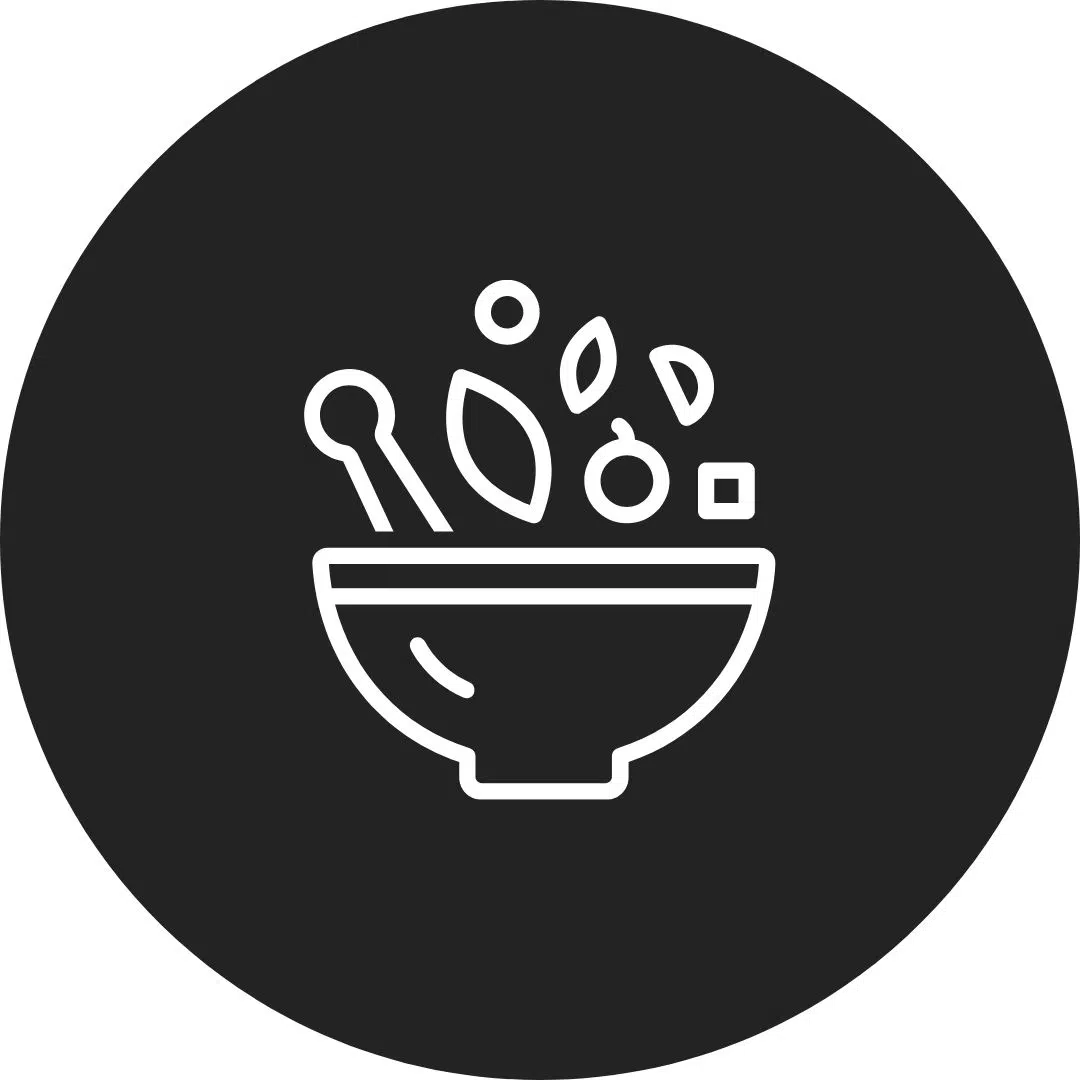 Printable Recipe