This post may contain affiliate links. Read the full disclosure here.
Classic Pizzaiola Sauce is a rich, flavorful tomato sauce that pairs perfectly with cooked steak, chicken, or pork. Carne alla pizzaiola a super easy stove top recipe that can be ready in about 45 minutes.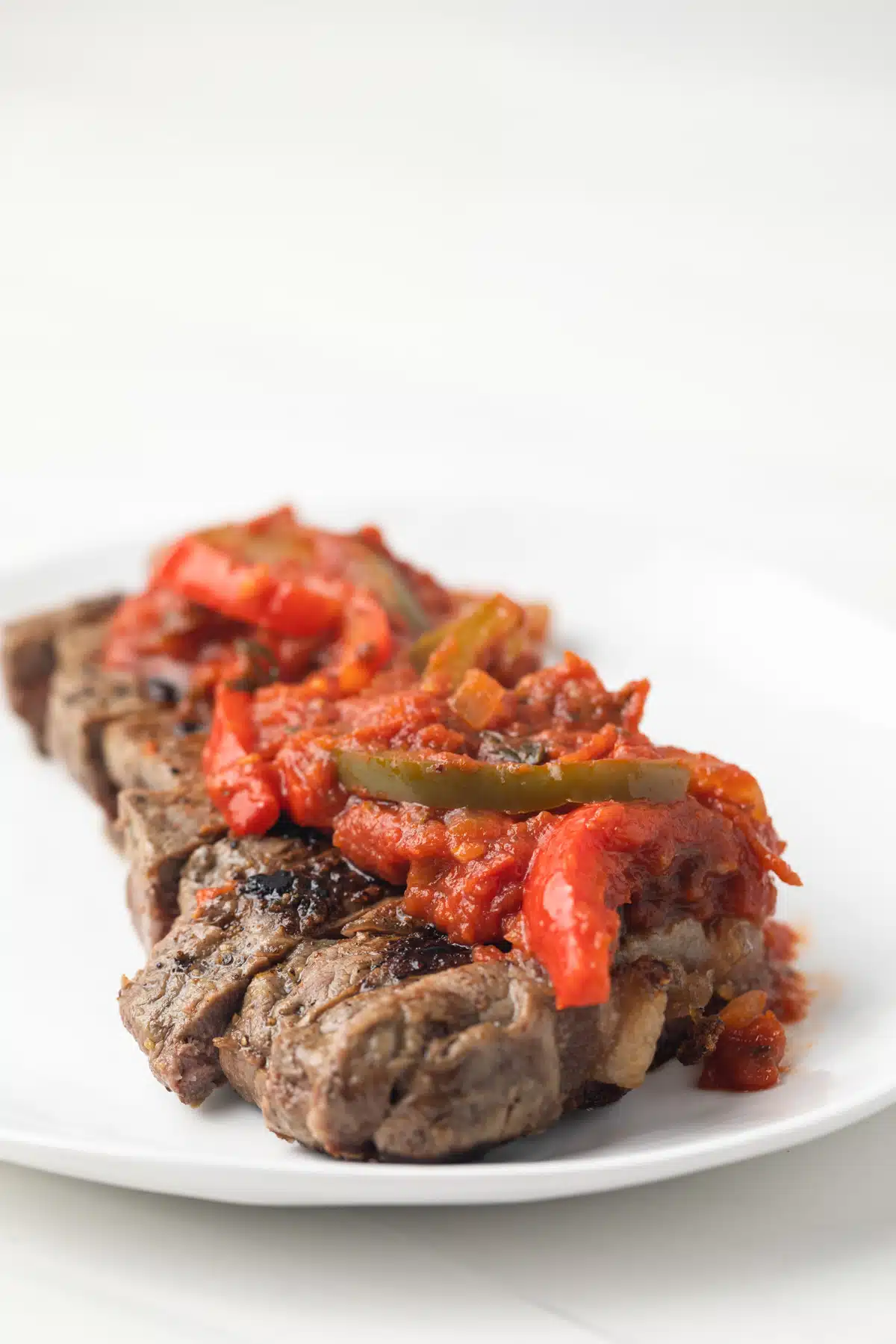 Pizzaiola sauce is exactly what it sounds like – a pizza like sauce. Sausage and peppers are one of my favorite, simple Italian recipes. This sauce takes the flavor of that dish and allows you to replicate it with steak, chicken or other cuts of meat.
There is something intoxicatingly good about slow simmered tomatoes and bell peppers. I know some of you are not bell pepper fans, so admittedly, this sauce is not for you. (Try my pomodoro sauce if you are looking for a tomato sauce or my mushroom sauce if you want a delicious sauce for steak.)
My favorite pizza, hands down, is one I make with my pizza sauce topped with sausage, mushrooms and green peppers. I just love the spice of the sausage, the tang of the green peppers and the earthiness of the mushrooms.
As much as I would like to have pizza every week, I try to be a little healthier than that. This pizzaiola sauce is a delicious blend of all those flavors and can be served over your protein of choice.
Carne alla pizzaiola is a classic Italian dish which loosely translates to meat, pizza style. Not surprisingly, it is made of this sauce served over a grilled or pan seared steak. It's rich and flavorful and truly delicious.
I also like this sauce served over grilled chicken, pork chops or grilled or pan seared sausages.
For an easy appetizer while guests are milling about the kitchen, slice up a few kielbasas, brown them in a skillet, add in some of this sauce and let it all simmer for a bit. Serve on a platter with toothpicks for the sausage. Everyone will rave about it!
If you want to offer a vegetarian option – this sauce is so good served over polenta – the ultimate vegetarian comfort food. Or you can grill portobello mushroom caps, top with slices of mozzarella and spoon this sauce over the top. A vegetarian's pizza!
However you choose to serve this sauce, I promise you will love it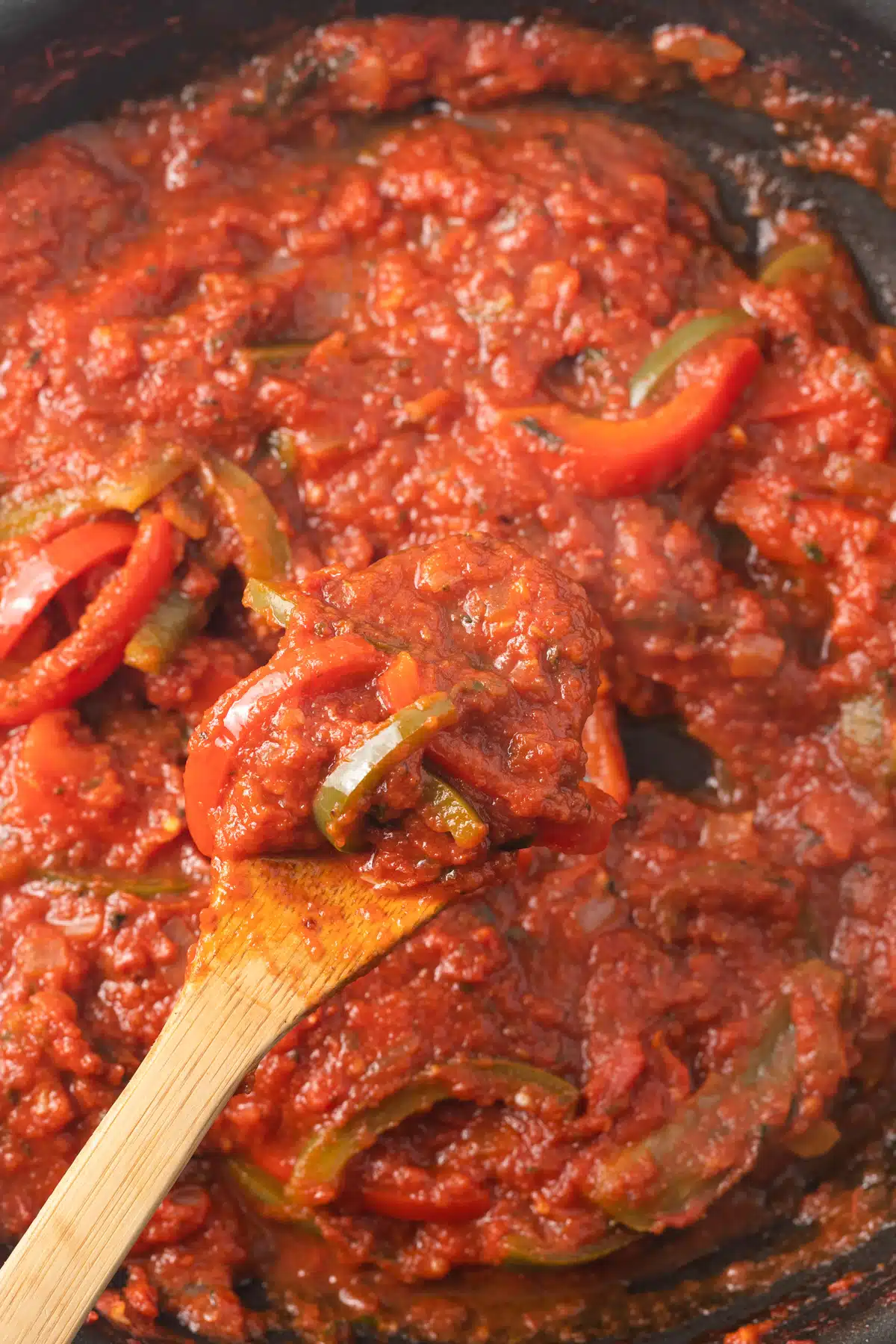 Ingredients
The ingredients for this homemade pizzaiola sauce are exactly what you would expect to find in a tomato sauce that is doctored up to taste like pizza!
Olive oil: Extra virgin olive oil is always my preference.
Onion: Diced. I like to use vidalia onions whenever I can for their sweet flavor, but any white or yellow onion will do.
Garlic: Fresh garlic cloves, minced or pressed, add a bit of punch to the sauce.
Peppers: One red bell pepper and one green bell pepper, cut into thin slices.
Herbs: Dried oregano, dried basil, crushed red pepper flakes and fresh parsley.
Tomatoes: One large can of crushed tomatoes form the base of this sauce.
---
How to Make Pizzaiola sauce
This sauce is as simple as sauteeing and simmering the ingredients, but it has a much more complex flavor.
Be sure to check out the full recipe and ingredient list below
Saute the vegetables. Heat the olive oil in a large skillet over medium heat. Cook the onions, garlic, and red and green peppers until the onions begin to turn translucent and the peppers begin to soften.
Add the herbs and tomatoes. Stir in the oregano, basil, red pepper, and chopped parsley. Add the crushed tomatoes.
Simmer. Bring the mixture to a boil over medium-high heat, then reduce heat, bring to a simmer and cook for about 20 minutes, until the sauce has reduced.
Enjoy.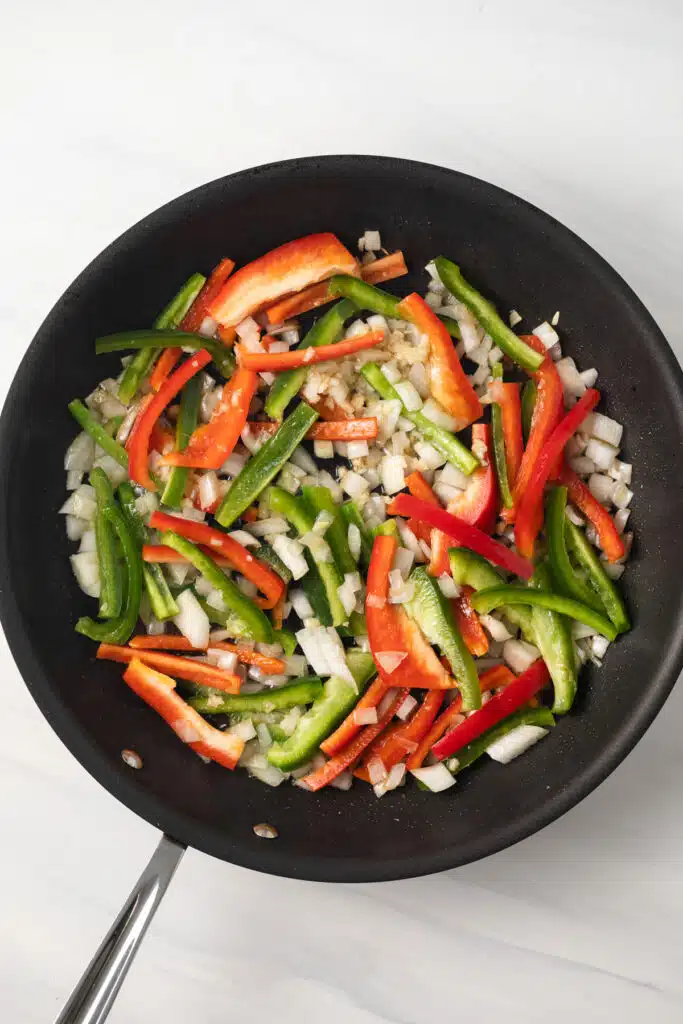 Substitutions
Tomatoes – If you don't have crushed tomatoes you can use canned whole tomatoes and crush them yourself.
Peppers – Peppers are a necessary component of this sauce. I love the flavor from the red and green peppers, but if you have a spare orange or yellow one hanging around, feel free to use that.
---
Variations
This sauce is pretty darn delicious as is, but if you are a fan of heat, feel free to kick it up a notch by adding more crushed red pepper or throwing in some diced fresh jalapeno peppers into the veggie saute.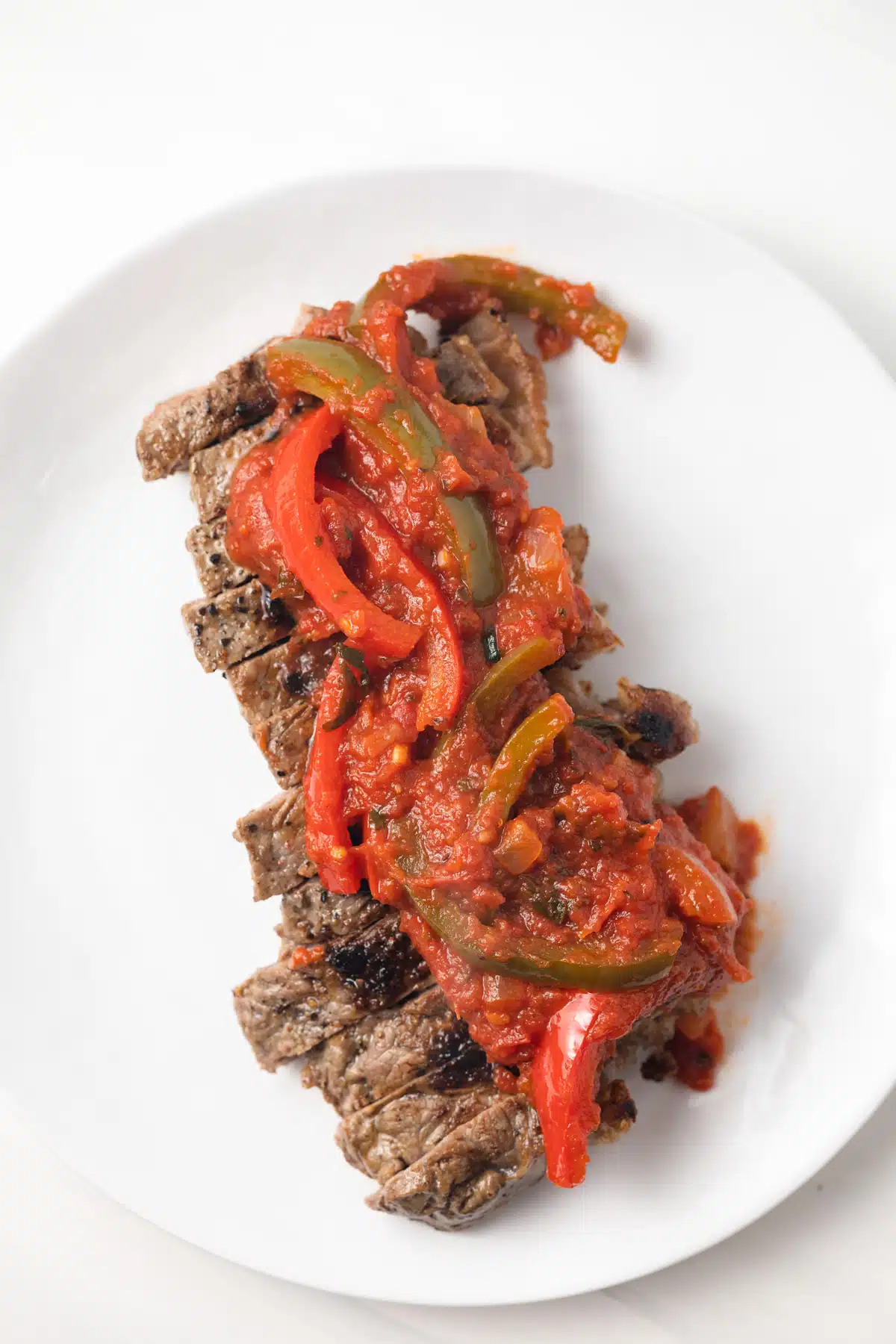 Storage
Sauce can be stored in the fridge for 2-3 days in a sealed container, you can reheat it in a skillet until piping hot all the way through.
You can also freeze this for up to 3 months, thaw completely then reheat.
---
Tips
Be careful not to burn the garlic when sauteeing the vegetables, it will give the sauce a bitter taste.
I'm not a crazy perfectionist when it comes to sauces, however, if you can slice the peppers in a uniform thickness, they will cook and soften evenly – and they'll look better too.
This is a tomato sauce but it is really intended as a gravy – something to be added to a protein to take it to the next level. Gravies are the quickest way to make a simple protein feel like a planned meal. Here are some of my other favorites.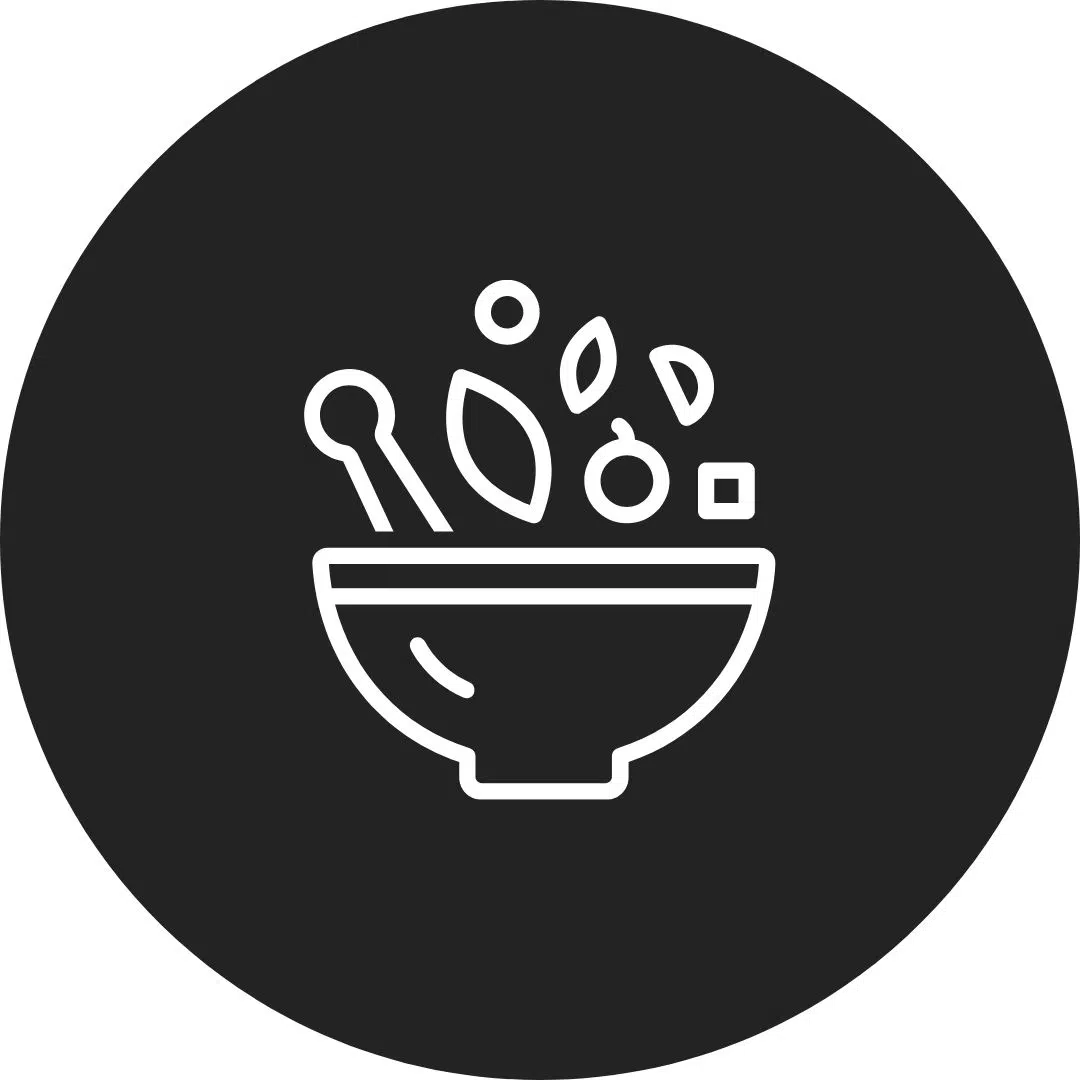 Printable Recipe