This post may contain affiliate links. Read the full disclosure here.
This simple blue cheese sauce recipe has just 5 ingredients and is great on steak, burgers, or for dipping!
Blue cheese sauce is probably the simplest sauce you will ever make. Just toss the ingredients into a bowl and you have a wonderful addition to any meal.
Blue Cheese Sauce
When we hear blue cheese sauce we immediately think of hot wings. It's often served on the side with a few slivers of celery.
It's cool, creamy, and very flavorful. In fact, it goes well with almost any meat. It's much like our horseradish sauce but made with blue cheese instead of horseradish.
Blue cheese tends to be bold and salty in flavor due to the mold and bacteria that are encouraged to grow on the cheese. It's definitely not for everyone!
There are a few varieties of blue cheese and it's really up to you which one you choose to make the sauce with. We went with Gorgonzola that is already crumbled.
The sauce is extremely easy to make and contains a handful of simple ingredients that you may already have on hand.
If you are looking for other salad dressing type sauces, try our ranch dressing.
Blue Cheese Sauce Ingredients:
To make this potent blue cheese sauce recipe, you will need:
Sour cream: The base of the sauce. Use full-fat sour cream for the best results.
Blue cheese: Purchase crumbled blue cheese because it's easier than crumbling it yourself.
Lemon juice: Brightens the sauce.
Salt & pepper: Use what you need but a little goes a long way.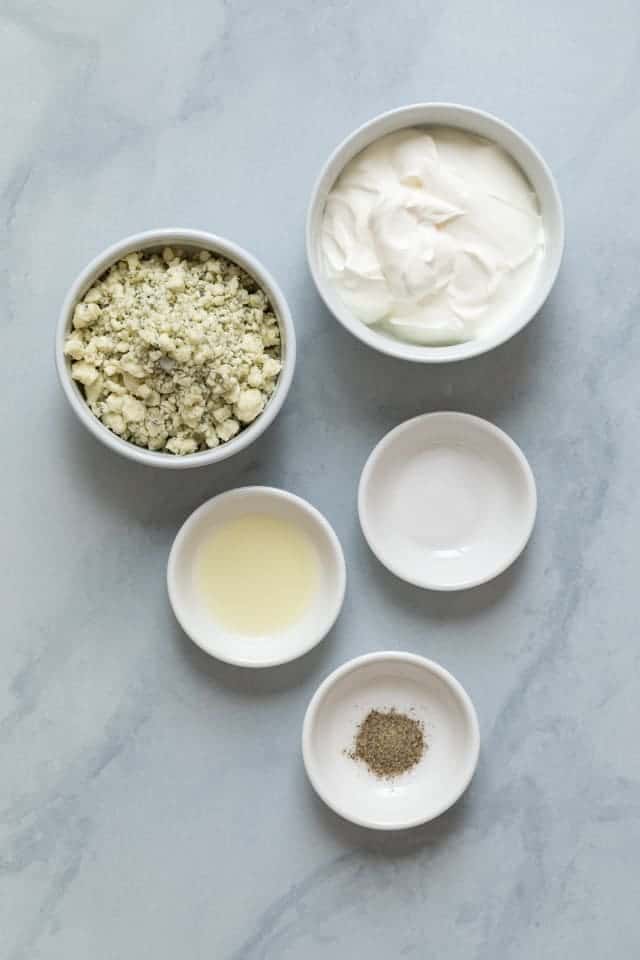 How to Make Blue Cheese Sauce:
To make this blue cheese dipping sauce, simply…
Combine all the ingredients. Mix everything together in a bowl until it's well combined.
Refrigerate. Cover and refrigerate for at least 2 hours to allow the flavors to meld.
Use it right away or refrigerate it for later. Serve it over steak, burgers, or with chicken wings.
Blue Cheese Sauce Variations:
There are quite a few ways you can serve up this sauce recipe. One of the best ways is as a dip for fresh vegetables and it even makes a great salad dressing!
Over steak. Drizzle a little over a perfectly cooked steak.
On a burger: If you can't find tomatillos or peppers, you can use 16 ounces of canned green chilis instead.
As a dip: Blue cheese sauce is great as a dip for celery, carrots, broccoli, etc.
As a salad dressing: We actually like this sauce better than the stuff bottled as a salad dressing.
How to Store Blue Cheese Sauce:
Refrigerate – Transfer the sauce to an airtight container and refrigerate for up to 1 week.
If you love to have a sauce on the side of your meal as much as we do, you'll love these others.