This post may contain affiliate links. Read the full disclosure here.
If I were stuck on a deserted island and could only bring one dressing with me – it would be this homemade ranch dressing. Ranch, to me, is the bacon of salad dressing – everything is better with it. And once you taste this fresh, herby, creamy ranch dressing recipe, you'll never buy store-bought again!
I am obsessed with ranch dressing. The tangy buttermilk, the creamy sour cream, the herbs, the slight bite of garlic. It's cool and creamy and fresh and bursting with herbs like fresh parsley and dill. It is, to me, the perfect condiment.
I put ranch dressing on everything. Salads, obviously. This tangy herby dressing somehow brings out the flavor of vegetables in the salad, it doesn't cover them up. It's also perfect as a dip on a veggie platter.
I also like to use ranch dressing on my turkey sandwich as a condiment. Turkey, havarti cheese, lettuce, and sprouts with ranch dressing on soft wheat bread is close to my idea of a perfect sandwich. As shocking as it is, I actually prefer ranch dressing to blue cheese dressing on buffalo wings too.
To be clear, when I say I love ranch, I love homemade ranch. I'm not above using Hidden Valley Ranch on occasion. It has its place. But this ranch recipe is so easy, and so creamy and delicious with the sour cream and buttermilk, that you'll want to make it time and time again.
Once you develop a taste for homemade salad dressings, you will skip the dressing aisle in the grocery store all together. Try my caesar dressing, homemade honey mustard, creamy Russian dressing, creamy balsamic dressing or my basic vinaigrette next!
You can also make bbq ranch dressing by adding your favorite bbq sauce!
FAQs
What is ranch dressing made of?
Ranch dressing is made from buttermilk, mayonnaise, sour cream, and a variety of fresh herbs.
What I can use if I don't have buttermilk?
Buttermilk is an important ingredient in this recipe. If you don't have any on hand, or don't want to buy a quart of buttermilk just to use the quantity needed here, an easy substitute is to make your own using just under a cup of regular milk and adding a tablespoon of either white vinegar or lemon juice to it. Stir together, let it sit for 5 minutes and then use as you would buttermilk in your recipe.
Ranch dressing is easy to make and comes together with a handful of fresh herbs and other pantry ingredients. If you don't have all the herbs listed, you can mix and match, however, you really do need the dill. It gives ranch its distinctive taste. Also, please use fresh and not dried herbs.
How to Make Homemade Ranch Dressing
This ranch dressing is super easy to make. Because it is a creamy dressing, there is no need to worry about emulsifying anything. Just mix together, season to taste, and add buttermilk to achieve desired consistency.
Be sure to check out the full recipe and ingredient list below
Whisk together the mayonnaise and sour cream until smooth.
Add the herbs and spices and whisk until combined.
Add the buttermilk to desired consistency and mix to combine. Taste and adjust seasonings as needed.
If you don't have buttermilk on hand, you can make your own (see note above).
You can use greek yogurt in place of the sour cream.
The herbs can be tweaked depending on what you have – but don't skip the dill!
You can make a spicy chipotle ranch by adding a tablespoon or two (to taste) of blended chipotle peppers. These are sold whole in cans, so blend them in your blender or mini food processor before adding to the ranch. This is so good on a salad with corn, black beans, and grilled chicken, or drizzled on top of a chicken and cheese quesadilla.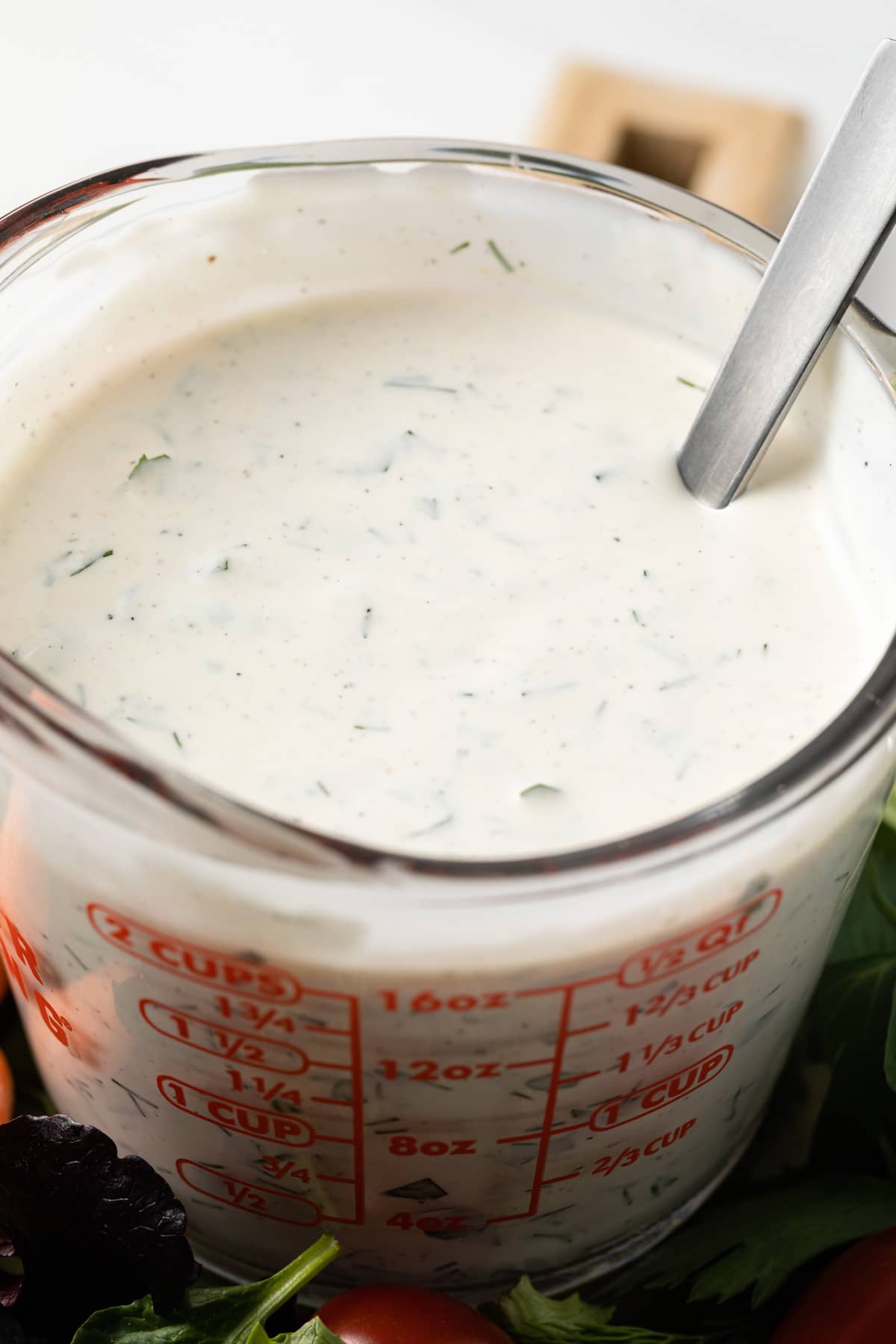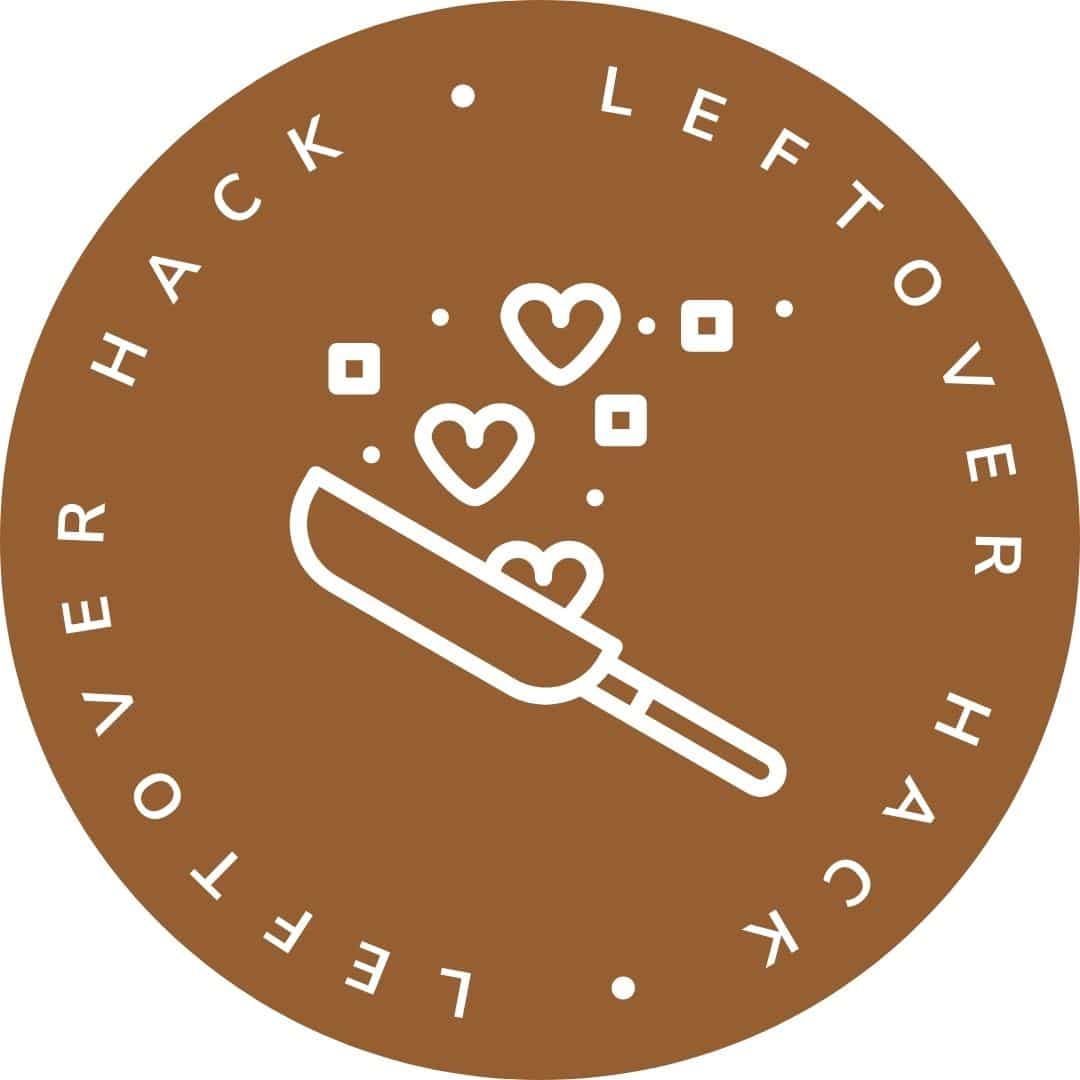 Storage
Transfer to a jar and refrigerate until ready to serve. The dressing will keep for up to a week.
Salad dressings are great because they're versatile. They're not just for salad. You can use them as dipping sauces and marinades! Check out our archive of delicious dressings for your next meal.