This post may contain affiliate links. Read the full disclosure here.
If you are a fan of this site, you know we love spicy food and sauces. It's surprising to us that we haven't shared a homemade Buffalo Sauce recipe with you before. Buffalo wings are one of our favorite bar foods, and this sauce helps us make the most delicious ones around.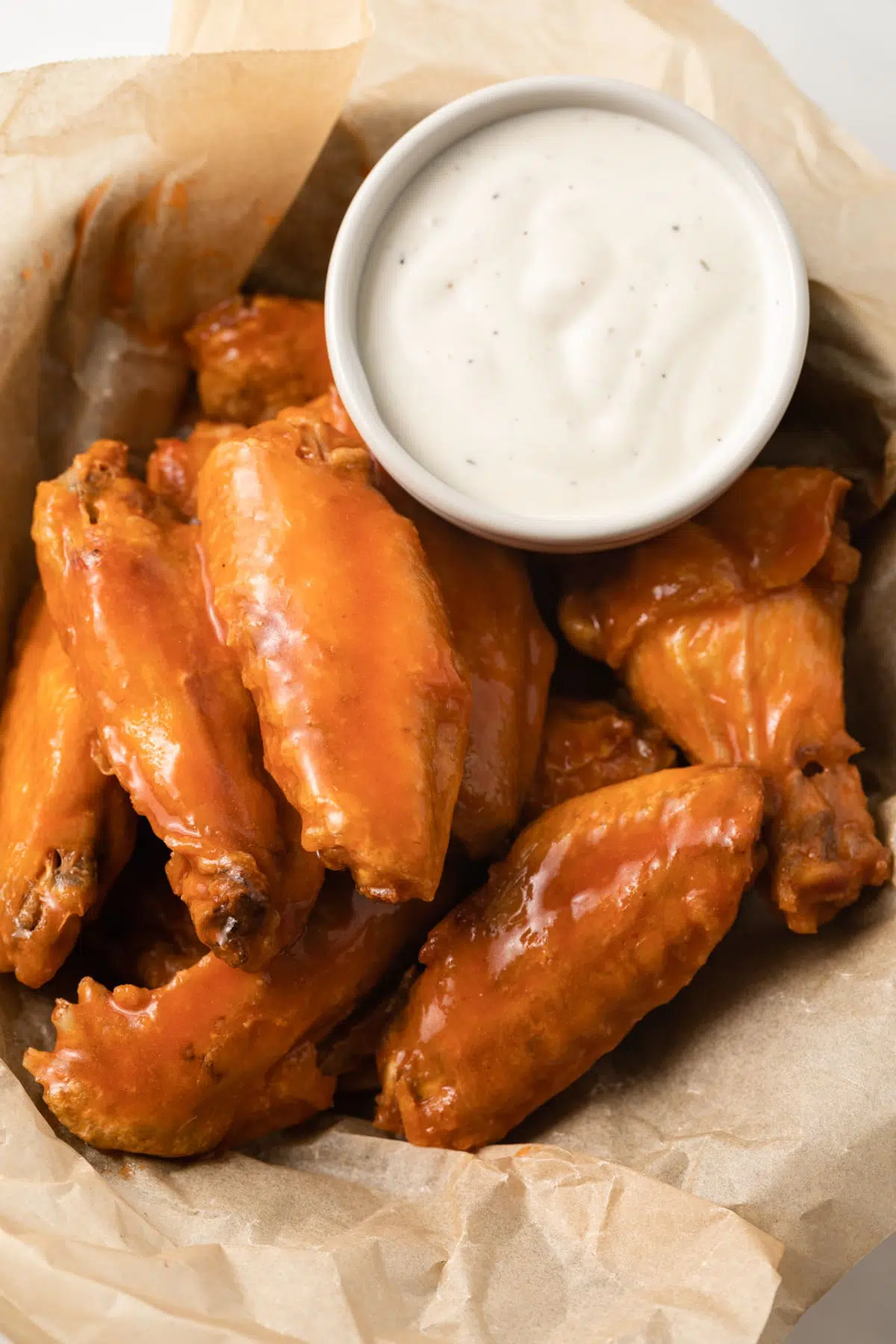 What is better than watching sports with a coffee table full of snack foods in front of you? Pizza, spinach and artichoke dip, nachos, and buffalo wings are some of our favorite snack foods. This spicy buffalo sauce is super easy to make, and oh so delicious.
If you have been to the Anchor Bar in Buffalo, NY, you know great things happened there in 1964. One late night, the co-owner, Teresa Bellissimo found herself needing to feed her son and his hungry friends.
She cooked some leftover chicken wings in hot sauce, and Buffalo chicken wings were born. Feeding hungry teens is no joke, but she really knocked the ball out of the park with this late-night creation.

Homemade buffalo sauce is far superior to store-bought – with melted butter, your favorite hot sauce, and cayenne pepper to your own preference, you can make this sauce as spicy as you would like it to be.
Buffalo chicken wings are the most obvious use for this sauce. But you can also use the sauce on chicken fingers, in buffalo chicken dip, or on a grilled chicken breast sandwich.
Sometimes when we're short on time, we pull apart a rotisserie chicken, mix the meat with buffalo sauce, and wrap it up in a butter lettuce leaf. We drizzle it with blue cheese dressing or ranch dressing – it's the perfect balance of cool, creamy, crunchy (from the lettuce), and spicy. We love it for light lunch or a snack.
Another great sauce for wings is our mumbo sauce! If you're in the mood for hot sauces in general, try some of these recipes: jalapeno hot sauce, peri peri sauce, or my chamoy sauce.
Ingredients
When you see the list of ingredients below you are going to think we forgot something. But no, it is this simple. Butter, hot sauce, and cayenne pepper is all you need to make this heat-filled, finger-licking-good buffalo sauce.
Ingredients
Unsalted butter – Mellows out the hot sauce and adds a buttery flavor.
Hot sauce – The main flavor of the sauce.
Cayenne pepper – Optional, but adds extra heat for the spice lovers.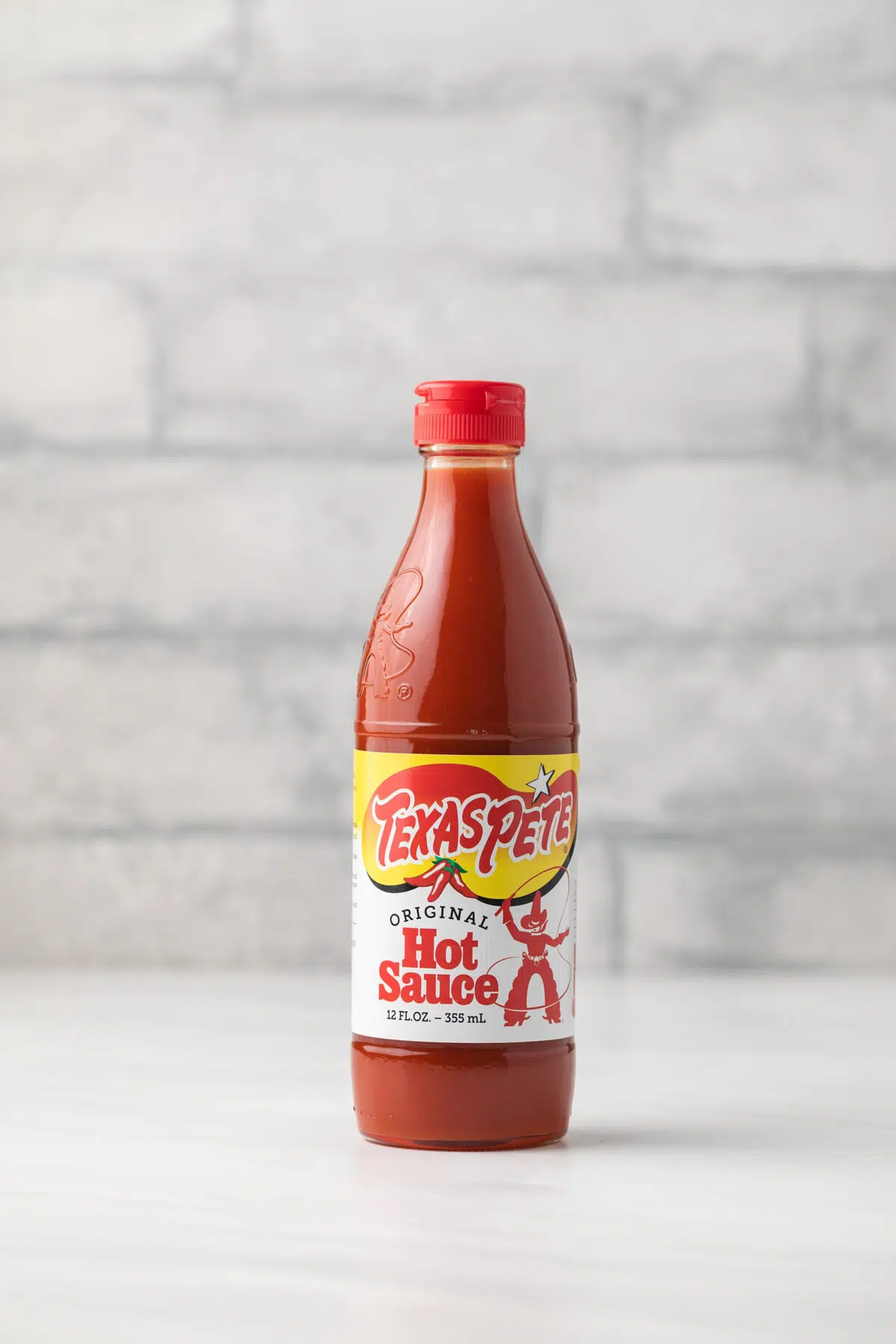 How to Make Homemade Buffalo Sauce
This recipe really couldn't be any easier. Isn't it funny how sometimes the things that taste the absolute best seem like they require so much time and effort? It's not true! This recipe is super simple and easy and you'll never buy buffalo wing sauce again!
Instructions
In a microwave-safe bowl, heat the butter for 30 seconds, until fully melted.
Stir in the hot sauce and cayenne until well combined.
Use over freshly cooked hot wings.
Variations
You can use whatever brand of hot sauce is your favorite. We love Texas Pete, but try different ones and see which you like best. The heat will vary depending on the sauce you use, but you can also bring it up or down with the amount of cayenne pepper you add.
Some recipes call for garlic powder – I don't personally like the flavor it adds to the sauce, but feel free to experiment and see if you like it. Start with ¼ teaspoon.
Storage
Cool for 1 hour then store in an airtight container and refrigerate for up to 2 weeks. Heat in the microwave until warm before using.
Or, to freeze, cool for 2 hours then transfer to a freezer-safe container and freeze for up to 3 months. Heat in the microwave until warm before using.