This post may contain affiliate links. Read the full disclosure here.
This rich, creamy and delicious chocolate sauce is a must for any home cook. It's a sweet and delicious way to add elegance to many desserts. Who doesn't love chocolate sauce?
Homemade chocolate sauce is truly one of the recipes I make which is filled with the most nostalgia. I spent hours in the kitchen with my grandmother when I was growing up. Making chocolate sauce with her is one of my favorite and most delicious memories.
I love a lot of dessert sauces. Caramel sauce drizzled over a brownie sundae. Butterscotch sauce served with bread pudding. Cheesecake resting in a pool of strawberry sauce. All these desserts are so delicious on their own, but add a drizzle of sauce and things just get kicked up a notch.
All these sauces are great, but they just don't compare to my first true love – homemade chocolate sauce.
There was, and still is in my mind, nothing better than a bowl of vanilla ice cream drizzled with a fresh homemade chocolate sauce. It tastes just like a sauce made from melted chocolate.
And it's more than just the taste. Truly. The way the warm sauce congeals and thickens up a bit as it hits the cold ice cream. The little bit of ice cream that melts from the warm sauce. It's all just too good.
This flavor sensation is nothing like the corn syrup based chocolate syrup you buy in the store. Once you see how easy this sauce is to make at home, and how scrumptious it is, you will never buy store bought again. Promise me.
The key to any of these sauces is to use the best quality ingredients you can find and afford. High quality ingredients truly do make a difference. I use Dutch process cocoa powder when I make this sauce, grass fed butter and whole milk. You won't regret it.
When making the sauce, watch it carefully, stir it religiously and don't let it burn. Milk can scald easily and you will be disappointed if it does.
Finally, the sauce is decadent and delicious as is, but if you want to jazz it up a little bit, you can add some cayenne pepper for a spicy sauce, some orange zest and extract for a holiday flavored sauce, or a teaspoon of whiskey, rum or amaretto for a boozy dessert treat.
---
Ingredients
Chocolate, cream, sugar, butter and vanilla… what's not to love about this delicious chocolate sauce recipe?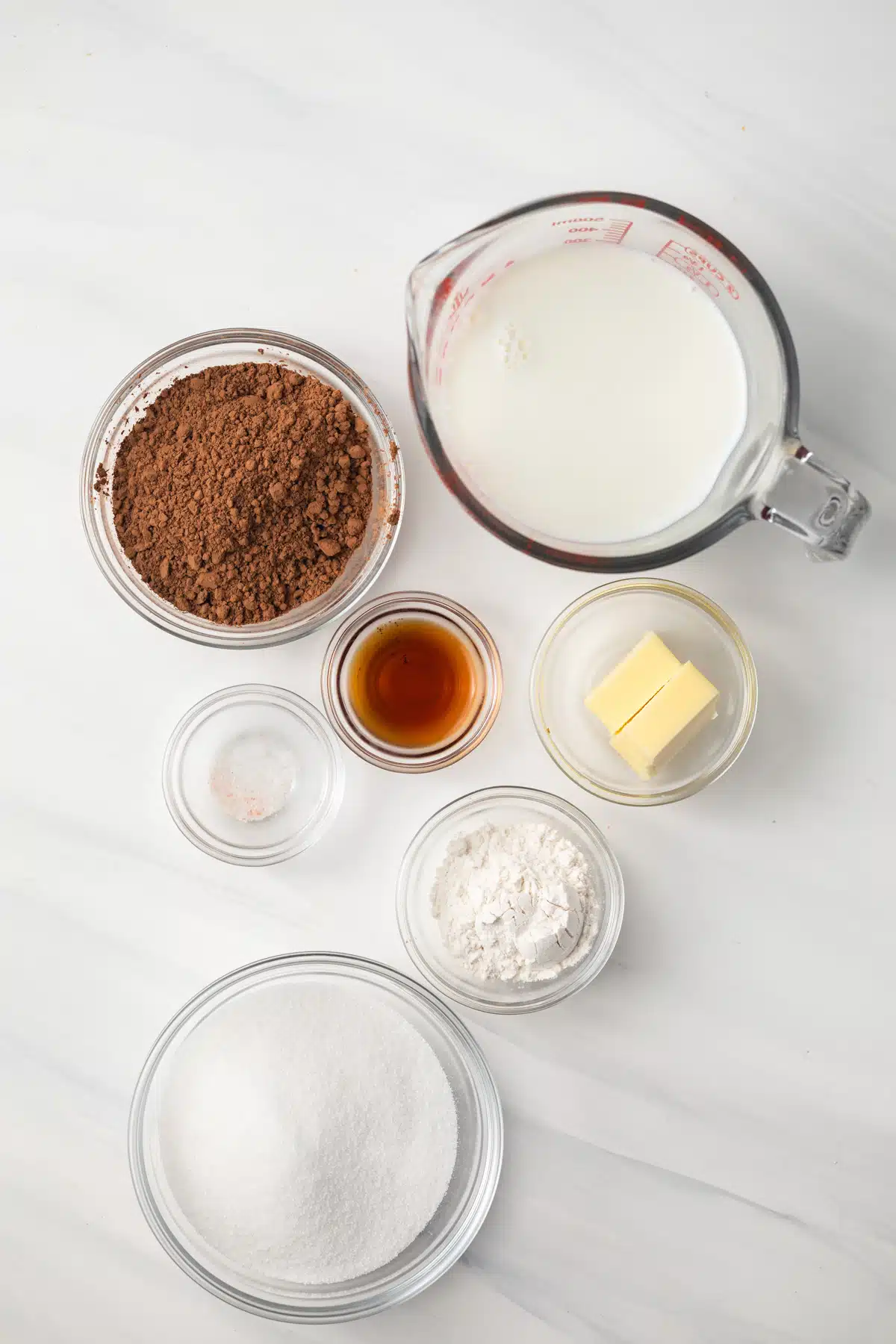 Sugar – Granulated sugar dissolves quickly and sweetens this sauce.
Cocoa powder – Unsweetened cocoa powder will give this sauce the best flavor.
All-purpose flour – Just a little bit, for thickening.
Salt – The tiniest pinch of salt, to balance the flavors.
Milk – Whole milk yields the best consistency in this sauce, but you can also use cream if you want to be extra decadent.
Unsalted butter – For richness and creaminess.
Vanilla extract – Use pure vanilla for the best results.
How to Make Chocolate Sauce
This sauce tastes like it took much longer than 10 minutes to make. You'll be surprised at how quickly and easily this chocolate fudge sauce comes together.
Whisk dry ingredients. In a saucepan, whisk together the sugar, cocoa, and flour until all lumps are removed.
Add wet ingredients. Whisk in the salt and milk, and butter, and bring to a boil over medium-medium high heat, whisking constantly.
Simmer. Reduce heat to low; stirring constantly. Simmer for about 30 seconds and then remove from heat. Stir in the vanilla then let the sauce cool. The sauce will be very thin while warm but will thicken quite a bit as it cools.
Substitutions
Milk – Heavy cream or half and half can be used instead of milk. I would not suggest using 2% or fat free milk as it won't have the same consistency.
Sugar – If you find yourself surprisingly out of sugar, you could use light brown sugar instead. The sauce will have a slightly richer, more caramel flavor, but that's not necessarily a bad thing!
---
Variations
In my opinion, chocolate is the foundation of all delicious desserts. The beauty of chocolate is that it pairs so well with many other flavors. For that reason, this sauce can be fairly versatile – you can jazz it up as you like.
Spicy – add cayenne pepper to the dry ingredients while cooking. Spicy chocolate sauce does something extra special to a piece of pound cake served with a scoop of vanilla ice cream.
Orange – Chocolate and orange is a beloved flavor combination. Add a bit of orange extract and some grated orange zest to the sauce to give this a citrusy burst.
Storage
Pour into glass jars then store in the refrigerator for up to 2 weeks. Simply reheat in the microwave or in a saucepan full of simmering water for a few seconds before serving.
---
Tips
Whisk the chocolate sauce consistently until it boils. Milk scalds easily and that burnt flavor just won't add anything to your sauce.
Desserts are made extra special by the addition of these scrumptious sauces.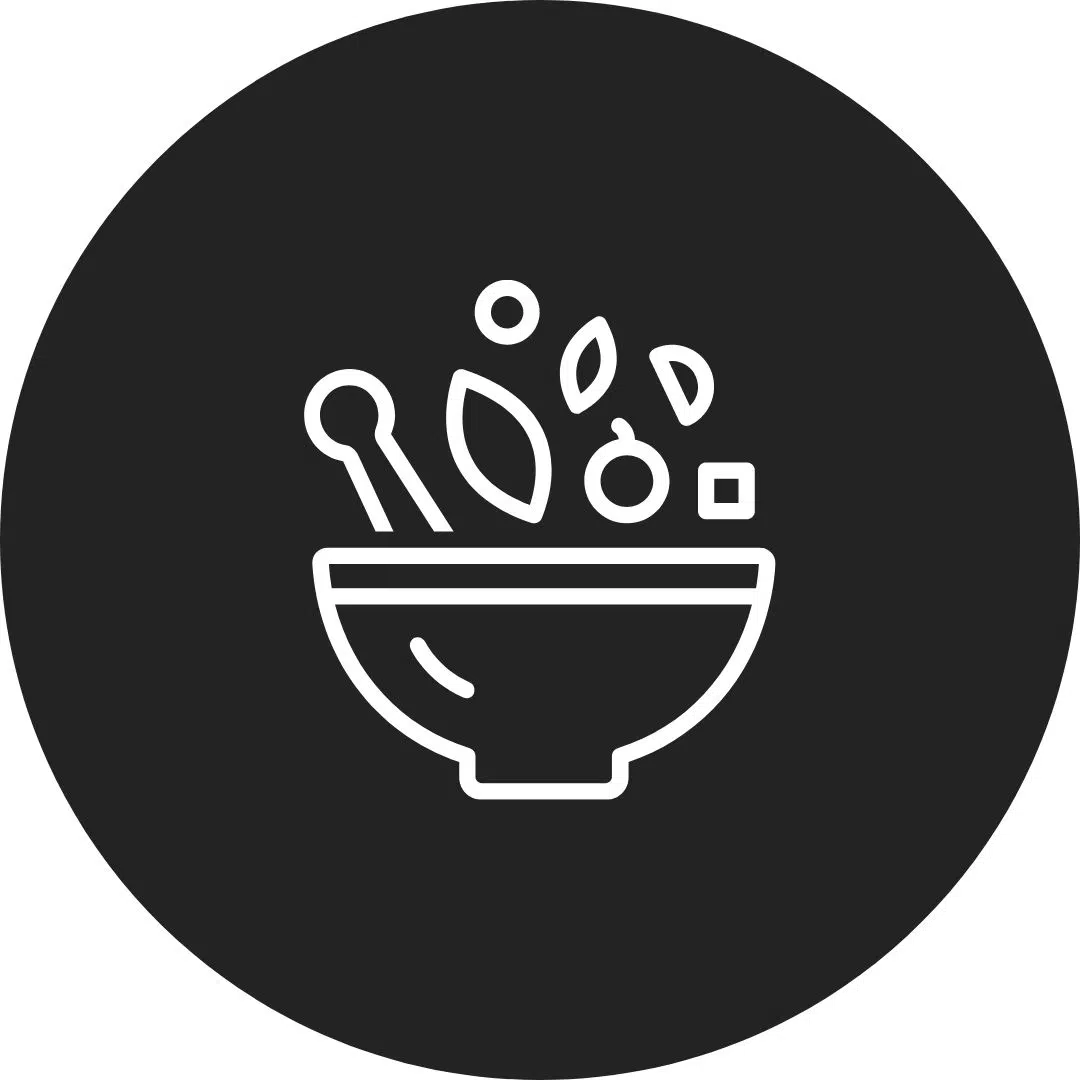 Printable Recipe