This post may contain affiliate links. Read the full disclosure here.
This red pepper romesco recipe is made without tomatoes. It contains basic pantry ingredients and takes just 5 minutes to make. Homemade romesco sauce is absolutely delicious as a dip or a sauce!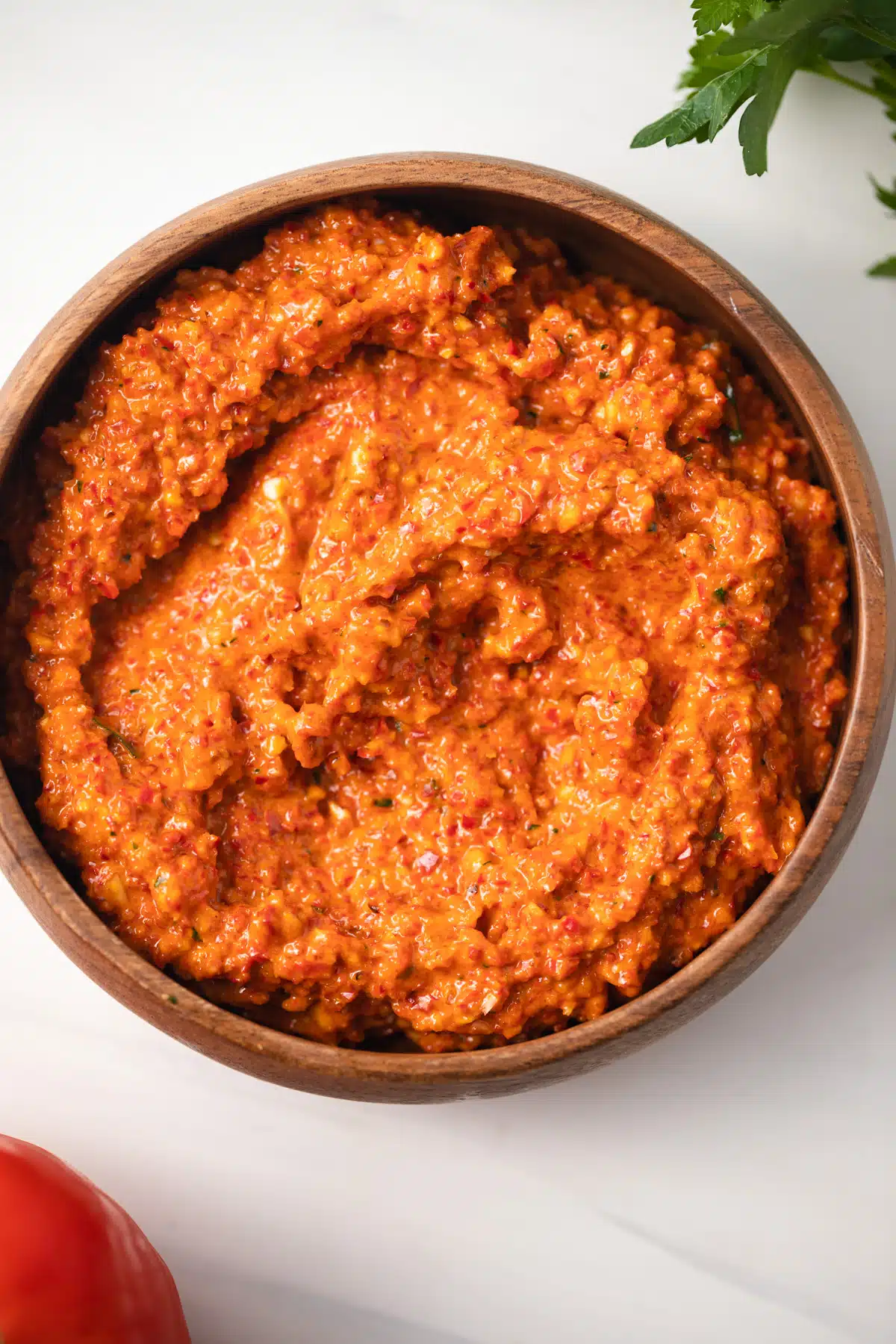 Fresh and bright veggie sauces are a great way to liven up your meals and add flavor and depth to your favorite proteins. My cilantro chimichurri adds crazy flavor to steak and other grilled meats. My bright and fresh lemon pesto sauce is delicious tossed with roasted spaghetti squash or served over grilled shrimp.
This delicious and easy red pepper romesco sauce is one of my go-to's when I am trying to eat healthily. It's bright, zingy, and delicious.
I like to serve it over grilled shrimp or a piece of halibut, but it is also so good on top of scallops, salmon, or grilled chicken. The red peppers and the vinegar give this sauce a perfect kick.
Romesco sauce is sometimes made with sun-dried tomatoes or slow-roasted tomatoes that have languished on a baking sheet in the oven for a long, slow, roast. That's a deep and flavorful sauce in its own right, but it is a more involved process.
This is a Tuesday night romesco sauce that works any night of the week and doesn't taste at all as if you took the easy way out.
The star of this sauce is the roasted red bell peppers – though I do also like the kick and flavor the roasted peppadew peppers offer too. Blend them with roasted almonds, garlic, vinegar, and a few spices – can't you just imagine how good it tastes?
This recipe calls for smoked paprika. Try to find the smoked version if you can – the smoky flavor it adds to the sauce gives it depth and richness which will make this sauce something you'll turn to again and again.
So let's do this, January! We'll eat as healthy as we can and meet back here mid-February for some yummy chicken alfredo!
---
Ingredients
This bright and flavorful sauce is bursting with flavor and is surprisingly made with easy-to-find pantry staples.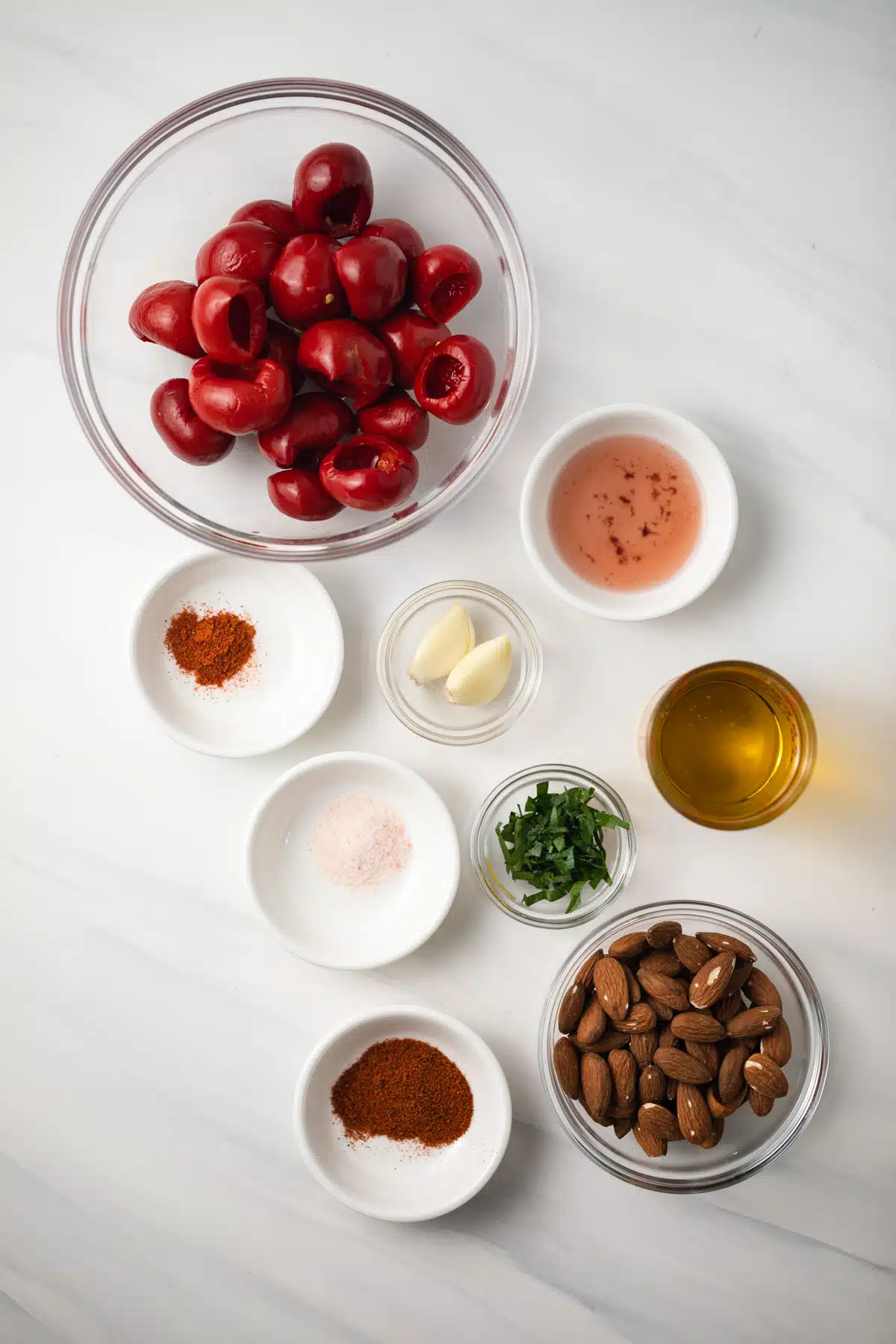 Jar of roasted red peppers – These will be rinsed and drained.
Almonds – Unsalted almonds. I'd prefer you buy them raw and toast them yourself for the best flavor
Garlic – Fresh garlic cloves for a kick of flavor
Parsley – I prefer the fresh Italian flat-leaf parsley here.
Sherry vinegar – This can be found in the vinegar section of the grocery store. It has a slightly sweet vinegary kick to it.
Smoked paprika – For color and a bit of smoky flavor
Sea salt – To taste
Cayenne pepper – For a bit of spice.
Extra-virgin olive oil – For flavor and consistency.
---
How to Make Red Pepper Romesco Sauce
This is a super flavorful, vibrant sauce that comes together simply by blending the ingredients in a food processor or blender.
Add all the ingredients to the bowl of a food processor. Cover tightly and pulse to your desired consistency.
Taste and adjust seasoning, adding salt or cayenne as desired.
If possible, allow the sauce to stand for an hour at room temperature before using. Serve with fish and/or grilled vegetables, or on crostini.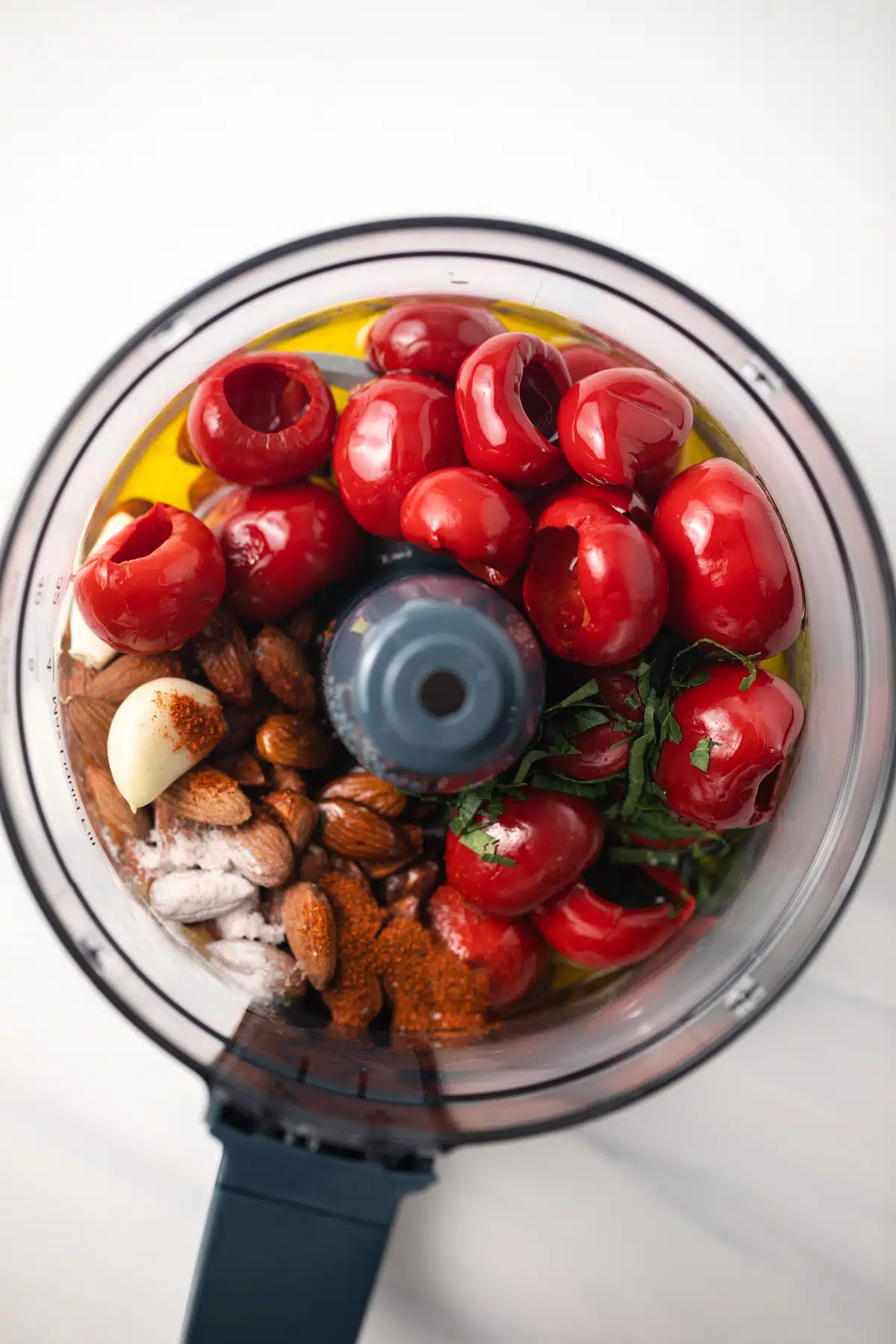 Substitutions
Sherry vinegar: Red wine vinegar can be used.
Almonds: You can use hazelnuts or a combination of almonds and hazelnuts.
---
Variations
This sauce is truly delicious as is, but there are a few variations you may want to try.
Spicy – add chili pepper flakes or some banana or jalapeno peppers before blending to make this a spicy romesco sauce.
Tangier – This sauce is great with traditionally roasted red bell peppers. If you can find peppadew peppers, which are pickled in vinegar already, give those a try. They are sweet and tangy and will pick up the tanginess of the vinegar added to this sauce. Think of it as easy romesco sauce 2.0 with a greater kick!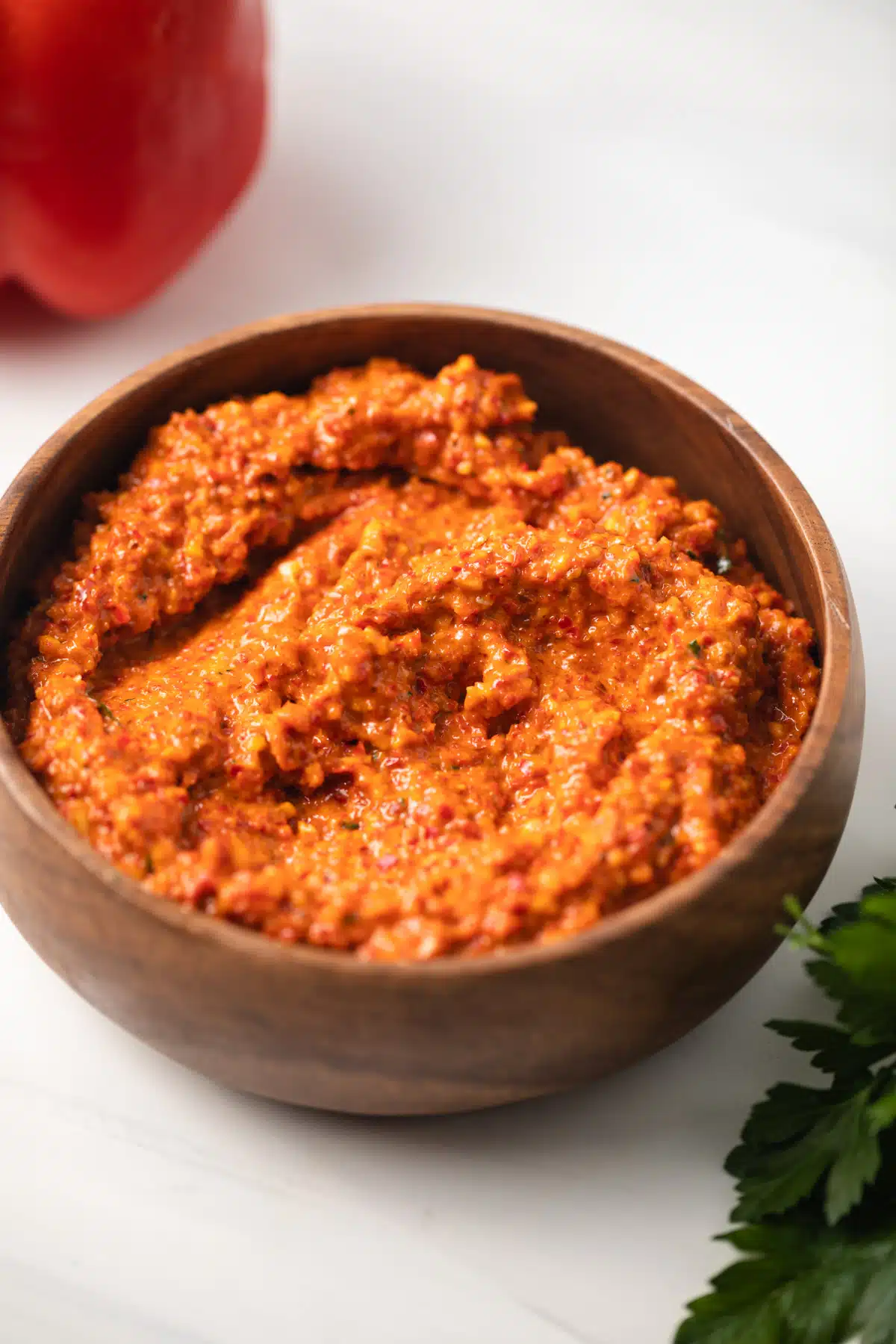 Storage
This red pepper sauce will stay fresh in the fridge for up to five days.
---
Tips
Use fresh garlic and herbs in this recipe – it makes all the difference.
Dipping sauces are the quickest way to elevate your meal. Feel free to try some of these other favorite sauce recipes: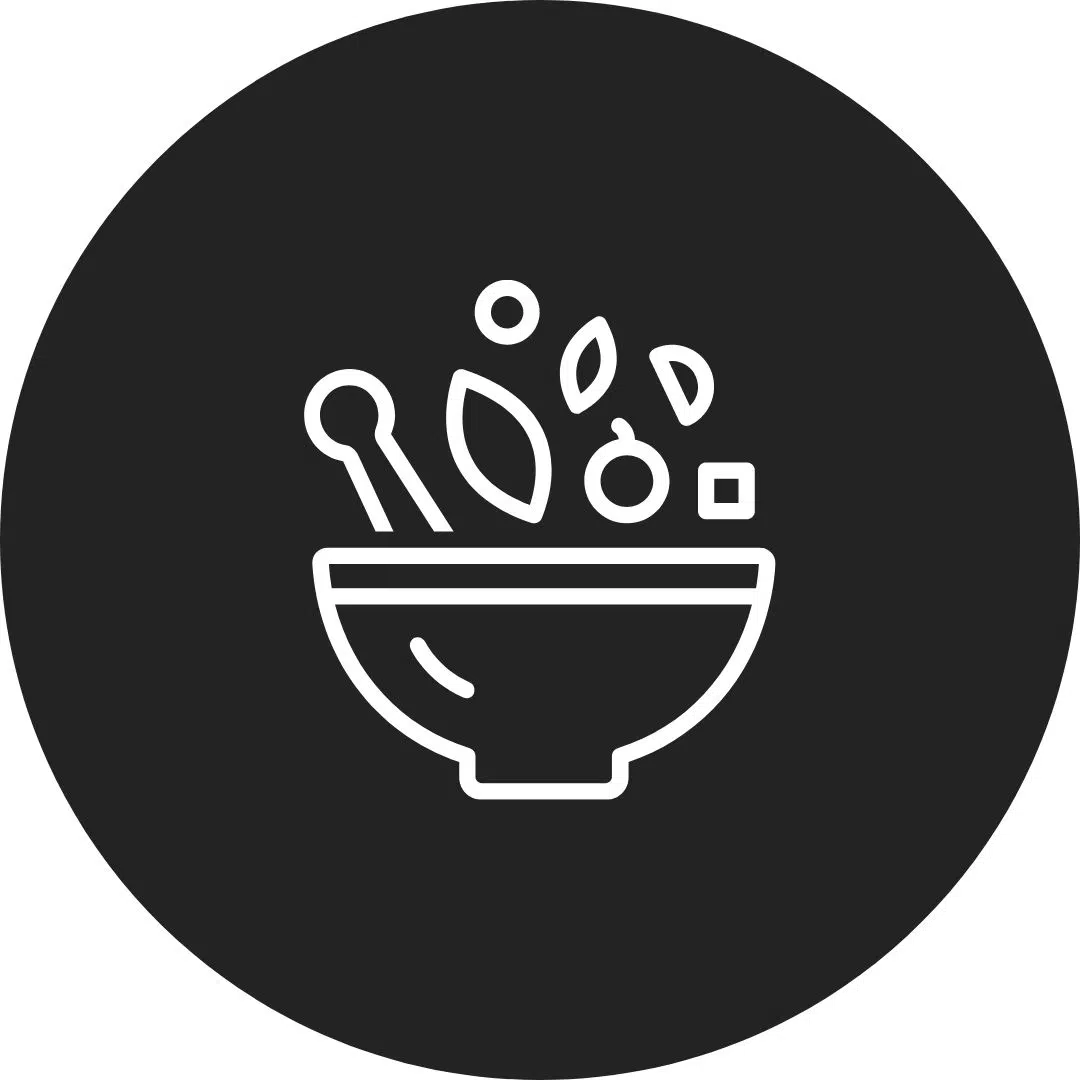 Printable Recipe