Homemade Butterscotch Sauce
This post may contain affiliate links. Read the full disclosure here.
This recipe for homemade butterscotch sauce makes a rich, creamy and decadent dessert sauce that you will want to put on everything.
Oh boy, am I excited to share this recipe with you. I have always loved butterscotch sauce. My grandparents would end each night with a scoop of vanilla ice cream bearing a drizzle of butterscotch sauce – so this one is particularly nostalgic for me.
The flavor of butterscotch is unique – it's made from combining and cooking butter and brown sugar together. Caramel sauce is made much the same way, but uses white sugar, so butterscotch has a slightly distinct warmer flavor.
There seem to be disputes as to whether the name comes from the combination of "scorched" and "butter" or if it is because it originated in Scotland. It doesn't particularly matter to me. To me, butterscotch means delicious – whether it is in the form of a candy, a pudding or a sauce.
Today we're focusing on the sauce. I know a lot of you kind of freak out when I suggest boiling sugar and butter together – but don't. We're not making a candy here so there is no need for a candy thermometer or too much precision.
All we need to do here is to combine butter, sugar, salt, vanilla extract and cream to make a decadent rich and delicious sauce. It's the sauce your childhood dreams were made of.
Drizzle this on ice cream for a special weeknight dessert.
Or if you want to really take things to the next level, serve my apple crumble or my peach cobbler dessert with a scoop of vanilla ice cream and a drizzle of this homemade butterscotch sauce. It's just so crazy good.
This sauce is easy to make, requires no fancy ingredients, and will be one of those items that your guests won't believe you made yourself.
By the way, if you are looking for another great sauce to put on ice cream, try my homemade strawberry sauce and chocolate sauce, or for something really unusual but delicious – with a spicy kick – try this Chamoy sauce. It's like nothing you've ever tasted!
Ingredients
This butterscotch dessert sauce is made with just five simple ingredients.
Butter – Unsalted sweet cream butter.
Dark brown sugar – It's important to use dark brown sugar here – it is what gives the butterscotch its rich flavor.
Salt – Use the large flakes of maldon salt if you have them in your baking cabinet.
Heavy Cream – whipping cream or heavy cream is fine here – but don't use milk.
Vanilla Extract – For flavoring.
---
How to Make Butterscotch Sauce
This is a quick recipe – it doesn't require much effort – but it will need your attention as you scrape down the sides while the mixture boils. You want to prevent this from burning.
Melt the butter. In a medium, heavy-bottomed saucepan, melt the butter over medium heat.
Add the other ingredients. Use a rubber spatula to stir in the brown sugar, salt, and heavy cream.
Cook. Bring the mixture to a boil and cook for 5 minutes, while occasionally scraping down the sides.
Finish the sauce. Remove from heat and stir in the vanilla.
Cool and store. Transfer the butterscotch sauce to a jar and allow it to cool completely.
Substitutions
If you don't have large flaked salt, you can use kosher salt. But the large flakes do add a little something. Find some if you can and keep them in your pantry – they're great on chocolate chip cookies or chocolate banana bread too.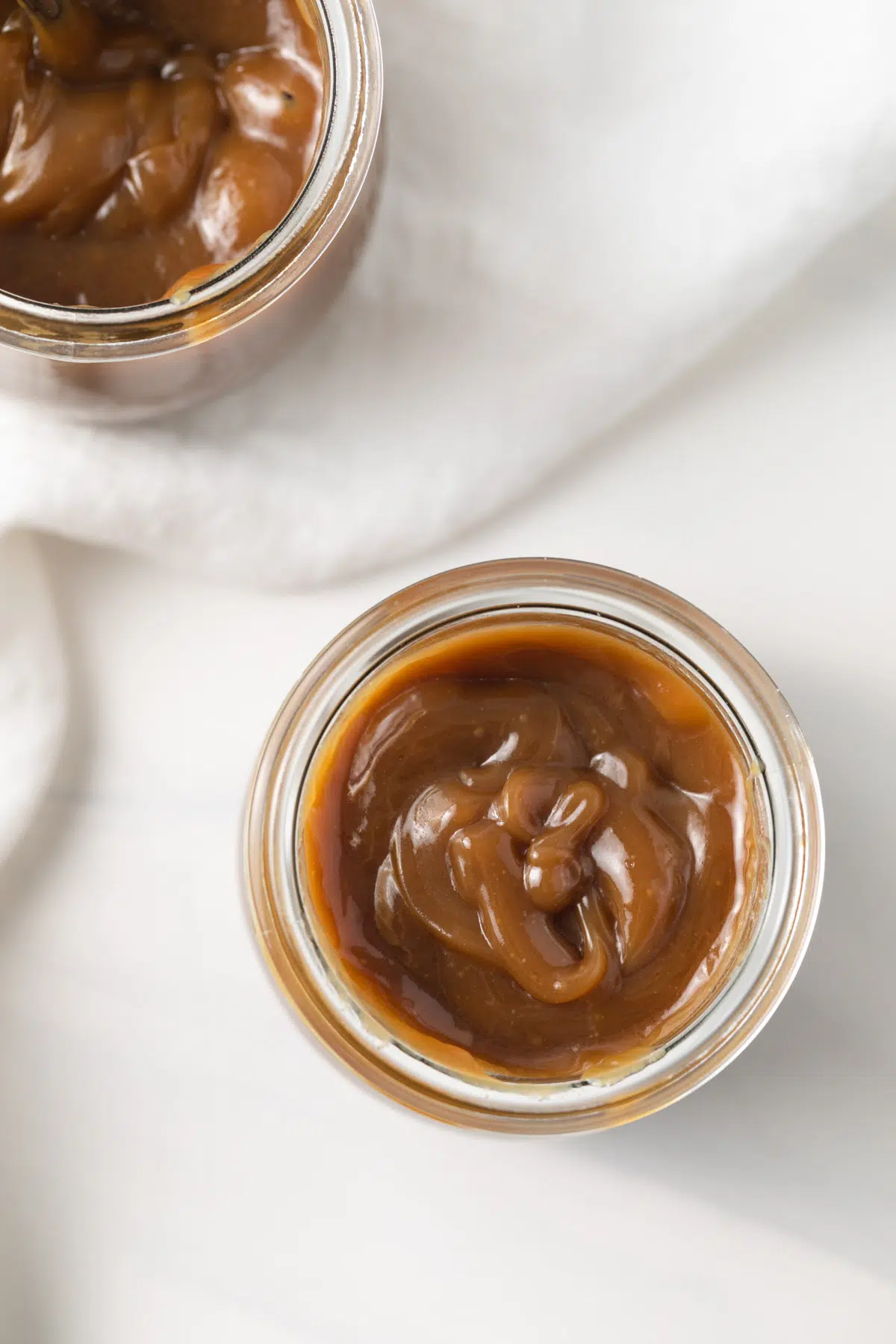 Storage
Store in the refrigerator for up to 3 weeks.
Rewarm gently before serving in a saucepan over low heat or in the microwave for 20-30 seconds.
---
Tips
The sauce will thicken as it cools. Take care not to overcook it or it will thicken to a chewy candy texture.
Serve the sauce drizzled over ice cream, pies, and tarts.
Dessert sauces are the love child of my two favorite things- desserts and sauces. Enjoy all of these!