Cilantro Chimichurri Sauce
This post may contain affiliate links. Read the full disclosure here.
This cilantro chimichurri sauce recipe is an Argentinian sauce that adds a dramatic flash of herby and garlicky goodness to grilled meats or seafood.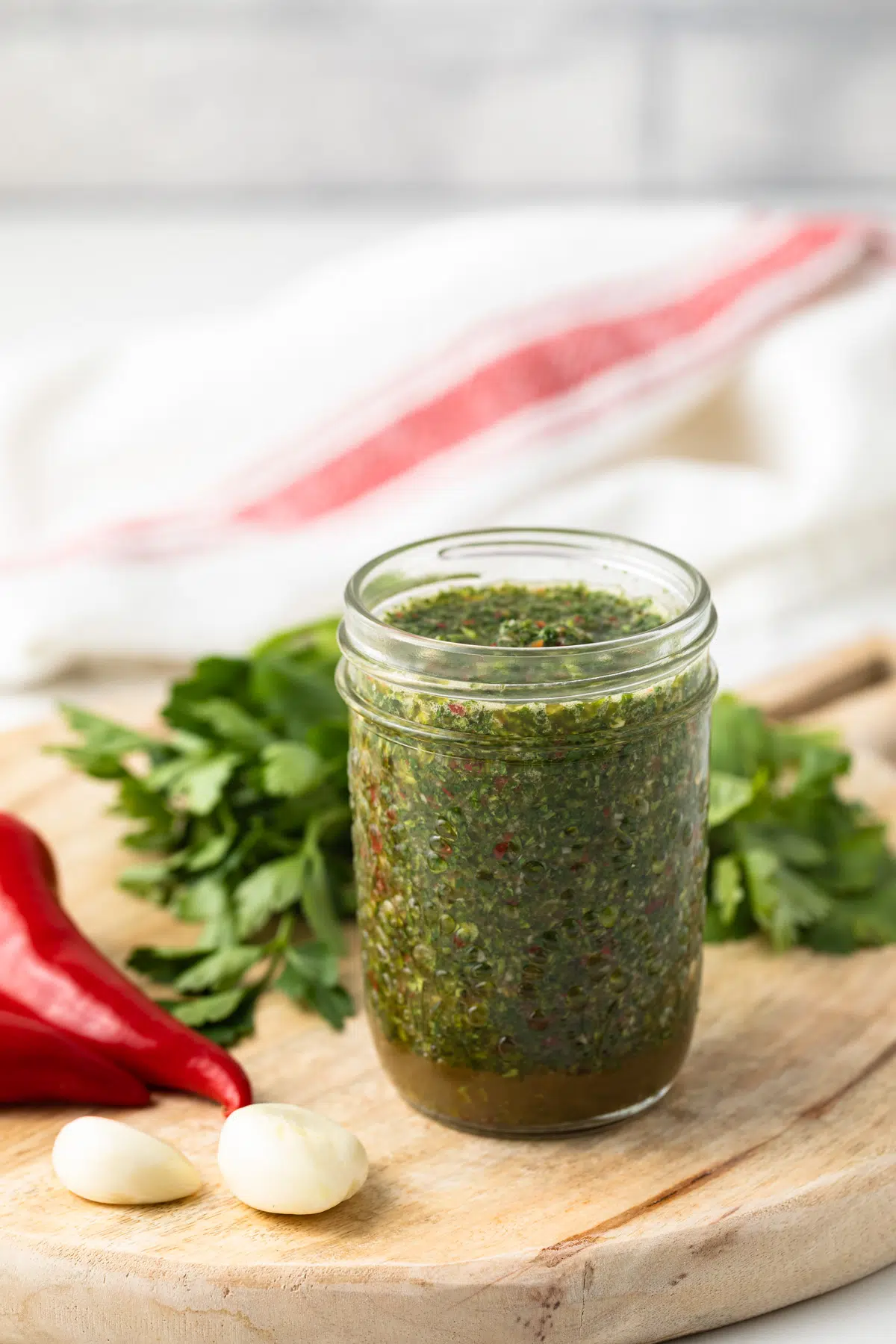 Chimichurri is a funny name, for sure.
Some think "chimichurri" comes from the early 1800s when the Argentinians had captured British soldiers during an attempted invasion of the area. The story goes that soldiers asked for condiments by saying "give me the curry" which the Argentines translated to "chimichurri."
This is not a sauce that treads lightly. It's bold and herby and pungent and tangy from the shock of red wine vinegar. It packs a punch! The combination of fresh parsley, oregano, and cilantro with fresh garlic, oil, and vinegar will make this cilantro chimichurri sauce a staple in your fridge during grilling season.
A perfect summer meal is grilled steak with this homemade chimichurri sauce recipe, a simple butter leaf salad, and roasted fingerling potatoes. You're probably getting hungry just thinking about it.
If you are interested in other bold sauces that go well with grilled meats, I suggest you try our herb caper sauce, red pepper romesco, peri peri sauce, my honey sriracha sauce, and our homemade buffalo sauce.
Ingredients
Shallot: This is a bold sauce, shallots offer a more subtle flavor than onions.
Jalapeño pepper: I use red jalapenos but you can use a green one if that is all you have access to.
Garlic: And lots of it. This sauce is not messing around.
Red wine vinegar: For a bit of tanginess.
Salt: For seasoning.
Fresh Herbs: Cilantro, flat-leaf parsley, and oregano. Dried herbs will not work here.
Olive oil: Use the best quality extra-virgin olive oil you can find.
How to Make Cilantro Chimichurri
This chimichurri recipe comes together quickly with a few key ingredients, a food processor, and a small bowl or mason jar. I like to keep this in an airtight mason jar in my fridge during the summer so I can easily and quickly boost the flavor of grilled chicken or steak.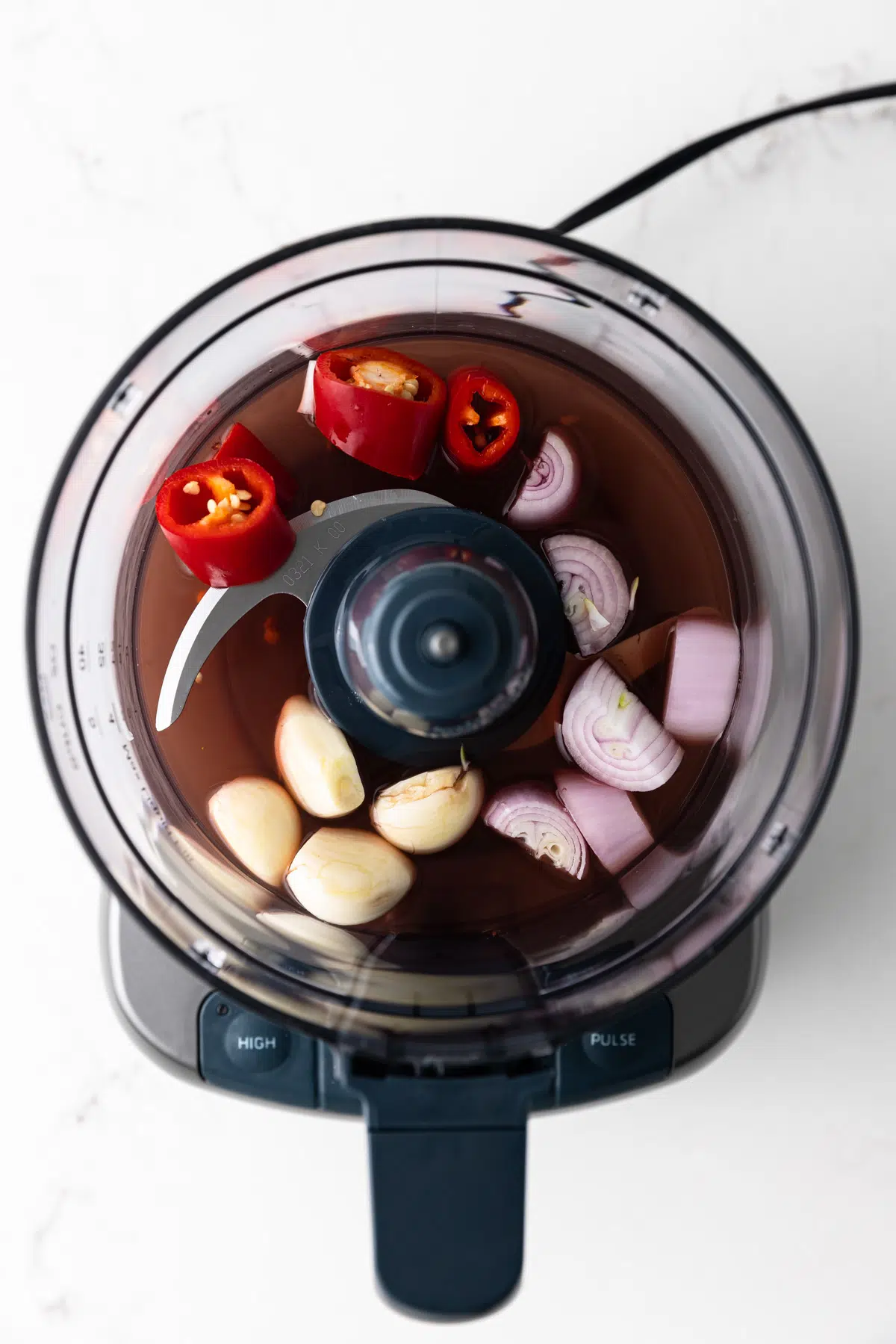 Add shallot, jalapeño, garlic, and red wine vinegar to the bowl of a food processor and finely mince.
Add herbs and salt. Pulse several times until herbs are finely chopped, but still have some texture to them, scraping down the sides as needed.
Add the oil and pulse just a couple of times until incorporated.
Substitutions
Chimichurri sauce with cilantro doesn't offer many substitutions without compromising the flavor. Here are a few to note:
Shallot: Yellow onion may be used instead. Dice 2-3 tablespoons.
Red jalapeño: 1 tablespoon crushed red pepper flakes can be used as a substitute
Fresh Herbs: The fresh oregano, parsley, and cilantro are key to this recipe. Please don't attempt to make it with dried ones.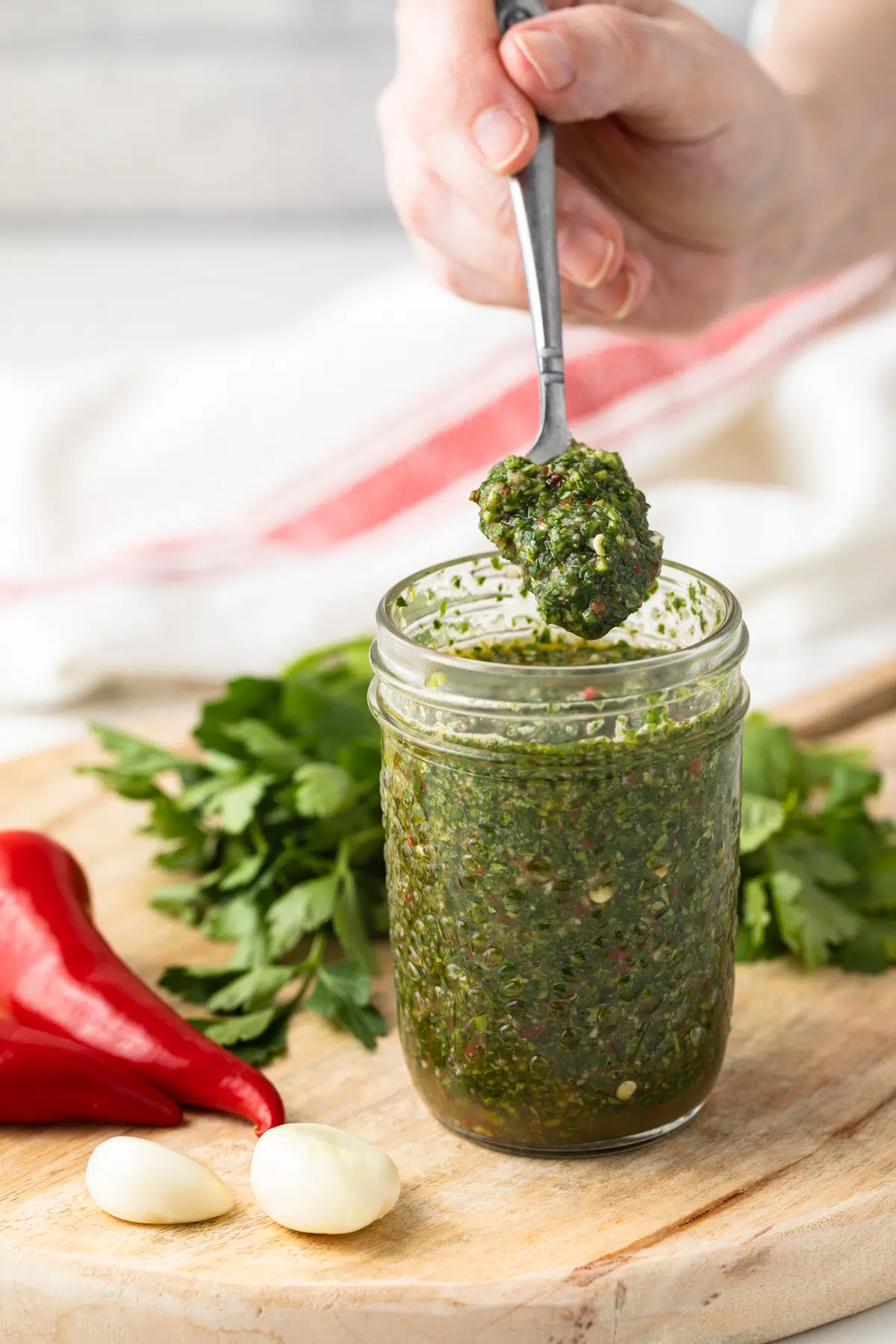 Equipment
This recipe requires a cutting board, a good knife, and a food processor or high-powered blender. I prefer a food processor so you can mince the sauce and allow the herbs and peppers and onion and garlic to retain some texture rather than to blend it smoothly.
Storage
Store in an airtight container and refrigerate until ready to use. Will keep well refrigerated for up to 5 days.