This post may contain affiliate links. Read the full disclosure here.
This creamy pumpkin sauce is made with pumpkin puree, crushed tomatoes, and spices for a cozy fall pasta sauce. It is guaranteed to warm you up from the inside out. And even better, it's ready in just 30 minutes.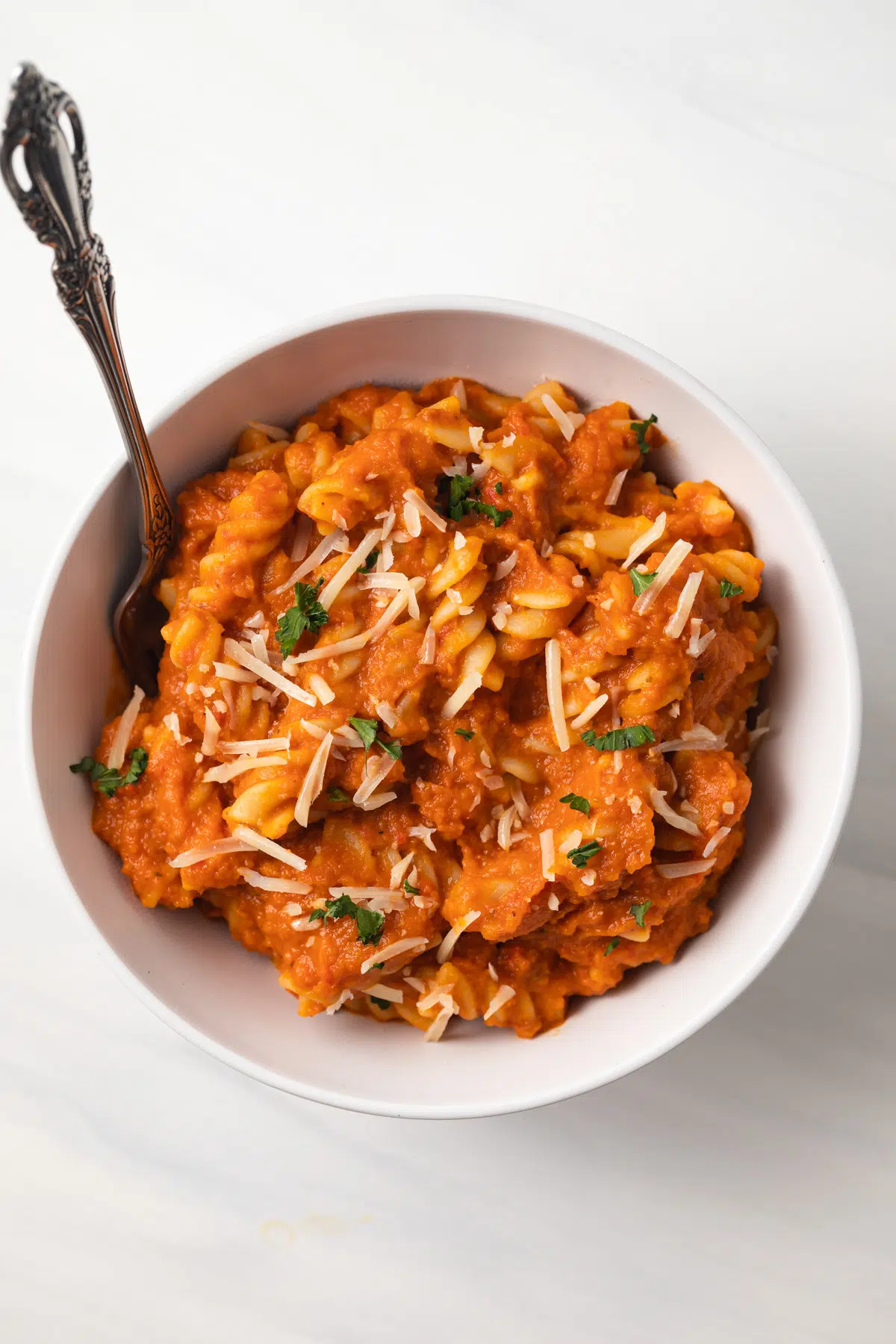 This is a tomato sauce with a bit of vinegar for acid and kick, pumpkin for creaminess and spices like chili powder and nutmeg for warmth and flavor. Put them all together and you will end up with a creamy, flavorful delicious pasta sauce that is just perfect for a cozy dinner by the fire.
This creamy pumpkin pasta sauce is hearty and filling enough that it will satisfy the most stubborn of carnivores but will thrill the vegetarians or vegans in your life. It is vegetarian as written, and can be made vegan by substituting olive oil for the butter and using your favorite cheese alternative in place of the parmesan.
I like to serve a thick, creamy sauce like this with rotini pasta – the screw shaped ones, or rigatoni – the thick, stubby tubes. Something to really catch and grab onto the chunky sauce and let it take on all the flavor. I know people are particular about their pasta shapes, so feel free to serve it with whatever your favorite shape is.
A simple green salad with thinly sliced cucumbers and radishes and a drizzle of mustard vinaigrette would be the perfect accompaniment to this dish. Throw in a loaf of fresh, warm, crusty bread served with salted butter, and you'll be so cozy you will want to put on pajamas and call it a night!
If you are looking for other cold weather pasta dishes, you can't go wrong with my lemon pepper cream sauce or my classic vodka sauce.
Enjoy!
---
Ingredients
This may seem like a lot of ingredients, but it's still a relatively simple sauce to put together.
Olive Oil – Always use the best quality olive oil you can find when using it in sauces.
Fresh veggies – Onions, red bell pepper, and fresh garlic add a punch of flavor to this sauce (not to mention good for you nutrients).
Spices – Chili powder, dried oregano, salt, pepper and nutmeg give this sauce the flavor warmth of a fall stew.
Tomatoes – Canned tomatoes, diced or crushed work equally well.
Pumpkin puree – Canned pumpkin puree – not pumpkin pie filling.
Butter – Just a tablespoon, for flavor.
Balsamic Vinegar – The rich vinegar adds a sweet tang to balance out the other flavors.
Garnish – Freshly grated parmesan cheese and parsley for garnish.
---
How to Make Creamy Pumpkin Sauce
This rich and flavorful sauce comes together incredibly quickly but tastes like it took hours.
Heat the olive oil in a large skillet over medium heat. Add the onion, and bell pepper. Cook, stirring often, until vegetables are softened, 6 to 8 minutes.
Add the garlic, salt, oregano, chili powder, and nutmeg. Cook until fragrant, sitting occasionally, about 1 minute. Add the tomatoes and cook for 1 minute, stirring occasionally. Add the pumpkin purée and stir to combine. Simmer for 5 minutes, then remove it from the heat.
Transfer the mixture to a blender or food processor. Add butter, balsamic vinegar, and freshly ground black pepper. Blend until smooth and creamy.
Stir into freshly cooked al dente pasta or gnocchi. Garnish with freshly grated Parmesan and chopped parsley on top.
Substitutions
Tomatoes – you can use crushed or diced tomatoes. If you only have whole peeled tomatoes, you can use those too, just break them up with a wooden spoon before adding them to the sauce.
Red pepper – I love the unique flavor of red peppers and I think they add a lot to this sauce, but if you have a yellow or orange pepper you can use that instead. I wouldn't use a green pepper here.
This sauce works on all sorts of freshly cooked pasta, even gluten free ones – so use whatever pasta you prefer.
---
Variations
Make it dairy free or vegan: Omit the butter or blend in olive oil instead. Use vegan Parmesan or omit it.
Add a little sage – if you have fresh sage, you might want to add a little crumbled sage to the sauce, but just a little bit. Sage is a very delicious but also very overpowering herb, so use it sparingly! You can also just use it as a garnish.
Storage
This sauce is best when used immediately but you can store it in the fridge in an airtight container for up to 3 days, or in the freezer for up to a month. Thaw it slowly and reheat before using.
---
Tips
If you find your sauce it too thick for your liking, you may want to thin it out with a bit of vegetable broth or water.
If you have homemade pumpkin puree, by all means, use it. But canned puree works really well in most recipes.
When using canned pumpkin, double and triple check to make sure you are using canned pumpkin puree, NOT canned pumpkin pie filling. They are in the same size cans and are always right next to each other in the grocery store – but the pie filing is sweetened and has spices added to it – you don't want to use it in your cooking!
I have so many delicious pasta recipes on this website. Try them all!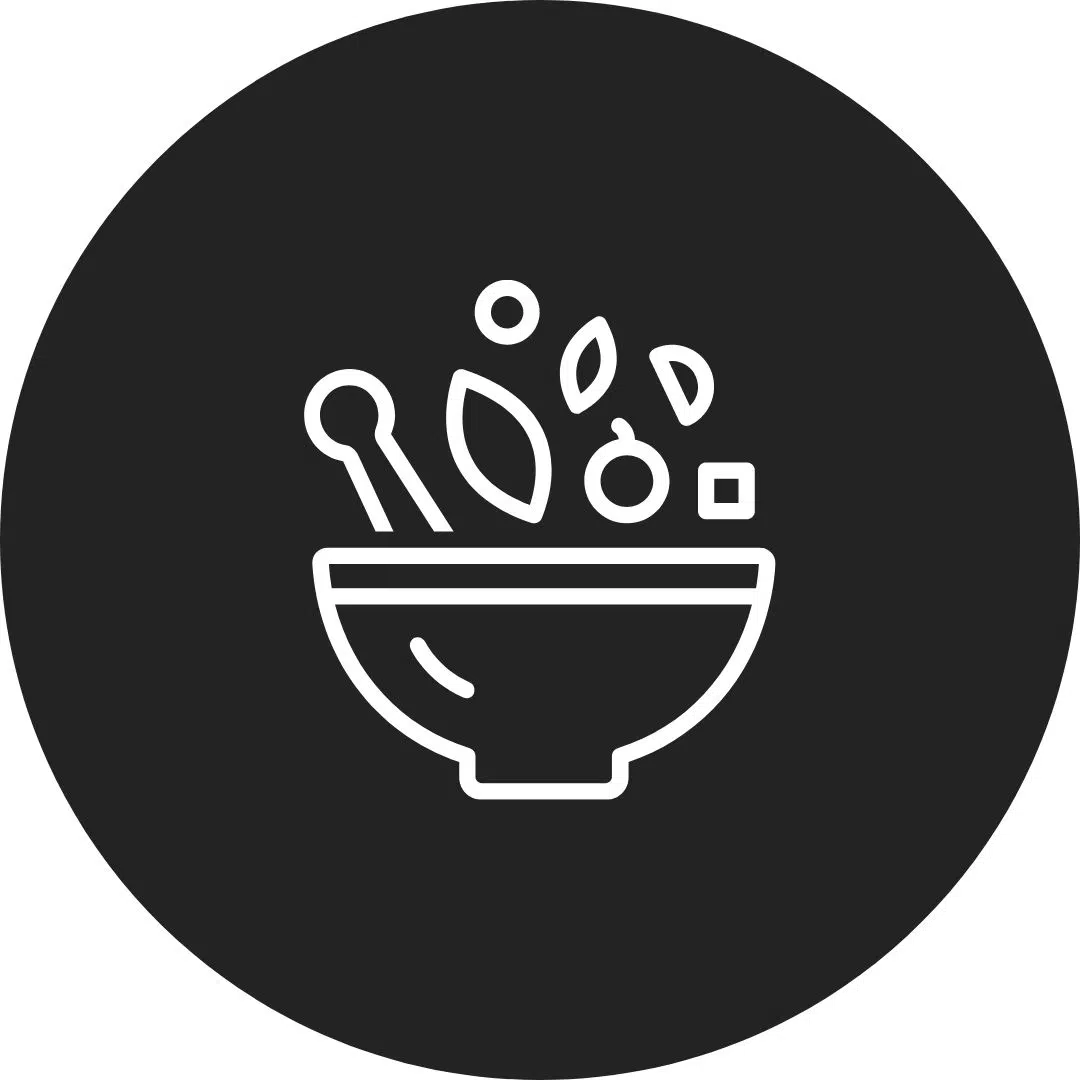 Printable Recipe