This post may contain affiliate links. Read the full disclosure here.
Diane sauce is a classic rich and creamy sauce with mushrooms. It's delicious drizzled over a pan-fried steak!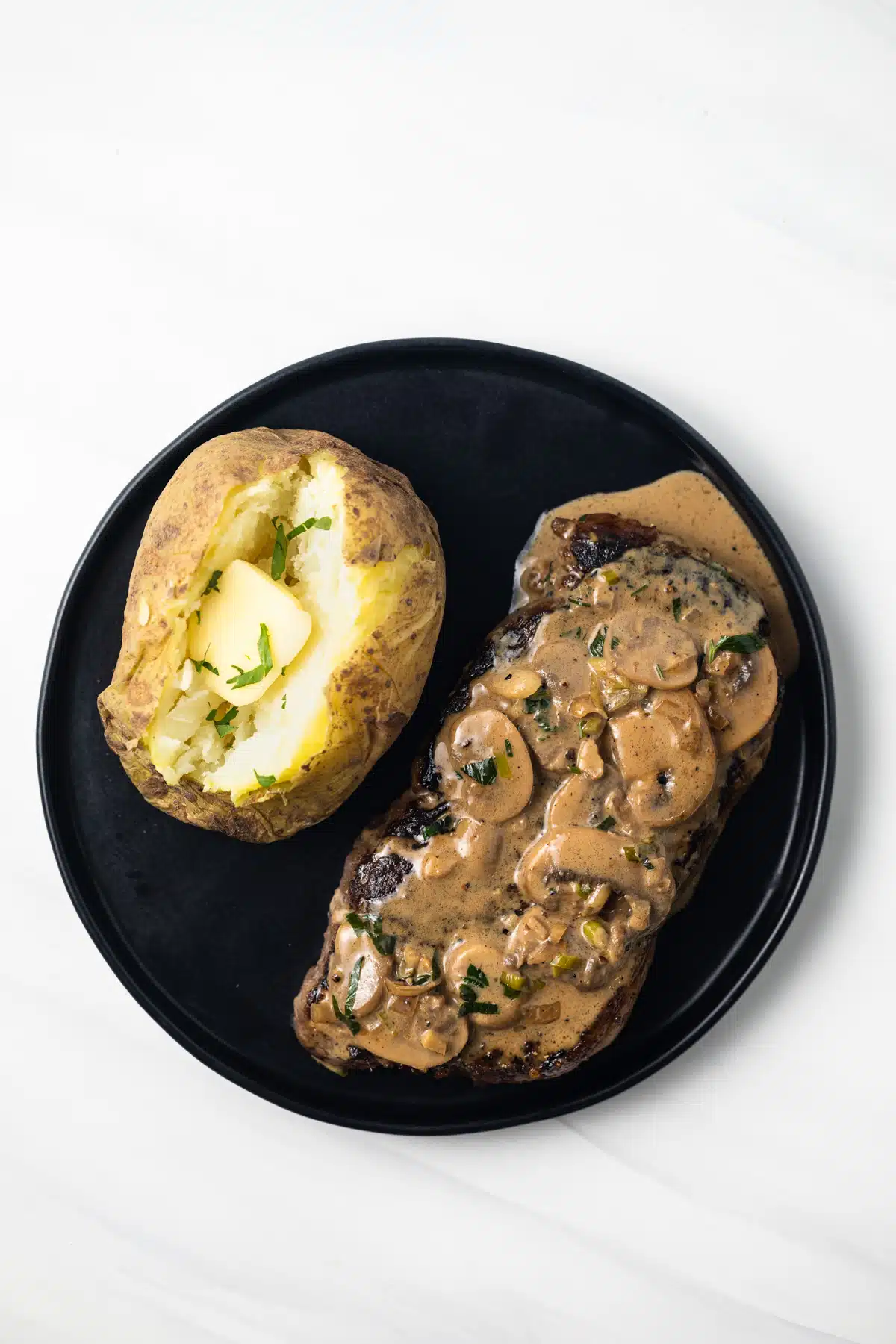 This steak diane recipe is rich and creamy and takes an ordinary Tuesday night skillet steak to an entirely new level. Creamy and delicious it is warm and comforting on a cold winter night.
Steak diane is a cousin to two of my other favorite sauces – chicken marsala sauce and mushroom sauce. Both are creamy and loaded with mushrooms.
This sauce uses cognac for a kick rather than marsala in chicken marsala and the wine in the mushroom sauce. The mustard and Worcestershire sauce add a depth of flavor that's unusually delicious.
I've said it before and I'm sure I will say it again – I love mushrooms – but I know plenty of people who are not on team mushroom. And the great thing about this sauce is that it can be made with or without mushrooms.
In fact, the early version of this sauce, first served in a New York City restaurant, did not have mushrooms. So those of you who are anti-shroom, fear not, this sauce can be adapted for you just fine.
Over time, recipes for this sauce have evolved and I have to say I really love the version of this sauce that is loaded with sliced mushrooms. Button, baby bella, shitaake… it really doesn't matter which mushrooms are used.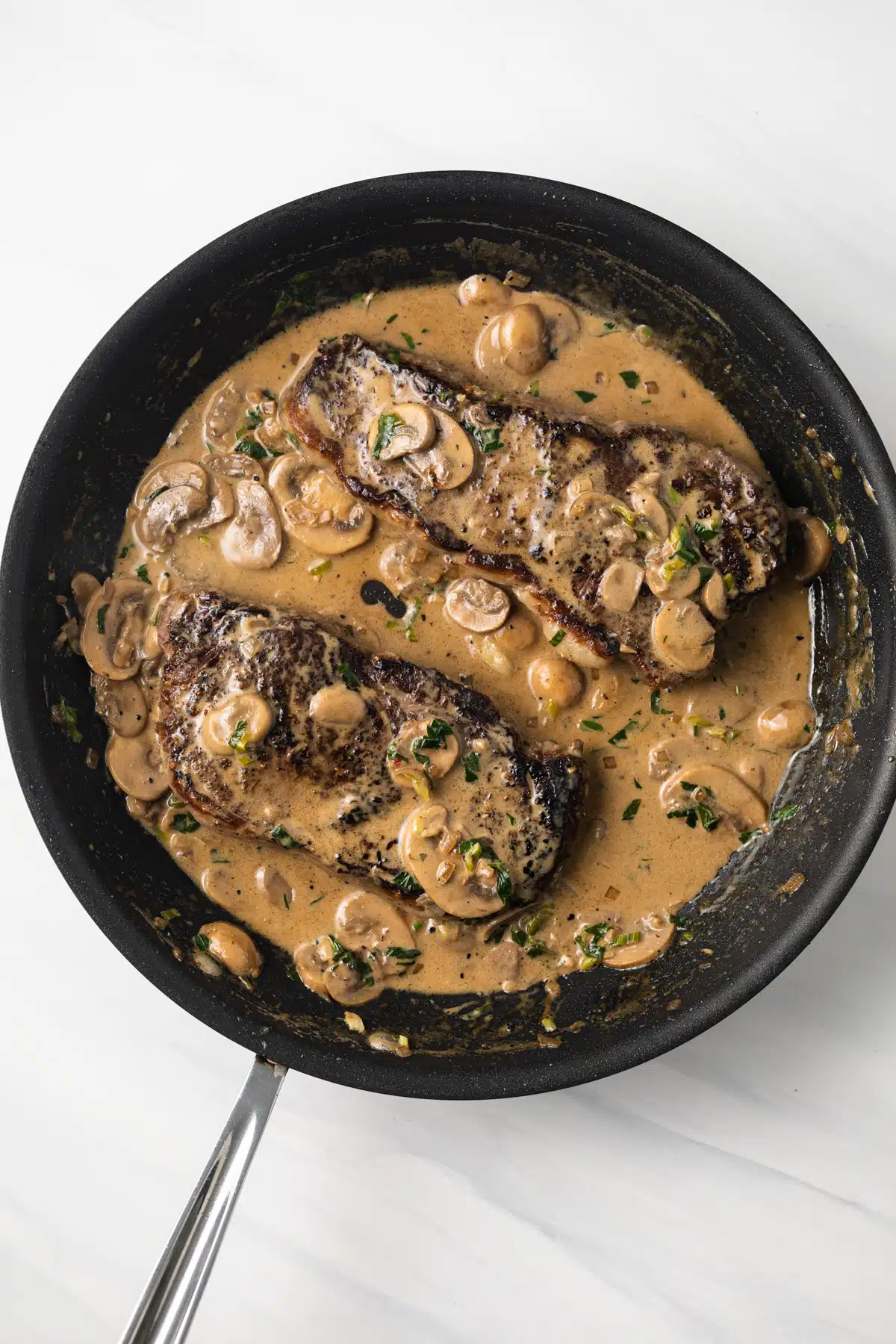 Ingredients
There is a slightly longer list of ingredients in this creamy mushroom sauce than in some of my other sauces, but the depth of flavor is worth it.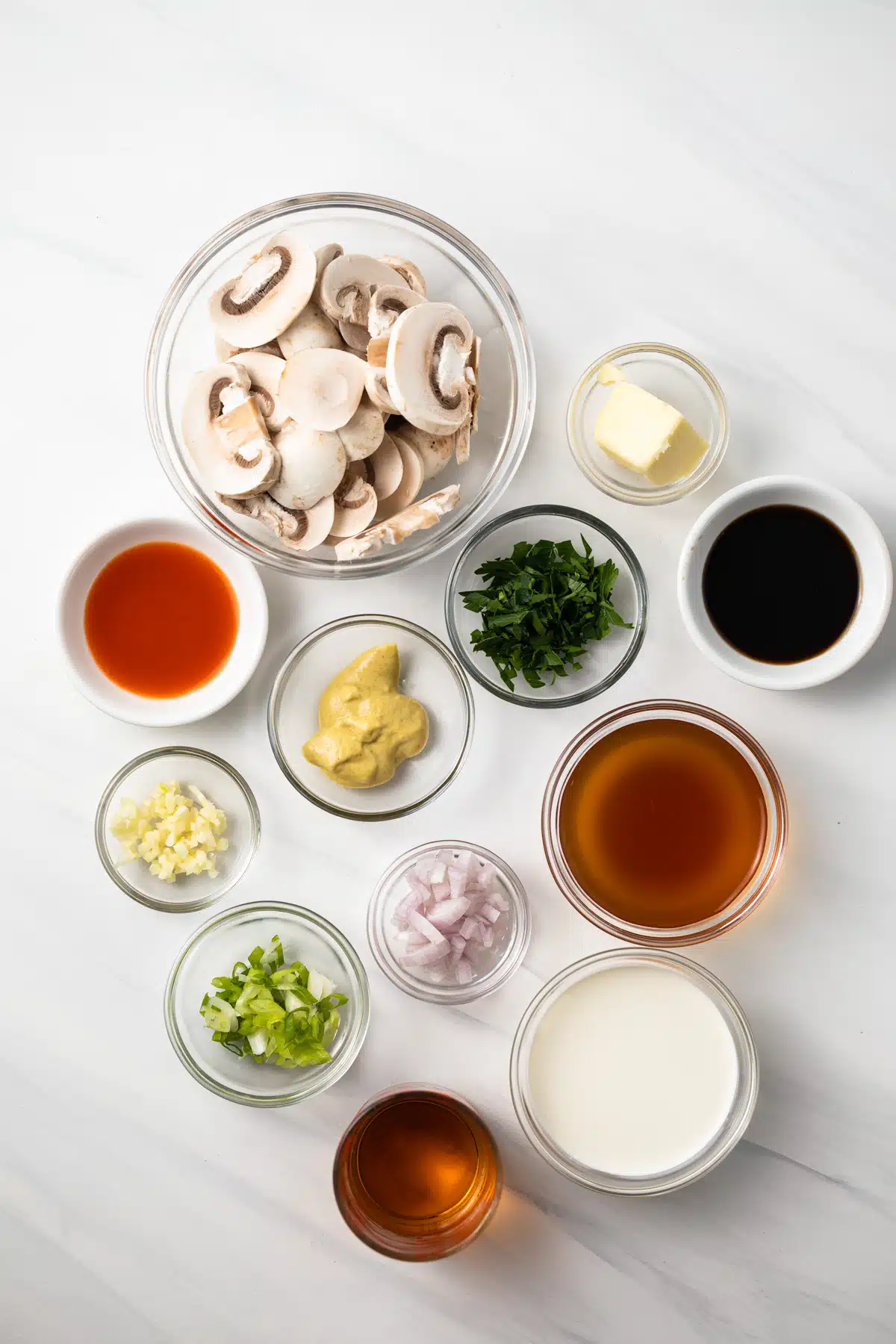 Butter – For rich creaminess.
Shallot – Distinctive flavor, milder than onions.
Garlic – A little zip.
Sliced mushrooms – Button mushrooms or other mushrooms of your choice.
Salt and pepper – To taste.
Cognac – For a rich and sophisticated kick.
Dijon mustard – Grey Poupon, but of course.
Heavy cream – This is a cream based sauce, don't skimp here.
Beef stock – Adds richness to the sauce.
Worcestershire sauce – Depth of flavor.
Scallions – Finely chopped. Add flavor.
Flat-leaf parsley – For garnish.
Hot sauce – To taste.
---
How to Make Diane Sauce
This steak diane recipe feels like it has a number of ingredients but it is easy to make and comes together quickly.
Sear the steaks. In a large fry pan, cook the steaks you plan to pair with the sauce until lightly browned and cooked to your liking. Transfer steaks to a plate and wrap in foil.
Cook the aromatics. Add the butter to the pan and melt over medium-high heat. Add the shallot and garlic and cook about 30 seconds.
Saute the mushrooms. Add the mushrooms and saute until they are starting to soften.
Add the liquids. Add the cognac and cook until completely evaporated. Then stir in the mustard and cream and cook for a minute before you add the Worcestershire sauce, beef stock, scallions, and parsley. Add a splash of hot sauce to taste and season with salt and pepper.
Finish the steak. Return the steak and any juices to the pan. Turn to coat with sauce. Simmer until heated through, about 1 minute.
Substitutions
Shallots – If you don't have access to a shallot you can use finely chopped white onion, but find a shallot – it's better that way.
Cognac – Brandy can be substituted for cognac, or white wine if you must. If you avoid alcohol all together it's ok to
---
Variations
The traditional way to serve this sauce is without mushrooms, so if mushrooms aren't your bag, you can skip them. I personally love the flavor they add so I make this sauce with them rather than without.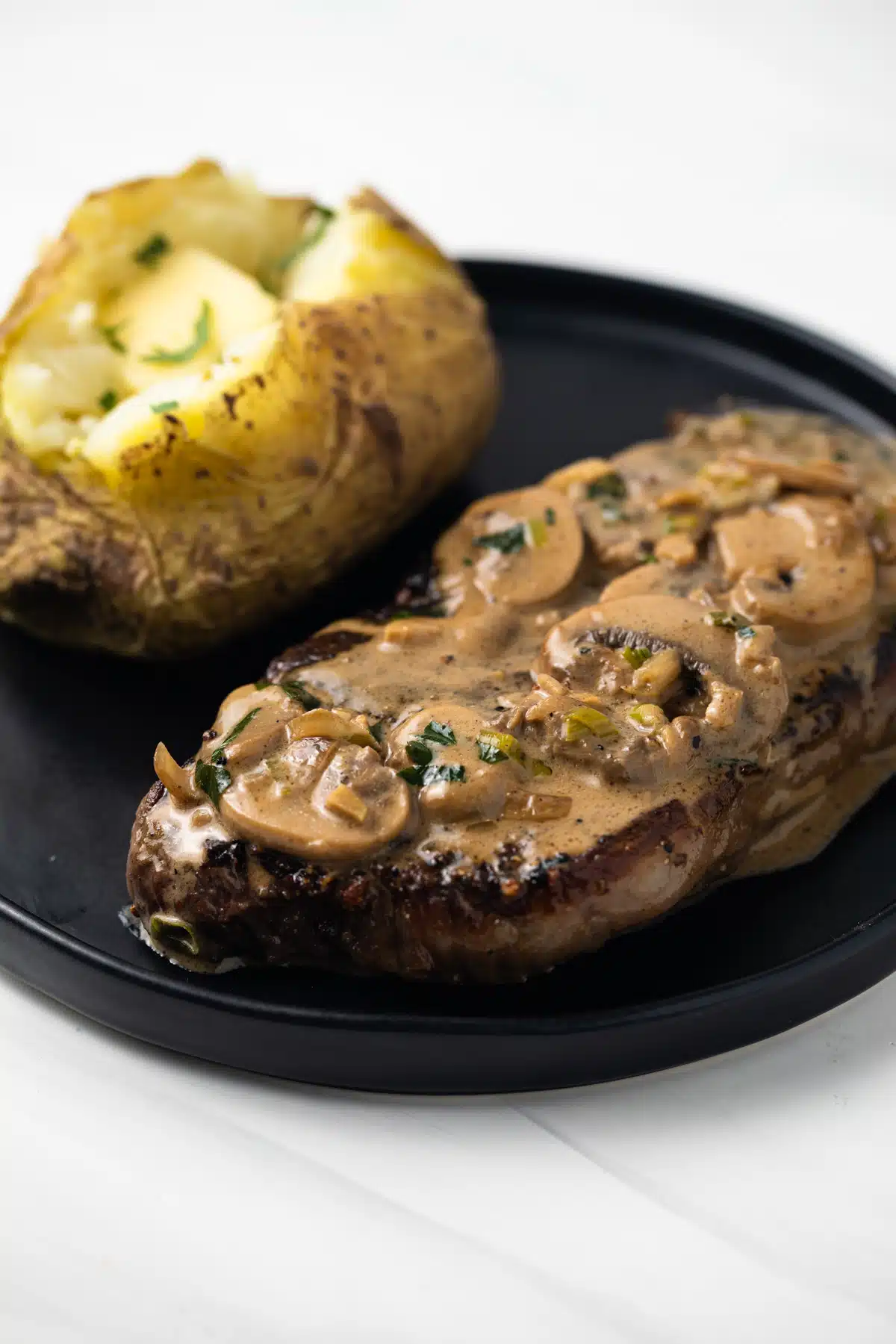 Storage
This steak diane sauce is much better when made and served fresh, but you can keep it in the fridge for up to three days in an airtight container if you must make the sauce ahead of time.
Gravies add so much depth and flavor to an entree. Here are some of my favorites.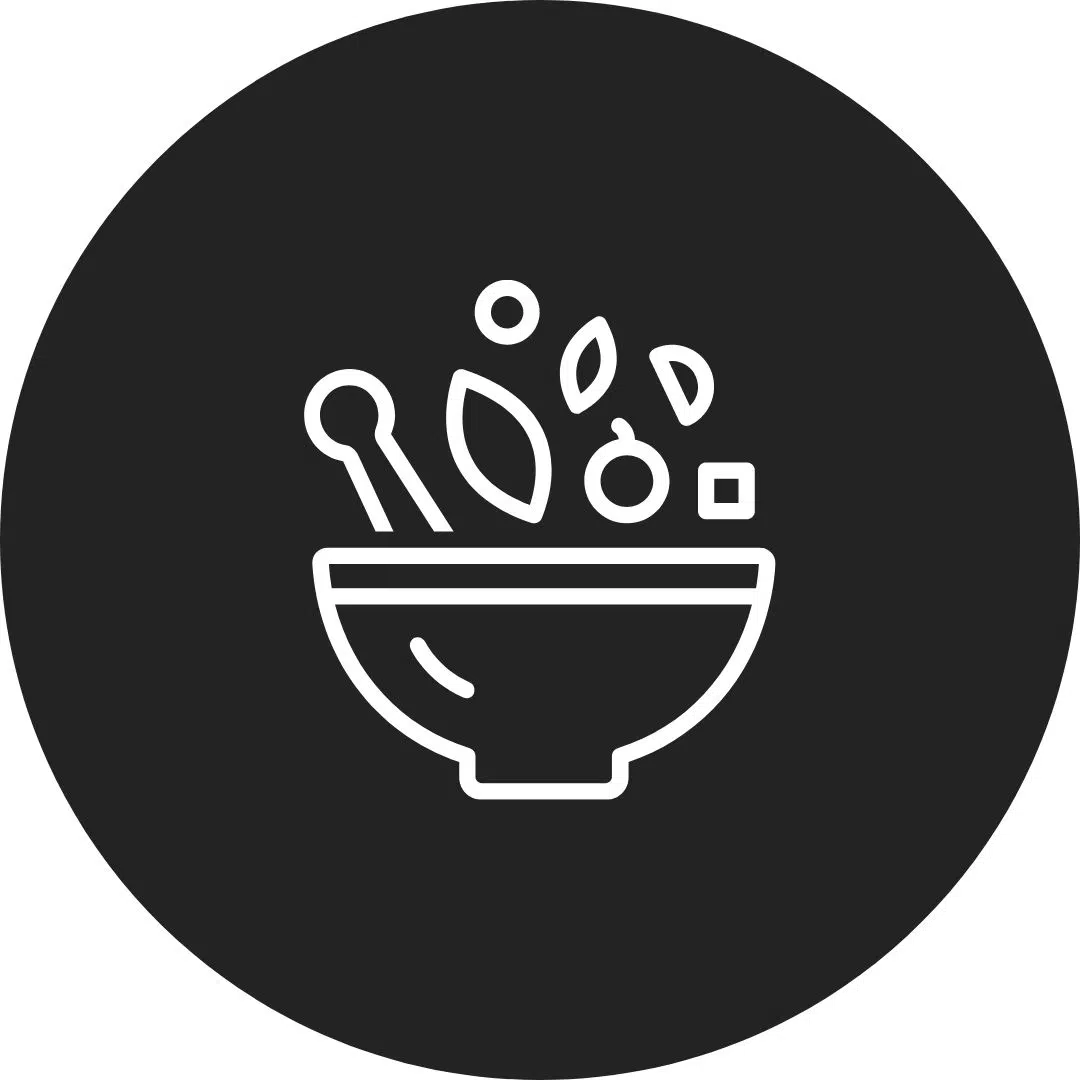 Printable Recipe