This post may contain affiliate links. Read the full disclosure here.
Ground turkey meat sauce is a lean meat sauce made with ground turkey meat instead of ground beef. Serve this healthy and hearty meat sauce with your favorite pasta!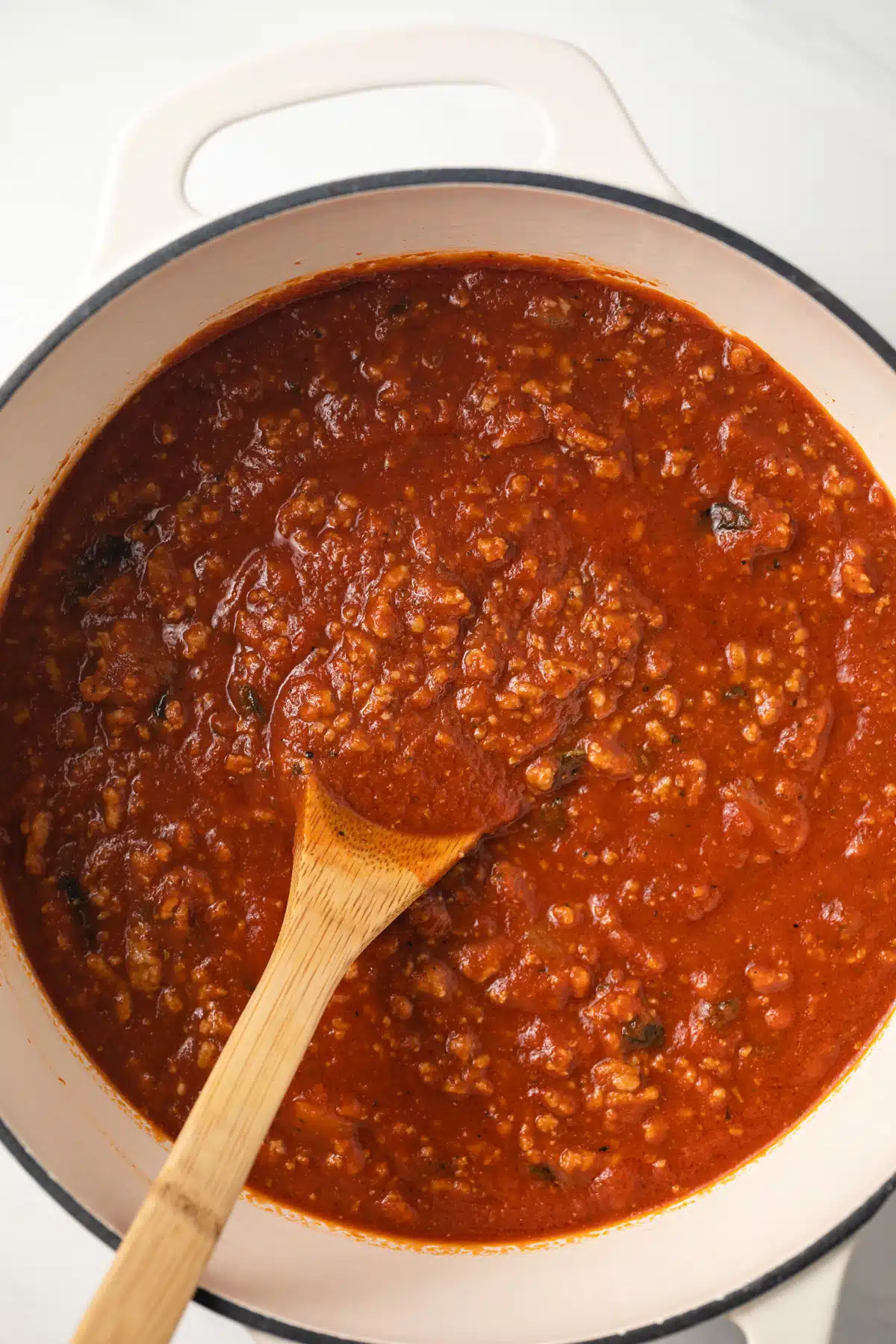 Ground turkey spaghetti sauce has all the flavor of a traditional meat sauce but is a great alternative for those who want to limit their red meat consumption.
I like to serve this over spaghetti pasta, but substitute your favorite pasta shape. If I'm really feeling like I want to lighten things up, I serve it over oven roasted spaghetti squash. It may not sound exciting, but trust me, it is delicious.
Make a meal of this with a mixed green salad with a drizzle of my balsamic dressing or my homemade ranch dressing. If you want to maintain a little decadence, add a loaf of garlic bread.
The trick this sauce is sauteeing the veggies until they are nice and tender, and then browning the turkey until it is no longer pink and fully cooked through. Add the tomato sauce and seasonings and let simmer for a bit.
You can serve this immediately, but the flavors truly come together when it sits overnight, so make Monday even easier by making this on Sunday afternoon and serving it for dinner Monday night!
---
Ingredients
This delicious hearty meat sauce is made with easy to find ingredients.
Olive oil: Use the best quality olive oil you can find.
White onion: I prefer sweet vidalia onions for their mild slightly sweet flavor.
Tomato: Fresh chopped tomato.
Fresh basil leaves: Fresh basil leaves add great flavor.
Fresh garlic cloves: A little garlicky kick.
Ground turkey: Ground turkey can be found in the meat section of your grocery store.
Italian seasoning: Seasoning blend for the sauce.
Oregano: A little extra flavor.
Tomato sauce: Use plain canned tomato sauce that will serve as a backdrop for all the flavor you add to it.
Tomato paste: Thick, rice tomato flavor.
Salt and ground black pepper to taste
---
How to Make Ground Turkey Meat Sauce
This is a standard meat sauce recipe with the additional of ground turkey to make it heartier and healthier. To prepare, heat the oil in a large pot over medium-high heat.
Saute the veggies. Add the onion, tomato, basil, and garlic and saute until the onion begins to soften, about 5 minutes.
Brown the turkey. Add the ground turkey, Italian seasoning, and oregano. Cook and stir until the turkey is completely browned and no longer pink.
Add the tomato sauce. Stir in the tomato sauce then bring to a boil, reduce heat to low, and simmer for 20-25 minutes, until the sauce has thickened slightly.
Finish the sauce. Stir in the tomato paste. Season with salt and pepper to taste. Cook for an additional minute or two.
Substitutions
Tomato – If tomatoes are very much out of season or you don't have one, you can used diced canned tomatoes.
Turkey – Ground chicken can also be used here.
---
Variations
The sauce can be made spicy by adding crushed red pepper. For a slightly richer flavor, add a bit of red wine when simmering the sauce.
Storage
Serve this turkey spaghetti sauce over your favorite pasta and enjoy! Or store in an air-tight container for up to one week. You can also freeze this sauce in a freezer-safe container for up to 3 months. Thaw in the refrigerator overnight.
---
Tips
This sauce tastes even better the day after – cook it ahead of time and let it sit in the fridge for the night.
Sauce, sauce and more sauce. Here are some of my favorites.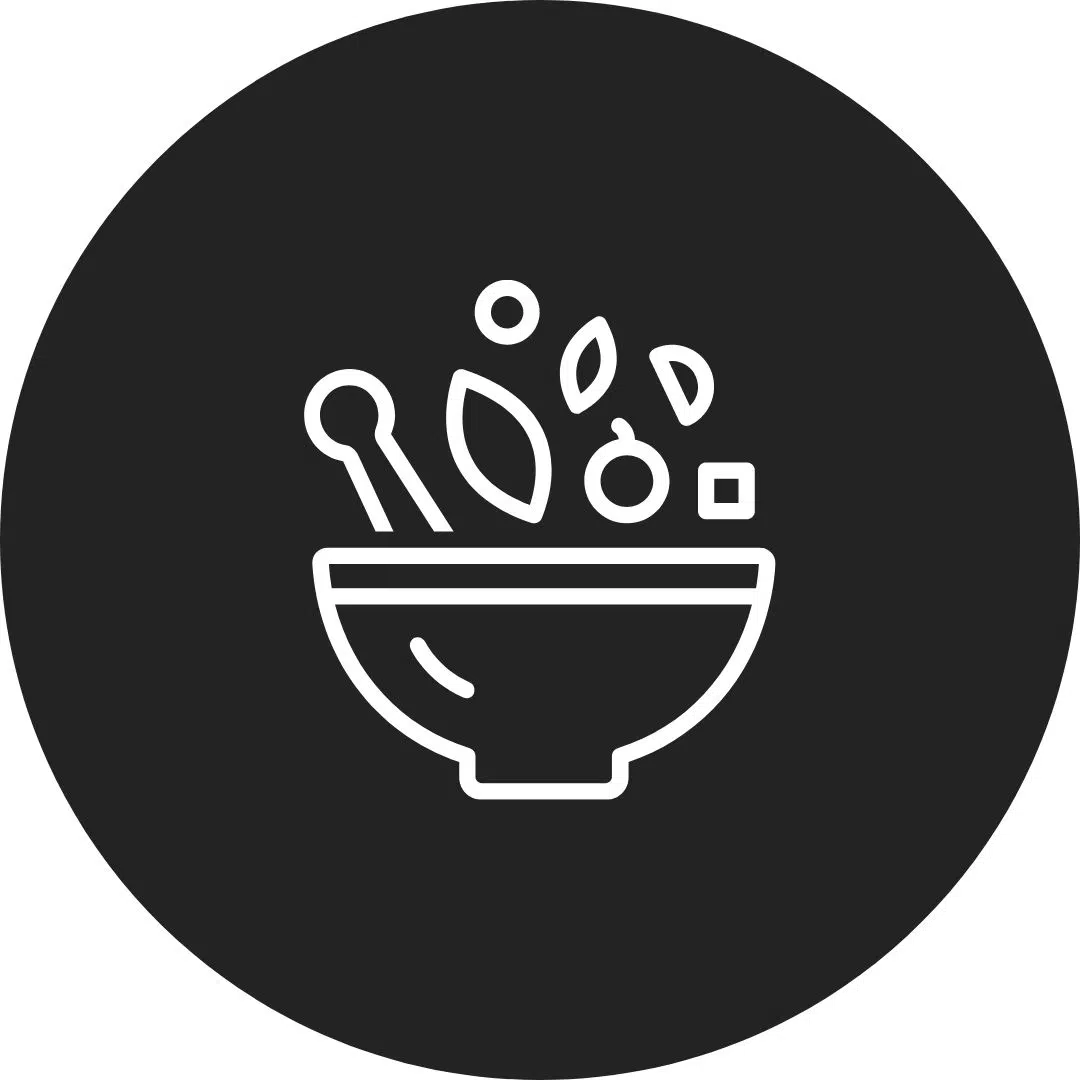 Printable Recipe