This post may contain affiliate links. Read the full disclosure here.
This easy chicken marsala sauce comes together in just 30 minutes and can be enjoyed right away with pan-fried chicken or stored for later use.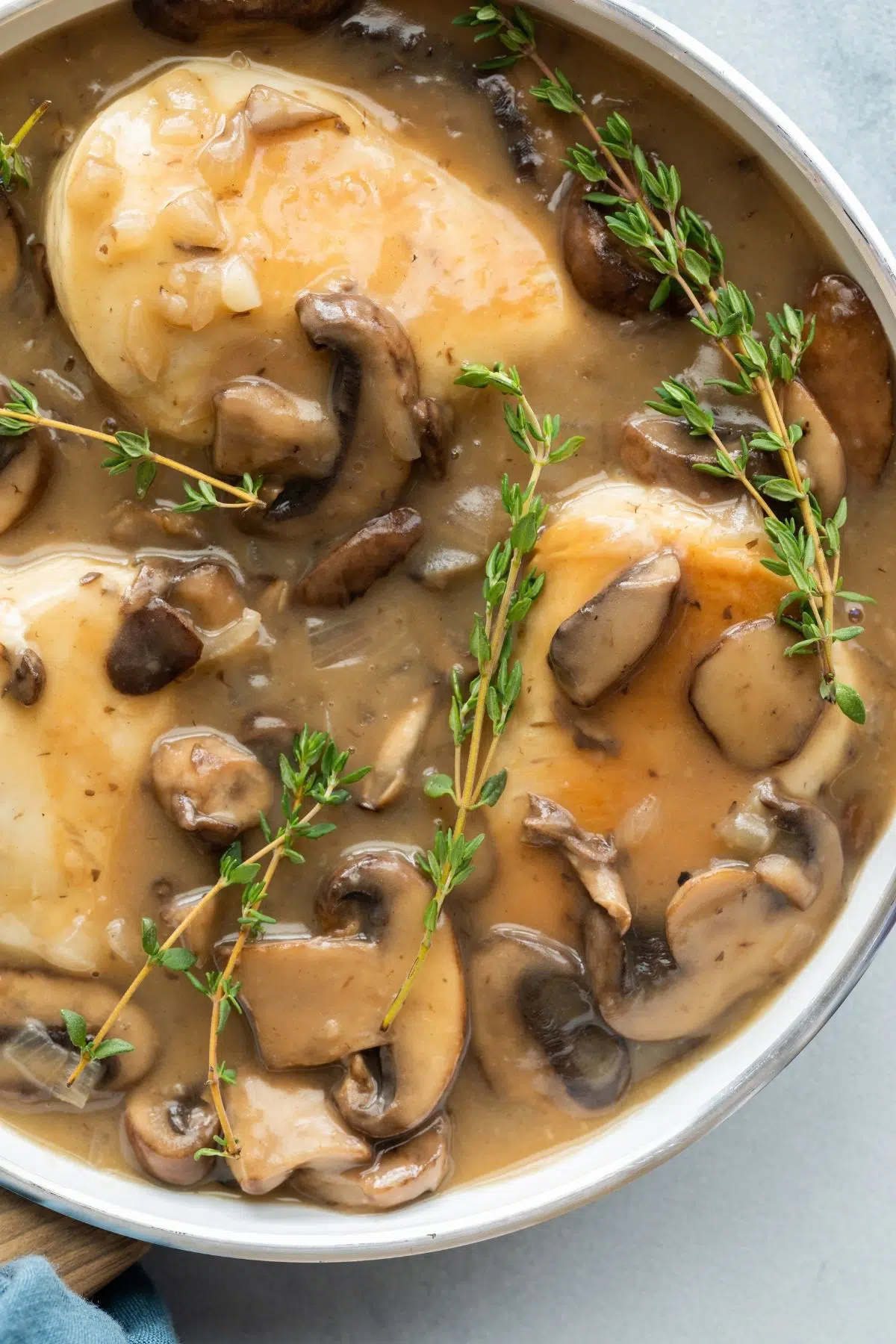 Chicken Marsala is one of those dishes you get in a fancy restaurant and think there's no way you can replicate it at home. Oh, but you can!
We're going to show you how to make the sauce for this fantastic Italian/American dish so you can whip up dinner on the fly. While this sauce is best enjoyed fresh, you can still prepare it ahead of time with our tested tips. We'll go over that down below.
Our chicken marsala sauce features fresh baby portabella mushrooms, shallot, Marsala wine, and chicken stock. It's cooked in a skillet with a little flour to thicken it and it's truly one of the best sauces we've made.
If you are vegetarian, you can make this sauce with vegetable stock and serve it over linguine or roasted potatoes. Let's go over how to make it.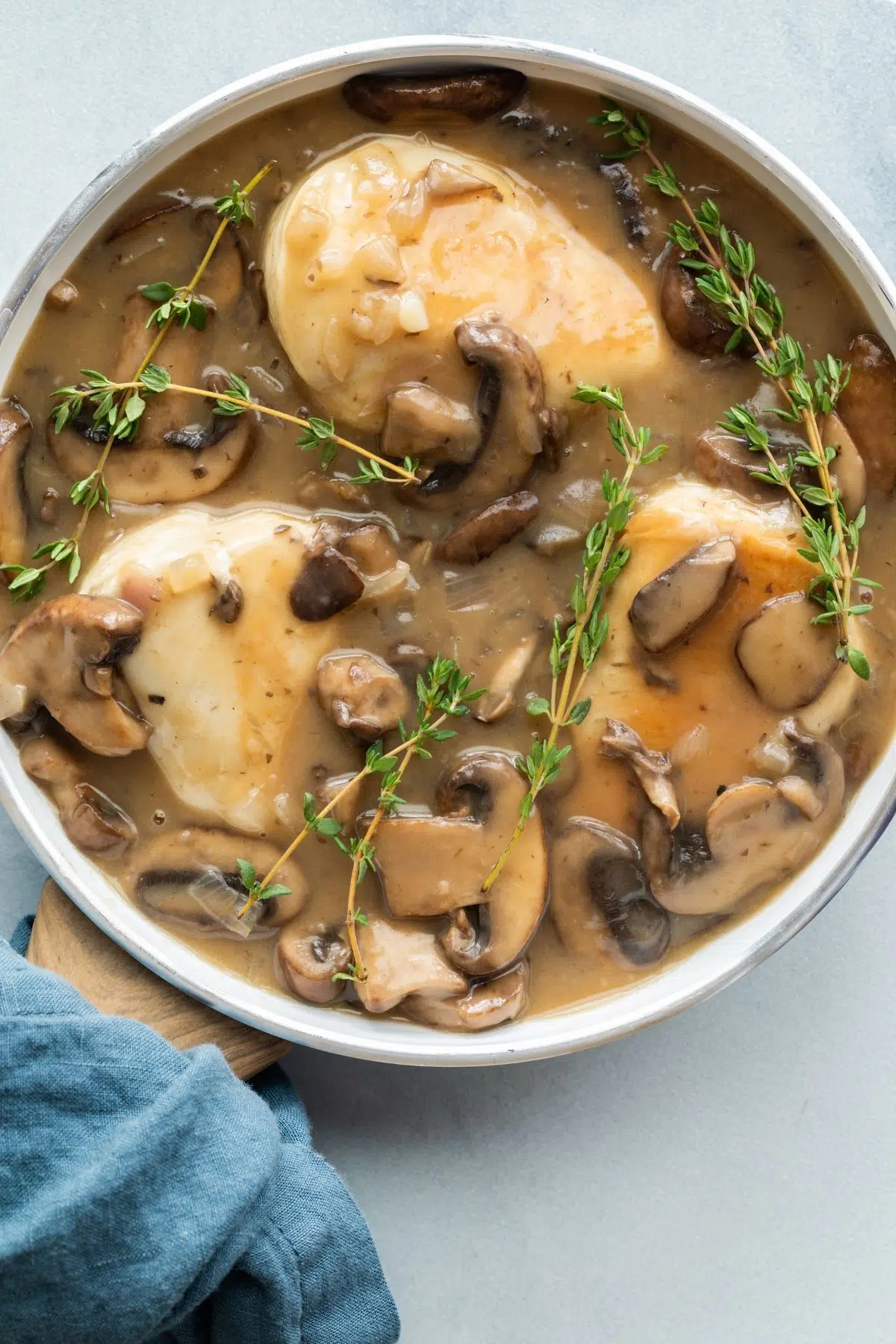 Chicken Marsala Sauce Ingredients:
The sauce is made with just a handful of ingredients and can be adapted in a variety of ways.
Butter: Because any great sauce starts with butter.
Mushrooms: We like to use baby portabella. You can buy them already sliced or whole.

Crimini, button, or shiitake mushrooms are also a popular choice.

You can also use a combination of any of the mushrooms listed above.

Shallot: They are milder than onion and won't overpower the sauce.
Flour and salt: You need just a touch of flour to thicken the sauce slightly and the salt will enhance the flavors.
Marsala wine: Look for a dry Marsala. It will add a nutty flavor which pairs wonderfully with mushrooms.

Gold or Amber Marsala will work best.

Avoid sweet Marsalas! They are not meant for savory dishes.

Chicken stock: Regular or low sodium will work for this recipe.
You can make this simple chicken marsala sauce in: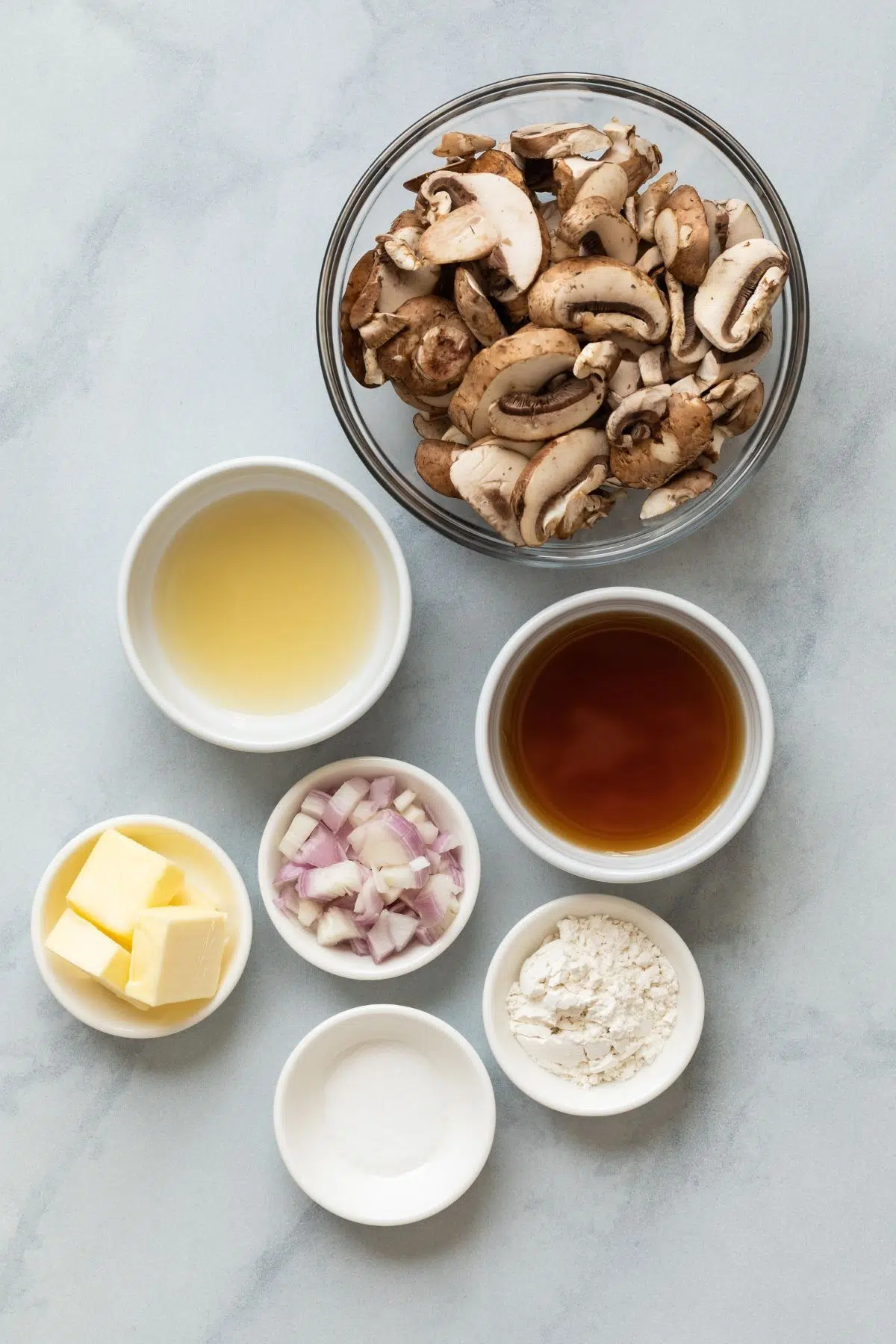 How to make chicken marsala sauce:
It's insanely easy to make homemade chicken marsala sauce.
Cook the mushrooms & shallot. Cook them with butter over medium heat until the mushrooms cook down and the liquid has evaporated. Stir in the flour and cook a few minutes longer.
Simmer with wine and chicken stock. Stir in the wine and stock then cook until it has reduced by half. Remove from heat and stir in more butter.
Serve immediately with chicken or cool to room temperature and store for later use.
How to serve chicken marsala sauce:
Marsala sauce can be served in any of these ways:
With chicken: The most common use!
With noodles: Pour it over linguine noodles.
With vegetables: Drizzle it over mashed potatoes, roasted potatoes, zucchini noodles, or cauliflower rice.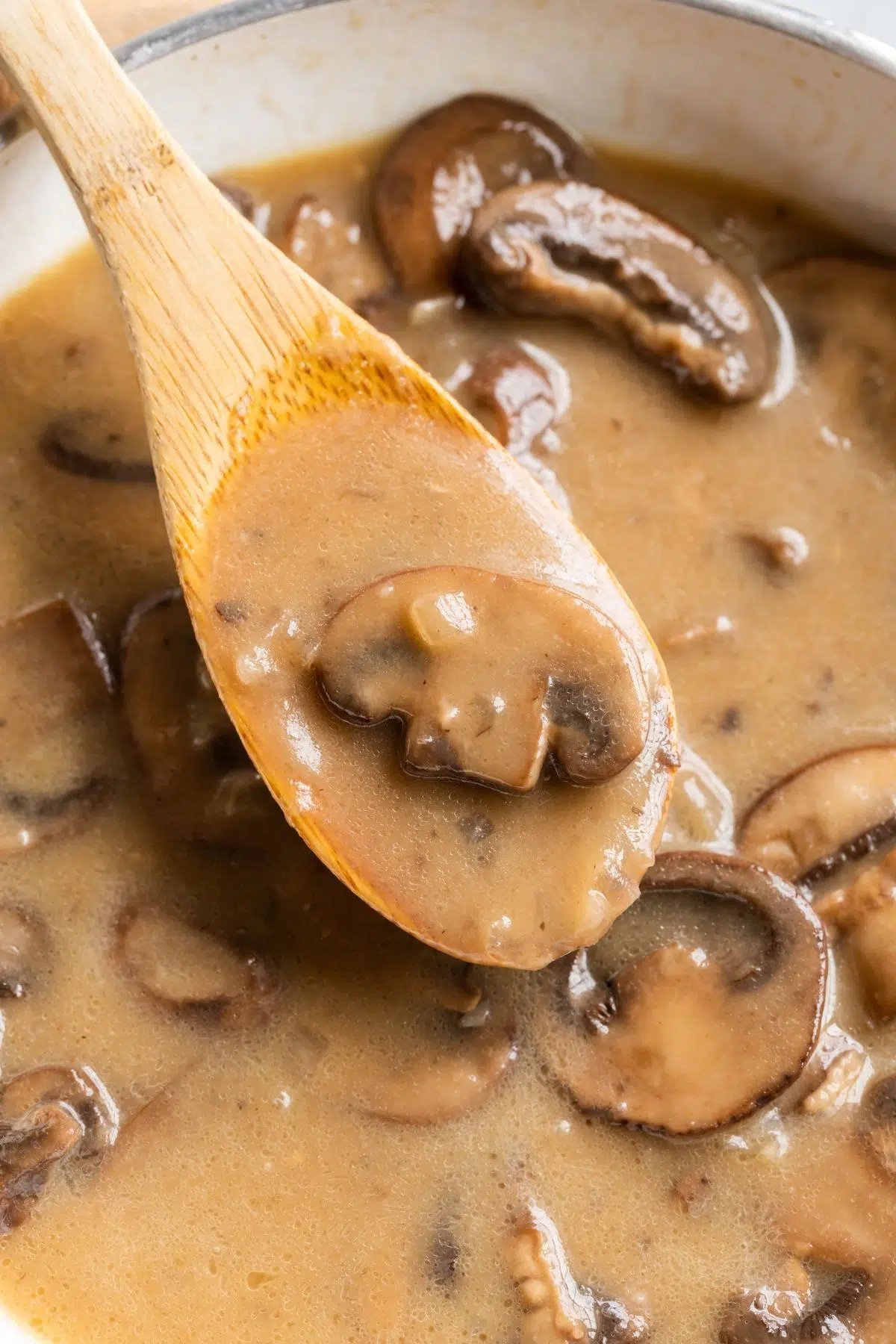 Easy chicken marsala sauce recipe variations:
If you would like to change things up, feel free to try these:
Add cream: Adding cream will mellow out the flavor of the wine.
Add chopped parsley: Sprinkle a bit over the finished sauce.
Add garlic: Cook a teaspoon of minced garlic with the mushrooms and shallot.
Add fresh thyme: Stir in a teaspoon of fresh thyme leaves while the mushrooms are cooking.
Ground mustard: Stir in a teaspoon of ground mustard.
Add bacon: Cook and chop bacon then add it to the sauce while the mushrooms are cooking.
How to store chicken marsala sauce:
Refrigerate – Cool to room temperature then store in an airtight container for up to 4 days. Reheat over medium-low heat and thin the sauce with a splash of wine and chicken stock if needed.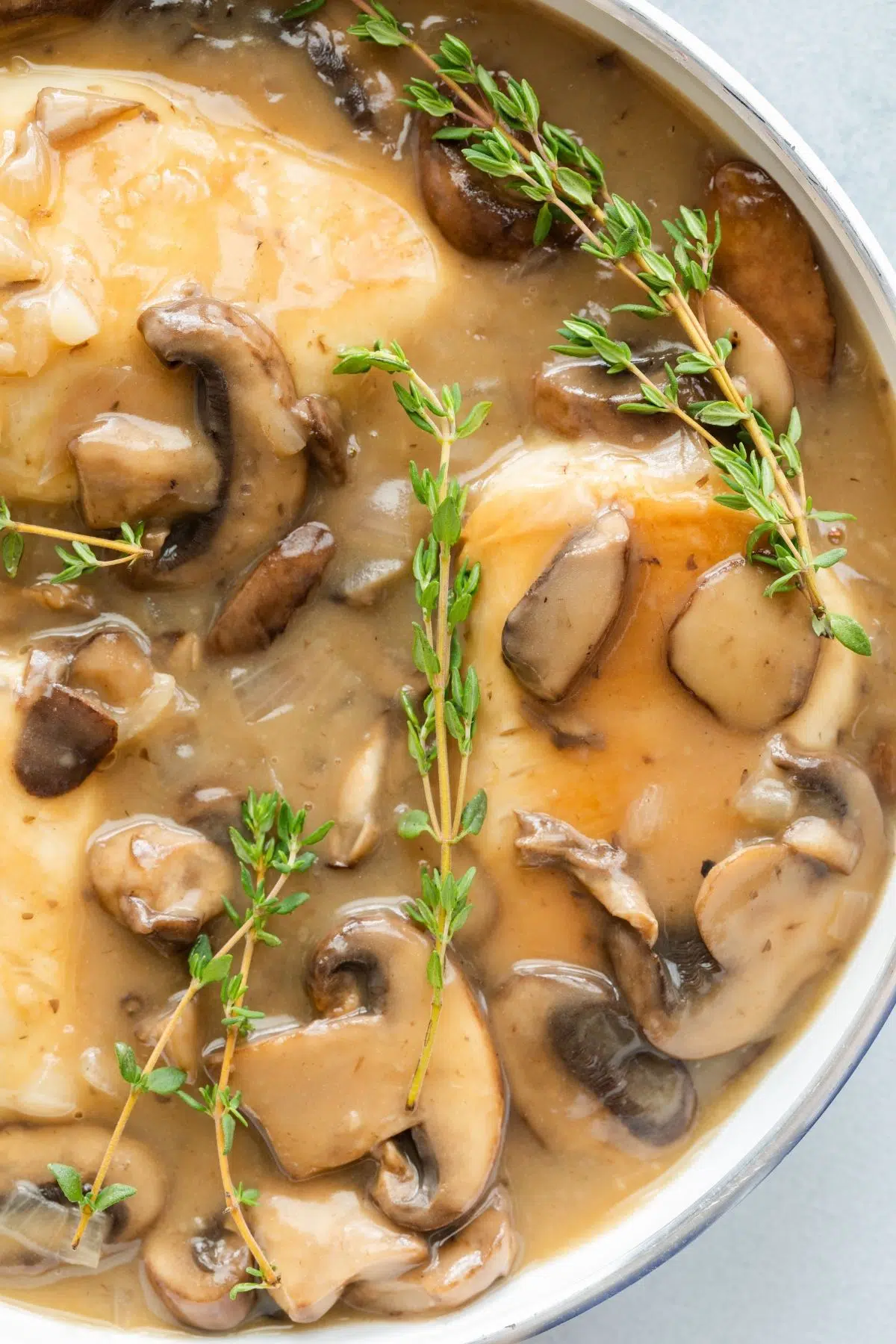 If you enjoyed this sauce and want more ideas for dinner, these are great: