This post may contain affiliate links. Read the full disclosure here.
Dijon Mustard Sauce is an easy, sauce with a tangy flavor that uses just six simple ingredients. It's the perfect sauce to serve with chicken, fish, pork, or vegetables.
This creamy dijon mustard sauce is filled with flavor and sophistication.
I'm crazy for this sauce, and I can't wait for you to try it because I know you will be too! This is a similar sauce to by beurre blanc sauce – both of french origin, both use shallots and both are totally delicious with seafood or chicken.
I'm not sure I would use the beurre blanc sauce with pork chops, but I most definitely would serve them with this mustard sauce.
Of course, if you are looking for something totally different to go with pork, you could try my Jack Daniels sauce or my Chinese garlic sauce.
Dijon mustard is one of my favorite buy in the store condiments. I love its pungency and tanginess and the distinctive burst of flavor it adds to sauces and dressings.
Because it is so bright and pungent, it works really well in cream-based sauces. Cooking it softens a bit of its edge, resulting in a sophisticated and mellowed flavor.
My favorite dish to serve this with is salmon or grilled shrimp, but it also works well with pan seared chicken breasts, pork chops or even chicken cutlets. It adds a subtle and elegant flavor without overwhelming the dish.
I promise, once you make this sauce, you'll turn to it time and time again.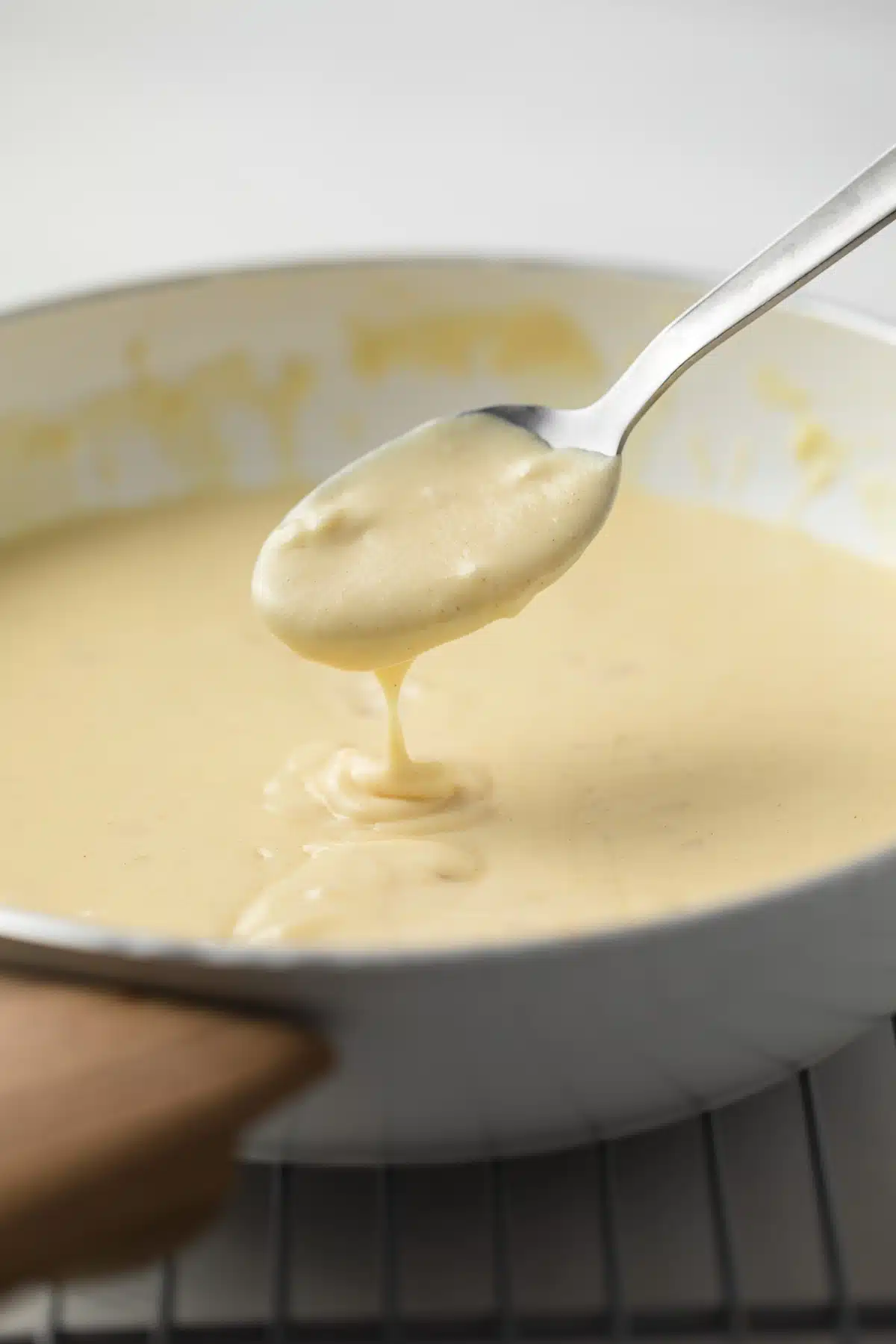 Ingredients
As I find with most french- based recipes, the list of ingredients is short and simple, but the flavor is anything but.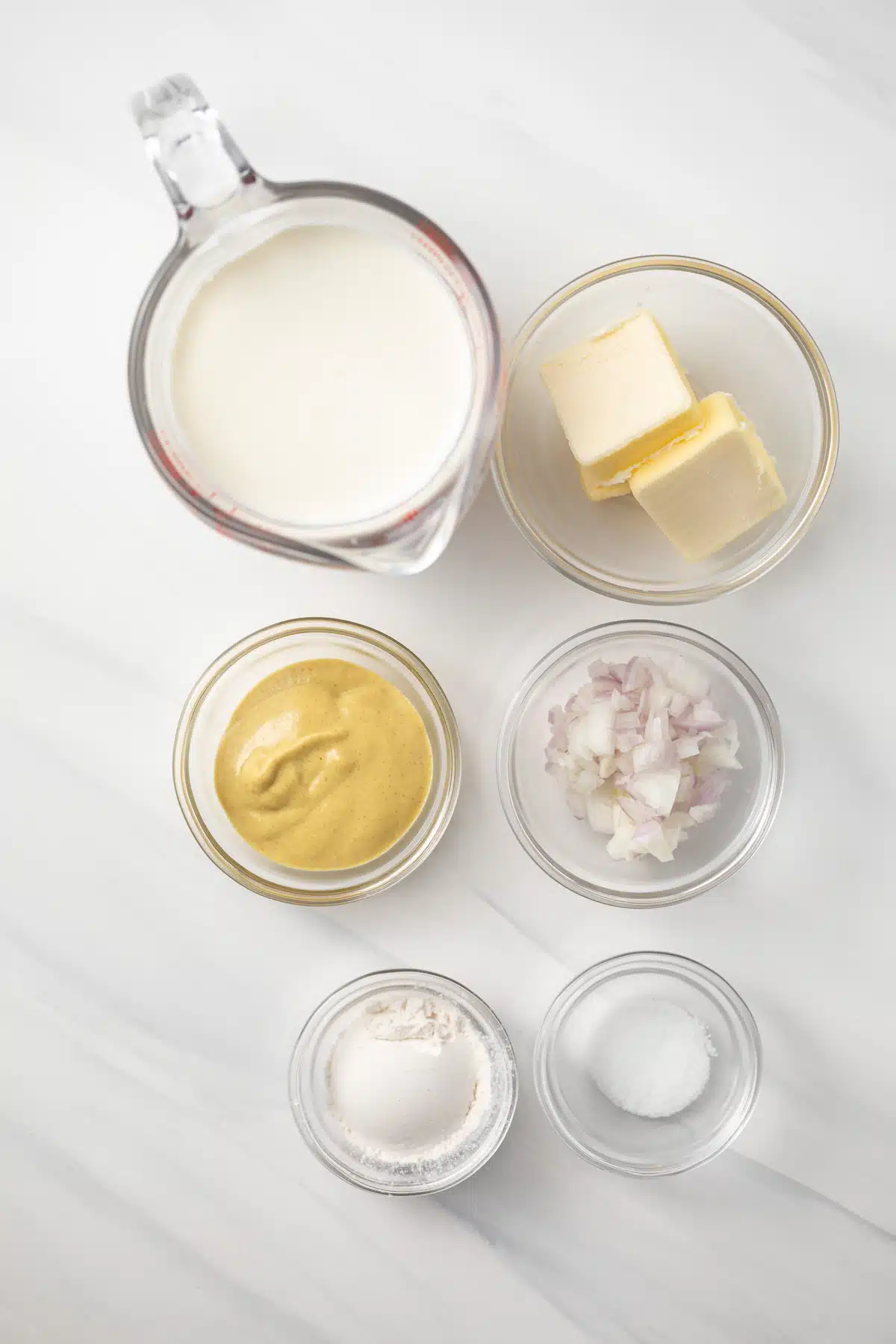 Half & Half – The creamy base of the sauce.
Dijon mustard – I prefer creamy dijon with this sauce.
All-purpose flour – Serves as a little thickener.
Salt – Just a dash, for flavor.
Minced shallot – Shallots add a distinct and sophisticated flavor to this sauce.
Butter – Unsalted butter gives this sauce a rich and creamy finish.
---
How to Make Dijon Mustard Sauce
This quick and easy sauce comes together in minutes. Just be sure not to boil the cream!
Cook sauce. Combine half & half, dijon mustard, flour and salt in a small saucepan. Cook over medium heat, stirring constantly, 3-5 minutes just until mixture thickens – don't boil it.
Finish the sauce. Stir in shallot; remove from heat. Add butter, stirring constantly with whisk, until butter is melted and smooth.
Enjoy. Serve sauce immediately over chicken breasts, pork, fish, or vegetables.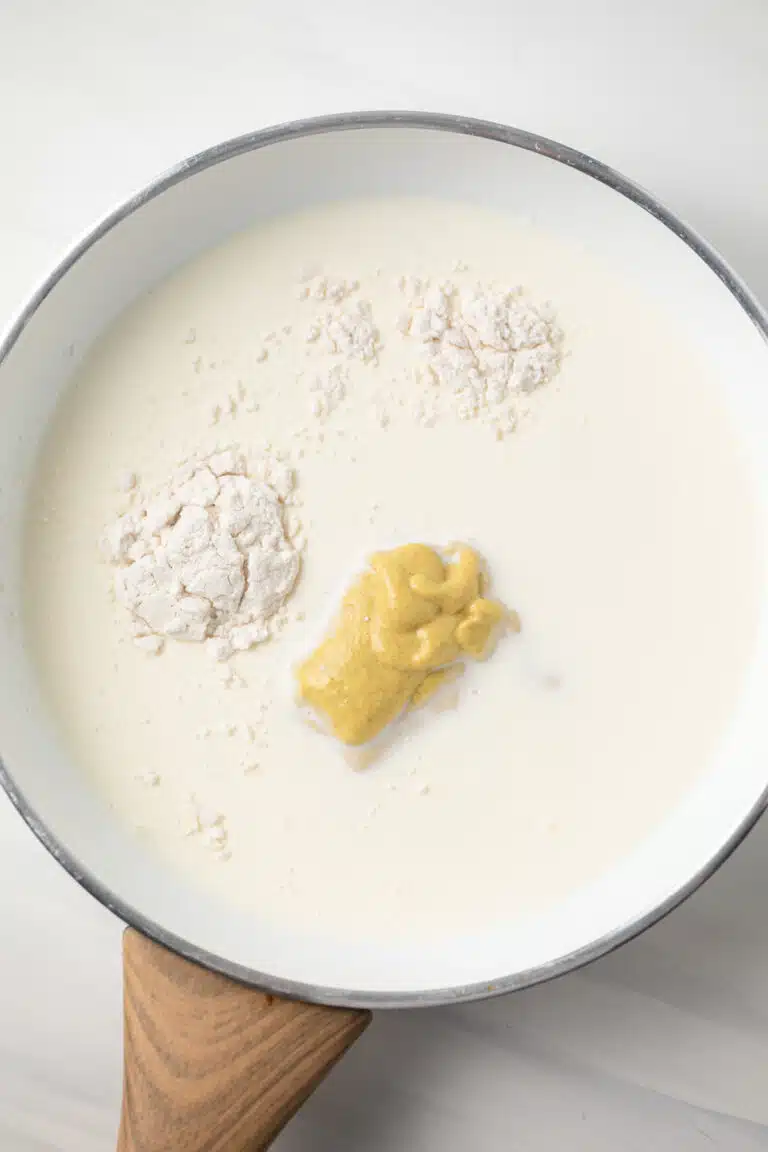 Substitutions
Shallots – I love the flavor shallots give to this sauce, but in a pinch you could use very finely chopped white onion instead.
Mustard – I use creamy dijon mustard, but if you wanted to use different types of mustard, like dijon with mustard seeds (to make it a little more savory) or a honey dijon (for a little sweetness), you could.
Half and half – This sauce will be extra decadent if you use heavy cream in place of the half and half. I don't think it needs it, but don't let me stop you!
---
Variations
This creamy mustard sauce is really delicious as is and doesn't need variations. However, you can add a little to it if you are so inclined.
Herby – Add a tablespoon or so of fresh herbs to boost the flavor of the sauce – I like tarragon and mustard but you could add thyme, rosemary or sage as well.
With meats – If you are serving this with pan fried or roasted chicken or pork chops, try adding some of the bits and drippings from the bottom of the pan to the sauce. I promise, it will take the sauce to a new level and compliment the meat deliciously.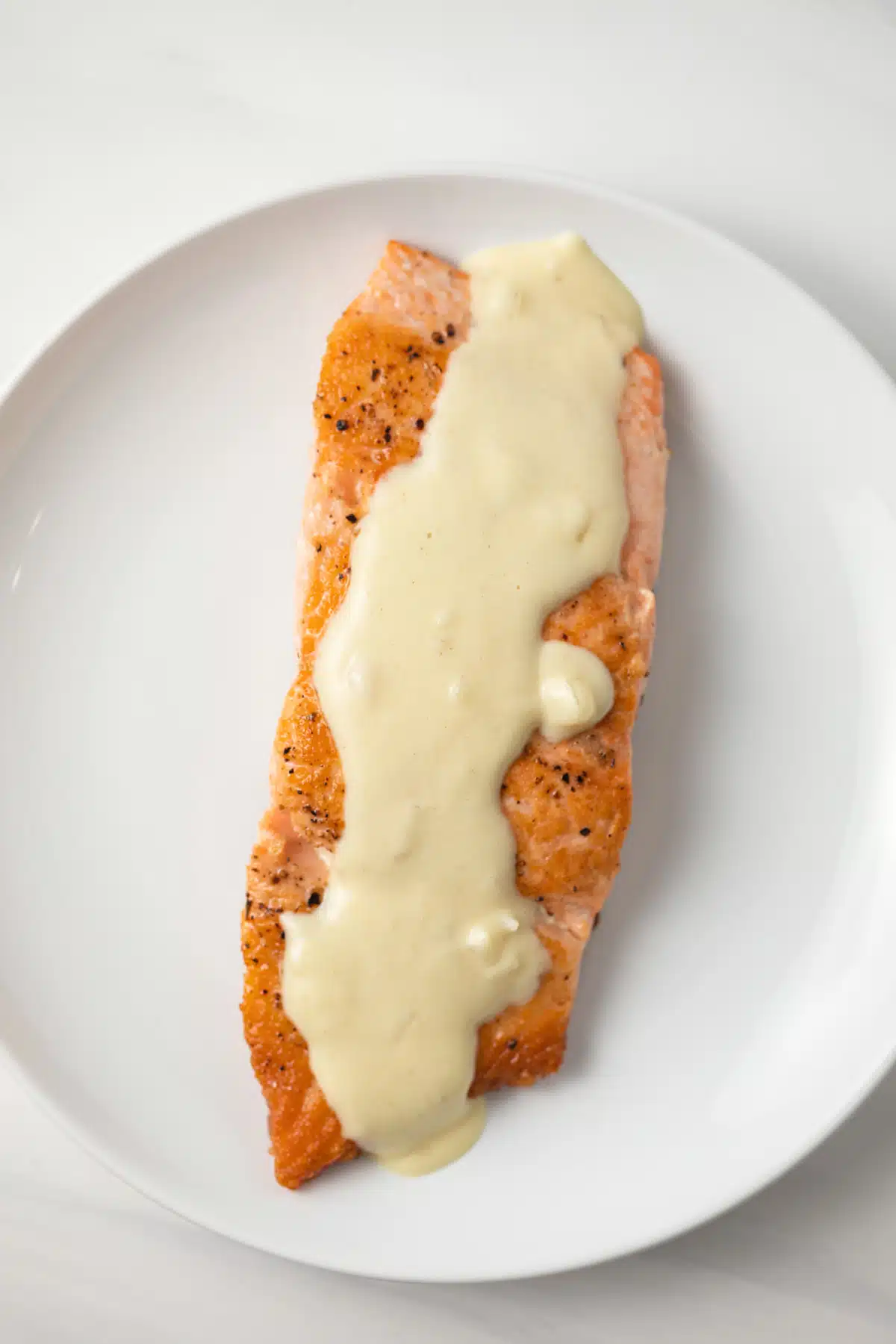 Storage
As with most cream sauces, this sauce really isn't a make-ahead kind of sauce. I serve it right away and don't recommend storing it.
---
Tips
Chop the shallots finely so they add flavor rather than texture to the sauce.
Whisk frequently so the cream doesn't bubble.
While this sauce can be served with chicken or pork, I really do love it with salmon. Other sauces that go well with seafood include: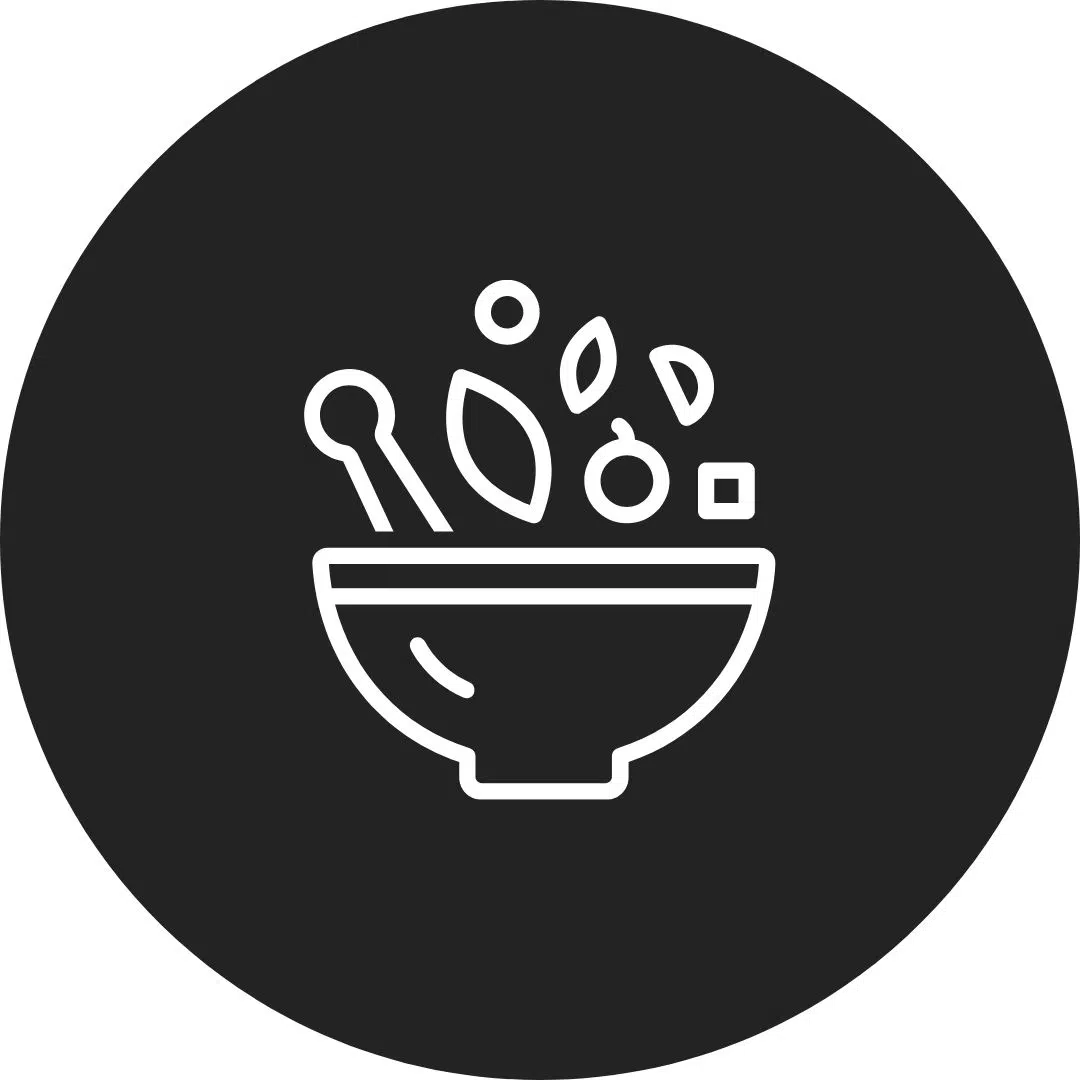 Printable Recipe