This post may contain affiliate links. Read the full disclosure here.
Today I have a gift for you – this French Fry Sauce recipe. Need I say more? French fries, I am convinced, were created to be a vehicle for sauce. Really, there is nothing better than a warm, perfectly fried, and salted hand-cut french fry dipped in this creamy, tangy sauce. Enjoy!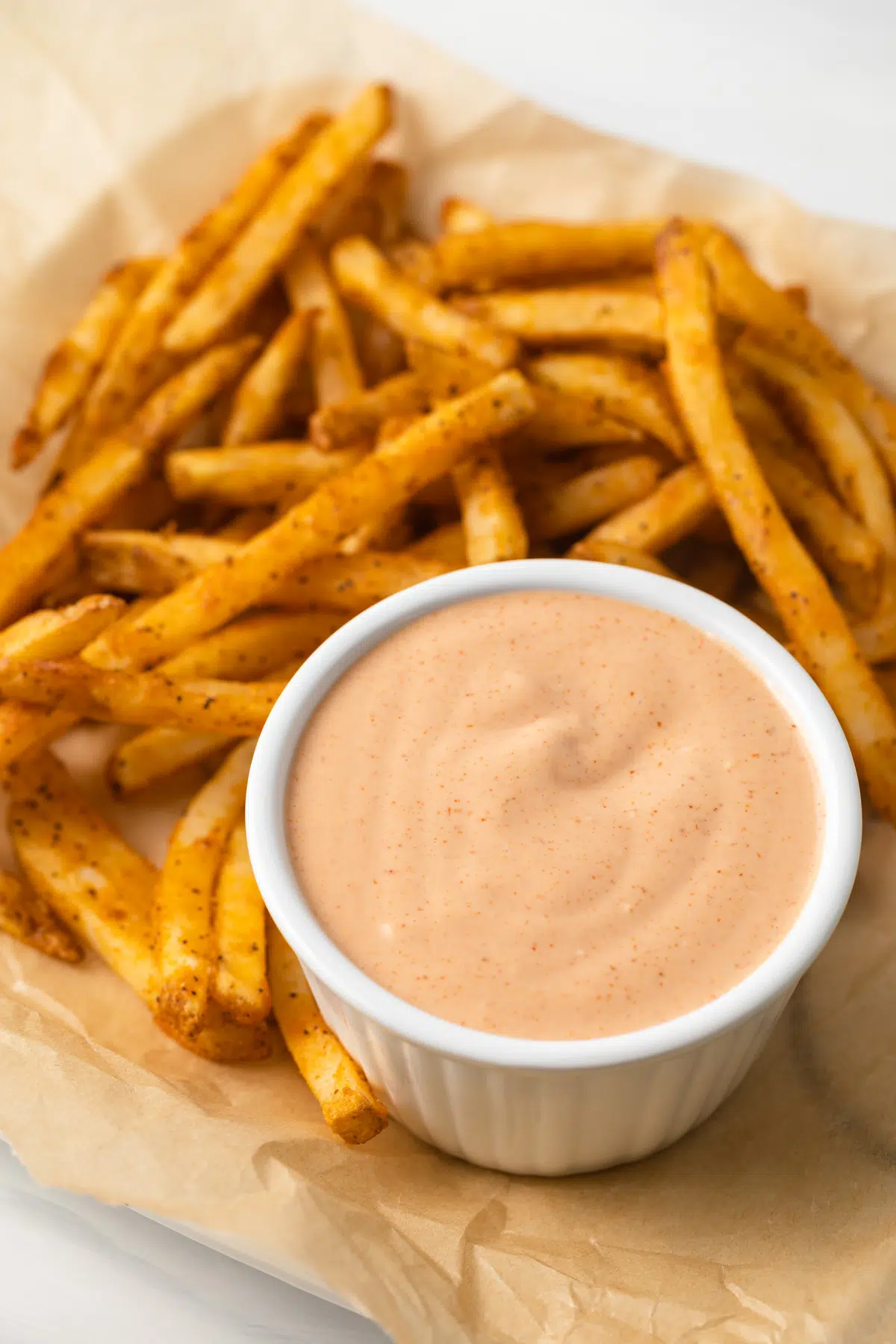 People can basically be divided into two groups – do they like thick or thin french fries. There are people who love thin and crispy, people who love chunky steak fries. There seem to be very few people like me, who love them all.
If I had to choose, I would probably go with a thin and crispy fry – like you get at a fast food restaurant. But honestly, I am hard pressed to think of a french fry I haven't liked. All that salty potato goodness, only made better by whatever sauce you dip them in.
I'll dip french fries in just about any sauce. Ranch dressing? Definitely. Roasted Garlic Aoili? For sure. Comeback sauce, Yum Yum sauce or sriracha mayo? I'd give them a try. But this french fry sauce recipe with the mayo and ketchup base really is the perfect sauce for fries. Creamy from the mayonnaise, zingy from the pickle juice… you can't go wrong.
Don't just stop at fries. Even though it is a french fry dipping sauce, there is so much more you can do with it. Onion rings in this sauce? Don't even get me started. You can use it as a dip for veggies (yes, veggies… though if you are reading this french fry sauce recipe I bet you won't dip a carrot in this), or as a sauce for your burger, chicken sandwich or even spread on a grilled cheese. It's a yummy sauce that you'll want to use all the time.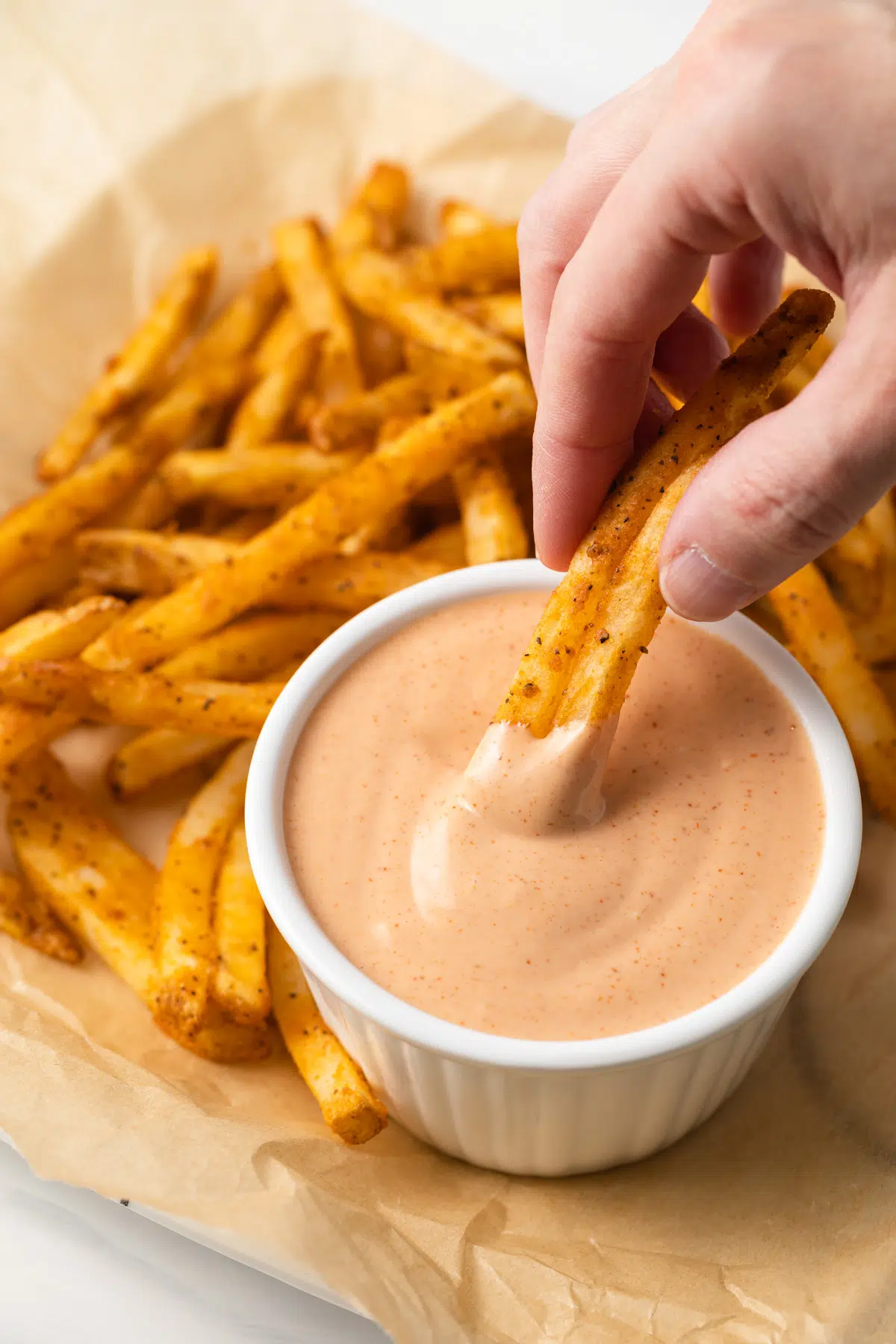 The base of this sauce, like so many others, is mayonnaise. It gets a zing of flavor from pickle juice and paprika.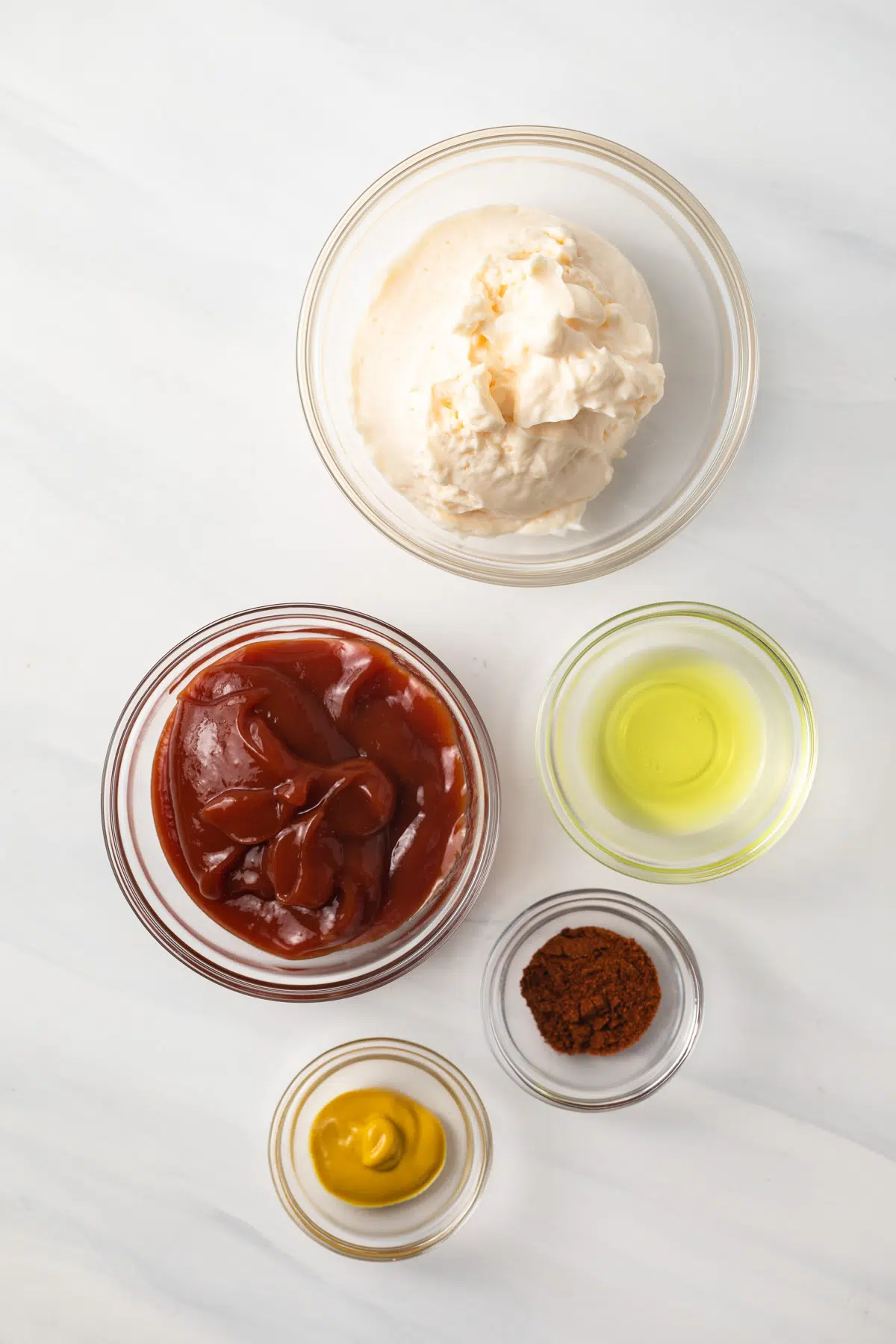 How to Make French Fry Sauce
Every time I write up one of these recipes for a quick and easy sauce I worry you all are going to be disappointed. I hope you are learning that cooking isn't hard! It's so much easier to have and make delicious sauces at home. There is no need to get store-bought! This is another measure and mix recipe, and it's so good.
In a small bowl, whisk together the mayonnaise, ketchup, pickle brine, mustard, and paprika until smooth. Season generously with salt and pepper.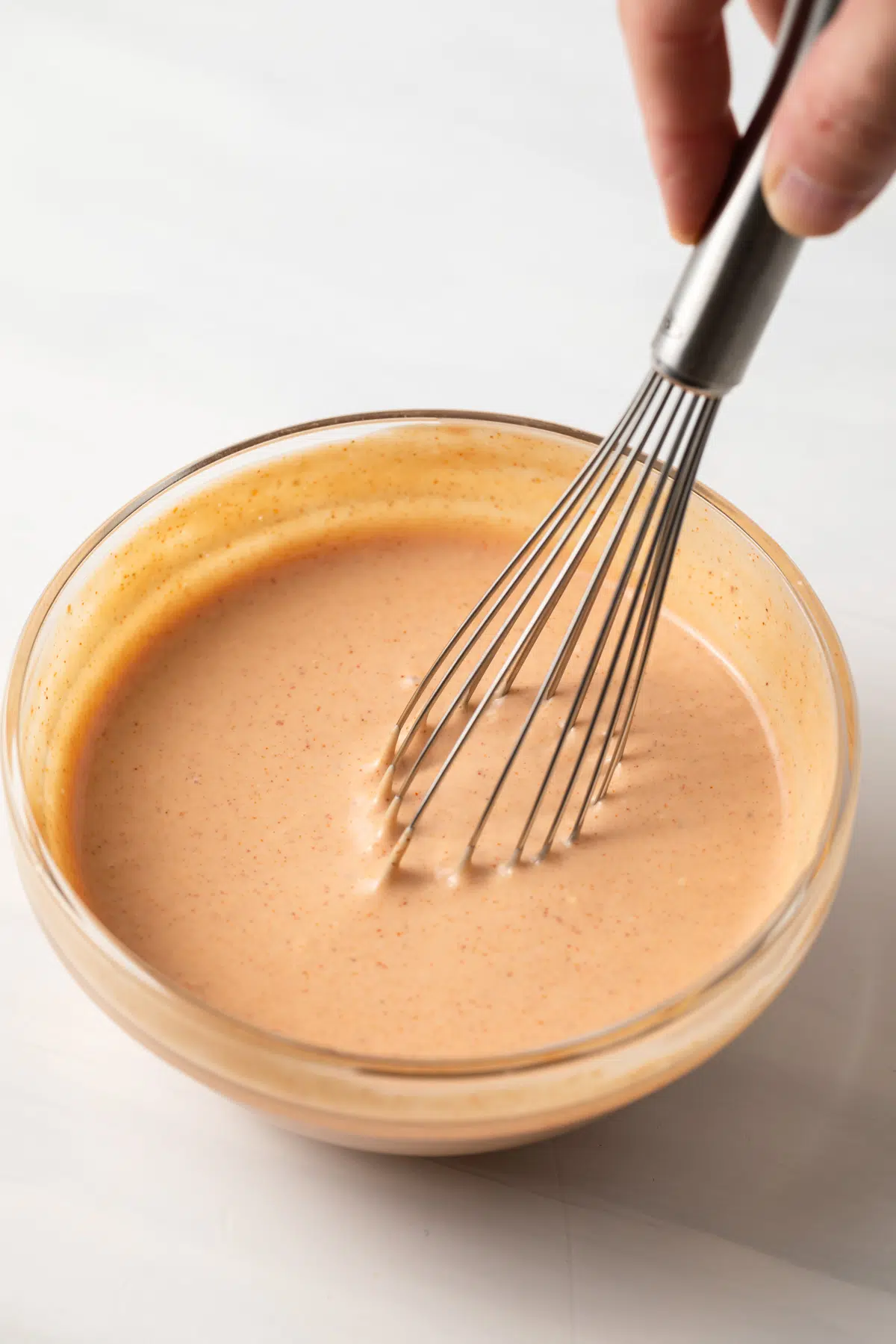 Pickle Brine – You can use pickle juice or apple cider vinegar instead.
Ketchup – If you don't have ketchup – try bbq sauce. It will make this more sweet and tangy, but what's wrong with that?
I sometimes like to give this a smoky and spicy flavor by adding a half a teaspoon of chipotle chili powder to the sauce. If you don't want smoke but like spice, just use regular chili powder. It's so good.
If you want it chunky, you could add a bit of pickle relish.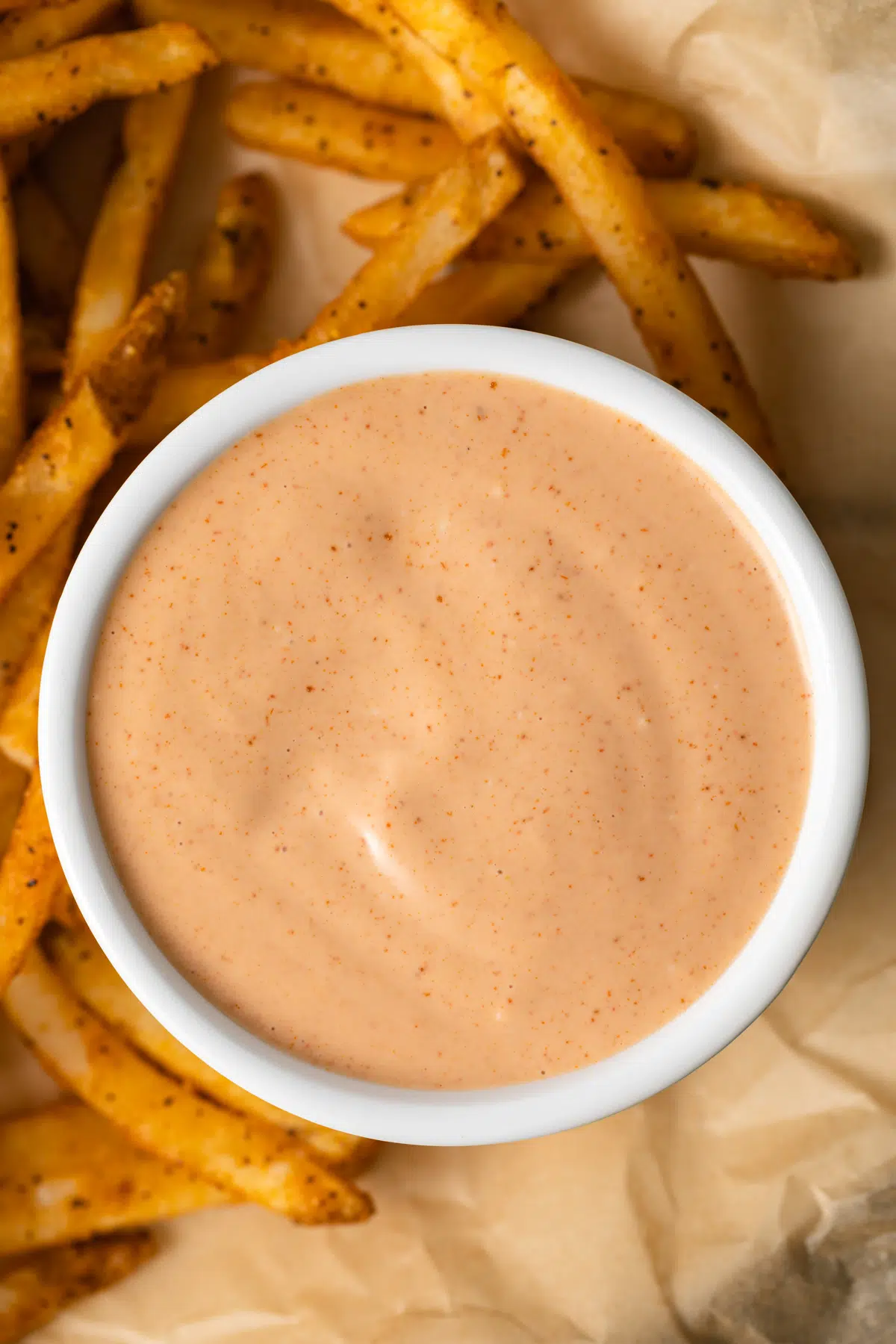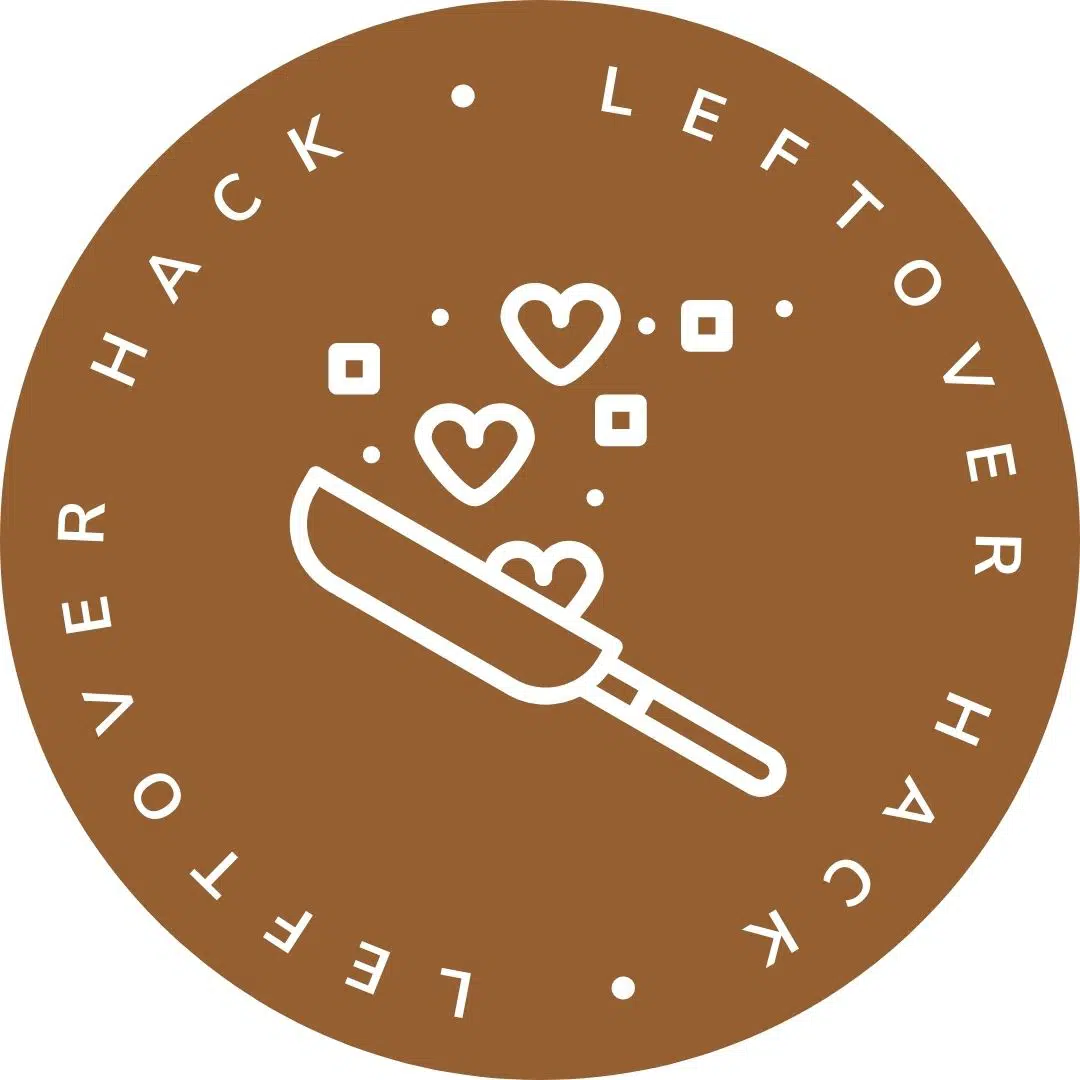 Storage
You'll want to use this right away because it is so yummy, but you can also keep it in an airtight jar in the fridge for up to a week.
This sauce is great on french fries. I also like to serve it as a dip with chicken nuggets, on hamburgers, or with veggies. You can drizzle it over a baked potato too.
I have plenty of other yummy condiment recipes on my website. They all take less time than a trip to the grocery store, are better for you and taste delicious.