This post may contain affiliate links. Read the full disclosure here.
Roasted garlic aioli comes together in a snap and can be served as a dipping sauce, drizzled over burgers and steaks, or with seafood. This recipe is truly so easy and it tastes incredible.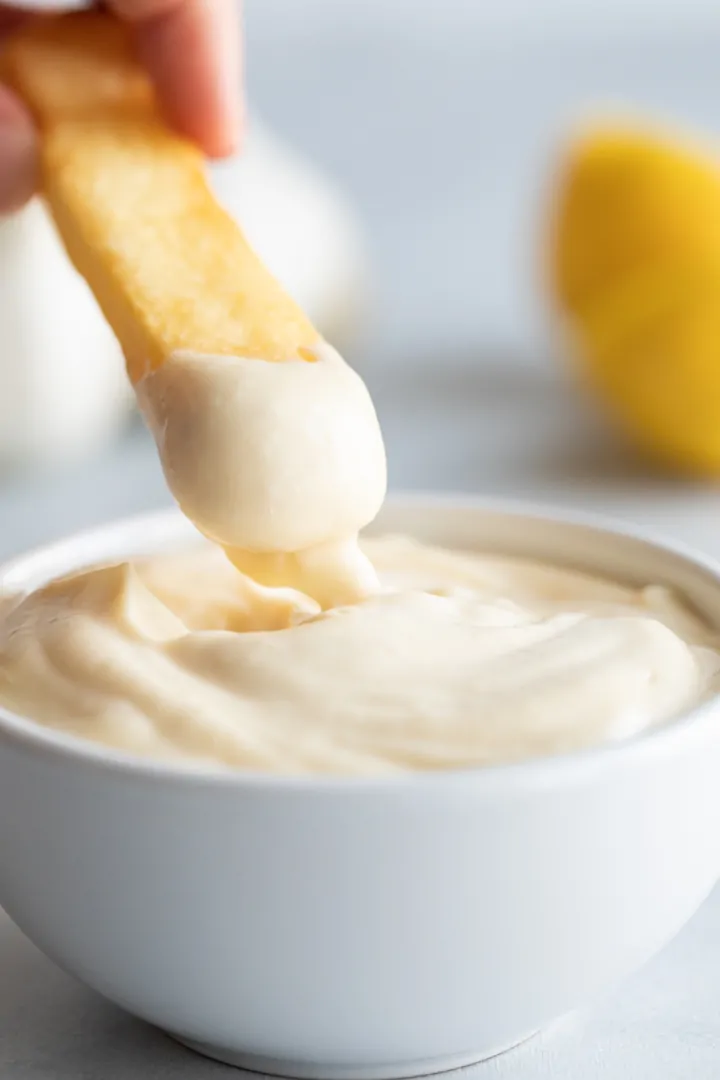 Aioli is a sauce made of garlic, olive oil, and an emulsifier such as egg. It originated in the Mediterranean and is served with a variety of foods.
We're going to show you how to make roasted garlic aioli sauce the easy way. It doesn't require egg because we use mayonnaise in its place. The longest part of the process is roasting the garlic and allowing it to cool.
Our aioli sauce features the standard ingredients for a true aioli. It's seasoned with garlic, lemon juice, and a touch of salt.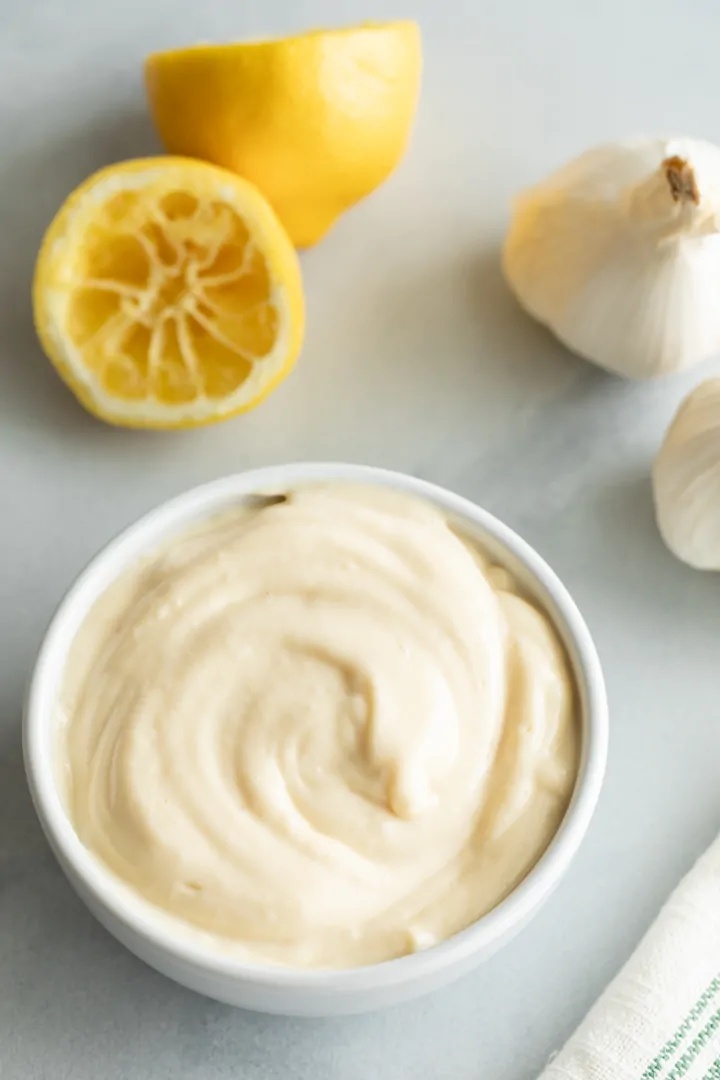 Roasted Garlic Aioli Ingredients:
Traditional aioli doesn't have any flavoring other than garlic. We've kept our recipe as close to that as possible. The main difference is we make our aioli with mayo instead of egg.
Garlic: Look for bulbs that are tight and firm. These will be the freshest and they'll taste best when roasted.
Olive oil: Use extra-virgin olive oil or light olive oil.
Mayonnaise: It's so much easier than trying to use eggs or yolks as an emulsifier.
Lemon Juice: Fresh lemon juice will taste the best.
Salt: Go by taste here! Start with ¼ teaspoon and gradually add more if needed.
You can make this simple aioli in:
Food processor: Some food processors work better than others. Since this is only a small amount of aioli, a food processor with a large bowl isn't ideal. We like this one because it's only a 3 cup capacity.
Blender: A small blender is also great for blending the ingredients together.
Immersion blender: These little handheld immersion blenders work great for small amounts as well.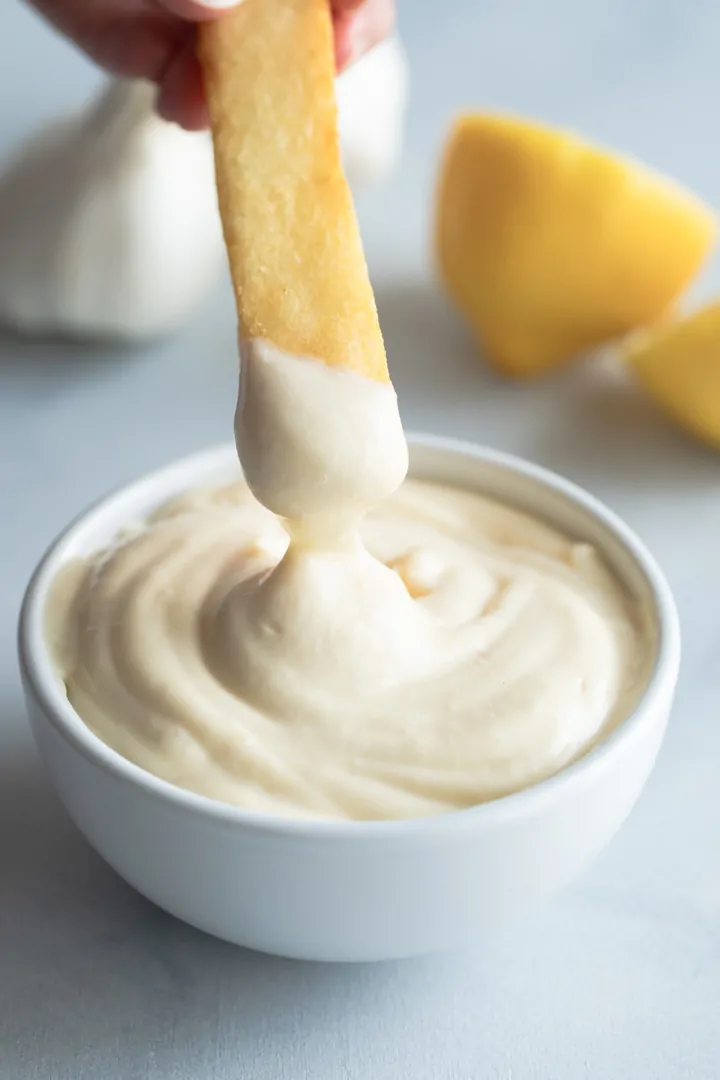 How to make roasted garlic aioli sauce
It's too easy to make homemade aioli sauce with roasted garlic. You just toss all the ingredients into a food processor and blend it together.
Roast the garlic. Slice the top off the whole garlic bulb, drizzle with olive oil, and roast inside a foil pack until the garlic is tender.
Blend the ingredients together. Let the cooked garlic cool, then squeeze it out into a food processor. Add the mayo, lemon juice, and salt then blend until smooth and creamy.
Refrigerate. Cover and refrigerate the aioli for a couple of hours to allow the flavor to meld together.
How to serve homemade aioli sauce
Aioli sauce can be served in any of these ways:
With seafood: It's great with fish and shrimp.
With potatoes: It's the perfect dipping sauce for french fries or drizzle it over roasted potatoes.
With vegetables: It's wonderful served alongside carrots, artichokes, green beans, zucchini, and cauliflower.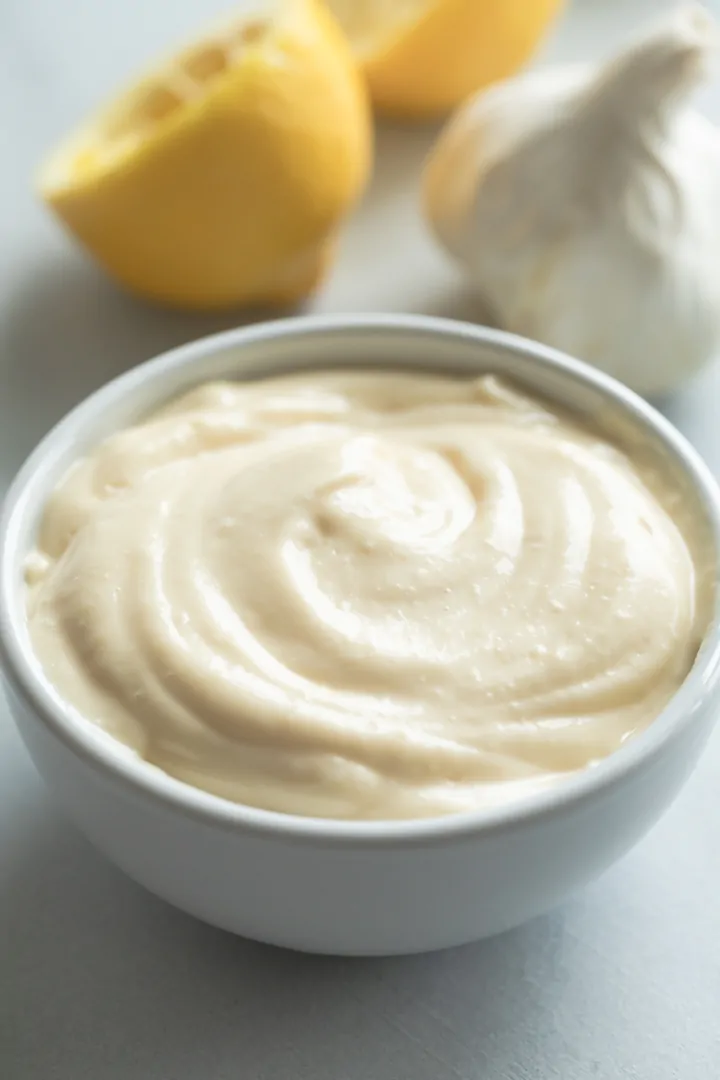 Roasted garlic aioli recipe variations
While true aioli is flavored with garlic alone, you can change things up. Here are some great options to try:
Add cayenne: Adding a pinch of cayenne will give the sauce some heat.
Add fresh pepper: Freshly ground black pepper works phenomenally in aioli.
Add sun-dried tomatoes: Blend ¼ to ½ cup of sun-dried tomatoes with the other ingredients.
Add Smoked Paprika: Mix in ½ to 1 teaspoon of smoked paprika.
How to store aioli
Refrigerate – Keep the aioli covered and store in the refrigerator for up to 5 days.
If you enjoyed this sauce and want more ideas for dinner, these are great: