This post may contain affiliate links. Read the full disclosure here.
This yum yum sauce will become your new favorite hibachi sauce. It's just like the one you get at the Japanese steakhouse and is perfect with steak, shrimp, or vegetables!
Who can resist smothering their hibachi in yum yum sauce? We sure can't and this recipe is made exactly the way we like it.
Yum Yum Sauce
The best part about going to a hibachi grill is the yum yum sauce. You know, the pale pink sauce that is served on the side of your meal. It resembles our fish taco sauce and burrito sauce in many ways.
Sometimes it's referred to as shrimp sauce or white sauce. But no matter what you call it, it is a well-loved sauce that usually ends up mixed into the rice, vegetables, and meat you choose.
It's actually a really simple sauce and can be made at home. You no longer have to spend the big bucks at a Japanese steakhouse in order to enjoy it.
It's even better made at home because you have full control over the flavor. You can add as little or as much of each ingredient to get the desired taste.
I'll also leave some other additions down below so you can experiment with perfecting the sauce for your taste!
If you like this recipe, you should also try out sriracha mayo. And for a wonderful sushi dipping sauce, whip up this easy eel sauce.
What's in Yum Yum Sauce?
Our version of yum yum sauce includes:
Mayonnaise: The base for every yum yum sauce recipe
Butter: Melted butter is needed here
Sugar: Use as little or as much as you'd like
Sriracha: Will tint the sauce pink and add flavor
Paprika: Will also tint the sauce pink and offer flavor
Garlic Powder: Add more if needed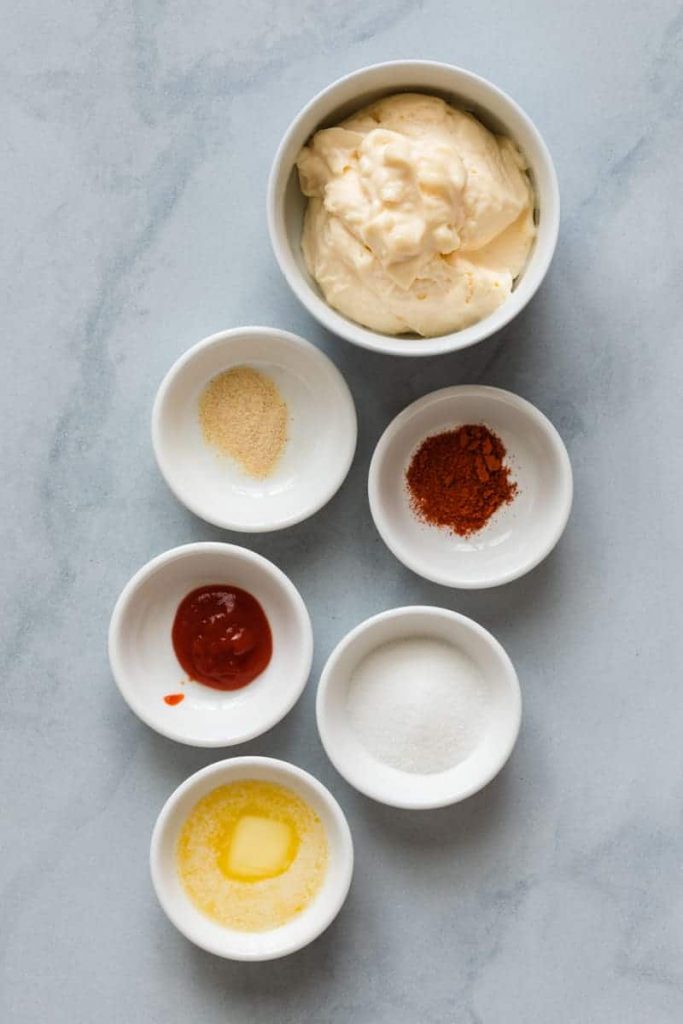 How to Make Yum Yum Sauce:
To make this easy yum yum sauce recipe, simply…
Place all the ingredients into a small bowl and stir to combine. That's pretty much it. It's so simple!
Taste and adjust. Give the sauce a taste, and season with sugar, sriracha, paprika, or garlic powder.
Use it right away or refrigerate it for later. Serve it with shrimp, steak, vegetables, and rice.
Yum Yum Sauce Variations:
There are quite a few ways you doctor up this yum yum sauce recipe.
Increase the number of spices called for: If you want a stronger flavor, add more sriracha, paprika, or garlic powder.
Add onion powder: Start with ½ teaspoon and add more as needed.
Add ketchup: Use ketchup in place of the sriracha sauce.
Add water: If you like a creamier sauce, add 1-2 tablespoons of water.
Add rice vinegar: Stir in 1-2 teaspoons of rice vinegar.
How to Store Yum Yum Sauce:
Refrigerate – Store sauce in a jar with a tight-fitting lid for up to 4 days.
It's no secret that were are all about Asian cuisine. Here are more Asian/American sauces to whip up in your kitchen!