This post may contain affiliate links. Read the full disclosure here.
There is a reason Amogio Sauce is a favorite in Italian restaurants. It is light and flavorful – the perfect marinade or sauce. It will add zip to your favorite chicken, fish, or pasta. On a night when you don't have much time to prepare dinner, this Amogio Sauce recipe will be your best friend.
This Italian Amogio sauce is a traditional Sicilian recipe. It calls for simple ingredients – olive oil, crushed red pepper, fresh herbs, and aromatics.
It is a delicious marinade for shrimp or chicken. You can also drizzle it over chicken spiedini, or serve immediately over pasta.
This sauce is similar to its cousin, Ammoglio sauce, but without the tomatoes. You can adjust the spice in this sauce by modifying the amount of crushed red pepper.
While dried herbs sometimes work in sauces, this Amogio sauce recipe is really made all the better and brighter by using fresh herbs. Your amigos will thank you.
If you are a fan of simple pasta sauces, try our white wine sauce, lemon butter sauce, homemade spaghetti sauce, alfredo sauce, sage butter sauce, or butter sauce.
Ingredients
Amogio Sauce is a quick and easy pan sauce. All it requires is fresh herbs, some aromatics, and a little bit of chopping.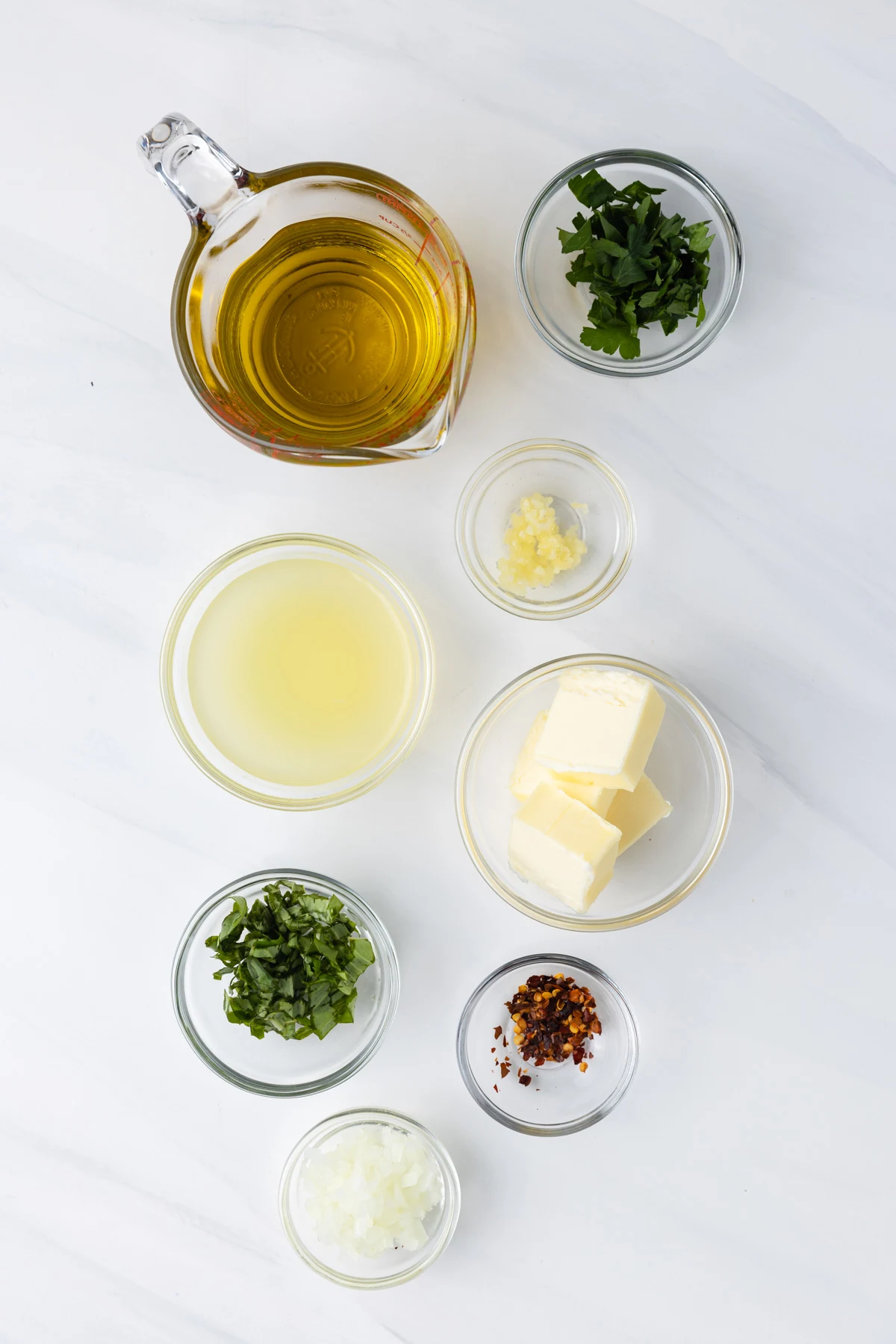 Extra Virgin Olive Oil: Use the best quality olive oil you can find. It's the foundation of this sauce.

Butter: I always use unsalted butter in cooking so I can adjust the salt separately.

Lemon Juice: Roll the lemon a little on the counter before you juice it to maximize the yield.

Aromatics: I love the flavor that shallots and garlic give this sauce. You can use onions in place of the shallots, but try not to.

Fresh Herbs: Fresh chopped basil and parsley make this sauce herby and delicious.

Crushed Red Pepper: For a little heat.
Instructions
How to make Amogio sauce: You won't believe how easy it is to prepare this sauce recipe. Chop the herbs, mince the garlic and shallot and combine all the ingredients in a saucepan. It will be ready within 5 minutes as a sauce, or it will take 30 minutes to cool if using it as a marinade. This will become your go-to sauce when you don't feel like you have time to cook.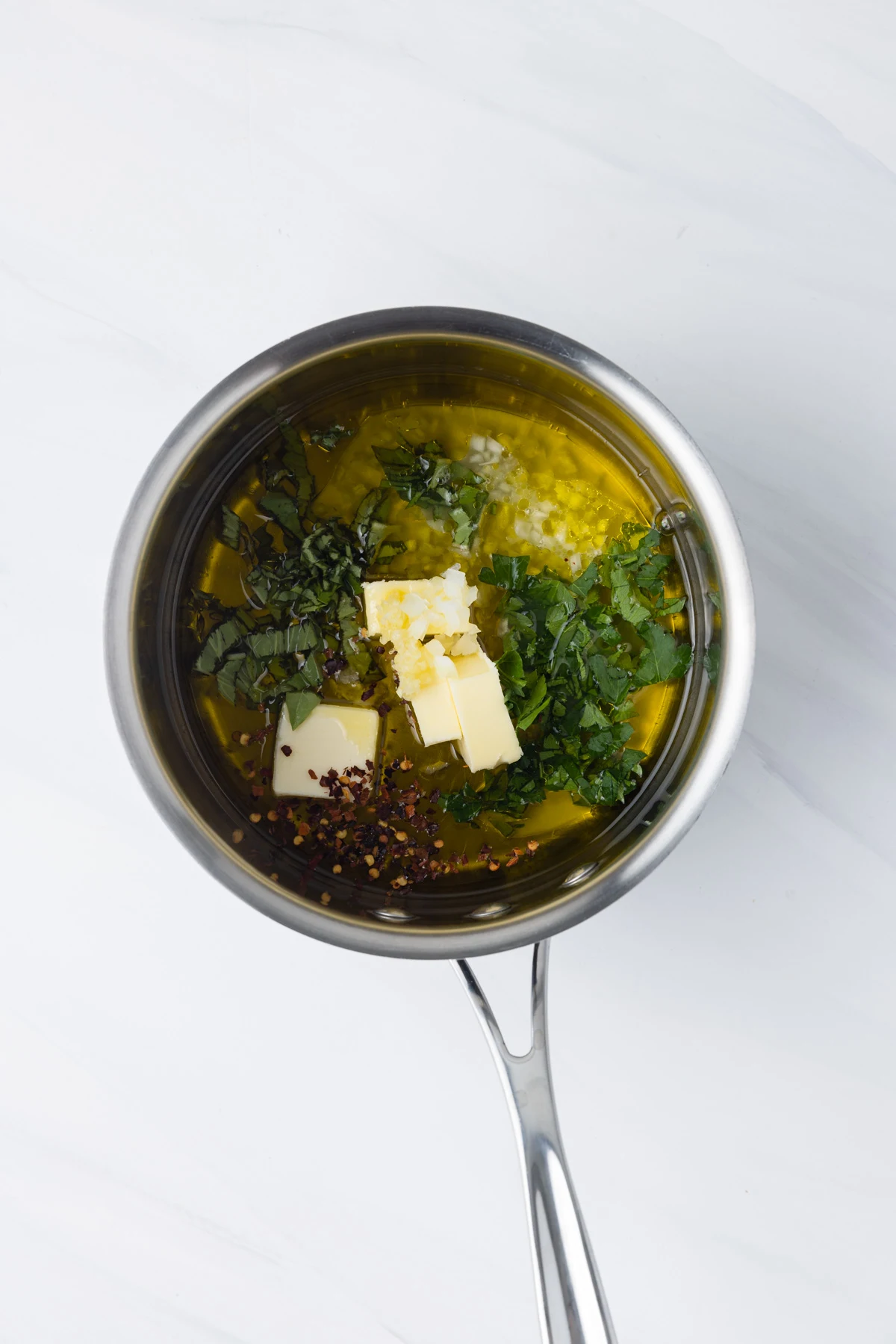 Combine ingredients in a medium saucepan. Combine oil, butter, lemon juice, garlic, shallot, parsley, basil and crushed red pepper and bring to a boil over medium high heat. Simmer on low for 3-5 minutes.

Taste and adjust seasonings. Add salt and pepper as needed, or a little more crushed red pepper if you want extra heat.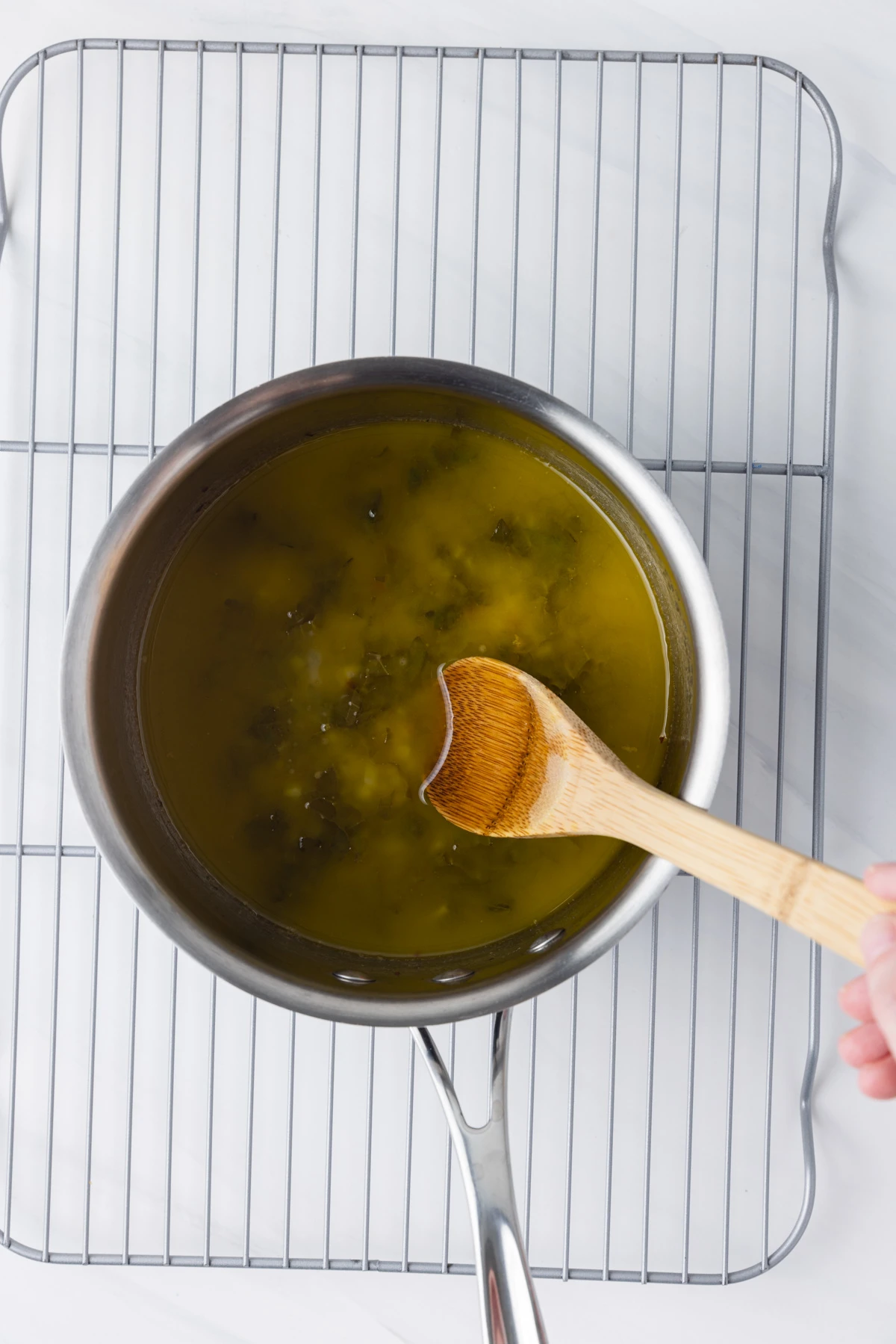 3. Serve immediately over pasta as a sauce or let stand for 30 minutes to use as a marinade for chicken or fish.
Hint: You can get more juice out of lemons, or any citrus fruit, by rolling first on the counter. Alternatively, you can zap them in the microwave for 15 seconds before squeezing. You'll be shocked at how much more juice this yields.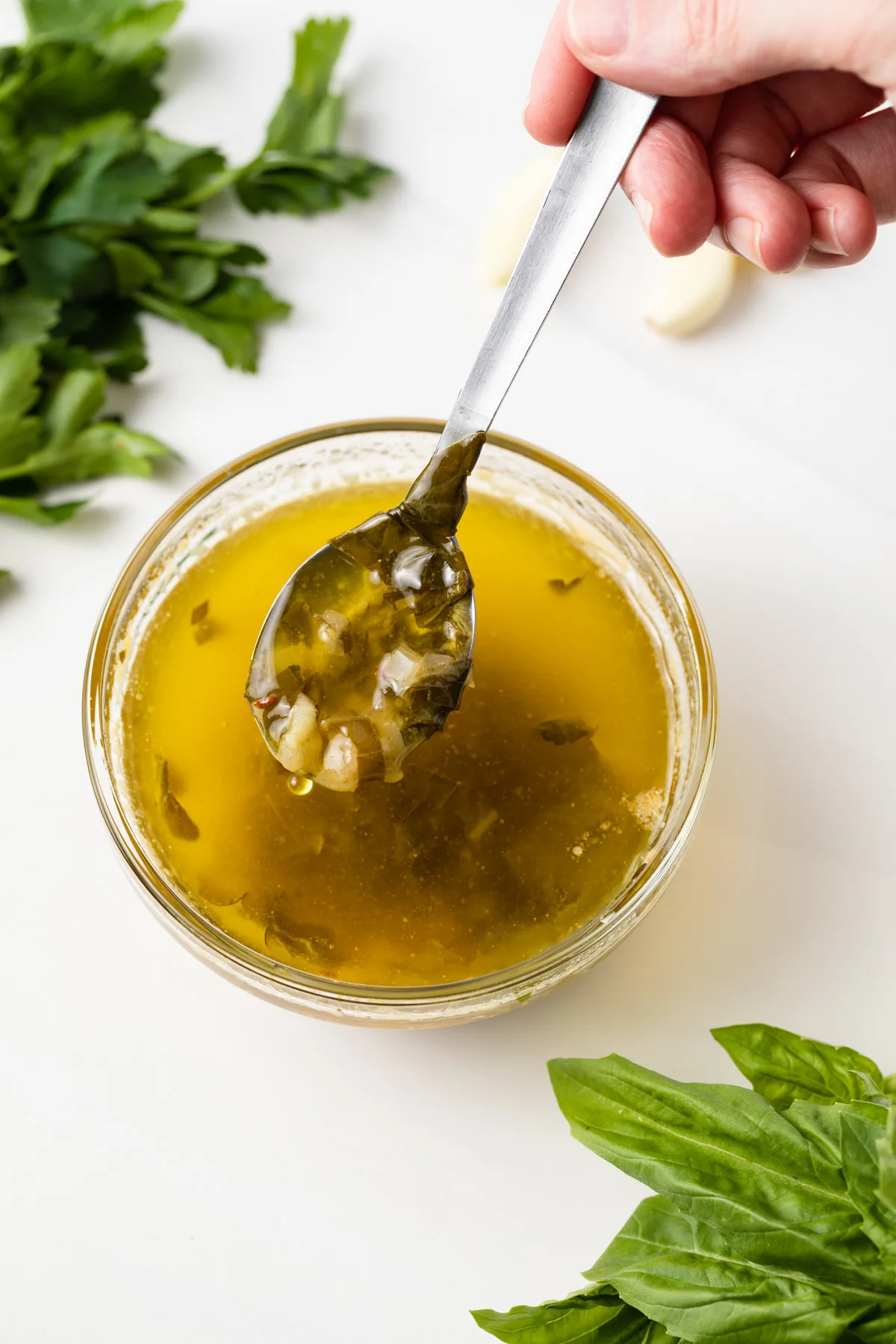 Substitutions
You can use finely diced onion in place of the shallot, though I do prefer the slightly more subtle flavor of shallots in this recipe.

If you can't handle the heat, feel free to omit the crushed red pepper.
Variations
This sauce is a simple pan pasta sauce, so there aren't many variations of it. You can modify the heat by changing the amount of crushed red pepper. If you have cherry tomatoes on hand, saute them in a little extra virgin olive oil over medium heat until softened, and toss with the pasta and sauce.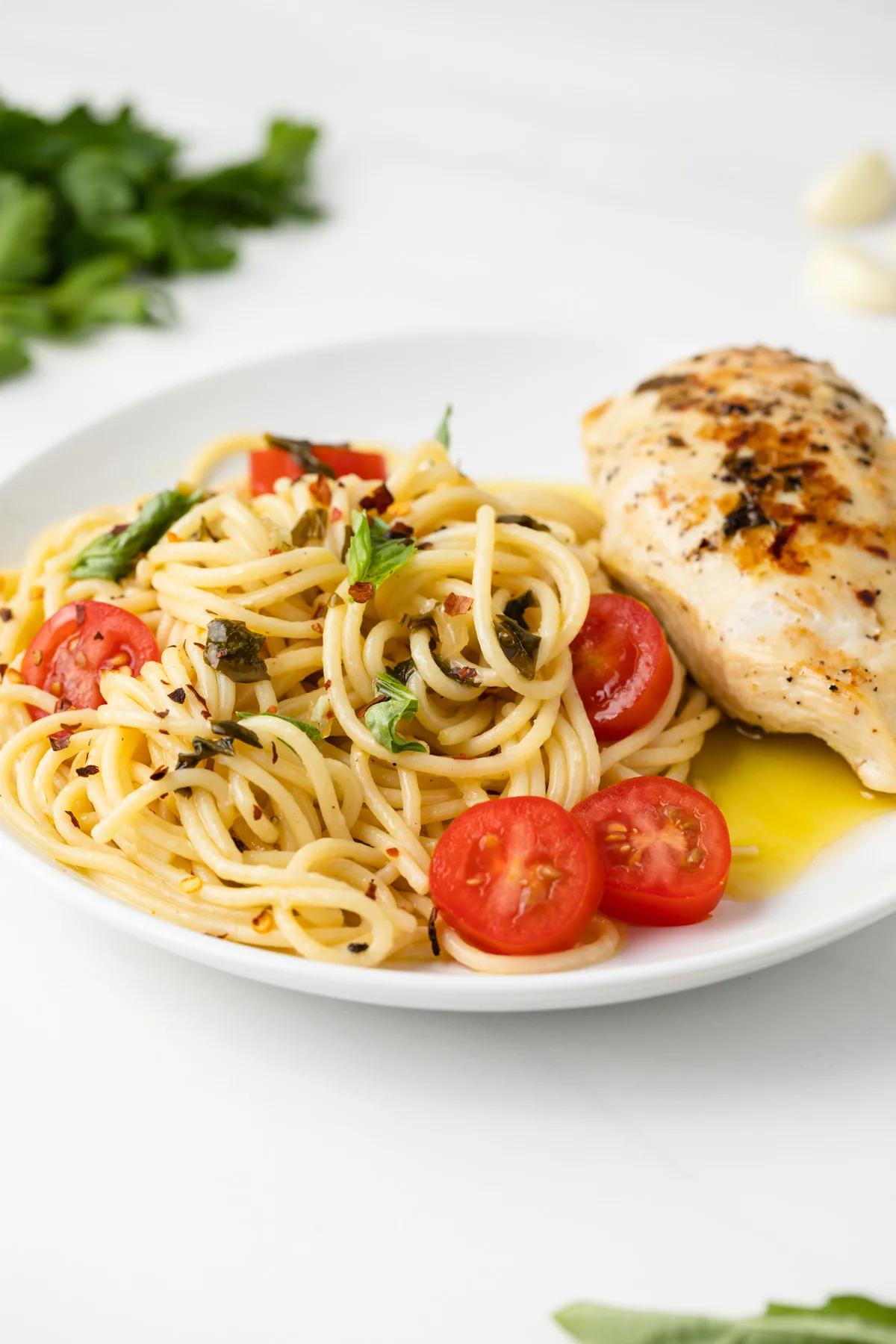 Equipment
This Amogio sauce requires nothing more than a saucepan to boil and simmer the sauce, and something to juice the lemon. This is my favorite line of pans, and this is my go-to citrus press.
Storage
Amogio sauce will keep for a week in an airtight container in the refrigerator. It can also be frozen and thawed overnight in the refrigerator and used as a marinade or gently simmered to use as a sauce.
Tips
This simple Amogio sauce truly benefits from fresh herbs. Please don't use dried herbs here, you'll regret it.