Italian Dressing Chicken Marinade
This post may contain affiliate links. Read the full disclosure here.
This versatile Italian Dressing Chicken Marinade is a culinary gem that is both a marinade and a salad dressing! It's a game-changer for those seeking deliciousness without compromising on simplicity.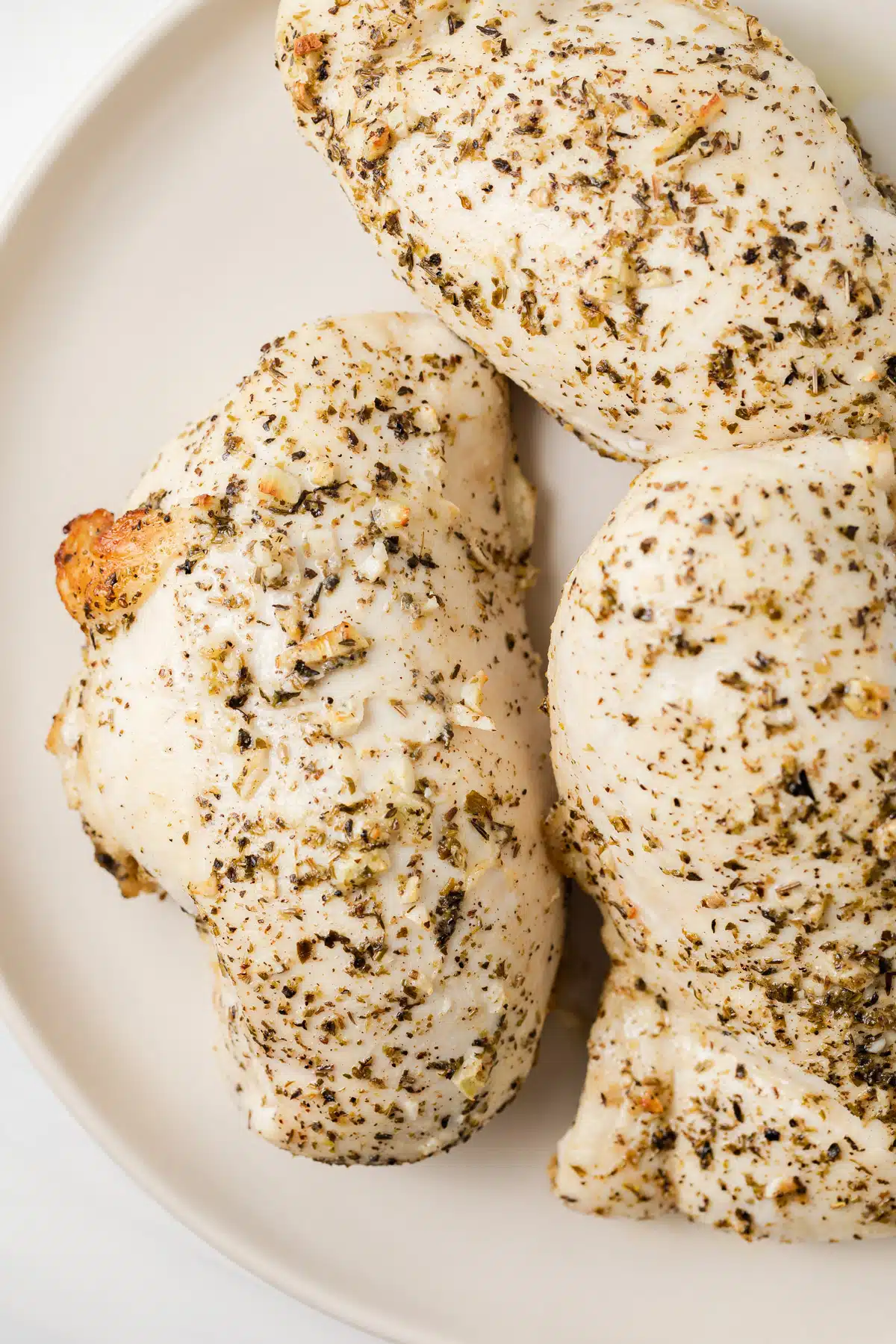 This Italian dressing chicken marinade recipe is my go-to solution for effortless midweek meals. It is a fantastic way to infuse chicken with scrumptious flavors while minimizing time and effort in the kitchen. What could be better than that?
If you grew up when I did, and we won't discuss when that was, then Italian marinated chicken was probably a staple of your weekly dinner menu. My mother would pour a bottle of Italian dressing over chicken breasts, bake them in the oven and serve them along with Minute Rice and frozen French-style green beans.
Now that I am the one making dinner, as always, I opt for homemade. We all know that. And honestly, this flavorful dressing is so quick and easy to make – there is no excuse not to have a batch in the fridge at all times. I prefer homemade dressings – all the flavor, none of the ingredients I don't want. Tons of sugar, chemicals like MSG, and so forth.
Some of my favorite dressings are this honey balsamic vinaigrette, this ranch dressing, my raspberry vinaigrette dressing, and of course, caesar salad dressing. Now that it is summer, I am making these dressings on repeat for my summer salads. But I digress. Back to the marinated chicken.
This Italian dressing chicken marinade is super versatile. It can be a salad dressing over a green salad; it can be a drizzle over grilled vegetable skewers for a flavorful side dish; or it can be a marinade for grilled chicken breasts when the weather permits grilling – baked ones when it doesn't.
The longer the chicken is marinated, the better, in my opinion. I like to let the chicken breasts really get comfortable and soak in this marinade for about 24 hours. The result is tender, robustly flavored grilled chicken, perfect to serve atop a salad or as a main course.
I promise you'll never go store-bought again!
---
Ingredients
The ingredients needed for this quick and easy chicken marinade are all likely in your pantry at this very moment. So don't delay, whip up a batch now – you'll never buy store-bought Italian salad dressing again!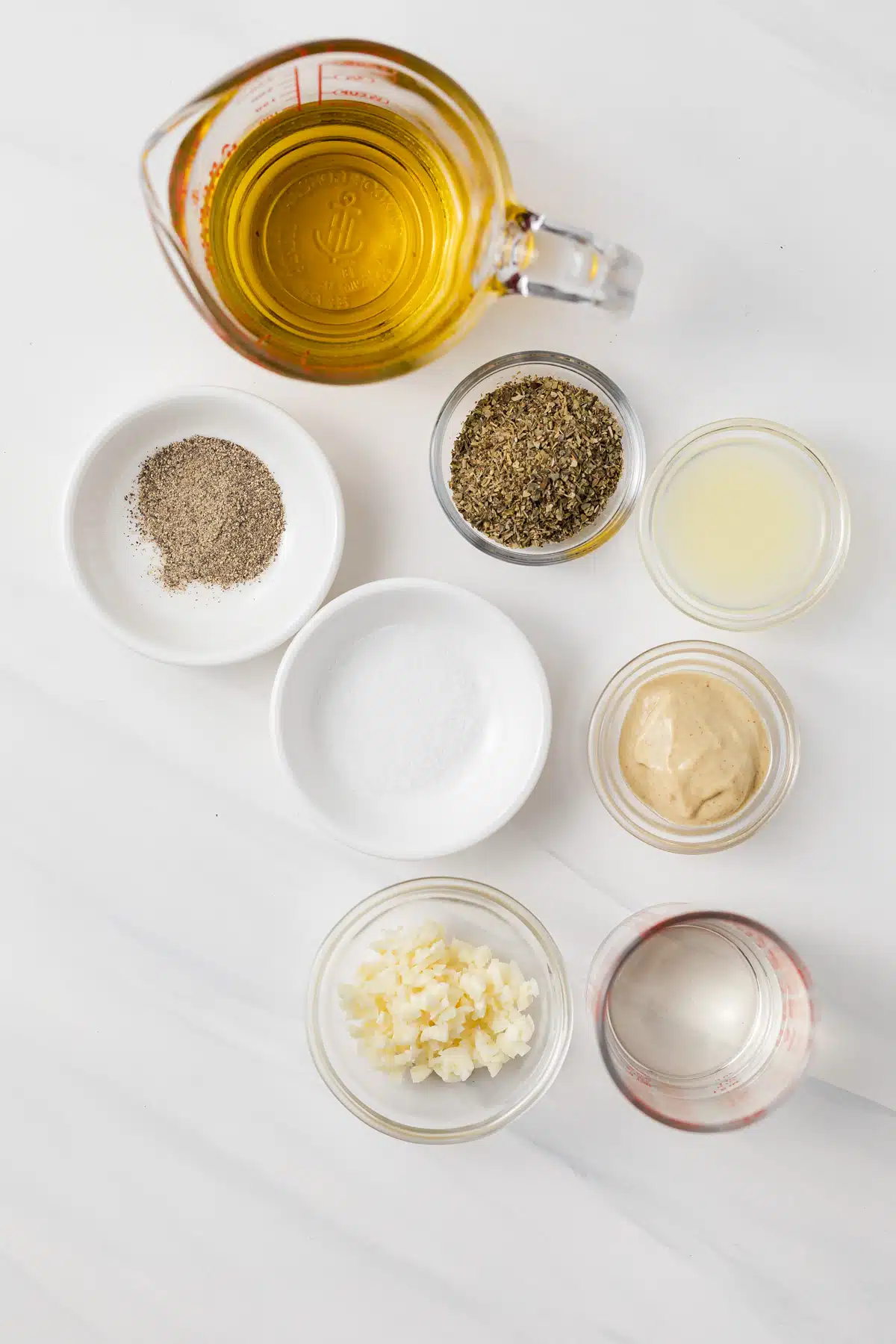 Olive oil – Use the best quality extra virgin olive oil available. The taste matters!
White wine vinegar – For tang and zip.
Lemon juice – Freshly squeezed, for a citrus kick of brightness.
Dijon mustard – Creamy dijon adds richness and depth of flavor.
Italian seasoning – This is available in the spice aisle of your market.
Garlic cloves – Fresh garlic, minced or pressed
Salt and pepper – For seasoning.
---
How to Make Italian Dressing Chicken Marinade
This homemade Italian dressing/ marinade comes together in just a moment. Keep this dressing on hand to marinate boneless, skinless chicken breasts for a quick and easy Italian marinated chicken dinner
Be sure to check out the full recipe and ingredient list below
Make the marinade. Combine all the ingredients in a jar with a tight-fitting lid and shake well to combine. Store or use.
Marinate the chicken. Add 4 chicken breasts to a resealable bag or large container with a lid. Pour the marinade over the chicken. Cover and refrigerate for 3 hours or up to 24 hours.
Bake or grill the chicken. Cook chicken on the preheated grill until no longer pink in the center and the juices run clear, about 7 to 8 minutes on each side. You may also bake the chicken at 425°F for 25 minutes.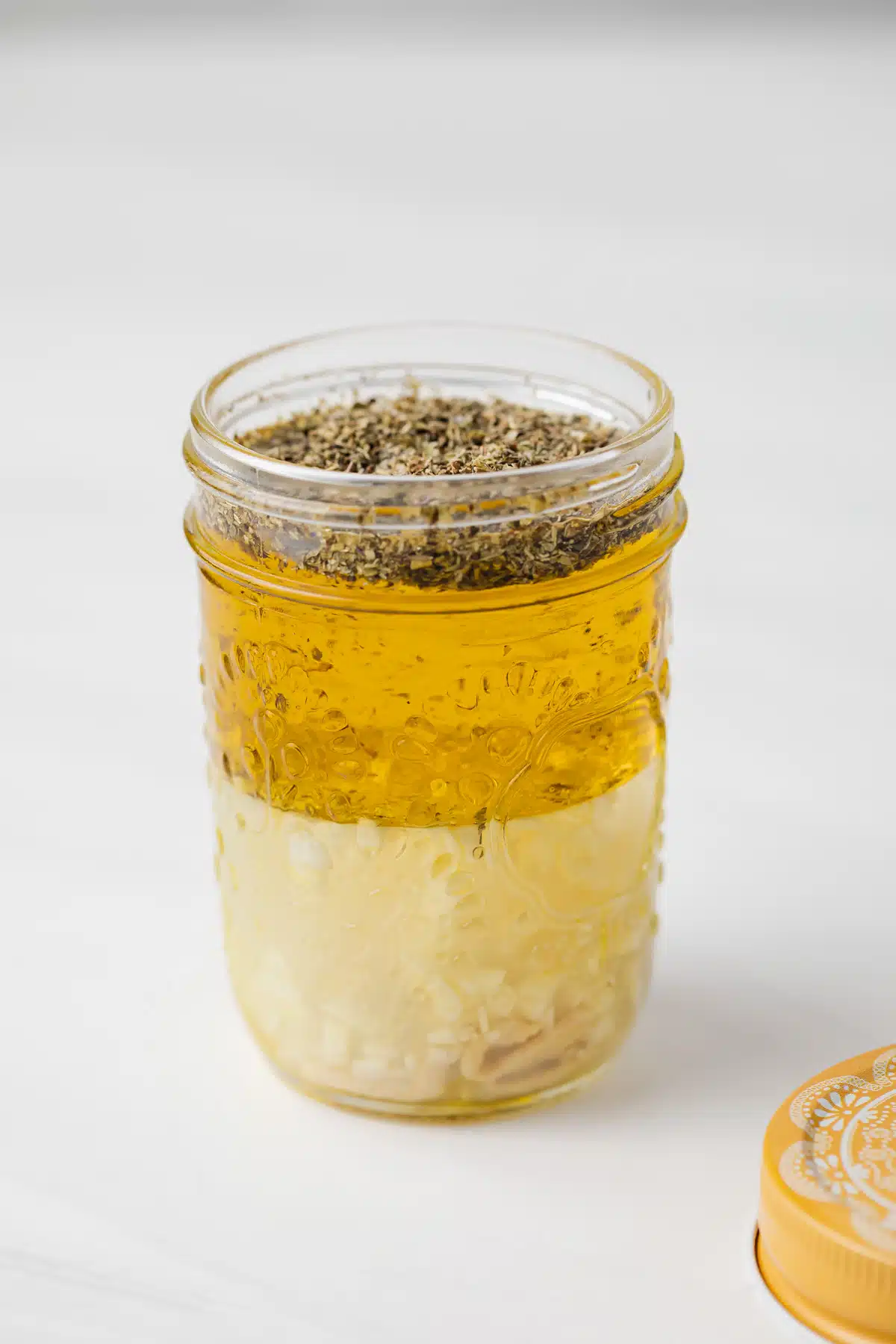 Substitutions
White wine vinegar: You can substitute it with red wine vinegar, chardonnay, or apple cider vinegar.
---
Variations
This recipe can be made spicy by the addition of red pepper flakes.
Italian seasoning really makes this recipe. However, if Italian seasoning is not available, use whatever blend of your favorite herbs is on hand. It might not necessarily be chicken with Italian dressing, but it will be good.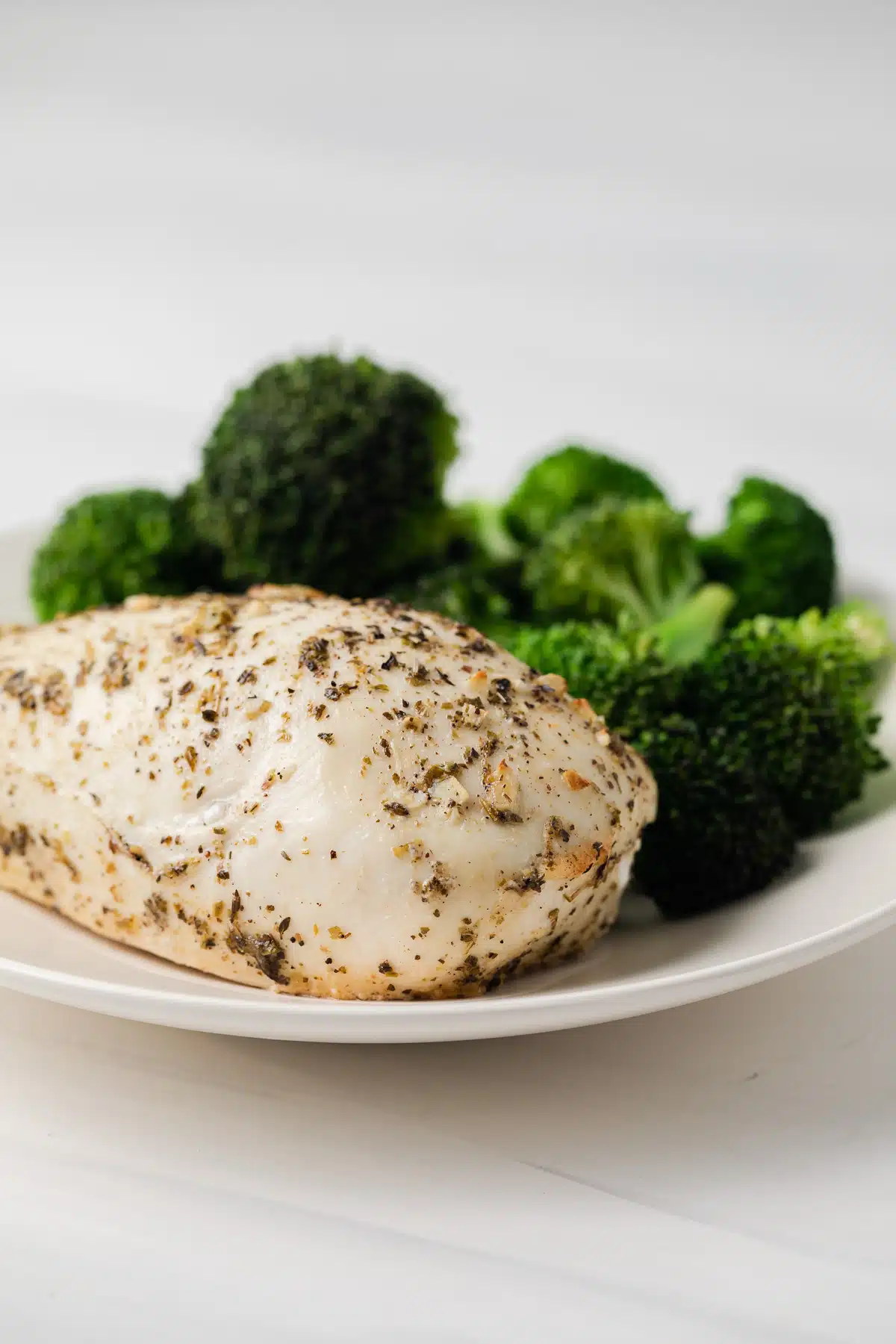 Storage
This Italian chicken marinade will be good for up to a week in an airtight container in your fridge. I like to keep it in a mason jar.
---
Tips
Freeze Italian dressing with chicken raw: To fully prep a meal of baked chicken with Italian marinate, add raw chicken breasts to a freezer bag, then pour the dressing into the bag. Store the chicken for up to 6 months in the freezer.
To cook the chicken, thaw it in your fridge overnight, then place in a baking dish and bake according to the recipe directions.
I often get asked how long to marinate chicken. Ideally, I marinate the chicken overnight, but at a minimum, aim for 3 hours.
Baked chicken, grilled chicken, shredded chicken – I love it all. These sauces, marinades and dips will add zing and zip and flavor to your favorite chicken recipes.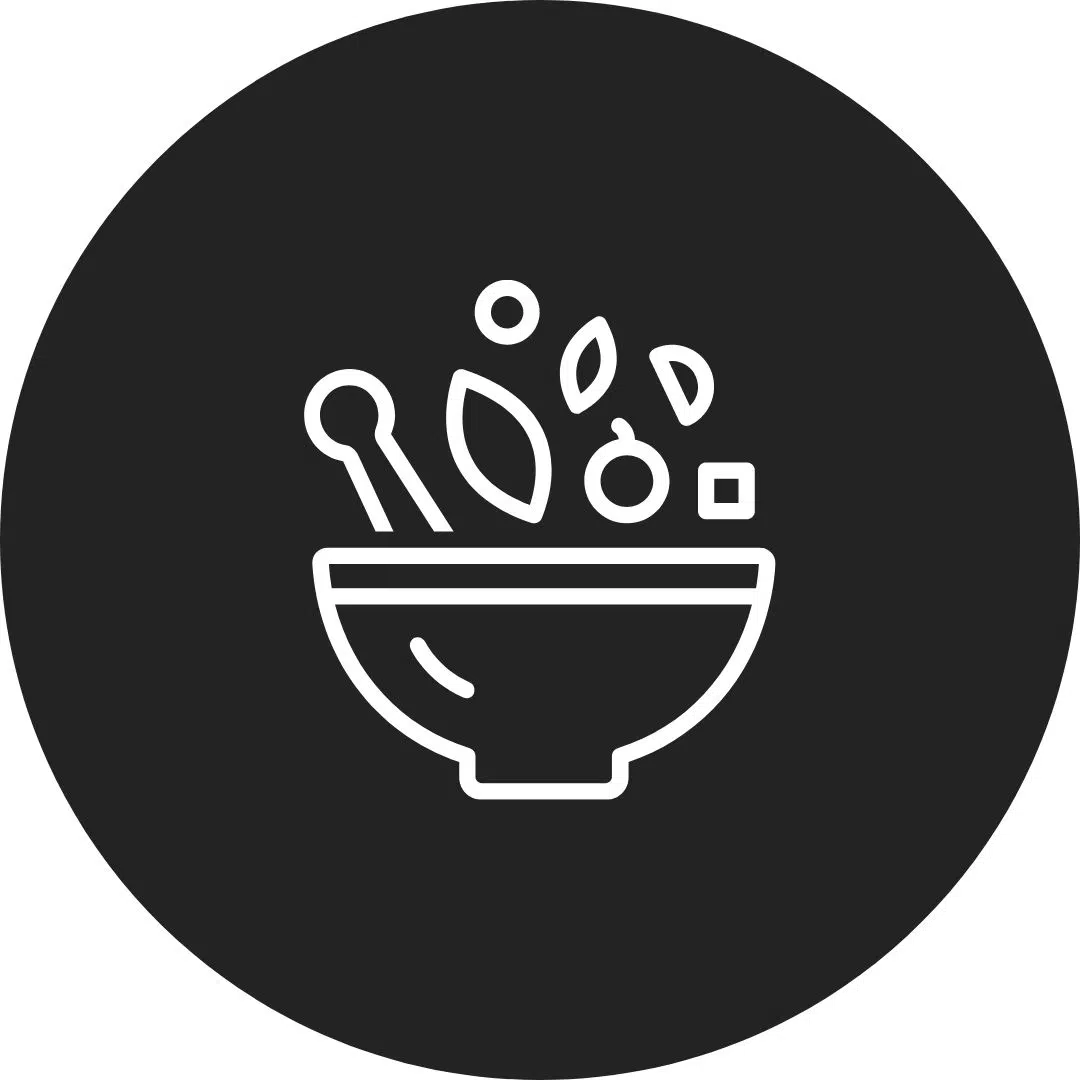 Printable Recipe