This post may contain affiliate links. Read the full disclosure here.
BBQ Ranch Dressing is easy to make and way more delicious than anything you can buy at the store. Prepare to immerse yourself in a world of irresistible flavors!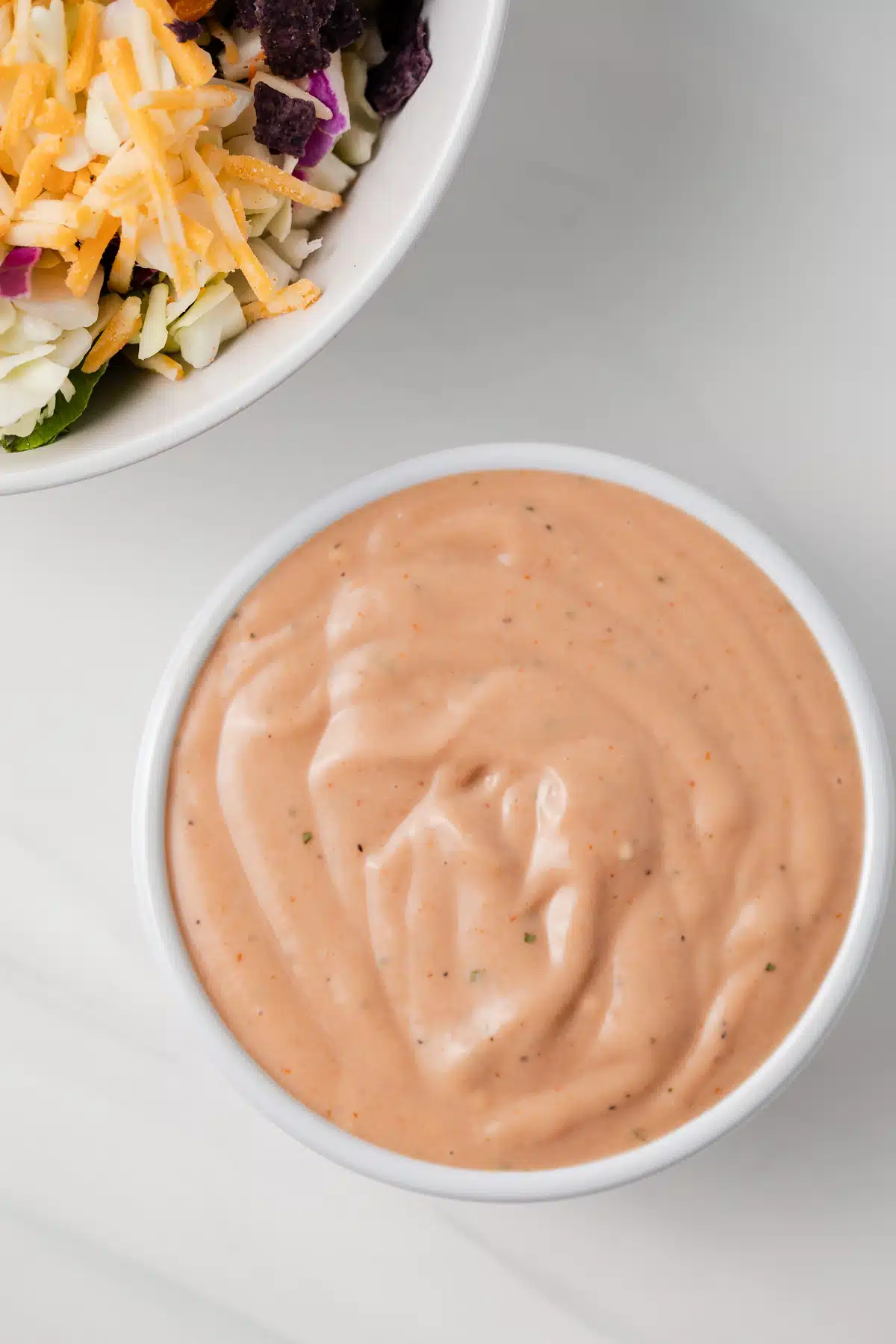 This homemade barbecue ranch salad dressing is the perfect topping for a summer salad. It's similar to my homemade ranch dressing, but with the added sweet kick of bbq sauce. Perfect for when you want the flavor of the BBQ but on a salad.
Imagine a big salad of leafy greens topped with black beans, fresh corn, cheddar cheese, scallions and grilled chicken. Then imagine it drizzled with a tangy homemade bbq ranch dressing! Delicious!!
The zing of the bbq sauce combine with the cool herbs and spices of ranch seasoning to create a yummy dressing or dipping sauce.
This sauce captures the flavors of summer so well. It is great as a salad dressing – obviously. I've even been known to pick up a salad at Chick Fil A and use this dressing in place of theirs. Let's keep that between us.
It is a yummy dip to serve with vegetables (also try my avocado cilantro dip), french fries (or try my french fry sauce) or chicken nuggets (or try this honey mustard sauce).
This dressing has a few secret ingredients – buttermilk gives a creamy tang to the dressing, and the ranch seasoning mix adds cool, herby deliciousness.
I hope you love this dressing as much as we do!
---
Ingredients
This zesty dressing is made from four simple ingredients. Buttermilk is key for the tang and flavor it provides.
Mayonnaise – Adds creaminess to the dressing.
Buttermilk– Smooths out the dressing and provides creaminess and a bit of tang.
BBQ sauce – For zesty flavor. Use your favorite or try my easy bbq sauce. I don't often recommend a store bought sauce, as you know, but I do love Sweet Baby Ray's.
Ranch seasoning mix – I use the Hidden Valley Ranch packets.
---
How to Make BBQ Ranch Dressing
This zesty and flavorful dressing is so simple to make – measure and mix – just how I like it!
Be sure to check out the full recipe and ingredient list below
Combine the ingredients. In a small bowl mix together the mayo, buttermilk, barbecue sauce, and ranch seasoning mix. Stir until combined.
Use. Use with salads, chicken, vegetables, and more!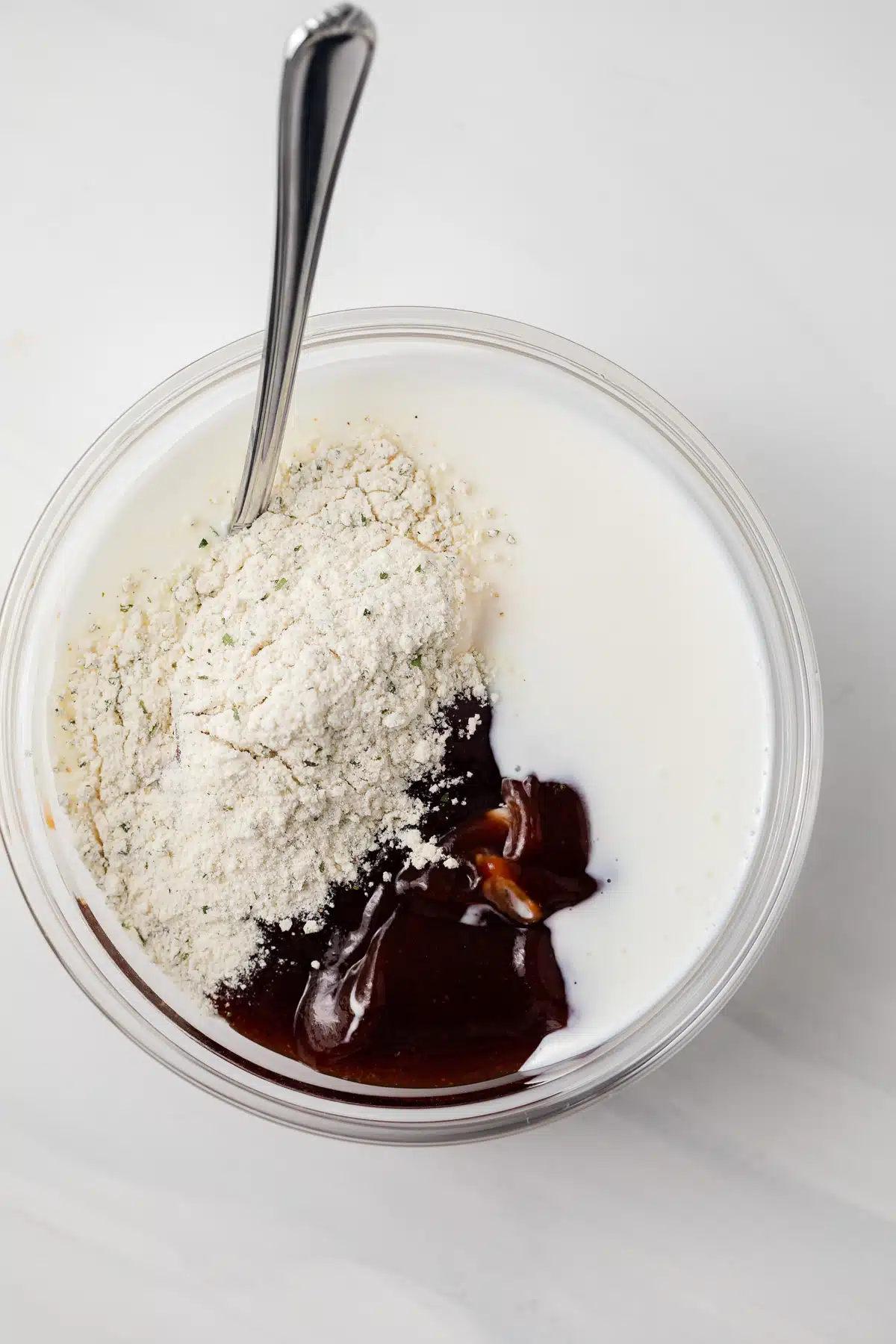 Substitutions
Buttermilk – Rather than substitute buttermilk, try making buttermilk at home. Add 1 tablespoon of lemon juice to 1 scant cup of milk and let it sit for 5 minutes.
Mayonnaise – Sour cream can be used in place of mayo, though I would add a few teaspoons of canola oil to help emulsify and hold the dressing together.
---
Variations
The flavor of this bbq ranch dressing can be modified by changing up the bbq sauce used. Store-bought bbq sauce is fine to use here, and there are so many options available now. Feel free to use your favorite bbq sauce. My homemade bbq sauce is also great to use in this dressing recipe. Try this blueberry bbq sauce, this apricot bbq sauce or my Jack Daniels bbq sauce.
Storage
Keep in an airtight container in the fridge for up to 4 days.
---
Tips
Use as a dipping sauce for cut up vegetables, french fries, chicken nuggets or grilled chicken.
Use as a dressing for bbq ranch salad, taco salads, chicken salads or your favorite summer salad.
More Salad Dressing Recipes
Salads are my go-to lunch in the summer. Dressings can make or break a salad, so here are some of my favorites.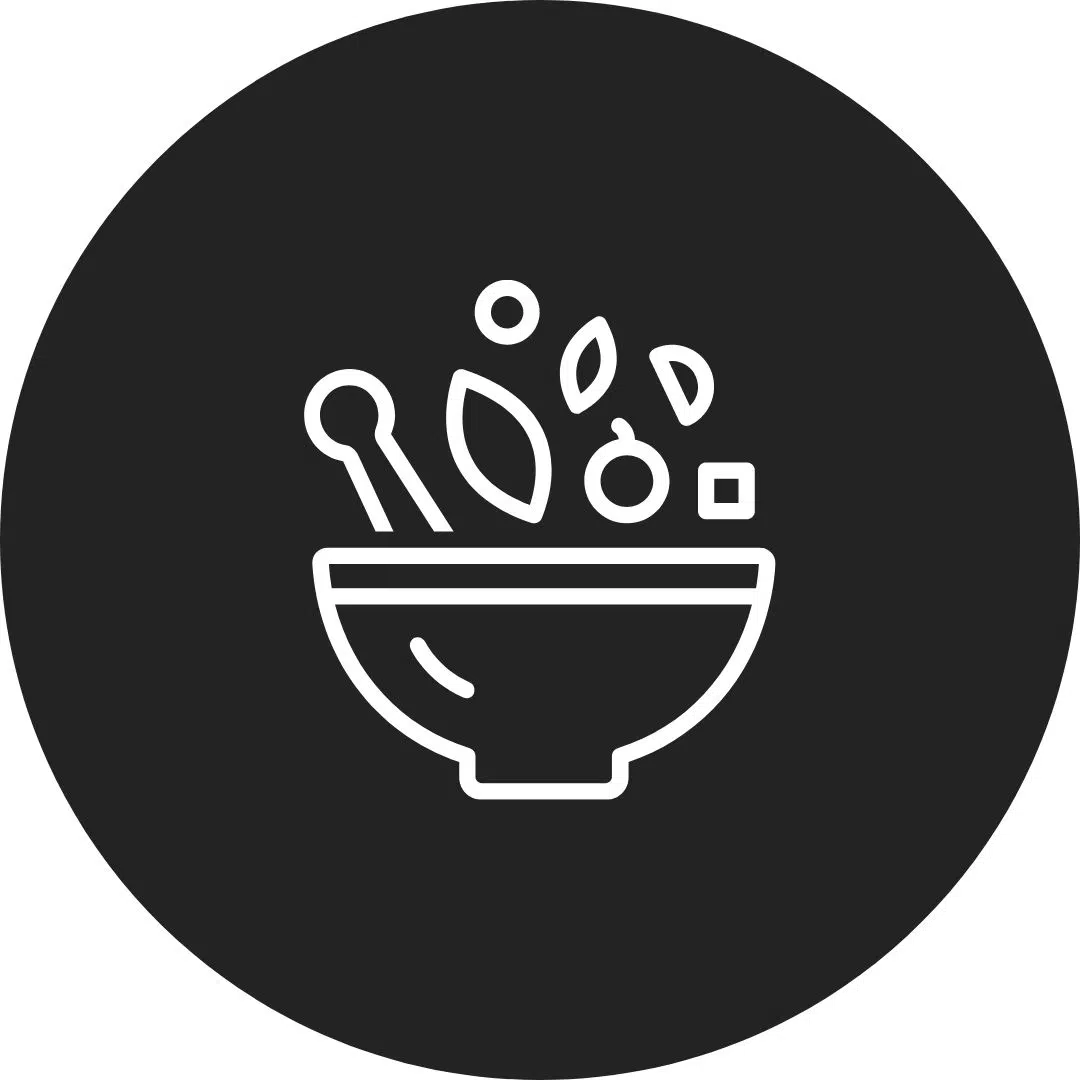 Printable Recipe