This post may contain affiliate links. Read the full disclosure here.
This Lobster Ravioli Sauce recipe is elegant and sophisticated, but super easy. It can be on your table in just under 25 minutes. If you need a romantic meal that you can pull together on a weekend or a Tuesday, this is the pasta sauce recipe for you.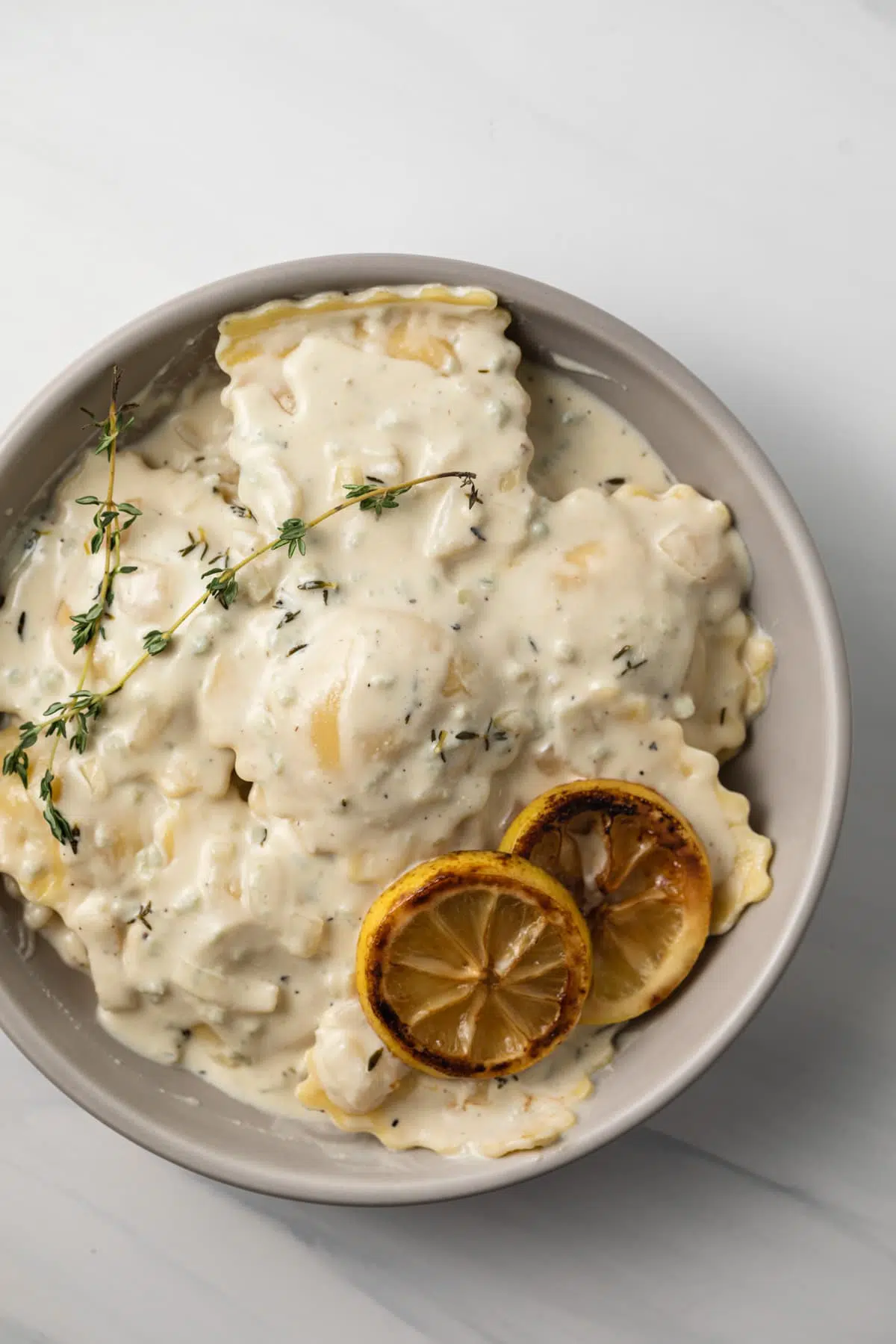 Sometimes you have all day to make the perfect bolognese or a beef bourguignon to serve to your sweetheart. Other times, you want to make a special romantic dinner but the day has gotten away from you. This creamy pasta sauce recipe is perfect for those crazy nights. It is ready in under 30 minutes and takes store-bought ravioli to a new level.
Lobster ravioli is one of my favorites. Light yet flavorful. It's available in many grocery stores – I personally love the one they sell in Trader Joe's. You can often find pre-made ravioli filled with lobster in the fresh pasta section of your market, or use frozen ravioli. Add this simple but amazing sauce flavored with white wine, shallots, garlic, and thyme – and you'll be wowed by how delicious it is.
The sophisticated sauce has a touch of a French attitude thanks to the white wine and shallots. Like most things French, it is elegant, simple, and understated. It won't overpower the flavor of the ravioli and will leave you just a little bit in love. It is sure to become one of your favorite pasta dishes.
This is a go-to recipe of mine for when I want to celebrate an event or make a special meal for my husband, but I don't have tons of time. It's so delicious – it tastes like it is made with love – whether on a Tuesday or a Saturday night!
If you are a fellow pasta lover, I have some other delicious recipes for you to try. My classic alfredo sauce is a favorite of kids and adults alike. My vodka sauce takes penne to a new level of deliciousness. And my creamy basil pesto sauce is my absolute favorite in the summer when my garden is overflowing with fresh basil.
What sauce goes with lobster ravioli?
I love a lightly flavored cream sauce to compliment the flavors of the lobster. The trick is to have a delicious sauce that isn't overpowering like tomato-based sauces can be. You want to accentuate the ravioli and let the yumminess of the lobster come through!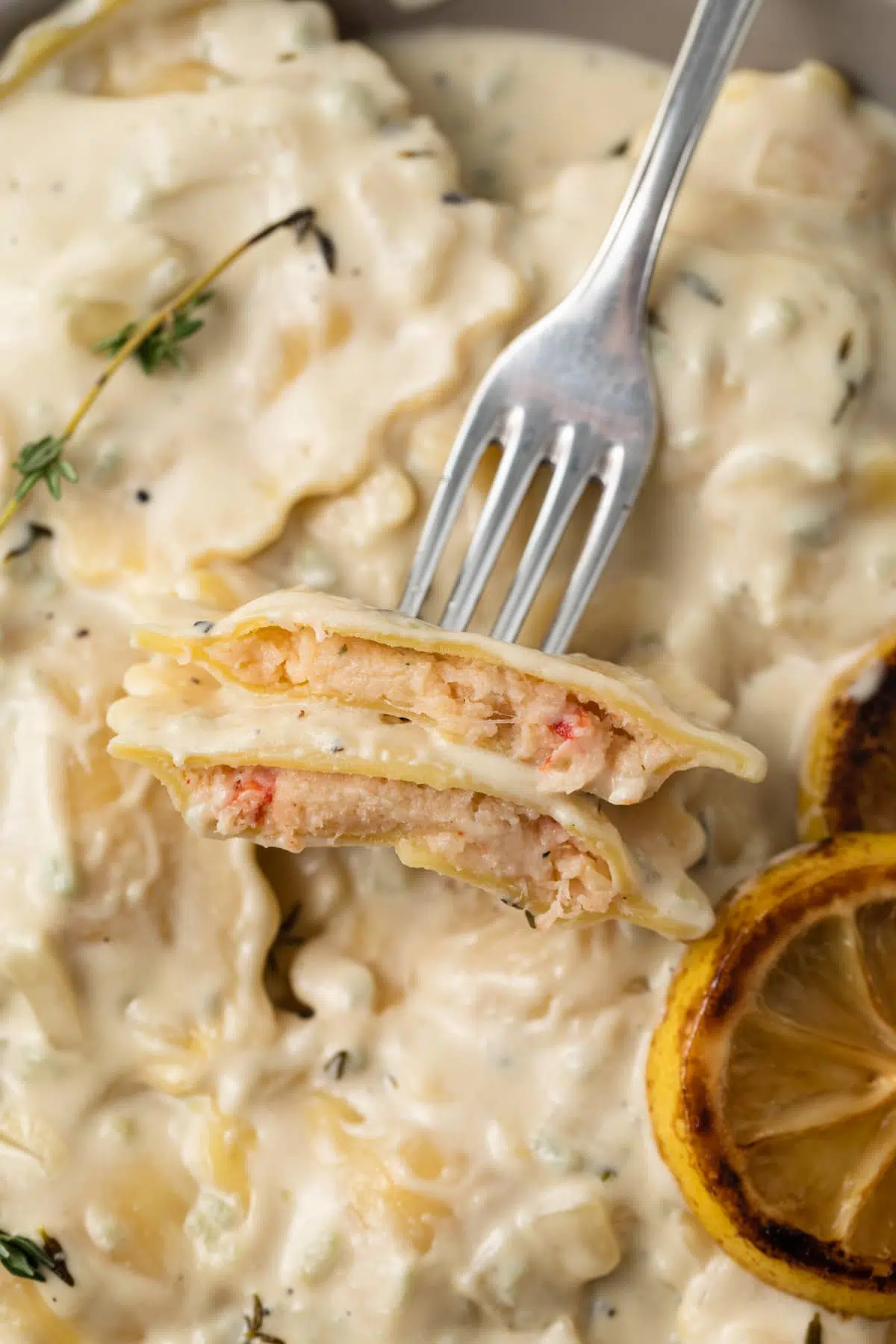 Ingredients
This lobster ravioli cream pasta sauce is made with simple ingredients you are likely to have on hand or can easily purchase at any market.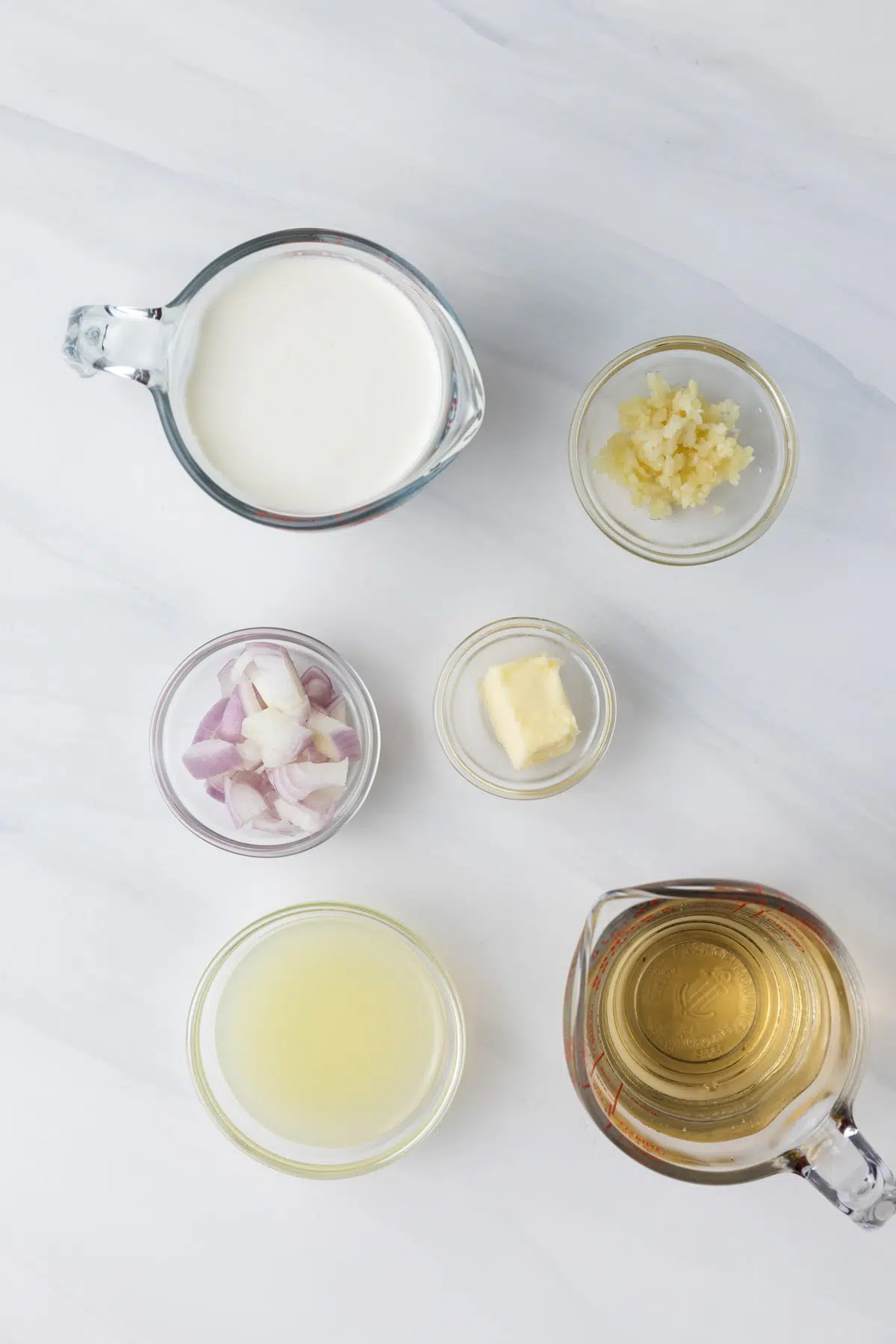 Butter – By now you know I almost always use unsalted sweet cream butter.
Shallot – Shallots provide a more delicate flavor than onions. I love them in cream sauces.
Garlic – I mean, what's a pasta sauce without a little bit of garlic goodness?
Thyme – Please use fresh. The flavor is just that much better.
White wine – This adds a little acidity and flavor to the sauce. Use a dry white wine.
Heavy cream – This is a cream sauce, after all, so please use cream, not milk.
Grated parmesan cheese – Freshly grated. NOT from a green cannister! The sauce will thank you.
Fresh lemon juice – The sauce won't be lemony, just fresh and bright and delicious.
Salt and pepper – I always use kosher salt. The flavor is that much better.
How to Make Lobster Ravioli Sauce
I've said it before and will say it again. If you have ever wondered how to make lobster ravioli sauce but were intimidated by it, don't be! You will not believe how easy and simple this sauce is, and yet it tastes like something that took hours to prepare!
Cook the aromatics. Melt the butter in a saucepan over medium- high heat. Add the shallot and cook until softened, then add the garlic and thyme and cook until fragrant – just about 30 seconds. Do not let the garlic burn!
Add the liquids. Add the wine to the aromatics and bring to a simmer. Cook about 4 minutes, until reduced by half. Then add the cream and whisk to incorporate. Cook this just until heated through.
Add the final flavorings. Stir in the parmesan cheese and whisk until melted and well blended. Add the lemon juice and salt and pepper to taste.
Serve and enjoy! Prepare 18 ounces of homemade or store bought ravioli according to directions. Toss the cooked ravioli with the sauce and garnish with a sprig of thyme.
Hint: Don't let the shallots or garlic burn or even really get browned when sauteing them in the first step. It will make the sauce bitter and it will overpower the delicate flavor of the ravioli.
Substitutions
Shallot:  A small yellow onion can be used instead, but if you can find a shallot, the flavor will be that much better.
Thyme: ¼ teaspoon dried thyme may be used instead.
White wine: Chicken stock can be used instead.
Variations
I also love this sauce with tarragon rather than thyme. Tarragon goes well with chicken or fish, so you can serve the tarragon flavored sauce over lobster ravioli or toss with fettuccine as a side dish with grilled chicken or fish.
Storage
This sauce is ideal if served immediately.
If you want to make it ahead – store in an airtight container in the refrigerator within 2 hours of cooking. Use the sauce within 4 days.
Reheat the sauce over low heat when ready to use. It will be quite thick when cold but will loosen as it warms up. If needed, add a few tablespoons of cream to thin it out before you add the ravioli.