This post may contain affiliate links. Read the full disclosure here.
This recipe for a simple 5 minute London Broil Marinade is packed with flavor and will create a tender, juicy piece of meat.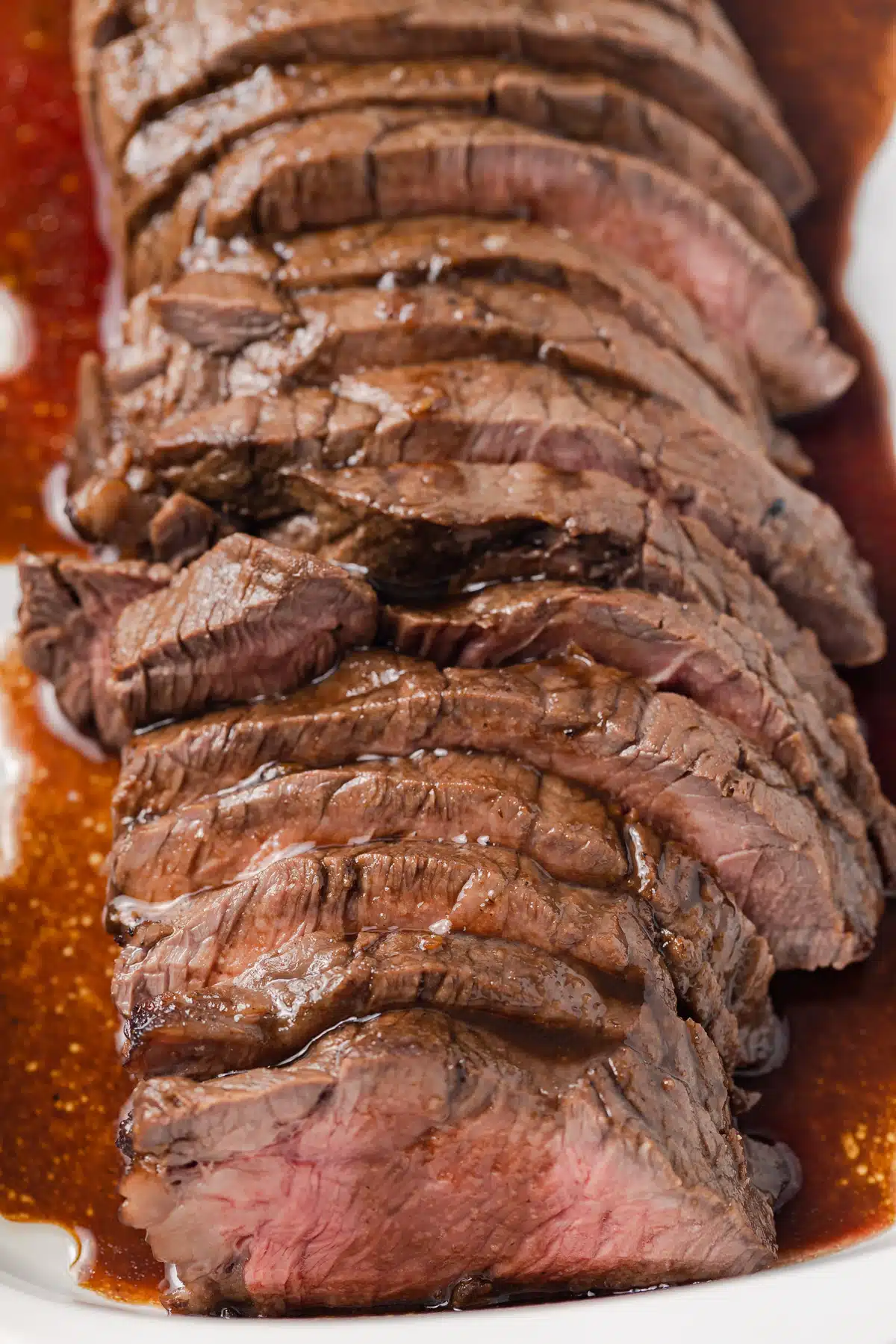 London Broil isn't actually a specific cut of beef – it is a method of preparing meat – where a lean, tougher cut of beef is marinated to tenderize it before it is grilled or broiled.

No one seems to know where the name came from, but it doesn't trace back to London, ironically.
Even so, if you go to your market, you'll likely see packages of meat marked "London Broil Steak." This is a bit of a blanket term that covers all sorts of lean, tough, likely less expensive, cuts of beef that will benefit from a marinade before being grilled.
Flank steak is the original cut of meat that was prepared in this style. If you grew up in the 70's or 80's, you likely had Sunday dinner at your grandparents house where they served a London Broil, mashed potatoes and green beans. Honestly, it brings me back. I can still smell it cooking in my grandma's oven.
Now, the London Broil label could be on anything from sirloin steak tips to chuck shoulders to bottom round. There are plenty of marinades you can use on these cuts of beef, but this homemade London Broil Marinade is a classic recipe.
Marinades are a simple way to infuse flavor into standard cuts of meat. My homemade teriyaki sauce is another favorite marinade of mine.
For this London Broil Marinade recipe, Balsamic vinegar is the secret ingredient. I love the complex sweet and tangy flavor of balsamic vinegar. (If you do too- be sure to try my balsamic dressing ).
The other ingredients in this marinade are soy sauce, brown sugar, garlic, Worcestershire sauce, and olive oil which come together to tenderize the London Broil and bring out the natural flavor of the meat.
After marinating the London Broil, broil or grill it over high heat until medium rare. Boil the remaining marinade and turn it into a sauce you can drizzle over thin slices of the meat.
---
Ingredients
The ingredients for this easy London Broil Marinade are very likely all in your pantry at this very moment.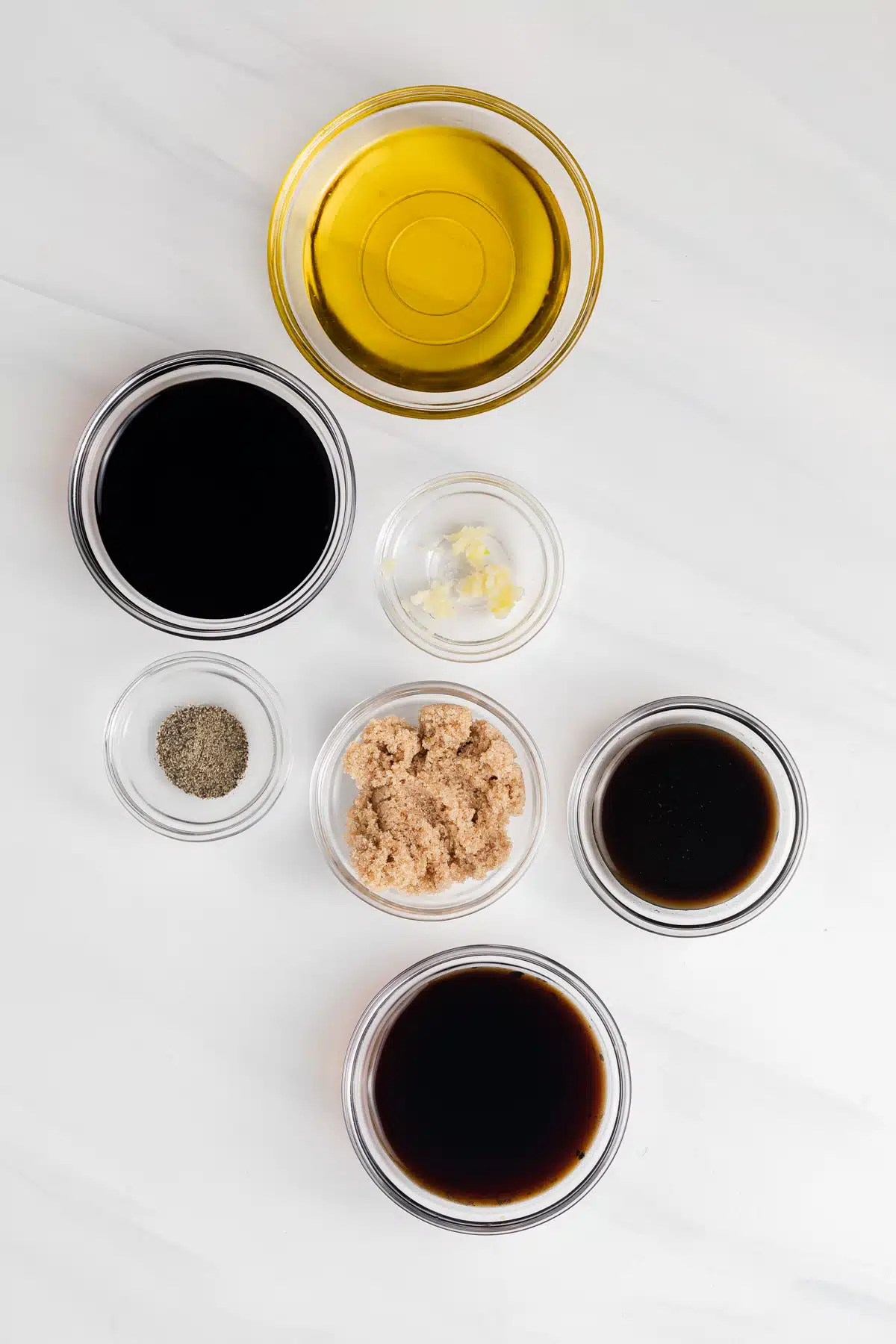 Balsamic vinegar – The sweet acid adds flavor and tenderizes the meat.
Soy sauce – Adds salty flavor use low sodium soy sauce if you prefer.
Olive oil -Extra virgin olive oil adds the right flavor and helps tenderize the meat.
Worcestershire sauce – For a rich, deep flavor.
Brown sugar – For sweetness.
Garlic – Fresh garlic cloves, for a bit of a kick. Mined or pressed.
Fresh ground black pepper – For seasoning.
---
How to Make London Broil Marinade
This homemade London Broil marinade recipe takes only a few minute to assemble – yet adds so much flavor and tenderness to the cut of meat.
Be sure to check out the full recipe and ingredient list below
Combine ingredients. In a 2-cup liquid measuring cup, mix all marinade ingredients together.
Score the meat. Lightly score meat in a diamond pattern on each side.
Place the meat and marinade in a large zip-top bag and refrigerate for at least 3 hours before cooking.
Substitutions
Soy Sauce – Tamari, which is a gluten free soy sauce, or coconut aminos can be used in place of soy sauce.
Balsamic Vinegar – Red wine vinegar, or even red wine, can be used in place of the balsamic vinegar, but it will vary the flavor a bit.
Garlic – If your garlic has gone bad, you could use a few tablespoons of finely chopped shallots, or you could use a teaspoon of garlic powder.
---
Variations
This marinade is quite delicious as it stands. If you would like to mix things up a little, you could add a handful of fresh chopped herbs.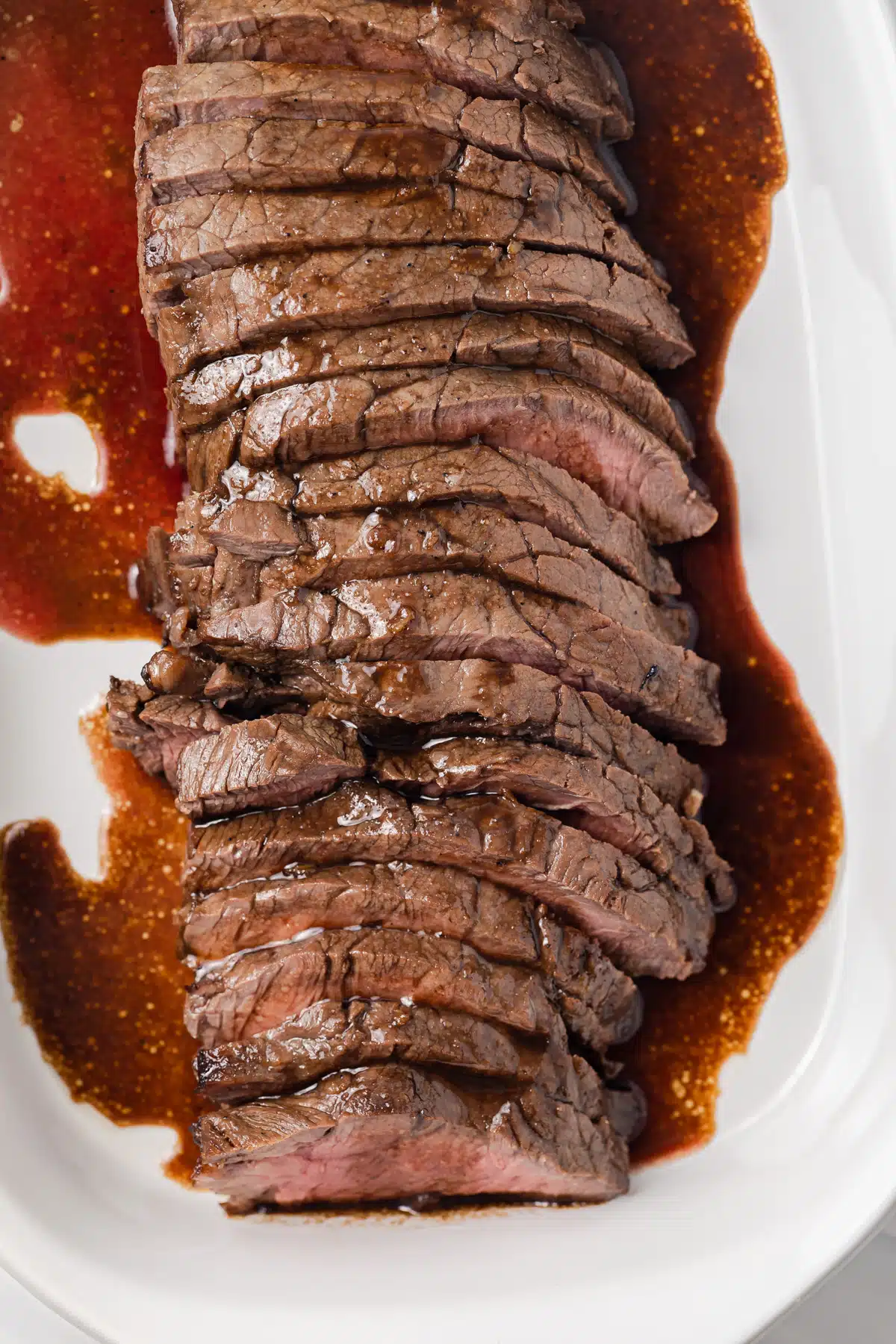 Storage
You can make the marinade and store it for up to 3 days in the fridge in an airtight container (I like to use a mason jar).
---
Tips
Use with 2 lbs london broil beef.
After marinating and cooking your steak, you can use the leftover marinade from the bag to create a sauce. Pour the marinade into a skillet and cook over medium heat. Whisk and cook until it thickens into a sauce.
Where's the beef? It's here! These great sauces will elevate even the simplest cut of beef to an elegant dinner.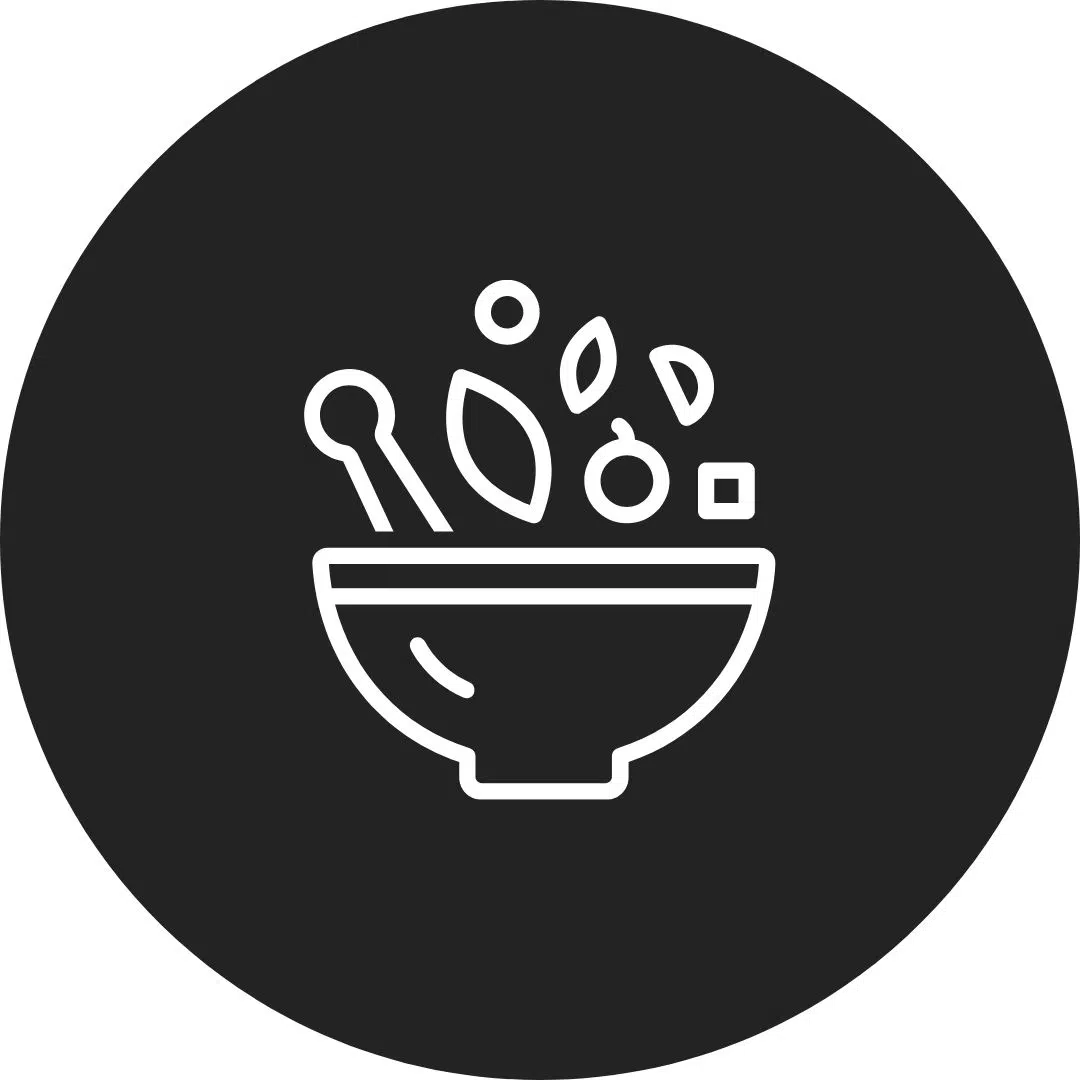 Printable Recipe