This post may contain affiliate links. Read the full disclosure here.
This easy sesame chicken sauce recipe comes together in just 5 minutes! Use it right away or store it for use at a later time.
Skip the takeout because this sesame chicken sauce is WAY better than what you get from a restaurant. Plus you can feel good about what you're eating because you know exactly what it's made with!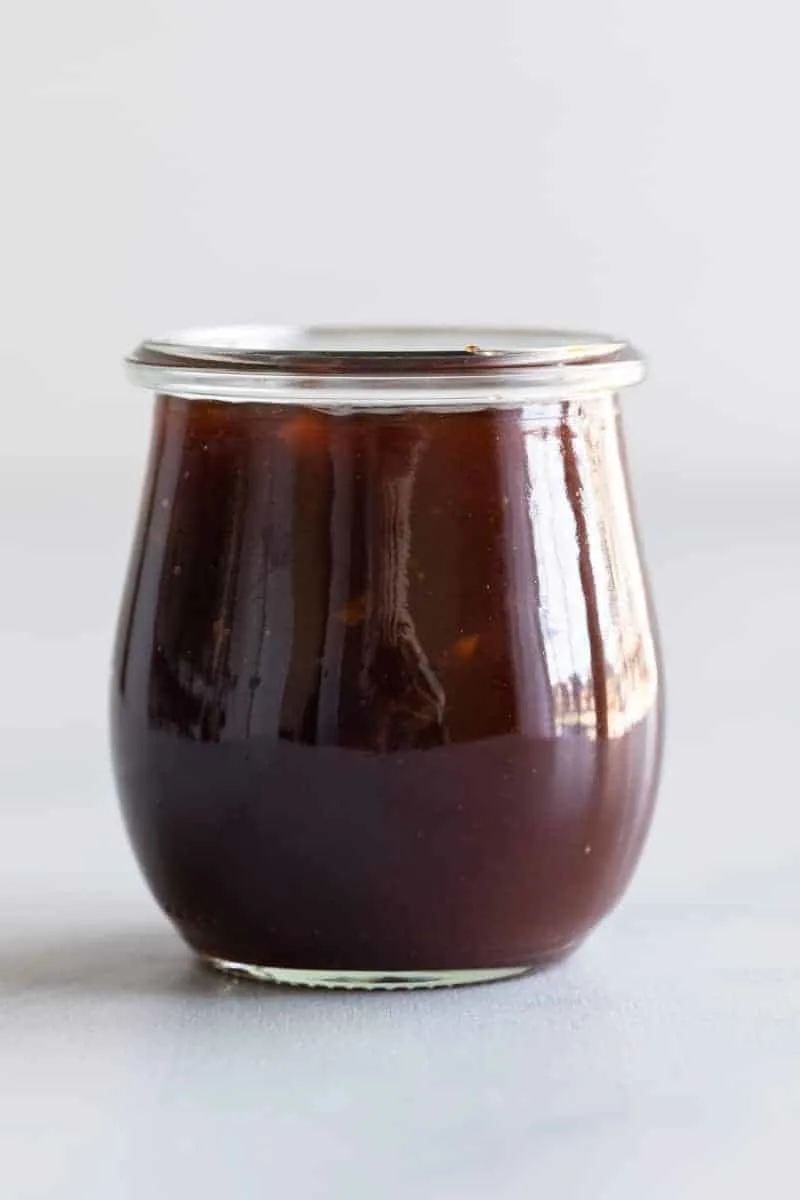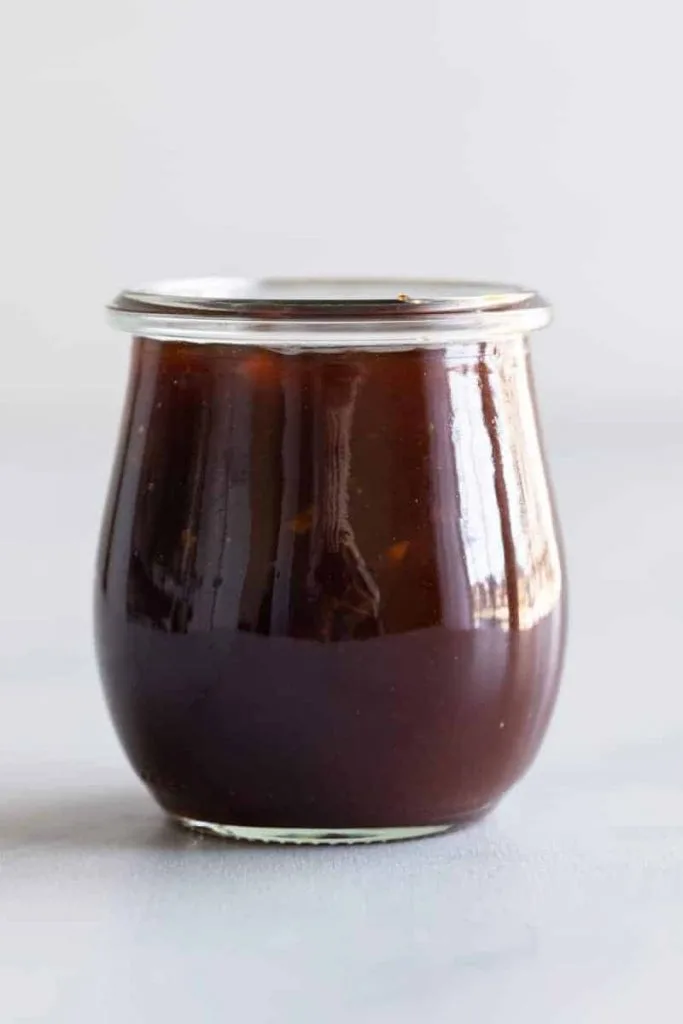 Easy Sesame Chicken Sauce
Forget about going for takeout because you can recreate sesame chicken at home with this simple 5-minute sauce recipe.
It reminds us a lot of teriyaki sauce but much more flavorful. The sweet nutty aroma of sesame oil makes this sauce one of our favorites.
Sesame sauce is served over chicken that's cooked in a variety of ways. Sometimes the chicken is breaded and fried. Sometimes the chicken is baked or isn't breaded. Or it's stir fried with vegetabels.
However you choose to serve this sesame sauce, We're sure you are going to think it's the best!
Did we mention you can make it ahead and store it in the refrigerator to use later? It keeps and reheats well. We will leave notes down below on how to do this.
After you make this recipe, give my spicy chicken marinade, orange ginger sauce and all-purpose stir-fry sauce a try.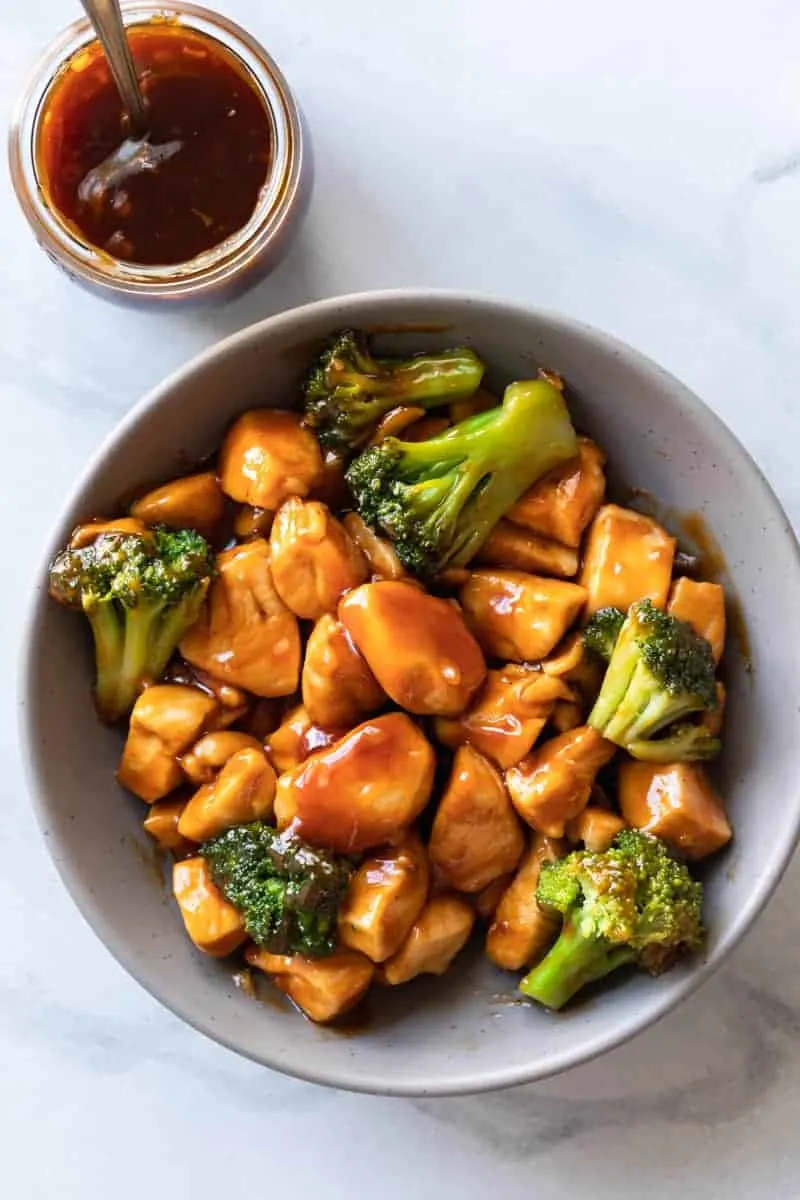 Sesame Chicken Sauce Ingredients:
To make this sesame chicken sauce recipe, you will need:
Sesame oil: You can't make sesame sauce without it
Garlic: 2 cloves is the perfect amount
Chicken broth: Helps make it saucy – you can use vegetable broth for a vegetarian version
Brown sugar: Makes the sauce sweet and delicious
Soy sauce: Feel free to use low sodium but you may need to add a touch of salt to the sauce
Rice vinegar: We used 1 tablespoon but you could double that for a tangier sauce
Chili paste: Because we like spice
Cornstarch slurry: Thickens the sauce
How to Make Sesame Chicken Sauce:
To make this easy potsticker dipping sauce, simply…
Saute the garlic in sesame sauce. Cook it just until it's fragrant.
Add everything else, minus cornstarch slurry, and boil. Stir in chicken broth, brown sugar, soy sauce, vinegar, and chili paste. Bring to a boil over high heat.
Stir in the slurry. Stir into the boiling sauce. and cook until thickened, about 2 minutes.
Use immediate or let cool and store for later use.
Ways to use Sesame Chicken Sauce:
There are quite a few ways you can use this sesame chicken sauce recipe.
Classic Sesame Chicken: Dredge chicken pieces in flour, egg then in flour again. Deep fry until golden. Toss with sesame sauce and serve.
Baked Sesame Chicken: Dredge chicken pieces in flour, egg then in panko breadcrumbs. Spray the chicken lightly with canola oil and bake at 375°F for 25 minutes. Toss with sesame sauce then bake for an additional 10 minutes.
Sesame Chicken Stir Fry: Cook unbreaded chicken pieces in a skillet with a ½ tablespoon of sesame oil and ½ tablespoon canola oil. Add vegetables and cook for 1-2 minutes. Pour the sauce in and stir to coat
Sesame Tofu: Make any of the variations above but use tofu in place of chicken.
How to Store Homemade Sesame Chicken Sauce:
Refrigerate – Allow to cool for 1 hour then transfer to an airtight container and refrigerate for up to 5 days.
Freeze – Prepare the sauce without adding the cornstarch slurry. Cool for 2 hours then transfer to a freezer-safe container and freeze for up to 3 months.
When you are ready to use the sauce, thaw it in the refrigerator overnight. Bring to a boil in a saucepan and add the cornstarch slurry. Use right away.
If you are a made love of Asian inspired cuisine, you are in for a real treat because WE ARE TOO! Here are some more sauce you must try in your kitchen.