This post may contain affiliate links. Read the full disclosure here.
This is truly the best pizza sauce recipe. It's made with mostly fresh ingredients and is completely dairy-free and gluten-free. Make a large batch to freeze for later or use it right away!
Best Pizza Sauce
Do you enjoy ordering a pizza on Friday nights? This used to be a tradition of ours until we discovered the best pizza sauce and homemade pizza dough.
Now we just whip up our own pizzas at home and they are way better than any we've ever ordered.
The great thing about making pizza sauce at home is you have full control over the ingredients. You can fill it with fresh herbs, load it with spices, make it sweet, or even make it spicy!
This recipe is one that we adore and turn to over and over again. It gained the label because it truly is the best pizza sauce we've ever made.
We loaded it with fresh basil and garlic then simmered it for an hour so the flavors really meld.
And because the recipe calls for crushed tomatoes, we like to puree the sauce at the very end so it's smooth. This is totally optional though!
What type of pizzas do you plan to make with our new favorite sauce?
Once you try this sauce, give our Pomodoro sauce and pizzaiola sauce a try!
Best Pizza Sauce Ingredients:
To make this pizza sauce recipe, you will need:
Onion: Look for a small to medium onion
Garlic: There are 3 cloves of garlic in this sauce
Crushed tomatoes: Just one 28 ounce can is all you need
Tomato paste: Enhances the tomato flavor
Spices: Salt, pepper, and oregano
Fresh basil: Don't skimp on the basil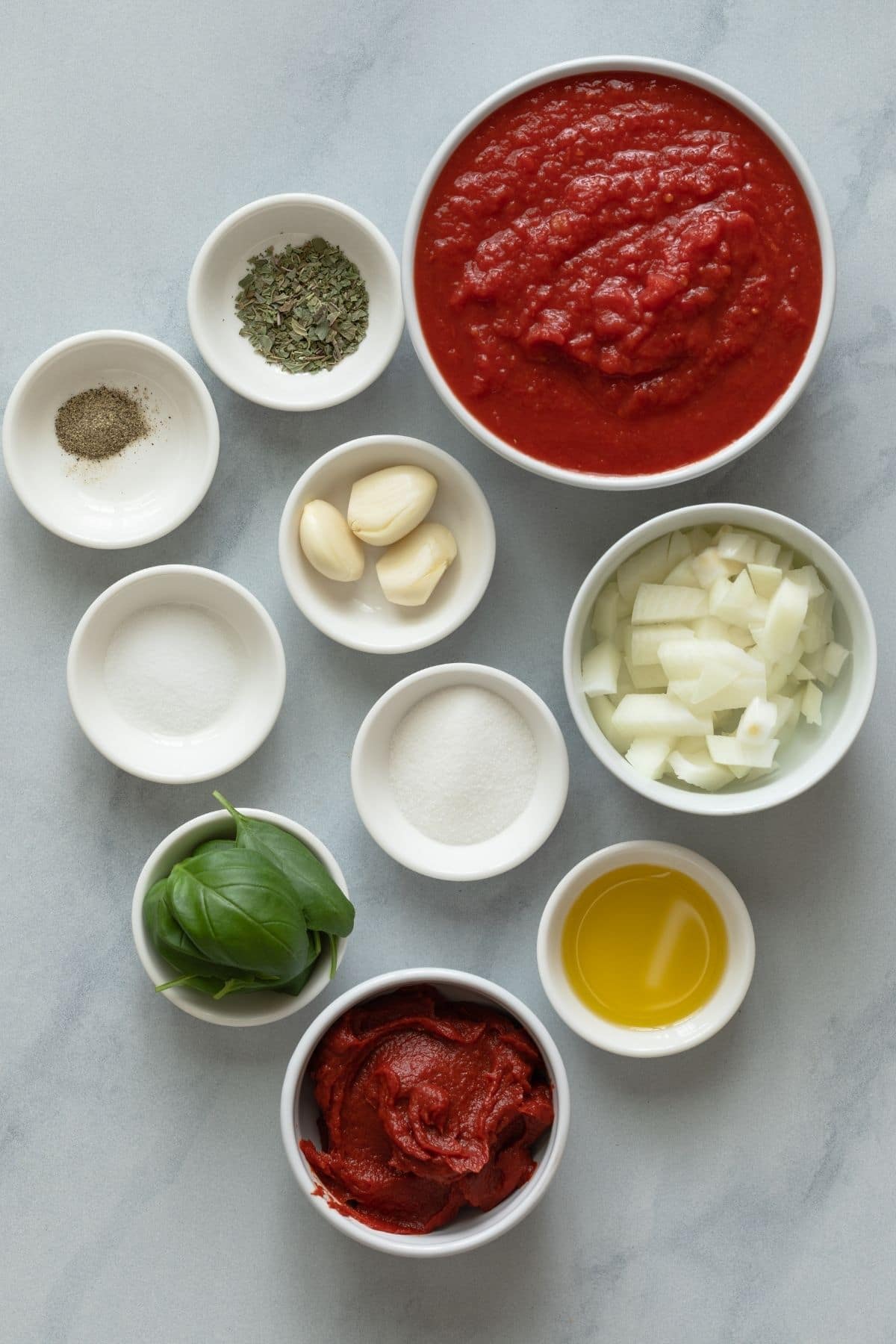 How to Make the Best Pizza Sauce:
To make this easy homemade pizza sauce recipe, simply…
Sauté the onions and garlic. Cook them with a little olive oil for about 4 minutes, until the onions are soft.
Add everything else and cook. Stir in the rest of the ingredients. Bring to a low boil then reduce the heat to low. Cover and cook for 1 hour.
Puree and serve. Use an immersion blender to puree the sauce. Use immediately or store in the refrigerator.
Best Pizza Sauce Recipe Variations:
There are quite a few ways you can doctor up this pizza sauce recipe.
Add dried thyme: If you like thyme, it's the perfect addition. Start with ½ teaspoon.
Add lemon juice: 12 teaspoons is enough to brighten the sauce.
Add more sugar: If you like your sauce a little sweeter, toss in another tablespoon or two.
Add spice: You can make the sauce spicy by adding cayenne pepper or crushed red pepper.
Add Parmesan: Add a couple tablespoons of grated parmesan.
How to Store Homemade Pizza Sauce:
Refrigerate – Cool for 1 hour and store in an airtight container in the refrigerator for up to 4 days.
Freeze – Cool for 2 hours then transfer to a freezer-safe container and freeze for up to 3 months. Thaw overnight in the refrigerator and use within 4 days.
Reheat leftover sauce in a saucepan with a lid over low heat until heated through.
We have plenty more sauces for your pasta and pizzas!